Quick Links:
---
Building brand awareness online is harder than ever. How can you stand out in all the noise? Easy.
You get your loyal customers to build brand awareness for you.
Referral marketing has a conversion rate 3-5 x higher than any other form of marketing. If you are not leveraging customer loyalty software to drive referrals, reviews and bonuses, you are leaving money on the table.
Using a combination of content marketing and investing in your biggest fans will help your brand awareness skyrocket.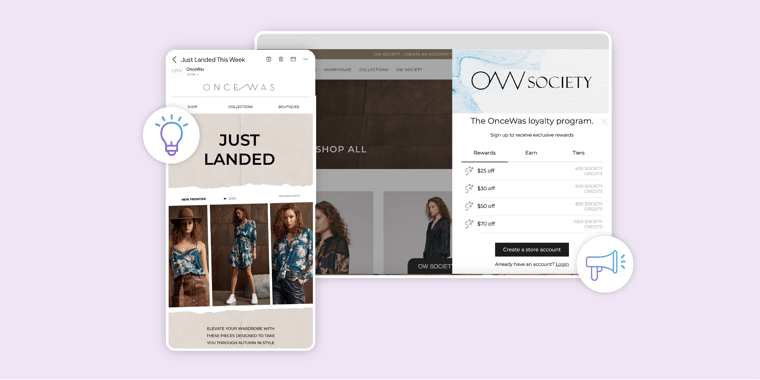 Why is it important for businesses to build brand awareness
It is easier to sell to people that already trust your brand. They have already crossed that first threshold, experienced your products, and enjoyed the journey they've had with your store so far! Brand awareness builds this trust faster, encourages connectivity, and increases ROI.
Let's break this down with the following concepts:
1. Brand awareness builds customer trust
All you are doing is building familiarity. If someone is choosing which brand to buy, they are more likely to choose something they recognize and know something about. 
You can build that trust and brand awareness by 
Having a consistent presence online and in-person
Putting a face on your brand or product 
Telling your brand story 
Using social proof from existing customers (people trust other people for reviews over you!)
2. Brand awareness helps your audience to associate and relate to your brand
Brand association is when people can easily bring your business and its traits to mind. This is powerful in growing your brand awareness because ultimately people associate this with high-quality, go-to brands. 
Think of Apple products for example. When you think about their brand, some of the traits you might associate with them are:
Innovation 
Sleek
High quality/exclusive 
Favored by creatives
This is the power of positioning. How customers feel when they think of your brand is just as important as sales and marketing strategies. This is why brand awareness is important for your business growth as a whole.
3. Brand awareness builds brand equity
Brand equity is the increased revenue a business makes when it has a recognizable name or value. 
You probably already know what brand equity is in practice. 
Say you are in a hurry in the supermarket. Brand equity is the reason you automatically choose Pantene shampoo over something name-brand even if it costs a lot more. You associate the brand with salon-quality and shiny hair (you know the kind of ad we are talking about!). 
Building brand awareness is directly tied to brand equity. It increases brand loyalty over competitors. 
There are three components of brand equity that you should consider when building brand awareness: 
Brand perception – This is what customers believe about you, not what your marketing says. Is it luxury? Fun? Accepting? Worth the price? This comes down to branding and positioning  
Positive or Negative Effects – Whatever customers believe will either help or harm your bottom line. Does their perception make them excited to spend money with you? Are you tracking Net Promoter Scores?
Value – Positive effects will bring value to your business. This is both in the form of revenue, as well as further positive brand perception.
In other words, brand perception + positive effect = value for your business.
Those three components determine whether revenue is going up because customers are choosing you over other companies due to your perceived higher value.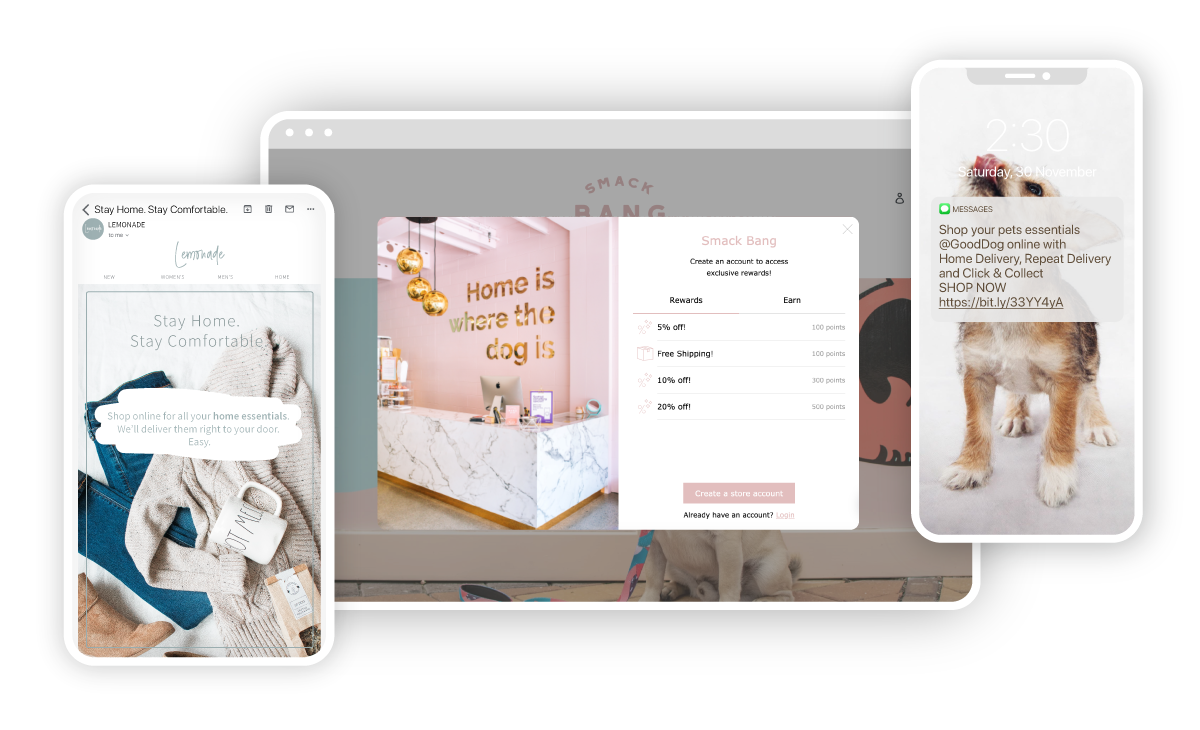 How to drive brand awareness with customer loyalty
So how do you ensure that your customer loyalty program will continue to drive brand awareness and business growth? 
1. Reward existing customers for referrals
The best way to market your online business is to get raving fans to do it for you. That's why a referral rewards program can be so effective in raising brand awareness! 
You don't necessarily have to run an affiliate program or use influencers. A simple points reward system can be just as effective. 
Our Bralette Club showcases this beautifully. Their Peach Party members can earn points even when they aren't purchasing anything. By simply referring a friend, they can earn more points to spend in the store. As well as this, they encourage social media engagement and sharing which deepens brand ambassador relationships even further.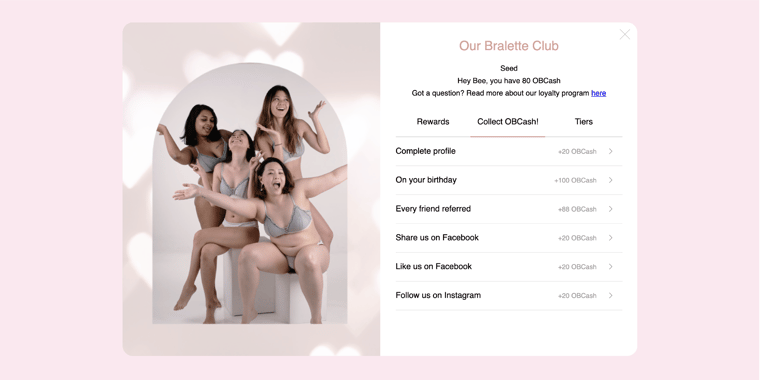 The best part is that it is not just beneficial to reward existing loyal customers. The people they refer to you? They are 18% more loyal than customers you get from any other type of marketing.
2. Leverage the benefits of social media
Social media might feel overwhelming and saturated, but it is still the best way to build brand awareness.
A Clutch survey also showed that 58% of customers agreed that they would choose to share their positive brand experiences on social media. A brand awareness strategy would be encouraging them to tag you!
Leveraging social media allows you to entertain and interact with customers. It helps to create a community around your brand. Don't forget, customers remember the way your brand makes them feel. Being present on social media gives you a platform to position yourself in their minds. 
Tips for building brand awareness using social media:
Use a consistent branding "voice" 
Show PEOPLE – customers using your product, staff doing work behind the scenes, use people in your product photography 
Engage with followers, don't just ignore messages or content they share. Set up a

loyalty program

or giveaway that rewards them for sharing and engaging on social media  
Have a team member that is dedicated to customer service. Make it easy for people to ask questions – sometimes, that means answering a few direct messages on social media instead of the help desk.
3. Use content marketing in your brand awareness program
Effective brand awareness isn't just about telling people to "buy this thing".
It's about community building. It's about interacting with customers and their interests.
That is why content marketing is so important.
There is currently a huge shift towards video marketing and "infotainment", especially on social media platforms. This is where businesses are getting in front of customers in a way that both entertains and educates them about their product or niche.
Say you had a business that sells candles and homeware. You wouldn't just tell people to buy a candle.
Using content marketing (and a deep understanding of your audience), you could create content like how to make a magazine-worthy lounge, and how to reuse old candle holders. A vegan protein powder business might share recipes for healthy protein cookies and smoothies.
It lets your customers interact with you even when they're not buying.
To build even better brand awareness, encourage user-generated content (UGC). UGC is any photo or review of your product in action. It doubles as social proof because new customers can see other people using your product. 
4. Encourage customers to provide reviews about your brand
The hard truth about marketing? Your customers will do it better than you ever will. 
That's why reviews and social proof are so important in brand awareness. 
Luckily there are ways that you can organically encourage customers to provide reviews about your brand:
Make it part of your

loyalty program

where they can earn points for writing reviews
Set up

automatic email campaigns

that ask them for reviews right after they purchase (directly after purchase it is a valuable window!)
Be active on social media and encourage people to tag you when they use or talk about your products so you can share them on your platforms 
Set up a referral or affiliate program that rewards them for telling people they know.
5. Surprise your loyal customers
Want a fail-proof customer loyalty strategy? Surprise your most loyal customers. 
Let them know that you appreciate them and their loyalty. 
One way is to use the "Taylor Swift" strategy. Even though she has hundreds of thousands of fans, she will often respond to requests to sing at weddings for example. Does she make money from this? No! But her fans are obsessed. 
Here are a few creative ideas to surprise your loyal customers:
Send handwritten thank-you notes 
Create a secret branded product just for them and send it out with orders for free (e.g. shirt, stickers)
Over-deliver so that they want to talk about your brand even more 
Take note of the little things – do they have a favorite tea brand? Have you had a conversation with them about what product they would love to see in your store next? 
Share their content even if they're not paid influencers 
Send birthday notes and bonuses (super easy if you have

customer loyalty software

like Marsello).
Find ways to budget in rewards for your most loyal customers. 
6. Increase the brand reach and awareness with advertising
If you have a product-based business, you will probably run paid advertising at some point in your marketing strategy. Advertising, especially on social media, has the potential for huge reach to new audiences and customers.
Again, it is about building familiarity. That way when your target market eventually goes to buy, and your brand pops up as an option, they are already aware that you exist.
Tips for online and social media advertising for brand awareness
Make sure you have a product that converts before throwing money into social media advertising 
Pair it with an organic social media and evergreen content marketing strategy 
Run awareness campaigns first to gather target market pixel data before selling directly.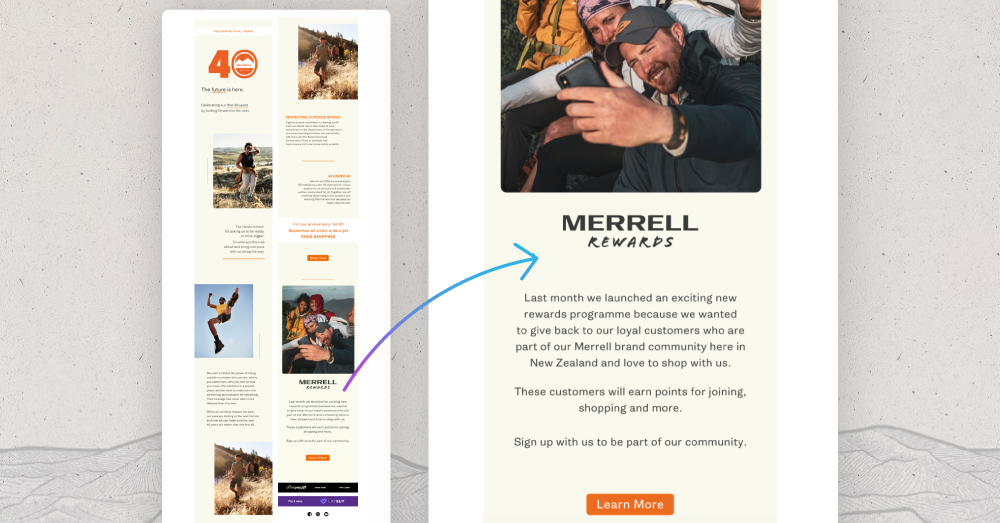 Advertising can support an already amazing loyalty program strategy. For example, when outdoor apparel brand Merrell NZ launched their loyalty program, they used their omnichannel loyalty program to promote their new rewards system through emails. They announced how they planned to give back to existing amazing customers and how people could become part of the community.
Using a combination of email marketing, social media and paid advertising can all skyrocket your customer loyalty and awareness.
7. Give your brand a personality
To build brand awareness you need to connect emotionally with your audience. Giving your brand a personality can solidify your brand in their minds!
A great example of a brand personality is the Australian health-food brand Botanika Blends. 
Not only do they have high-quality products, but they also have colorful, playful wizard motifs that are worked into all of their branding. Their wizard is extremely recognizable and pops up everywhere on their website, marketing, and even order confirmation emails. 
Examples of giving your brand a personality to build brand awareness: 
Naming your customers/audience/community 
Branding your loyalty program 
Have an engaging social media presence that people want to tag you in
Share content that isn't just about selling products 
Take advantage of using real people in your content- people are more likely to remember faces than brand names so use people to stand out!
8. Continually measure your brand awareness progress
Building a memorable brand is continuous. You can't just "do it once" and expect results! 
That's why it is important to use some form of brand awareness measurement. 
Are you tracking loyalty member sign-ups? 
Do you have a referral or affiliate program that loyal customers can market for you? 
Do you have a centralized platform that automatically tracks campaign progress?
Successful loyalty programs are in it for the long haul. 
Final words
Building brand awareness builds trust, loyalty, and a business that customers can connect with emotionally. Not only does it increase customer loyalty, but it will encourage customers to refer people they know and drastically increase your marketing ROI. 
Marsello's customer loyalty software and marketing automation make brand awareness effortless for retail and hospitality businesses. Start building brand awareness and customer loyalty with Marsello's all-in-one marketing platform.
Published Nov 11, 2021 8:51:37 AM
Special thanks to our friends at
Marsello
for their insights on this topic.