If you run an eCommerce store, you probably fall in one of two categories. Either you see traffic and checkouts, but things aren't quite working well enough for your liking, or business is good, but you know that business could be great.
In order to make your eCommerce store a truly successful one, you'll need to test a few variables to understand what works well and what doesn't.
Since your products and customers are unique, there unfortunately isn't a magical formula applicable to all online shops to ensure more website traffic as well as bigger, and better transactions.
But that's where A/B testing comes in. By offering your customers different experiences, you'll be able to see what your target demographic enjoys, what makes them tick, what makes them click and, most importantly, what makes them buy.
A/B tests can do more than just answering a one-time hypothesis, they can be used to consistently improve the shopping experience on your site.
In this three-part series, we'll explore a list of tests that are recommended for any online store in order to get a better insight into your customers' online behaviors, helping with your business goals and bottom line.
Desktop/Mobile Look and Feel
It's true in-store, and it's especially true online: people shop with their eyes. Customers are looking for a pleasing, intuitive, and comfortable experience that will make them want to search your site, buy your products, come back for another purchase, and tell their friends and family about you.
You already know this: your search bar is one of the most important tools on your website or mobile app. Your search API already gives you plenty of data about what your customers look for, but could you be getting even more searches, resulting in a greater number of transactions? A/B test it! A few easy tests to get you started include:
Moving your search bar to a different location on a given page
Extending or reducing its length
Changing the icon associated with your search bar

Would your customers enjoy a more interactive search experience? A/B test auto-complete and drop-down search results to find out. Test things like the amount of results offered and the size of the pictures displayed, then compare the number of searches, number of clicks, and number of sales, as well as the AOV (average order value) resulting from each test.
After your customer enters their search, they will be redirected to a search engine results page (SERP). This is an important spot on your desktop/mobile site or on your native mobile app. Here are a few things to ask yourself when setting up these A/B tests:
How many products per row does your customer like to see?
What about per page?
Do you wish to make that number adjustable?
What happens when you do?
Does your customer leave after a few pages of search results?
What happens when you give them a higher number of search results on one page, resulting in an "infinite" scroll?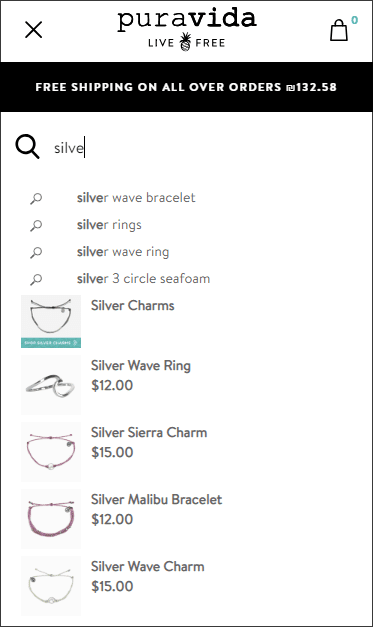 What is the default way your products are sorted? What sort of filters do you offer? (See part 2 for more A/B testing ideas for search filters). Do you notice a difference when your items are automatically sorted by relevance versus sorted by price? You'll need to A/B test these variables in order to find out what your target customers like.
Your search engine is a powerful tool and can give you many insights about your customers, especially when doing smart A/B tests across your mobile and desktop sites, plus on your native mobile apps.
Your search API can only give you so much information and there's always so much more to learn in order to create long-lasting relationships with soon-to-be loyal customers.
Start A/B testing on your site and app today and make sure to read parts 2 and 3 of our eCommerce A/B Testing series for even more ways to make your online store more profitable!
Special thanks to our friends at
FastSimon
for their insights on this topic.