As an e-retailer, you get a lot of insight on every customer's taste and shopping behaviors. Every click, previous action, purchase, review, and bit of personal data helps you weave together a shopper's profile in real time, making it possible for your machine-learning AI to offer them personalization that fits their needs.
Knowing a shopper's behavior allows you to upsell and cross-sell items, tempting them with products they may like – but should you do it? The final part of this three-part series will help you A/B test this with your customers on both your mobile app and website, to see if personalization is the right approach for you and your customers.
Personalization: Yes or No?
The current trends definitely seem to be leaning towards yes! In fact, retailers have reported a 20% increase after starting to offer personalized online shopping experiences. And that's not all: customers appear to be 80% more likely to make a purchase when retailers personalize their experience, learning their shopper behaviors, and offering a more targeted selection.
Upselling and Cross-Selling
Upselling and cross-selling are two practices that will up your AOV (average order value), making every transaction more profitable. "Upselling" means to encourage shoppers to buy an item of a greater value than the one they were looking at, while "cross-selling" means to suggest products that will complement the items they are looking at or already have in their cart. These practices can be used on their own or together. A/B testing the following strategies with your customers, both on your website and mobile app, will teach you more about your shoppers' behaviors in order to see if these practices have a direct correlation with your conversion rate and AOV.
Upselling and Cross-Selling Strategy #1: Similar Styles
Offering similar styles can be a great way to upsell, or to simply ensure that your customer finds something that absolutely meets their needs. If your online shop operates with a rule-based automated AI, you're already assigning certain qualities to each product as you make them available, such as:
Category
Style
Color
Occasion
These product rules make it easy for your AI to suggest other items programmed with the same characteristics. This practice could save the user endless scrolling through search results, as finding one product they like leads to many more they may be interested in. A/B test suggesting similar styles on both your website and app, as well as what kind of similar styles you show to your customer.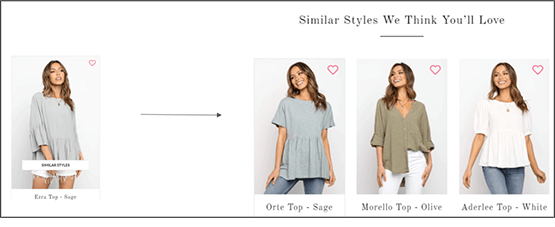 Upselling and Cross-Selling Strategy #2: Complete the Look
"Complete the look" is a classic cross-selling tactic, showing your shoppers items that go along with the item they are seeing, using psychology to make customers want more. Ever been asked if you'd like fries with your burger? That's cross-selling, too!
Cross-selling should add value to the purchase for both the customer and the seller. Say a shopper has pants in their cart. They could complete the look with a top, shoes, jewelry, or other accessories. If your AI is machine-learning, every click and purchase will help it understand what customers who have looked at or bought a specific product have also purchased with it, and it could even learn to locate the other items a model is wearing on a picture, or the other pieces of furniture shown in a room. If your AI is rule-based automated, forming cohesive groups, categories, or collections could be a winning strategy for you.
This cross-selling tactic could also work well on the cart page, right before checking out. A/B test it on the product description page and in the basket, and don't forget to test it in different spots on the page, or even as a pop-up.
Upselling and Cross-Selling Strategy #3: You Might Also Like
Halfway between upselling and cross-selling, this tactic is perfect for machine-learning AIs. Often worded as "other customers also like" or "customers like you bought", it simply shows other items visited or purchased by users who have previously viewed this product page, and can evolve over time, as the AI gathers more information. Retailers working with rule-based automated AIs could also A/B test this kind of copy while showing similar styles.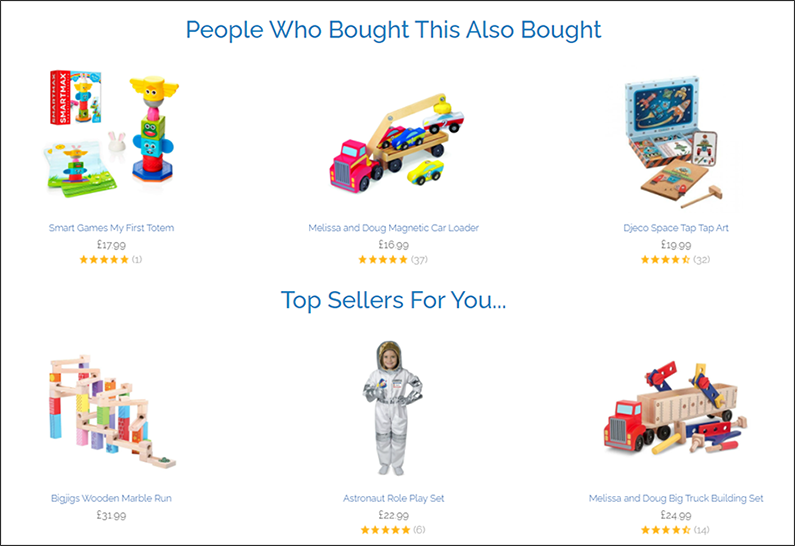 Start A/B testing different personalization strategies on your site and app today to better upsell and cross-sell to your customers. Understanding shopper behaviors is crucial in order to make your online store as profitable as it can possibly be! And make sure to read parts 1 and 2 of our eCommerce A/B Testing series for even more ways to make your online store more profitable!
Special thanks to our friends at
FastSimon
for their insights on this topic.