Spring officially started on March 20th, but we feel like it kicked off on the 23rd with our Emarsys Spring Release 2022 Webinar, where we shared the finer details of the upcoming release, which includes 25+ new features.
We've been hyped about this release for a while now because it's all about giving marketers more power to connect and grow. If you weren't able to join us live for the release webinar, no problem! You can watch it on-demand here. But if you want a quick overview, this article summarizes all the information our product team shared on the webinar.
Marketers Need the Power to Take Charge
63% of marketers spend a significant amount of time on measurement and reporting (Retail Roadblocks)
60% of companies that prioritize CX see higher profits than competitors (Gartner)
As a proven revenue-generating department, marketers today are under pressure to deliver real value that contributes to the business's bottom line. The result is that marketers need more predictability and visibility than ever before when it comes to understanding customer behaviors and buying patterns. That deeper understanding unlocks the ability to better influence and drive revenue. 
Meanwhile, they're doing all of this with fewer resources, both in terms of budget and team members.
"Marketers have taken on more responsibility while their budgets have fallen to their lowest level in recent history." (Gartner)
In this release, we're providing new tools and functionality that help marketers take charge in everything from journey mapping to CX initiatives and reporting. 
These upgrades will help you:
Save time
Forge deeper connections
Deliver targeted revenue
Taking Marketing Automation to a New Level
The automation enhancements are numerous in this release. Here's what you can expect:
New test status for automation: Open the test configuration page and review contacts based on program settings or manually send the program to selected test contacts. This ensures a safe environment to experiment before you activate your program.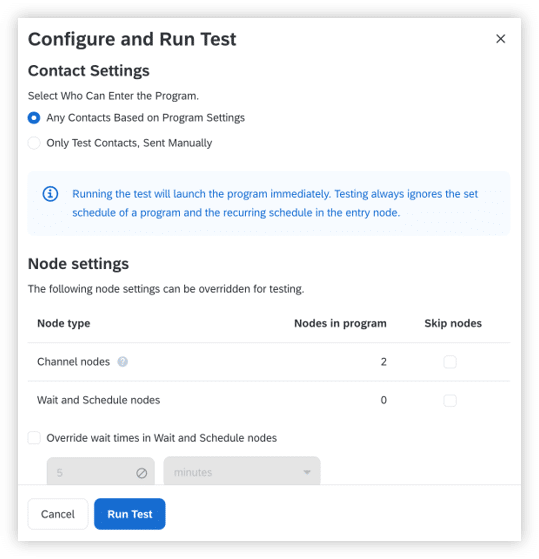 Send test event: You can also send events directly from the journey builder to selected contacts. Convenient? Yes. Fast? Also yes.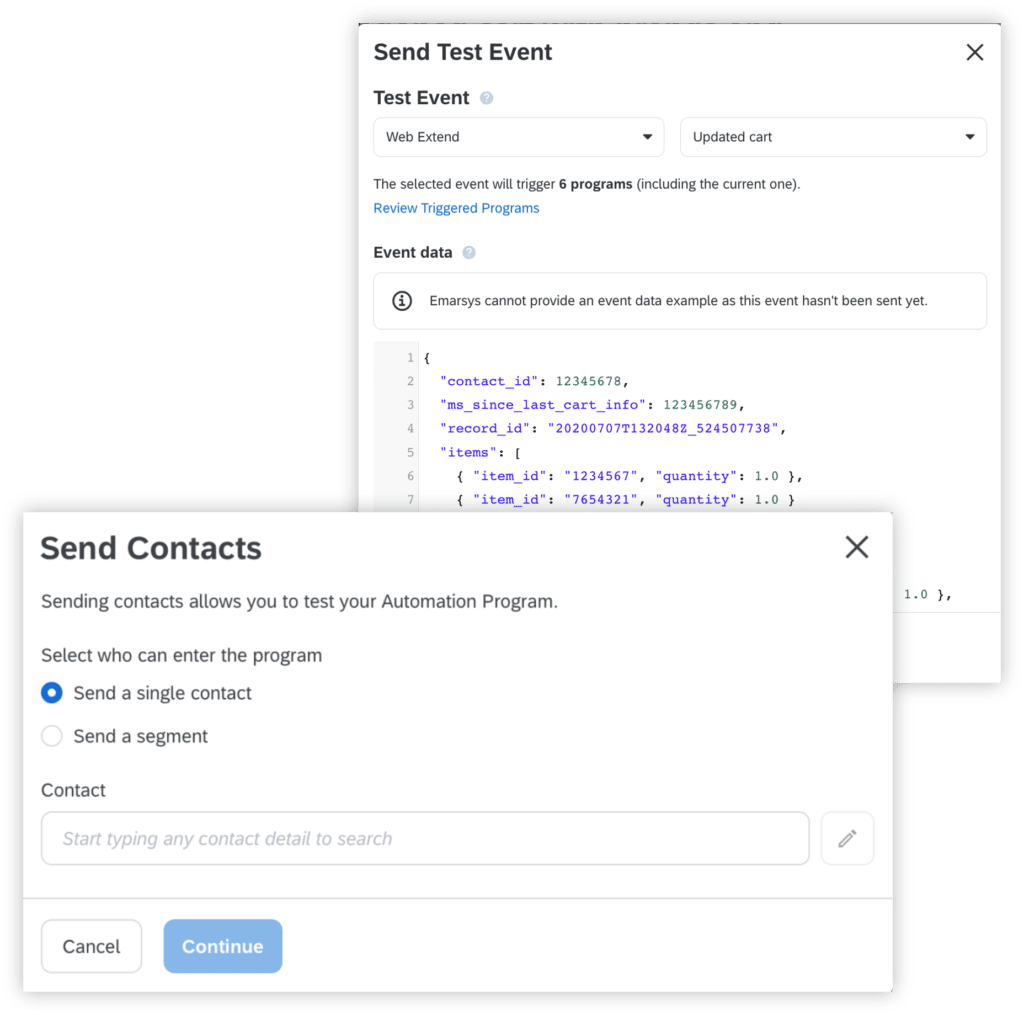 Automation webhook node: We aren't the only software in your toolkit, and we want to make it easier to connect Emarsys to your other solutions. With the new webhook node, we make it easy to understand and use POST API requests when building your automation programs.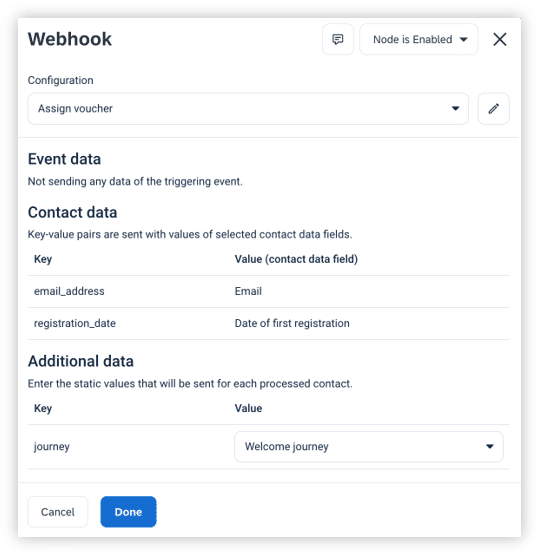 Participation check node: This addition to the Automation Center controls how many times a contact can enter a program. It checks only at the beginning of the program and acts as a gate to ensure customers can't access high-value vouchers more frequently than intended (for example, limiting them to access it only once a month). It can be connected across programs and is a bridge between Interactions and Automation Center. 
Limitless automation journey editing: Now you can limitlessly edit your programs. Modify programs in active status however you want.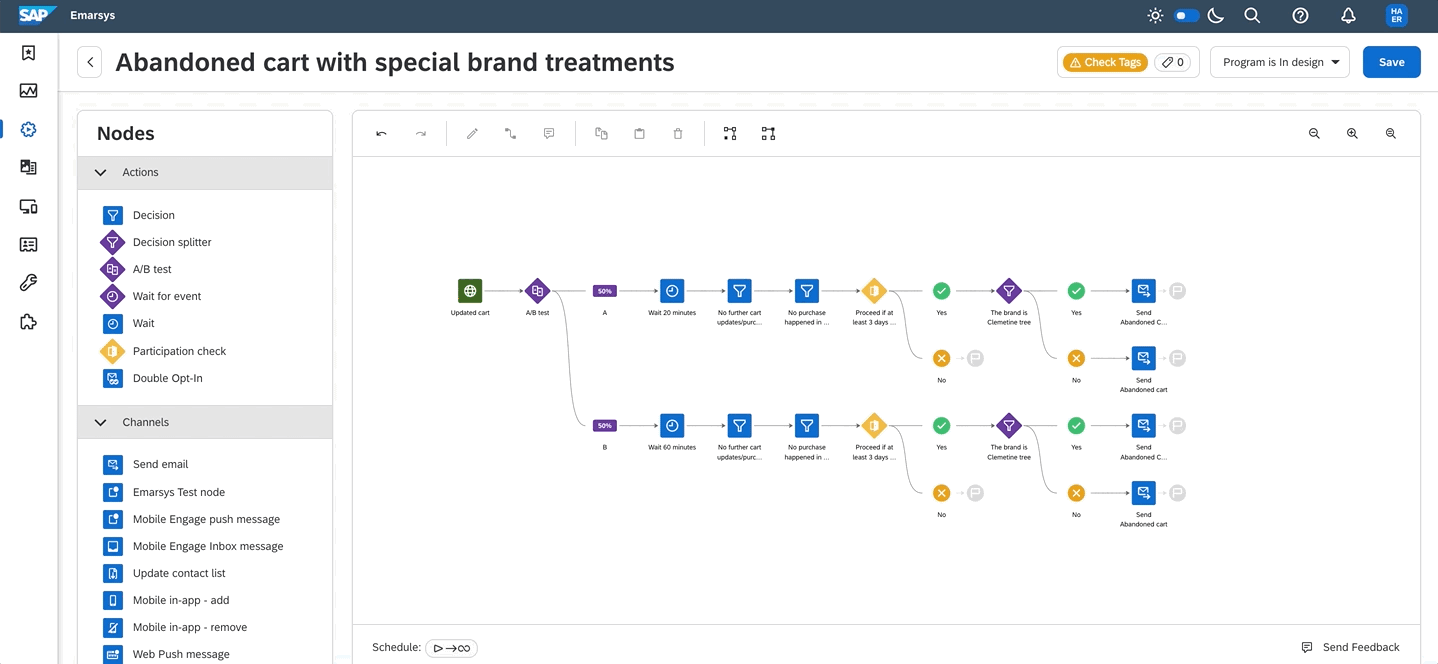 Tagging and external events: You can now @ mention administrators in commends to send them email notifications. Also, the external events page now includes bulk deletion with a program check for dependencies (to check whether events are deletable to ensure deletion would not cause any errors).
Don't forget about the Send Feedback button located in the journey builder! Use it to share your experiences directly with the product team. We're not kidding — your feedback goes right to their inboxes.
Getting More from Group Catalogs
The parent/child feature is now available for grouped catalogs, which means you now have out-of-the-box support for Predict recommendations. 
You're able to group products in your catalog by size, color, or packaging. Predict will select items from parent and child categories, but don't worry — it makes sure to select items from different groups.
Shopify and Magento users, take note! This feature is automatically enabled for you. 
Connecting with Web Channel
The Spring Release comes with several upgrades to web channel engagement:
Limitless, up-to-date personalization content: We made backend improvements to bring you more personalization power. Say farewell to the personalization limitation and hello to creating unlimited web channel campaigns. Also, segment-based campaigns will be refreshed every two hours.
Personalizing web channel campaigns: Use all of the SAP Emarsys personalization capabilities in web channel including vouchers and loyalty tokens. Enjoy easy drag-and-drop capabilities, and use either VCE or HTML editors, whichever you prefer.
Self-serve domain management: Quickly and easily add web channel domains in just minutes. 
PILOT: Tracking Success with Event Attribution and Goal Reporting
We're in the midst of piloting new functionality for event attribution and goal reporting. 
Marketers work very hard every day, and the ability to review and quantify the results of their efforts is extremely important. Without that visibility, it's hard to adjust and improve programs for greater impact and also difficult to show your successes to business leaders. 
This new functionality will grant you flexibility regarding how you drive those business outcomes and conversions to any event or set of events. You'll be able to track both revenue and conversion drivers (such as abandoned cart programs or custom events) as well as non-purchase-related goals (such as in-app events and subscriptions). 
With this functionality, we're helping you understand the outcomes you're trying to deliver with our platform, so you can use the most effective strategies. 
If you're a current Emarsys customer, consider joining the pilot program for this new functionality. You'll have direct support from the product team and have the chance to influence the development of this feature. If you're interested in joining the pilot program, contact your customer success manager. 
Going Big with the Spring Release 2022
This big update includes 25+ new features that will save you time and accelerate your growth. With all the time you're going to save, you certainly deserve to treat yourself to a few minutes with a hot tea or coffee. Then, of course, it's back to getting creative and finding new ways to reach your audience, but rest assured that we will continue bringing you the most innovative customer engagement platform available.
We also warmly invite current customers to become one of our Product Pioneers for ongoing opportunities to connect with our UX researchers, share feedback with our team, and meet with fellow Emarsys users who share your interests.
---
Handpicked Related Content: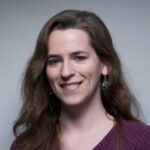 Virginia Sanders
Senior Content Marketing Manager
About the author
Virginia is a wordsmith with a passionate drive for bringing brands to life through storytelling. As a content manager for Emarsys, she continually seeks to make the written word more engaging and enriching, so readers can walk away with valuable insights.
Connect with Virginia: LinkedIn
Special thanks to our friends at
Emarsys
for their insights on this topic.