With the recession still affecting the lives of people and consumer buying patterns continuing to shift, marketers have to stay on their toes. Because it costs more to acquire customers than to retain them, marketers from leading brands are doubling down on highly personalized omnichannel customer engagements that drive long-lasting loyalty. 
As a marketer, you want to do more of that, without necessarily breaking your back to accomplish it, which means efficiency is key, as are flexibility and easy ways to increase personalization. Here at SAP Emarsys, we've been busy doing some spring cleaning to help you with all of that! 
Our Emarsys Spring Release 2023 is packed with updates ranging from small to large, but all of this season's innovations have one thing in common: they're bringing you more power! That power comes from time-saving changes to the interface and features, all-new tools, and new features that will put the eXcellence in CX. 
Contents:
Mobile, SMS, and Web Push Enhancements
Channels are the lifeblood of marketing, the avenues we use to connect with customers. The Spring Release is bringing you numerous channel updates so you can reach customers with tailored content at the right time and on the right channel.
Get Automated: Web Push Trigger for Automation
Who doesn't love a good combo? Whether it's bread and butter, or a pen and paper, some things are just meant to go together. 
You already had web push notifications. You also already had automations. Now we're combining them!
Web push notifications are push messages you send to customers that they receive in the desktop or mobile browser. On their own, web push notifications are great for capturing website traffic and engaging customers with real-time and personalized notifications. Now with Web Push Trigger, you can automatically trigger web push campaigns through interactions and engage your customers based on their behavior and custom events in real time.
Here are a few ways to use this new feature to achieve your marketing goals: 
Share product updates: Send web push campaigns to remind customers about an abandoned cart or browsing session. Give them enticing reasons to return and make a purchase.
Increase active customer base: Convert first-time buyers to repeat customers with targeted campaigns and incentives such as flash sales or loyalty rewards redemption.
Drive website revenue: Personalize web push campaigns based on behaviors and events in real time with vouchers and personalization, or complete loyalty referral for in-the-moment events.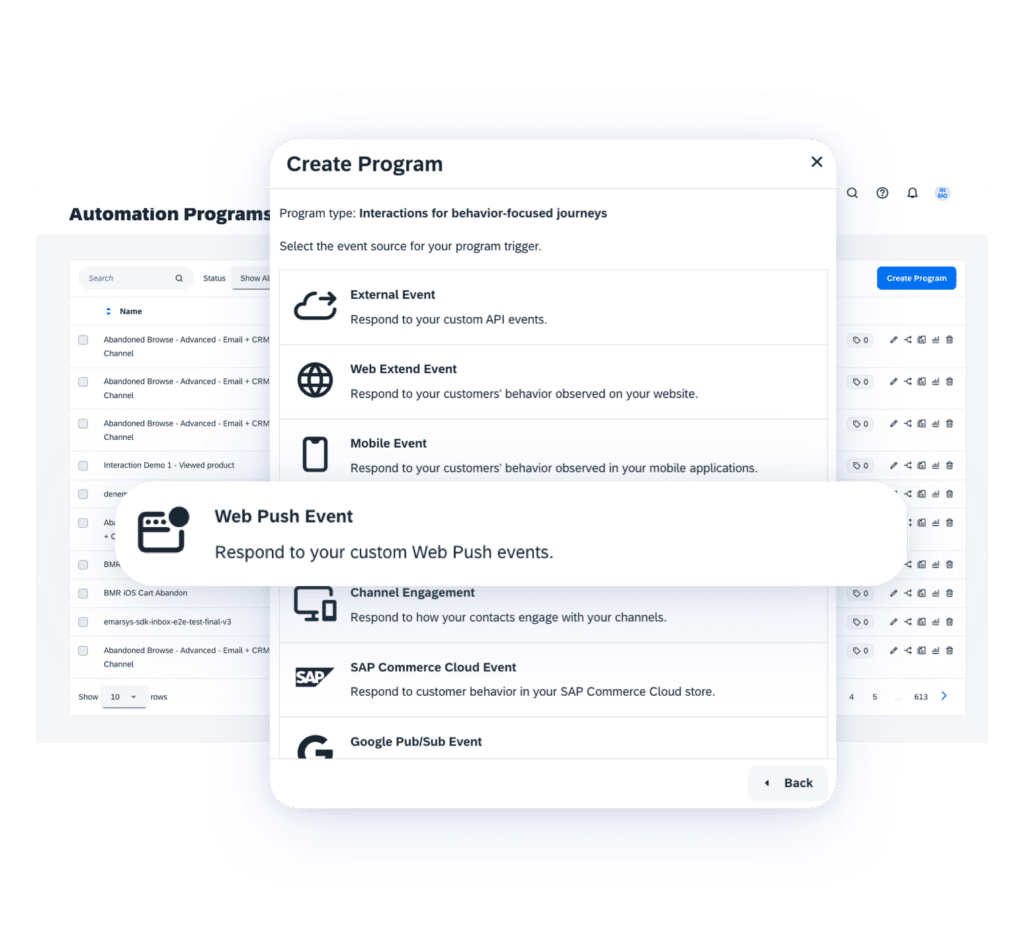 Learn more about Web Push Event.
Goin' Mobile: Mobile SDK Update Push Notification
Because consumers are on their mobile phones for an average of 4.5 hours every day, engaging on mobile needs to be top of mind for marketers everywhere. 
However, that doesn't mean you can send them mobile push after mobile push without consequences. It actually means you want to be more certain your mobile communications are relevant and timely because this channel is so valuable.
With the Spring Release, you can now update mobile push notifications that you've already sent. Instead of sending a second notification (or worse, a series of notifications), which can be distracting or even irritating to your customer, they see just one notification with the most recent update. This allows you to ensure customers receive the most up-to-date information, fully maximizing your customer's mobile screen real estate and their attention. 
Use this for:
Orders: Update customers about delivery and package tracking status.
Flash sales: Create a 24-hour flash sale countdown and update with messages like "you have 10 hours left for 30% off your entire purchase" and "you have 5 hours left for your entire purchase."
Urgency: For items with limited availability (such as event tickets), update the quantity remaining. "There are only 10 left" changes to "There are only 5 left."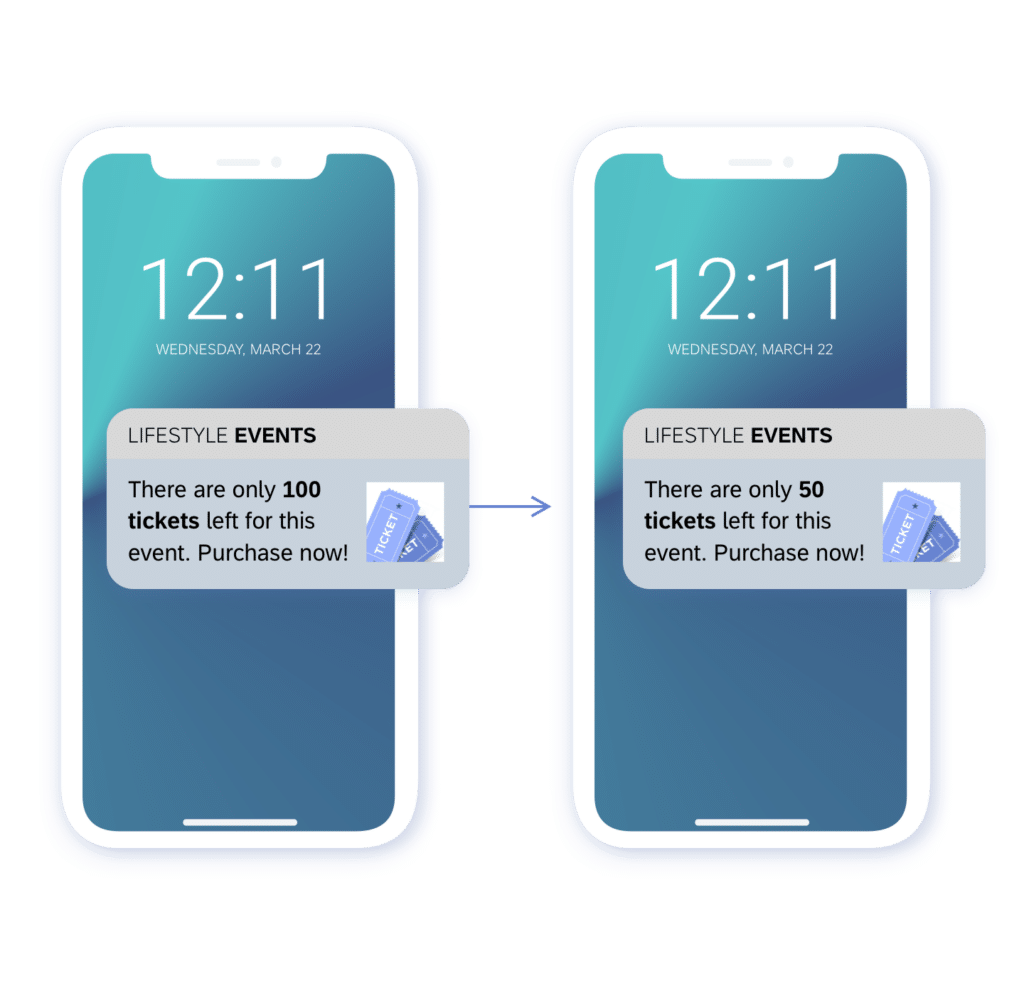 Learn more about Update Push Notifications.
Push It: Mobile and Web Push API
Emarsys clients sent more than 2.5 billion web push messages and more 14 billion mobile push messages in 2022. Furthermore, web push notifications can reach more than 80% of users. Web and mobile pushes are a big deal for our clients, and we want to help you push the marketing envelope further. 
Mobile and web push API is now offered to integrate with Emarsys push services for campaign task management performed from their own platform. This API supports query, new campaign creation, update, querying, deleting, and launching.
The Buddy System: SMS Partner Integration API
The SMS open rate is 98% — and in most cases. your customers will see SMS messages the moment they're delivered. SMS is a channel experiencing rapid growth, and the software market sees a great deal of potential there: the SMS Marketing Software Market is projected to increase by 23% from 2022 to 2030. 
As a marketer, you need the ability to work with your preferred SMS vendor without any support from IT, and our new SMS Partner Integration API gives you exactly that sort of empowerment. Accelerate time to value faster on Emarsys using your preferred partner to send personalized SMS to your customers 
You can use this API to:
Increase active customers: Send special offers and incentives wherever your customers are.
Drive loyalty and retention: Keep customers up to date on their loyalty points with reminders of next tier or expiration dates on points.
Keep customers engaged and connected: Update package tracking and shipping in real time.
Personalization and Segmentation Updates
Omnichannel personalization is at the heart of everything we do at Emarsys. It's next to impossible to build long-term, trusting relationships when you treat someone like they're a stranger, so we make it our priority to enable you to use customer data, understand it, and apply it to your campaigns. 
We're always looking to improve your ability to maximize the personalization capabilities in Emarsys. With this year's Spring Release, we're helping you deliver emails with enhanced tools for product recommendations, plus we've made your segmentation experience more consistent, more flexible, and easier to use.
Easy Access: Availability Filtering for Personalization Rules
You can use Availability Filtering for personalization rules to take control over what products you're recommending. With this feature, you're enabled to automatically run a filter before sending out emails to ensure that customers receive only recommended products that are in stock. 
This means customers can enjoy a better experience with recommendations, and on the back end you won't see any error during the campaign send out.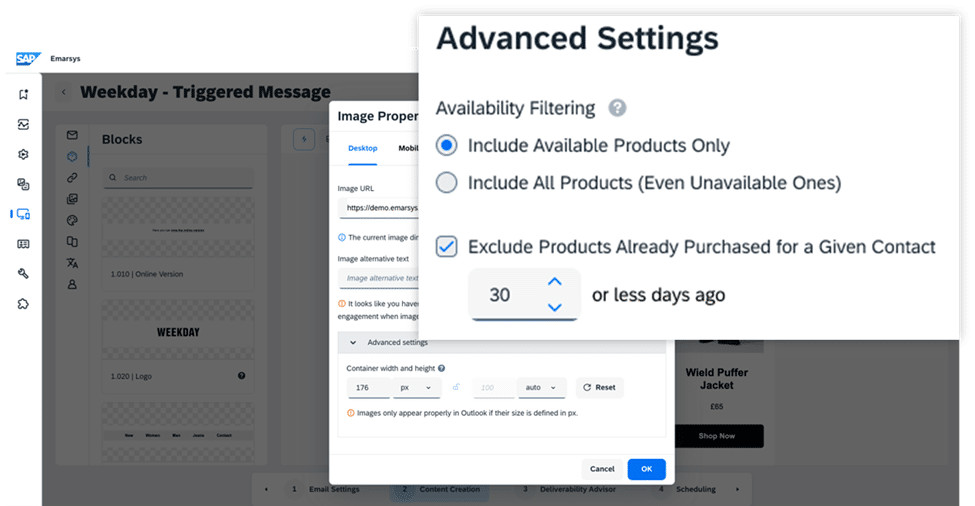 Learn more about Availability Filtering.
A Little Fun: Emojis Are Supported Natively in the VCE Editor
A picture can say a thousand words, and a well-placed emoji can be a great way to catch someone's eye or maybe even make them smile.
You can now insert any emojis into the content when creating block-based campaigns. The emojis will show up in the preview, properly in line with the text. We wish you delightful emoji use! 😁🌟
More Know-How: Emarsys Script Language (ESL) Knowledgebase
If you're unfamiliar with Emarsys Script Language (ESL), it's an advanced and flexible way to personalize your email content. 
To put more power at your fingertips, we will soon be launching the ESL Knowledgebase. You will soon have full access to a library of ESL that you can use to enhance your email campaigns with even greater personalization. The library will include tutorials, guides, and even code snippets that you can copy and paste to use!
You will be able to use the ESL Knowledgebase to accomplish things like:
Input a variety of personalized tokens that are relevant to your brand.
Create block targeting content within email campaigns.
Add visual content without full knowledge of ESL.
Link to the Knowledgebase coming soon!
Segments Page Enhancements
We have two updates for the segments pages to help you power through your work day.
New UI Filtering Options
You'll now find the following options on the Segments page:
Changed By: See who last modified the segment.
Date Ranges: Filter segments based on Last Modified or Created On dates. 
Type filter: Filter based on segment type, such as web behavior, combined segment, or other types. 
Number of Contacts filter: Select a range of contacts to filter by segments with that many contacts.
Bulk action selector: Use the check boxes to conduct bulk changes all at once.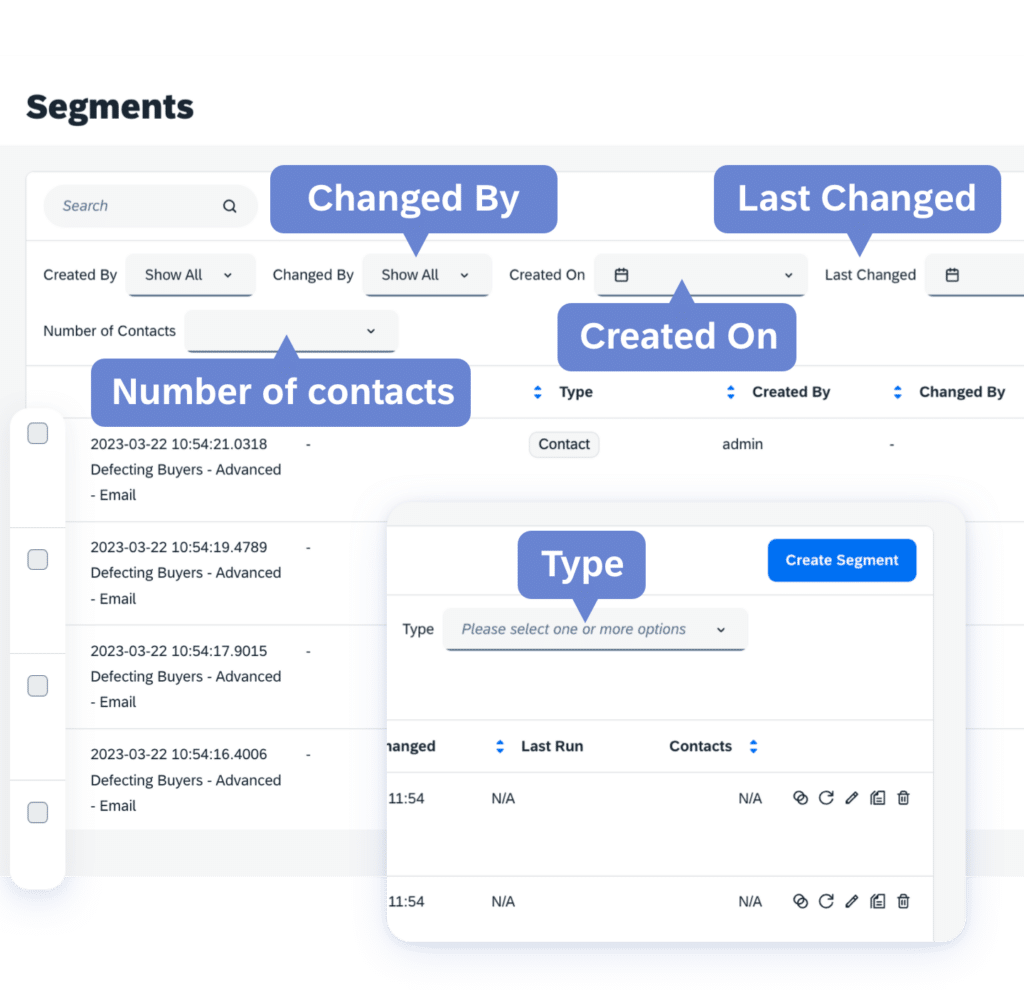 UI Parity for the Segments and combined Segments Pages
Plain and simple, the columns on the Combined Segments page and the Segments page are now identical, so you can more smoothly and efficiently switch between them.
Retain Retain Retain: Loyalty Updates
Consumers are tightening their wallets, and their loyalty isn't something you can take for granted. You need to ensure that your brand remains top of mind and that they understand the value and the experience they get with you. 
The updates to loyalty in the Spring Release will help you create better experiences and retain your customers, so they'll keep coming back. 
Greater Flexibility: The Ability to Split Points
You can split loyalty points more intentionally using these options:
Points (both status points and points to spend)* 
Status Points Only
Points to Spend Only
* Note that the Points option splits both Points to Spend and Status Points in the same proportion.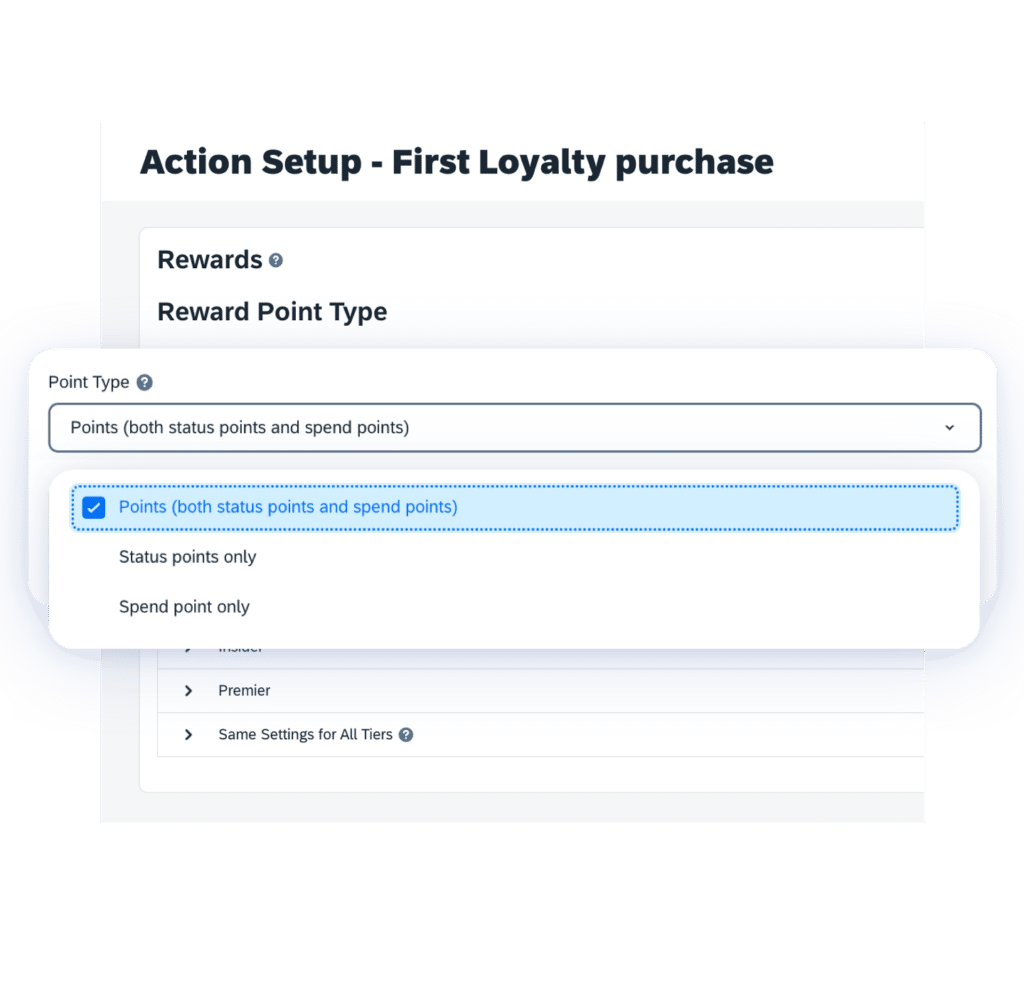 What these options mean is that you have increased flexibility in the way you award points. 
Additionally, you have the ability to adjust this setting for both tiers and actions. For example, you can specify that for a purchase action, the customer will be awarded 10 Status Points and 10 Points to Spend. But in addition, based on that customer's current tier, they can also be awarded an extra 10 Points to Spend as a tier benefit. 
Learn more about splitting loyalty points.
More Insights: Voucher Analytics
Graphs are available to give you insights into how many vouchers your loyalty members have earned, and how many have been viewed by eligible loyalty members through their Loyalty Wallets.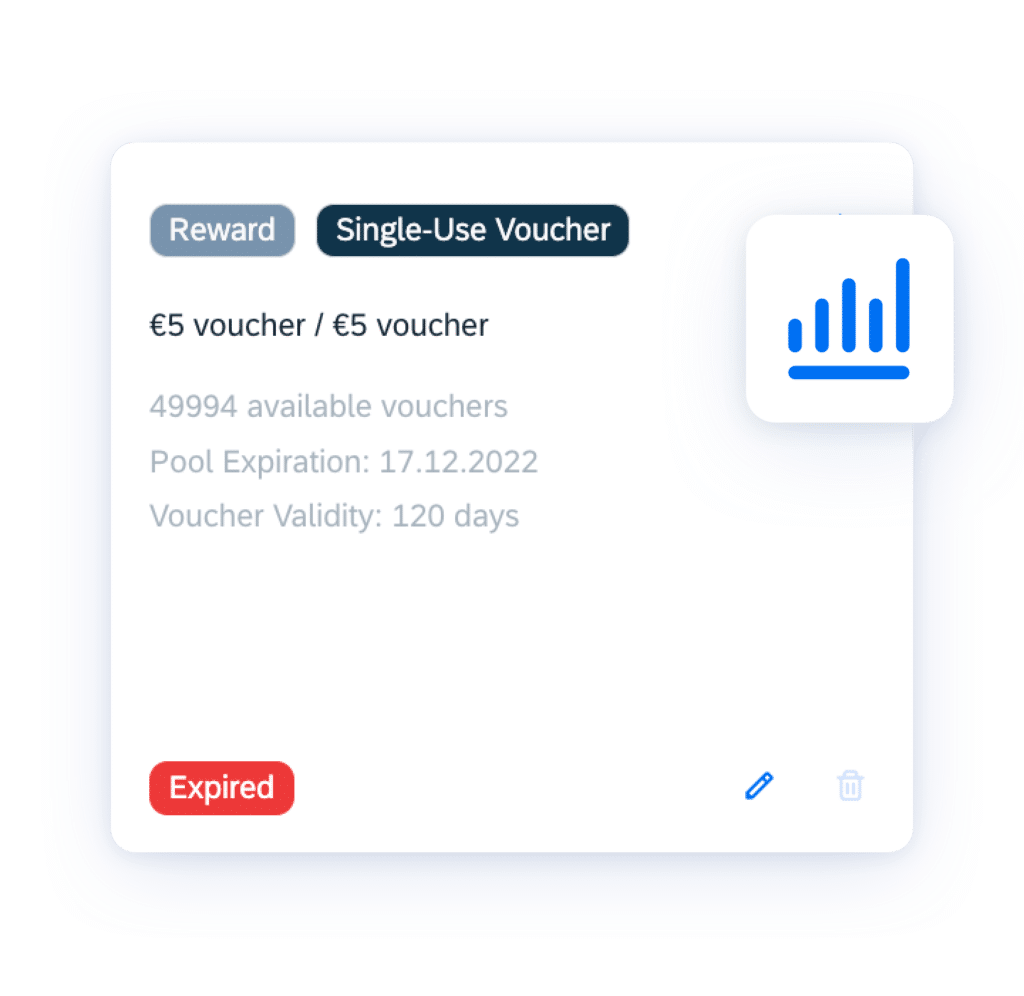 Voucher reports are available for download in CSV format. 
Learn more about voucher analytics. 
Independence: Self-Serve Data Import Configurations
You have the ability to configure the sales data import for Loyalty. Under Loyalty Configuration, click the Sales Data Import tab. This means greater independence for you and swifter time to value, as you can take your data in hand, import it, and start putting it to use right away.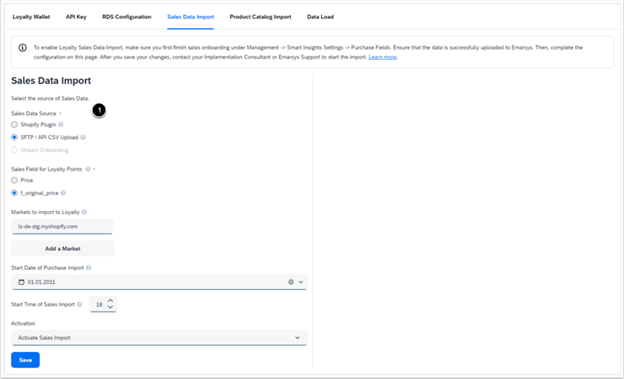 We have a step-by-step guide for you on the SAP Emarsys Help site — simply click this link: 
Learn more about self-service data import configurations.
Spring Refresh: The Marketer's Experience
We're making changes to the look and feel of the Emarsys platform and also the way you experience it as a user.
Feeling Speedy: Real-Time Customer Data Cloud (CDC) Emarsys Integration
Great news for users of SAP and Emarsys: It's time to raise a toast in celebration, because the integration between the SAP Customer Data Cloud (CDC) and Emarsys is now complete!
What this means is, say, if your customer creates an account on your website and it goes through the CDC, then your customer's information can be transferred to the Emarsys database in real time. With this real-time data sync, you're able to trigger campaigns (such as a Welcome campaign for that new customer) right away, no delay. This empowers you to be more responsive, more engaging, and overall more sophisticated as you guide your customers on their journeys with your brand.
Learn more about SAP CDC and Emarsys Integration.
Family Matters: "Also Bought" Support for the Parent/Child Feature
Email-based Product Recommendations now feature complementary products based on the customer's last purchase using "Also Bought" logic. With this update, what this logic won't do is recommend the same product but in different sizes. 
What does that mean? Well, when a customer looks at two different sizes, Medium and Large, that customer will get just one recommendation for that product, not two recommendations for the same product in different sizes, because they aren't considered to be different products. 
With this update, you're going to be more effective about the real estate you use when recommending products to your customers. 
You can use this feature to:
Drive upsell and cross sell: Recommend cross-category selling such as camera lenses and stands.
Optimize abandoned cart campaigns: Recommend additional products to purchase as a way to draw a customer back to an abandoned cart, giving them more reason to check out.
Learn more about Also Bought logic for web.
For Reference: Mention Me Tactics
More and more marketers are discovering that by treating referrals as a legitimate acquisition channel, they open up new opportunities and can acquire high-quality customers. Mention Me is a powerful referral platform and an Emarsys partner. 
We're taking our partnership to the next step with pre-built Mention Me tactics, automated journeys that have Mention Me built in and that help you drive referrals and reward your best brand advocates. You can accelerate time to value with these tactics, launching campaigns to remind users to use their referral rewards and also include personalized referral share links.
Learn more about the three new tactics: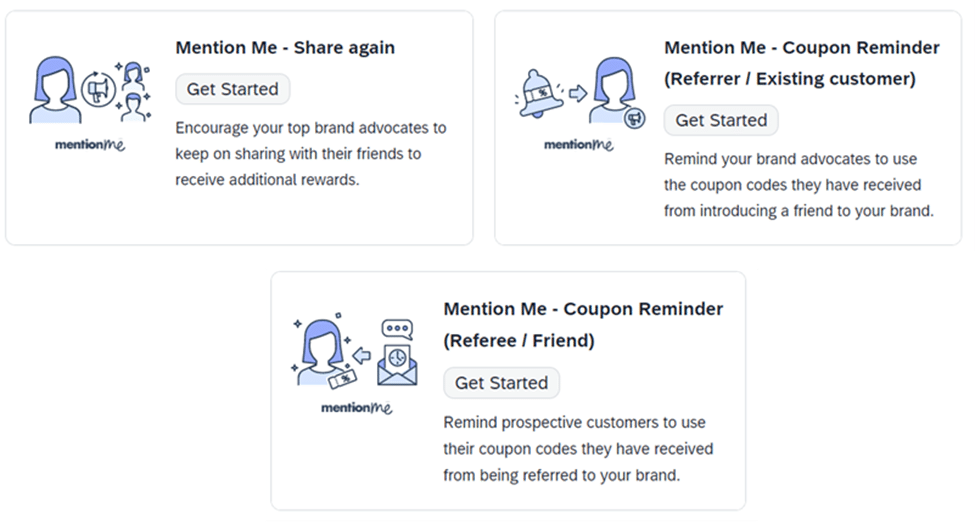 Fare Thee Well, Main Dashboard!
The time has come to bid a fond farewell to the Main Dashboard as it rides off into the sunset. Effective on March 27, the Main Dashboard will be deprecated, and the Emarsys Home page will be the default landing page, welcoming you with the widgets and stats that help your day-to-day life make more sense. One large part of the reason for this change is that the Main Dashboard was largely redundant with the Home page. Additionally, the Home page will give you greater flexibility and customization, so you can enjoy a better overall experience. 
Learn more about the customizable Emarsys Home page.
Join Our Pilot Program: Become a Product Pioneer!
We're looking for product pioneers for some special new features that are in development.
Becoming a Product Pioneer is a powerful way to influence features that you're especially keen to use. We welcome you to bring your insights to the table and collaborate with us. You'll have direct communication with our Product and Development teams, and you'll get to work specifically on features that are of interest to you. 
Currently we're seeking pilots for these projects:
Mobile Wallet: Launch campaigns with wallet passes such as vouchers, coupons, loyalty cards, and event tickets. 
In-App Personalization: Personalize in-app content with contact, voucher, or event data. Ensure your customers get the best experience using your app.
Campaign Analytics: Analyze the performance of campaigns and compare against channels and audiences. Use cases include comparing campaigns on a channel level, comparing them against generated revenue, and comparing clicks and open analytics to improve your campaigns.
Segment.com Emarsys (Actions) Destination: The (Actions) destination on Segment.com connects Emarsys with an existing Segment.com account. Segment.com is a platform for enabling targeting and omnichannel engagement. Use cases are importing contacts to Emarsys from Segment.com, importing updates to contact lists, and triggering Emarsys actions from Segment.com.
Criteo Audience Node: This node will enable marketers to connect to an existing Criteo account. This will enable you to send contacts to Criteo campaigns, remove them, or remove them based on segmentation criteria or specific events. You can also create a Criteo audience from an Emarsys segment or event stream.
Final Thoughts 
Together, we're walking along a path to the kinds of 1:1 omnichannel customer experiences that lead your customers to say things like "yeah, I'd shop with you again" or "I'd happily refer my friend to your brand." 
Relationships aren't built in a day — instead, they're built on every interaction, every step along the way of the customer's journey with you. That's why personalization, timeliness, and relevance are so vital to marketing. By delivering engaging, tailored experiences across channels, you show your customers your deep understanding and respect for them, building a long-lasting relationship that benefits both of you. 
We'll continue bringing you more powerful tools and innovations to make that happen!
---
Handpicked Related Content:
Special thanks to our friends at
Emarsys
for their insights on this topic.