Even if you've done your homework on time and prepared for the holiday season, it's easy for things to slip through the cracks. There's always something left to do. Between checking inventory levels and dealing with your suppliers you also need to finalize your marketing campaigns.
This post will introduce you to the best-performing Christmas ad flow that will subscribe your target audience on Messenger and drive outstanding return on your ad spend.
Christmas Sale Ad Flow
According to the National Retail Federation, the Holiday season accounts for an average of 30% of retailers's annual earning. Shoppers are constantly bombarded with offers, deals and ads, so you have to make sure stand out from the crowd and reach your customers more effectively.
Setting up Sponsored Messages for the holidays is one of the most remarkable marketing tactics you can pull off. On another note, creating Click-to-Messenger ads can be just as terrific in terms of ROAS.
This Christmas Sale Ad Flow will help you to drive people from your Christmas Sale Facebook ads to the conversation flow. It gives your subscribers the discount deals you set up and sends two automated reminders if they don't add any products to their cart.
How to use the Christmas Ad Flow Template
While you're logged in to your Recart account, visit Recart's Template Library. Click on the Use this Flow button to import the template directly to your account.
This will copy the whole template to your account and open the Conversation Flow Editor. You don't need to set it up manually for yourself, it's all your to grab.
It's highly recommended to edit the content of the messages. You know your audience, so you should talk to them with your own brand voice.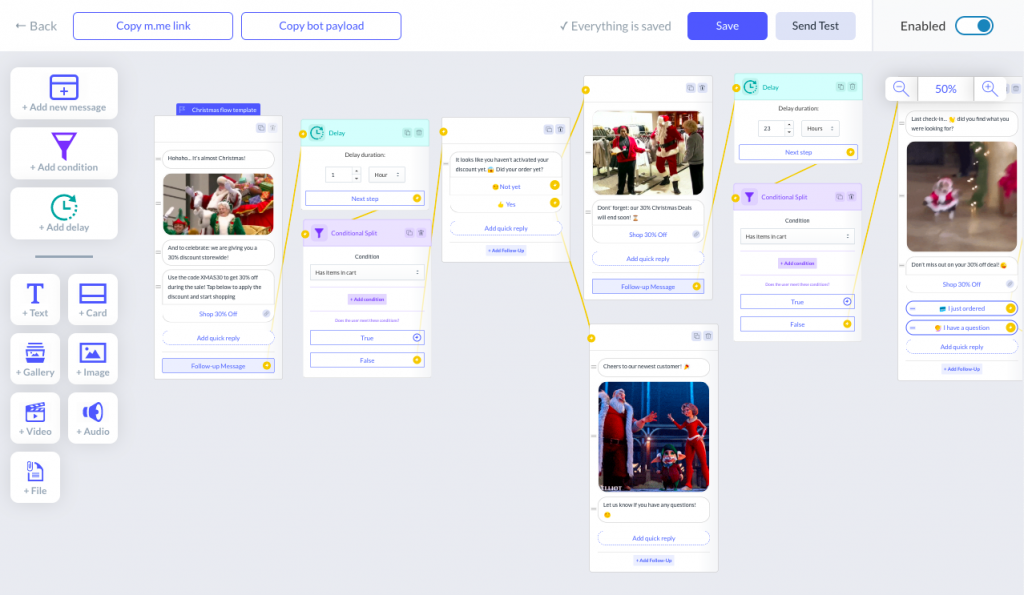 Connect your best Facebook ad to your Conversation Flow
Here's our step-by-step guide to connecting your Facebook ads and your Conversation Flows. You'll find our best practices and recommendation regarding creating your Facebook ads, too.
The Christmas Sale Ad Flow was created by Budai Media. They scale ecommerce brands using email and Messenger marketing automation.
If you still need some help, just shoot us a message in the live chat from your Recart dashboard, and we'll help you with the setup.
This article was originally published by our friends at Recart.