Discounts and bundles are great, but here's a secret: offering an exceptional customer experience as soon as that sale is made keeps customers returning.
In other words, delivering orders accurately and on time makes a huge difference in whether your customers return (or churn).
One of the most significant impacts on customer satisfaction and loyalty occurs during shipping and delivery. When the holidays roll around, most brands leave a lot of money (and the potential for repeat customers) on the table by focusing more on sales than getting deliveries into customers' hands.
As busy as the holiday season gets for Shopify stores, customers still maintain high expectations of brands to deliver goods quickly and accurately. But how can you meet (and exceed) customer demands during one of the biggest shopping seasons of the year?
The best way to prepare your Shopify store for the influx of BFCM shoppers is to get started by checking your store's shipping performance, delivery tracking, and customer communication channels today.
Optimize Your Shopify Transactions By Tracking Delivery Performance
Merchants have had a lot to overcome in recent years, and transit and delivery delays are one of the biggest headaches. If there's ever a time when transit delays and delivery stalls are unwelcome, it's during the holiday season.
What's more, a poor delivery experience during the holiday season could mean losing sales and potential customers long after the new year.
According to a study by Voxware, nearly 70 percent of customers surveyed said they would be less likely to shop with a retailer again if their order didn't arrive within the promised timeframe.
Going through your shipping and delivery performance through Wonderment is one of the first steps to take now to prepare your Shopify business for Black Friday and Cyber Monday. Depending on what you find, switching shipping carriers, implementing ways to streamline order processing, or getting ahead of the rush by preparing inventory will make for a better customer experience come November and December.
By using Wonderment Reporting, you'll gain deep insight into carrier performance through Delivery Reporting. With this data, you can monitor delivery performance between carriers or service levels to see how various warehouses, destinations, and carriers impact getting your product to customers.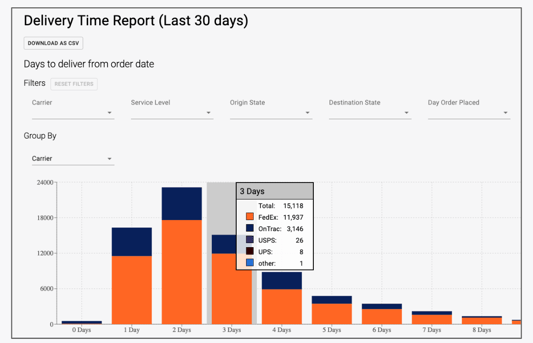 During the audit, take a look at warehouse and carrier performance over the last 30 days. By reviewing Fulfillment Cycle Reporting, you'll better understand which warehouses are slow to process orders against days of the week. For instance, orders placed on Saturday aren't typically fulfilled until Monday. But orders placed on Tuesday that aren't fulfilled until Thursday or Friday? This could be an issue when larger volumes of orders come in during the holidays.
Time in Transit is another important metric to track during an audit of your shop's performance. This data offers insight into how each carrier is performing in delivering packages to customers. By seeing this information, you'll better connect with customers when there are delays or stalls in the delivery process and get ahead of any potential complaints or support tickets asking about package status.
Audit Communication Channels to Prepare for BFCM Sales
Once you gain insight into when and how your packages are being delivered (or experiencing stalls), the next step is to audit communication channels.
Staying connected through transactional email or text/SMS keeps customers happy (read: increased customer engagement and revenue) and allows you to frame expectations during busier shopping seasons.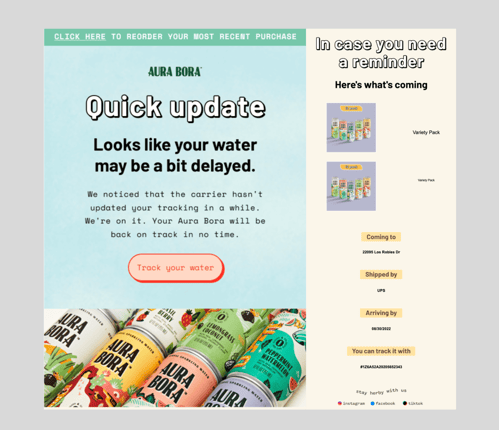 Connecting emails and text messages to a branded tracking page keeps customers updated on where deliveries are through every aspect of the shipping journey, which is helpful in cutting down on customer service tickets for your support staff.
There's another benefit to tracking pages: they serve as prime real estate for highlighting cross-promotions, upsells, or other sale items (such as limited-time offers and stocking stuffers) to boost the average order value during the holiday season where FOMO and impulse purchases are at an all-time high!
Aside from making the shopping experience more enjoyable for both the brand and customers, keeping shoppers updated on packages (especially during BFCM) improves customer satisfaction, which often translates to repeat purchases and better brand or product reviews.
BFCM Prep Checklist: Get Your Shopify Store Ready for the Holiday Season
Auditing data for your Shopify store helps you see where specific strategies can be made for Black Friday and Cyber Monday, but when should you implement changes?
We've created this handy checklist for you to reference starting in late October and running through January to help keep you on track to making this holiday shopping season one of the strongest yet.
  Late October
Start planning necessary updates to your store's  tracking page regarding BFCM (updated shipping information, order processing times).
  Early November
Update tracking page products to include gift-giving products, bundles, and limited offers (LTOs).
Update transactional emails and SMS notifications to set expectations around delivery times and potential delays. Highlight support info and FAQs to keep customers updated on orders.
  Week of BFCM
Add shipping timelines and last order days for Christmas delivery to the tracking and support pages
Promote BFCM sales on tracking pages.
Add post-purchase surveys to the tracking page to capture whether customers are shopping for themselves or gifting to others to personalize future customer experiences further.
 Mid December
Add digital gifts (ex: gift cards) to the tracking page for last-minute shoppers.
Update customer communications after the shipping cut-off date to include language regarding potential delays and no guarantee of arrival by the holidays. This helps frame expectations during the delivery crunch.
 Early January
Revert the tracking page, transactional page, and SMS notifications to regular messaging.
Add a 'Returns' block via Loop integration on the tracking page to initiate returns.
 Mid January
Run a retrospective on how shipping performance went during the shopping season.
Look at delivery ETAs vs. when packages were actually delivered, the number of stalled orders opens and clicks on transactional emails and SMS messages, order tracking page revenue, and other relevant data to your business. Use this data to form a strategy for next year!
This originally appeared on
Wonderment
and is available here for wider discovery.