Quick Links:
---
Free shipping rewards can be a fantastic strategy for boosting revenue in your eCommerce business. 
According to Metapak, 47% of respondents ranked free shipping as their #1 consideration for most online purchases. In comparison, 60% of shoppers abandon their carts when extra costs are added, including shipping. 
Offering shipping rewards removes friction for people that have already made the decision to purchase something. 
We're giving you the low down on why free shipping can boost revenue and customer loyalty, the benefits of free shipping for online businesses, and the pros and cons of the different types of shipping rewards you can offer.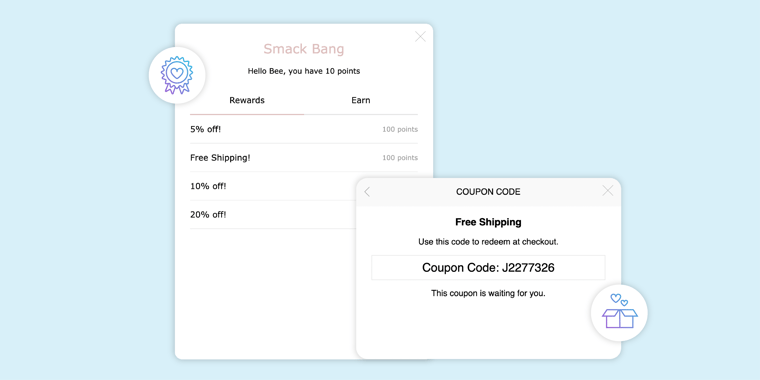 What are the benefits of free shipping for businesses?
Free shipping benefits are endless- if you have a strategic system for it. 
Firstly, it could end up being more cost-effective than charging for shipping. Shippit research explains why free shipping could actually save you money: 
"…offering free shipping could actually save you money. Think about it; free shipping could increase traffic to your site, lower your cost per acquisition and increase the quality of your customer; creating higher customer lifetime value…
…Or to put it another way, you will see 15-30% improvement in net profit."
Secondly, it boosts customer loyalty. Customers love to be appreciated and surprised. Adding free shipping to your customer loyalty program or as a special bonus for your best customers will only create more loyalty to your brand. 
Other benefits of free shipping include:
Keeping customers happy- 73% of customers want to see free shipping at checkout!
Guide for businesses to provide free shipping while boosting revenue
To create a free shipping program, there are a few things you need to be successful. If you offer it too liberally, you will lose revenue. However if you don't offer it enough, you lose opportunities to reward loyal customers. Here's what you need to do instead! 
1. Set a minimum purchase amount
A strategy you have probably seen is to offer free shipping on orders over a certain amount. 
Red Door research shows that orders increased by 90% when a free shipping threshold was offered (e.g. "free shipping on orders over $75"). 
This works for several reasons. 
Firstly, you are targeting customers who are already in the process of buying from you. If they put something in the cart and then see a pop-up that tells them they are X dollars away from free shipping, you will see amazing conversions (like the Red Door study above). 
Secondly, you can usually absorb the cost of shipping because the cart value increases significantly. 
The pro of this approach is that it is super effective for increasing cart values. The potential downside is that free shipping is not considered an exclusive reward for loyalty. 
2. Offer free shipping with an annual loyalty membership
The best thing about rewarding loyal customers is that they become even more loyal. So why not offer eCommerce free shipping with your online loyalty memberships? 
If you have a loyalty program, there are several ways you could offer this. For example, it could be an exclusive reward for your top-tier members (i.e. customers who have a certain number of points). It could also be available to anyone who is in your membership. 
Smack Bang is a dog treat boutique where you can see this in action. They have a list of rewards that members can earn, including up to 20% off and generous free shipping.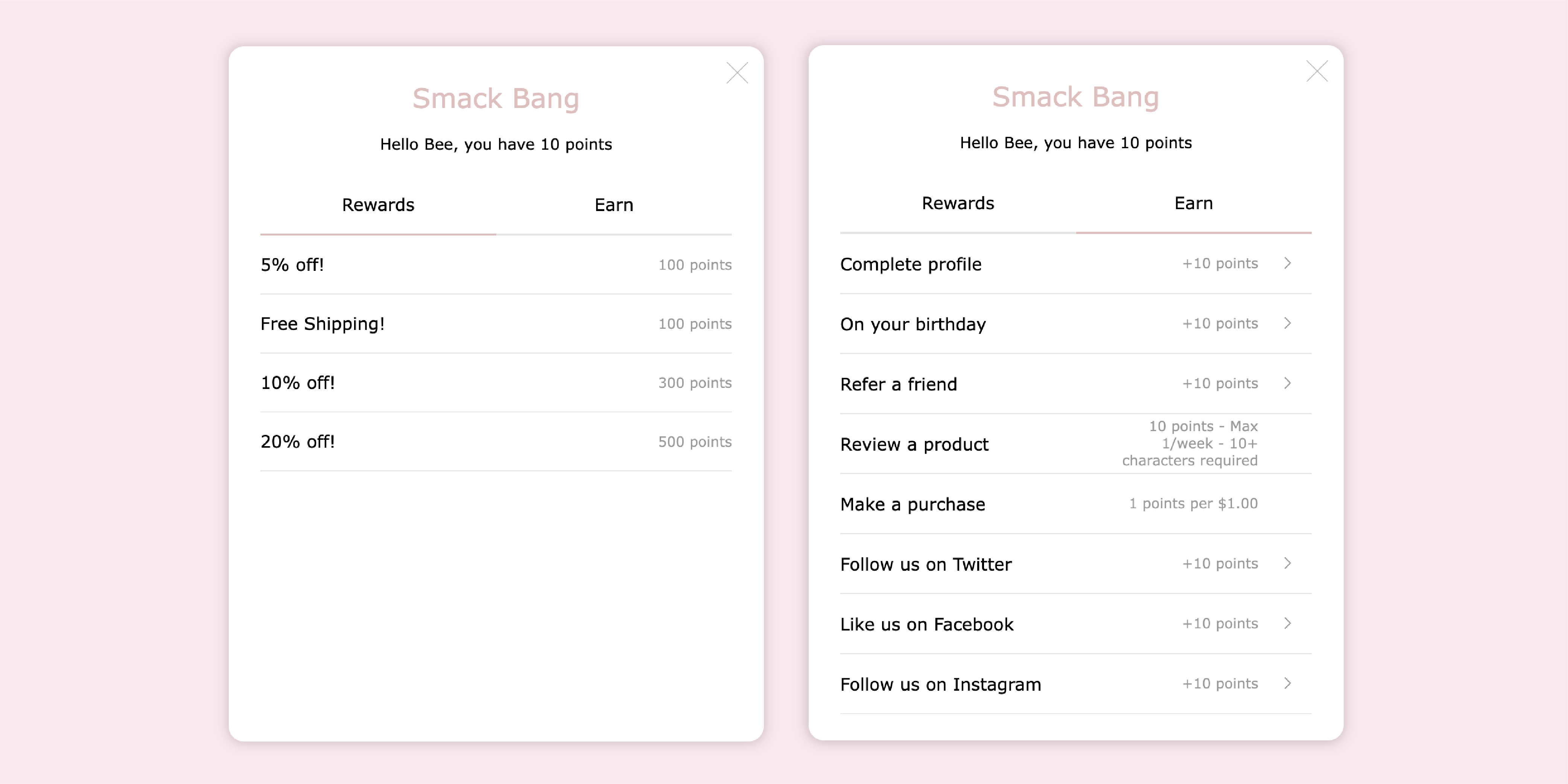 Shoppers clearly love participating in the program. Smack Bang has a 100% loyalty engagement rate and so far members have collectively earned over 300,000 points!
3. Provide free shipping tiered approach which provides rewards based on purchase value
One way to give out shipping rewards is to create customer tiers based on how much they spend. This both rewards your most loyal customers and makes free shipping exclusive. 
The simplest way to do this is to implement a loyalty program. Loyalty programs are a powerful customer retention tool, and you can create a top-tier customer experience for your biggest spenders. 
A prime example is the streetwear brand, Federation +. Their online and in-store loyalty program creates an inviting and easy way for customers to earn points and incentivizes customers to shop more by offering generous loyalty tiers.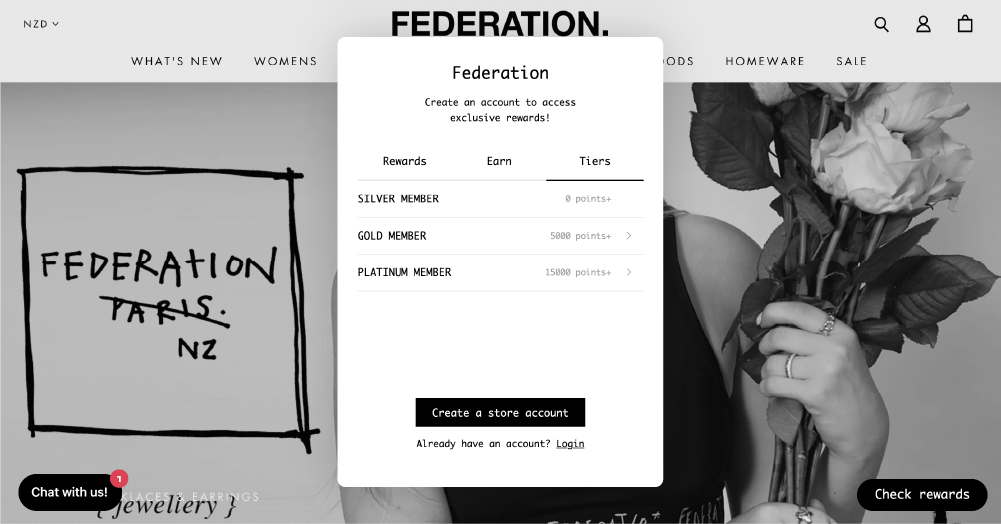 Customers can easily exchange points for free shipping rewards (and other amazing bonuses like discounts and free products!). They have silver, gold, and platinum tiers that all encourage customers to remain loyal and take advantage of free shipping and other bonuses.
The clear positive of this strategy is that it makes your most loyal customers feel appreciated. Meanwhile, the con is that you need to have a certain revenue threshold to absorb the shipping costs. 
4. To continue engagement offer limited-time free shipping
To boost revenue fast, you could run a limited offer on free shipping. 
Human psychology shows us that urgent situations force us to make decisions instantly. You can use this to your advantage with free shipping offers.
For example, Merrell NZ celebrated the global brand's 40th birthday by offering free shipping on all orders for a limited time. With a 15% repeat purchase rate and an average purchase frequency of 3.5x, you know that they must be doing something right with their email marketing!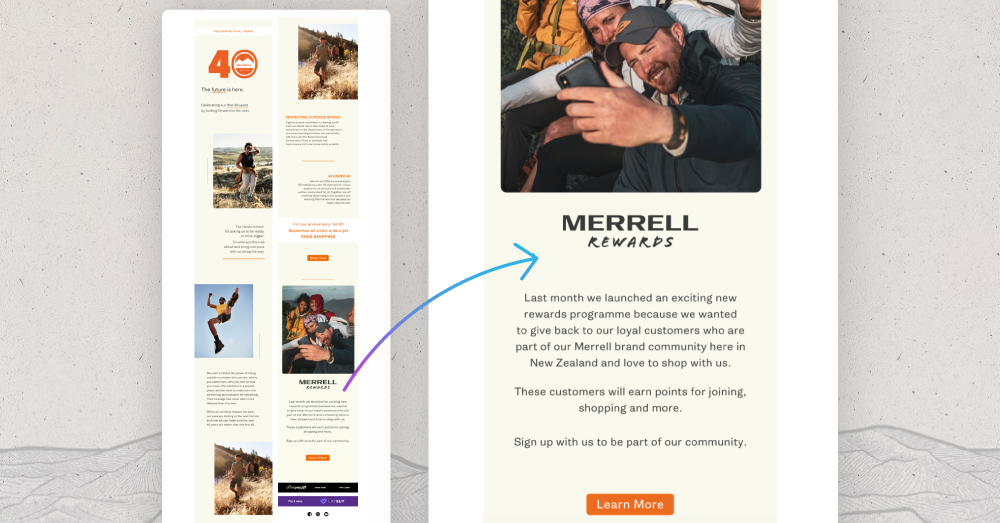 Limited time offers are also great for at-risk customers. 
These are customers that have already purchased but you haven't seen them in a while. Offering something great like free shipping for a limited time can be enough to entice them back. 
One of the downsides to the limited timeframe of this approach is that you only get a cash injection, not long-term benefits. But on the plus side, it demands action from your customers!
5. Increase signups with free shipping on first order
Incentivizing email newsletters and loyalty membership sign-ups is invaluable for increasing customer lifetime value. You can use free shipping as a way to increase these signups.
This is a super simple way to win over people who need to cross the know-like-trust threshold. 
Pros of free shipping on sign-up: You can grow your list of new customers and then segment them once they have made a purchase with free shipping. You are also rewarding them off the bat. Cons? You have to absorb the cost and these customers might not have as much buy-in as customers who buy without the free shipping incentive. 
6. Build trust with free returns
Offering free returns can help build trust with your customers. According to UPS, 68% of online shoppers check your return policy before buying. 
Good return policies are usually a good indication of good customer service. It shows your customers that you care about them and believe in the quality of your product and their experience. 
If you are going to offer free returns, there are a few things you should remember: 
Make your returns policy super clear for people when they are purchasing 
Create an FAQ page 
Decide what your guidelines are for free returns- is it no questions asked? Is it exchanges only? 
The drawback of this policy is that there is always the potential for customers to take unnecessary advantage of it. However, the positive side is that you build trust and credibility, and remove a big hesitation for someone shopping online. 
Final words
This is your sign to segment your customers. Not only does it increase conversion rates, but it also boosts revenue, rewards your loyal customers, and optimizes your marketing strategy by targeting existing and previous customers. 
The best part? Marsello can automatically group your customers based on their purchasing history and behavior, so shoppers are already segmented automatically, making it easy to create these targeted campaigns. There's no time like the present to boost your revenue and loyalty programs!
Published Nov 25, 2021 10:38:04 AM
Special thanks to our friends at
Marsello
for their insights on this topic.