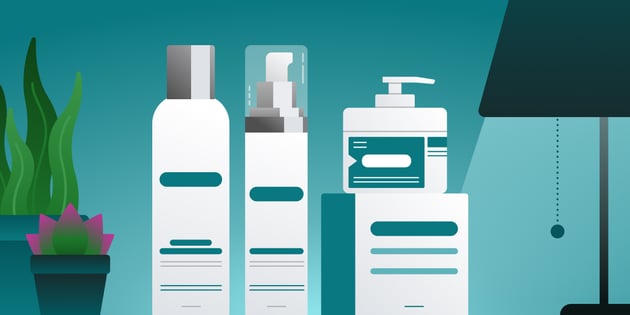 Introducing Bryght:
After owning and operating waxing salons for over a decade, Luba Sasowski saw a gap in the skincare market. She founded Bryght in 2020 on a mission to solve her clients' (and market's) need for natural, safe and effective products that address hyperpigmentation for sensitive areas.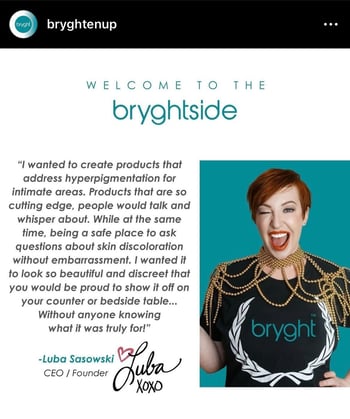 100% women operated, Bryght has grown to a team of strong, supportive women on a mission to offer natural and effective products that address all skin concerns, for all areas. 
Becca Hislop, Director of Corporate Marketing, has been a part of the founding team alongside Luba since 2020. Becca wears many hats as a one-woman marketing team and we had the chance to sit down with her to hear more about her journey with Bryght and Privy.
Today, we'll break down:
Bryght's journey with Privy

The strategy behind their BFCM success

Final thoughts and tips from Becca
Let's dive in!
Bryght's journey with Privy
When Bryght first launched, Becca was relatively new to marketing and the ecommerce industry. But she quickly took to online resources and other brands on social media to learn and shape Bryght's marketing strategy.
That's when Becca came across Chelsea Branch, Founder and CEO of Kōv Essentials, talking about her experience using Privy on TikTok.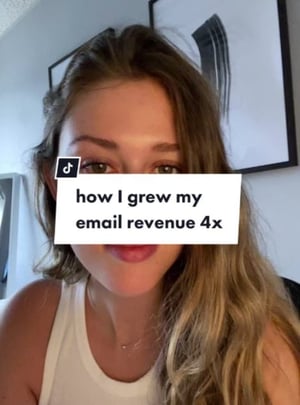 Quickly after, Becca looked up Privy and started their journey.
And after meeting with a Privy coach to walk through the platform and her use cases, it came down to ease of use, support and analytics that sold Becca and the team.
Being able to report on revenue and get granular with email and SMS campaign performance made Becca's "life way easier" she told us.
And within the first quarter of having Privy, Becca said that "they easily got 10x our money back"—which made Privy a "no brainer" for the team long term.
Since then, the Bryght team has generated over 6 figures in attributed revenue with Privy. 
Now, enter Carley Palm—the Bryght team's dedicated customer success manager.
Becca told us that the fact that she has "access to a customer success manager who has been with her throughout the onboarding process and doesn't stop" has made her "feel like she wasn't just a number" with Privy.
Working together over the last year, Becca and Carley have built an amazing partnership.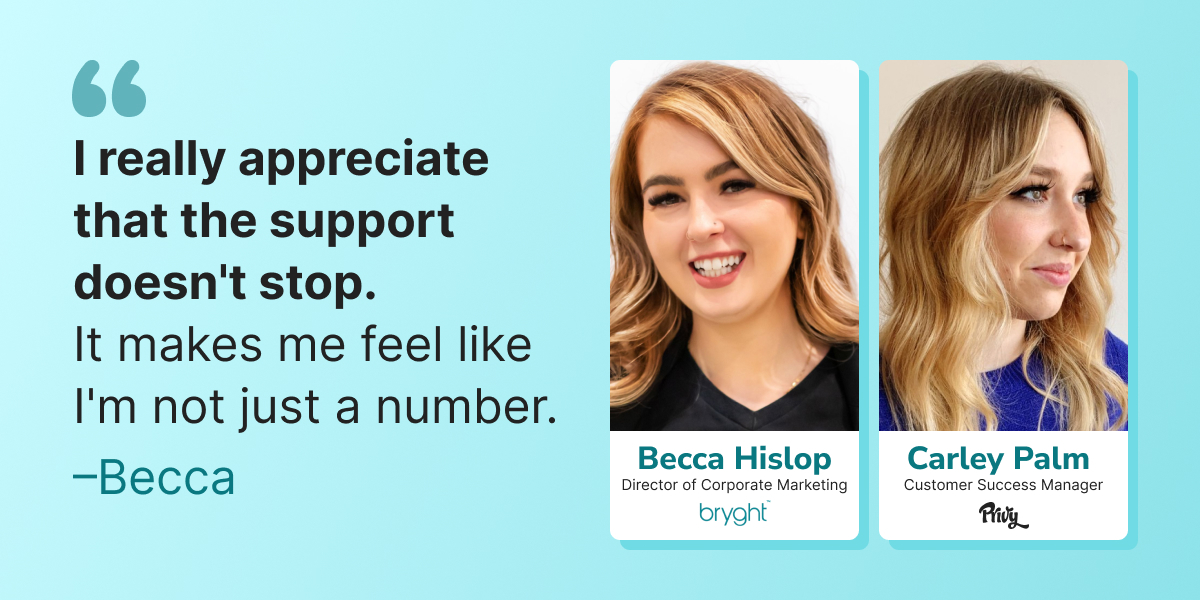 So, when it came for Black Friday 2022, they put their heads together to strategize. 
And they landed on a campaign that grew revenue 1500% YoY… 
Let's break it down…
Get our best content on ecommerce marketing in your inbox 2 times a week
The Strategy That Grew Revenue by 1500% for Black Friday Cyber Monday 2022
The offer
While discounting is a common play for online brands, many brands (like Bryght) choose not to offer discounts (or only do on rare occasions).
But this holiday season, Becca and the team decided to get creative with a discount offer that was compelling while still protecting their margins.
With 2 distinct buyers (wholesale and retail) to engage, Becca crafted a unique offer for each segment—a 20% discount to wholesalers and a discounted item to retail shoppers.
The promotion plan
Becca told us that "this was the most full-fledged campaign they'd ever run".
And it all started with segmentation.
Using Shopify Tags and custom segments within Privy, Becca was able to quickly split their 2 audiences and save them for easy-access and future use.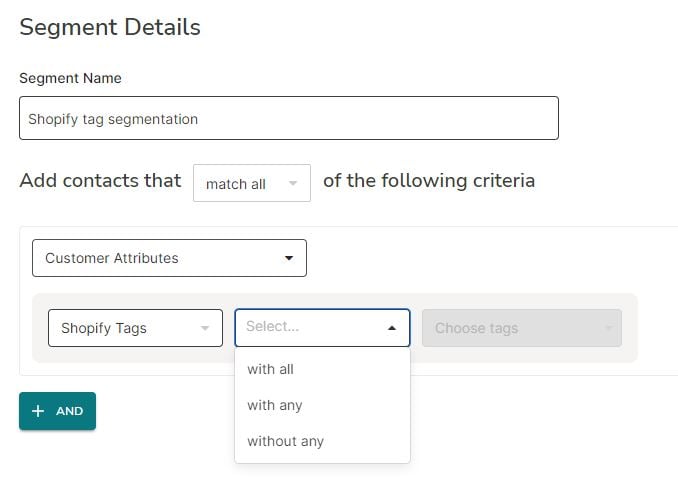 Once she nailed down the offer and segmentation, she started to spread the word about what was coming. Using Privy's countdown timer, they sent a pre-BFCM email to create urgency and boost engagement levels before the sale went live.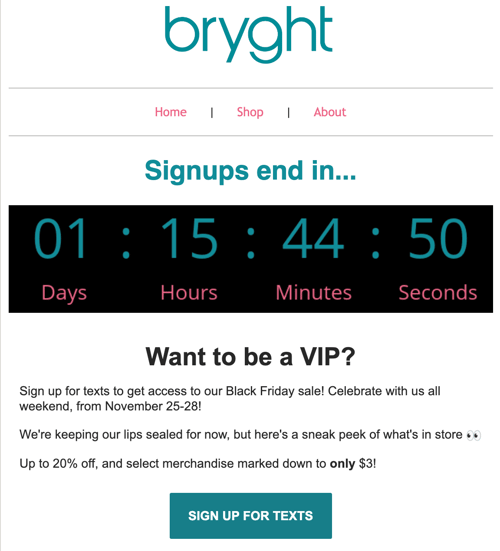 And once the campaign launched, Becca aligned their website, email and SMS experiences to make buying easy and maximize purchases.
Starting with the website, Becca launched an announcement bar alongside displays with custom audience targeting that aligned to the email visitors (using UTM parameters for segmentation).

From initial launch through Cyber Monday, the Bryght team sent out 8 total emails (4 for each primary segment). These emails averaged a 40% open rate and generated 5 figures in attributed revenue.
Here's one of the emails: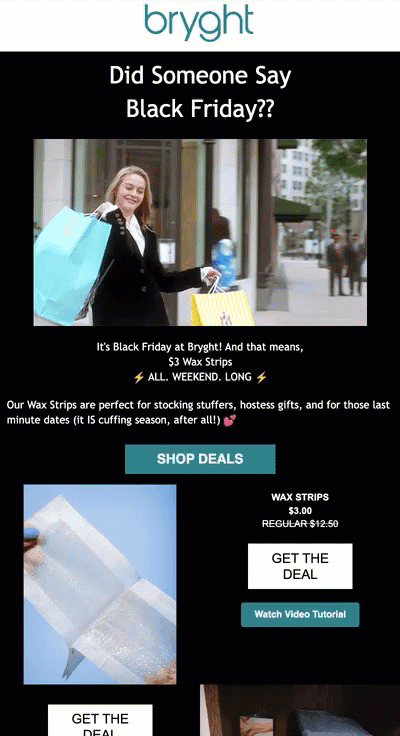 Alongside these emails, Becca sent 6 SMS campaigns to their VIP list over the holiday weekend. This complemented their email strategy and led to SMS accounting for 20% of their attributed Privy revenue during BFCM.
The result? The Bryght team grew revenue 1500% compared to BFCM 2021 with this cross-channel campaign strategy: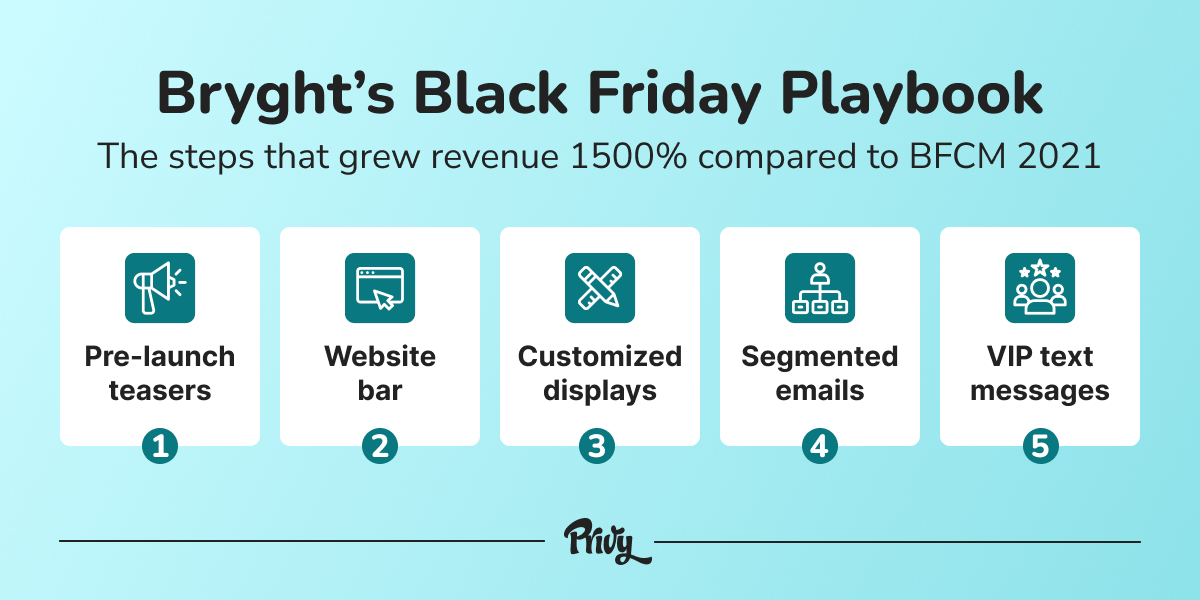 Key takeaways
With a more complex approach than ever before, we asked Becca about her main takeaways from running this campaign.
#1: Taking a risk with a new discounting strategy can have major payoffs (especially if you have the right tools (like Privy) to help you execute on it).
Becca learned that the offer was an effective hook to grab subscribers' attention and it didn't negatively impact their margins as they originally expected. Instead, she found that the discount drove visitors to explore even more of what they had to offer once they got to the site.
She said: "It's similar to brick and mortar sales psychology—if you have a sign that says there's a sale out on the sidewalk, it's going to get people into the door. They might not buy that sale, but then they're browsing your store, walking around and might get another item that they've been looking for". 
She went on to say "I feel like that transcended into digital in a way I didn't expect. I thought people would be in it for the sale, but it turned out that most people just used it as a launching pad to get on our site and browse around."
#2: Be tactful in how you use different channels for your brand. 
For Bryght, social media is meant for community and brand building. So, Becca decided to focus on promoting their offer almost exclusively through their email and SMS channels.
This way, they were able to use the exclusivity as a way to build their list from social (and other channels) and focus promotion to an engaged list of contacts that have more intent to shop.
#3: Segmentation is key
With 2 distinct buyer personas and a wide range of products, Becca leans on segmentation to ensure Bryght's emails are relevant and serves her audience. And when Shopify Tags launched in Privy a few weeks before Black Friday, Becca was one of the first customers to adopt it. She told us "it made a huge difference in results and it made it light years easier for me".
#4: Don't be afraid of marketing to your list!
Becca said "It's common to have a fear that the more emails you send to subscribers, the more they'll walk away", but she went on to say "I don't think that's necessarily true—especially if you're speaking to them with the right messaging". 
Sending "too many messages" can be scary, but you're not going to drive sales if no one knows what you're offering. And when you use tools like segmentation to refine your audience and message, you should feel confident about hitting send and reminding your list along the way. 
Take the time to experiment with your frequency and you might be pleasantly surprised about what you learn—like Becca did with this campaign.
Final comments and tips from Becca Hislop
Before we signed off with Becca, we asked a few rapid fire questions.
As a one-woman marketing team, how did you organize and coordinate this campaign?
Learning from Carley, Becca knows that most subscribers skim an email in 90 seconds or less. So, when it comes to email copy and design, Becca prefers to keep it simple. 
Not only does this approach drive better results, but it saves Becca time to get back to the 10+ other things on her list in a given day. And if she ever gets stuck when it comes to her messaging, Becca told us she leans on AI tools, like Chat GPT, to help her get into a flow state.
So, when it came time to prepare her Black Friday campaign, Becca told us she blocked off time to batch prep for all emails and SMS campaigns a week prior to launch. 
P.S: For more insights on the psychology of email design from Carley, check out this recent interview on Ecommerce Marketing School.
What would be your #1 piece of advice to marketers out there?
"Listen to your customers." Becca said. 
"Just listen because they are going to tell you what they want, what they don't like and what they want to do. They are your best collaborators"
I couldn't agree more.
Becca went on to say "how easy it is to market something when you already know that the person you're talking to is interested and they feel heard and seen".
For brands considering using Privy, anything that you would want them to know?
"I have tried a handful of marketing platforms and I've never had the success that I've had with Privy. The price point can't be beat. The service can't be beat and you're going to earn back your investment in no time".
And for those already using Privy, Becca highly recommends "taking advantage of those calls with your customer success manager". In the times where she's felt stuck, she goes to Carley. She said "they can show you other Privy customers that are using features and maybe new and unique ways. I found that really helpful for me."
If you want to join Bryght and thousands of other businesses growing with Privy, sign up for a free 15 day trial today—or book a 1:1 call to see how Privy will work for your business.
Special thanks to our friends at
Privy
for their insights on this topic.