By now, we're all aware that the COVID-19 pandemic has had a transformational impact on ecommerce.
According to eMarketer, ecommerce sales have surged at a completely unprecedented rate – not just where I'm based in the UK, but globally everywhere.
If anything, these figures may downplay the overall impact. According to the US Census Bureau, for example, the first three quarters of 2020 saw a 32% increase in sales compared with the same period in 2019.
Regardless, those numbers are in line with what we saw across our own customer base at PowerReviews. At the start of the pandemic, between February and May 2020, purchase volumes among our customer set increased 3x.
Even though purchase volumes have now stabilized, they're still consistently 40% to 70% higher than they were pre-pandemic.
But the pandemic's impact on ecommerce isn't limited to sales growth. COVID-19 has radically changed people's reliance on ecommerce, what ecommerce looks like, and how they make purchasing decisions online.
Anecdotally, we have heard from a number of the brands we work with how COVID-19 has accelerated their ecommerce strategy at an unprecedented rate. We hear time and time again how they have done work previously planned to take five years in a matter of months.
At PowerReviews, we have been exploring the effect of COVID-19 on reviews monthly in our snapshot series (check out our Insights section for our back catalog). Almost a year in, we wanted to pause to summarize our findings.
Do ratings and reviews matter more or less in a global pandemic? Do they have a stronger impact on conversions than before? Here's what we found.
Review interaction up 50% from pre-pandemic levels
Review interaction includes actions like searching, filtering, and clicking to expand and read an entire review.
Based on our data, people are engaging with reviews more than ever before. In the early months of the pandemic, review interaction was up 89% compared with pre-pandemic levels:
Once people settled into their "new normal," these numbers lowered somewhat. Still, the appetite for reviews remained healthy, with review interaction eventually stabilizing at a level 50% higher than pre-pandemic times.
Reviews build confidence in uncertain times
The pandemic upended several industries. Product categories like food and home decor have soared, while travel and hospitality have suffered.
But, as the eCommerce data tells us, it's not that consumers stopped shopping. Rather, they just shifted their spend.
For example, in our 2021 survey of over 10,000 beauty shoppers, we've found 54% of beauty shoppers wear less makeup now, but just as many have shifted their focus to skincare.
The pandemic also strained supply chains, leaving many items out of stock. As a result, especially at the beginning of the pandemic, many shoppers found themselves forced to try new brands. 
With so many shoppers shifting their spend (both online and to new sectors), many of them are purchasing products for the first time. They could be trying something completely new, or buying something they previously would have purchased in store (like apparel or cosmetics).
Reviews are critical to building their confidence during this decision. It's no surprise, then, that 41% of beauty shoppers say they rely on ratings now more than they did before the start of the global health crisis. 
When in-store shopping is either unavailable or feels unsafe, shoppers need alternatives for validating that a product looks and functions as a brand claims it does.
Reviews describe functionality, but nothing beats a photo when it comes to appearance. It's essential to collect visual content from your shoppers, and all the more so in a pandemic.
Over a third of beauty shoppers say they are now more reliant on user-submitted visual content than they were prior to COVID-19. 
Reviews have 25% more influence on conversions
Clearly, people are finding reviews more helpful than before. But is all that review consumption translating to more sales? Good news: the data suggests yes. A year ago, around 4.25% of shoppers who interacted with review content would go on to purchase an item.
In the first months of the pandemic, that percentage surged to rates between 6.45% to 6.86% — more than 2 percentage points above typical conversion rates.
As people settled into the new normal, that number stabilized to 5.3%. Still, that's a full percentage point higher than it was in 2019. In other words, people who interact with reviews are 25% more likely to convert today than they were pre-pandemic.  
That jump in conversion rates is significant. But what about impact during the Holidays?
Our research shows that reviews are even more influential historically during this period.
The conversion rate actually peaked at about the same level year-on-year. During the 2020 Holiday season, the influence of reviews jumped to a massive 7.41%:
The bottom line? Not only have shopping volumes increased during the COVID-19 pandemic, so has the proportion of those purchases being impacted by UGC. Imagine what that can do for your conversion rates. 
Reviews may be impacted by BOPIS/Click and Collect
There's no doubt that ecommerce growth has skyrocketed thanks to COVID-19, but what we think of as ecommerce has also grown. 
For some retailers, as many as 50% of their online orders were picked up via Buy Online, Pickup In Store (BOPIS) at a local store. With BOPIS and curbside pickup, shoppers have a different set of expectations than they do with a traditional online order. They expect that:
It will be easy and intuitive for them to complete their purchase.
The retailer will provide clear communication about when their order is ready and where they can pick it up.
The actual pickup process will be smooth, and was worth picking up in person vs. having delivered to their home.
That's a lot — both for brands to live up to, and for shoppers to keep in mind when they review their purchase.
Prior to the COVID-19 pandemic, shoppers may have focused solely on the product they received, and whether it arrived on time. Now, they're thinking about your product, their personal safety when they shop in-store, and any inconveniences they encountered when they arrived for their curbside pickup. These new in-store experiences present another opportunity for brands to either delight or disappoint them. 
Do what you can to ensure the comments shoppers leave in their review reflect a positive experience, and any in-store photos they upload look clean. Download the Guide: Reinventing the Store Experience.
Reviews are up to 20% shorter
Here's one data point that surprised us. In the first few months of the pandemic, review length plummeted by 24%. It eventually stabilized, but reviews are still about 15% to 20% shorter than they were pre-pandemic.
We measure review length by character count, so a 20% drop only equates to a handful of words. Shorter reviews still hold a ton of value, as our conversion data highlights.
However, our data also tells us that longer reviews tend to be voted "more helpful" by other shoppers. Reviews that are 80-100 characters long receive 2.5 helpful votes on average, while a review of 500+ characters receives more than double that number, or 5.3 helpful votes. 
Considering that reviews exist to help consumers make purchase decisions, the more helpful a review is, the more likely it is to drive someone to convert. 
As for why reviews are shorter, we can only speculate. Perhaps, with all the online shopping they're doing, people may simply have less time to dedicate to each of their reviews. Or maybe they just don't know what to write. 
Regardless, this presents an opportunity for brands to find ways to encourage customers to leave longer reviews. The best way to do that? Make it easier for them. 
Take Action: 5 Ways to Make the Most of UGC In a Pandemic
With more shoppers turning to eCommerce, reviews have become even more important. Here's what you can do to generate more reviews and purchases this year.
1. Revamp your review form so it's easy to complete and generates the most helpful information for shoppers.
Provide a series of prompts for customers to quickly answer before they get to the open-ended commentary. Let them select pros and cons, suggest best uses for a product, and provide demographic information that helps other shoppers identify with them. Not only do these questions help shoppers provide more info, but it also primes them to leave more helpful information when it comes time for them to write the actual review. 
Here's an example from Room & Board:
2. Encourage people to leave longer, more helpful reviews with a progress bar. 
At PowerReviews, we call this the review meter. As shoppers type their review, a little green bar grows at the bottom, with explainer text that gently reminds them to keep writing their review. Once they hit a minimum character count, it lights up and tells them to "Keep it up," reinforcing positive behavior.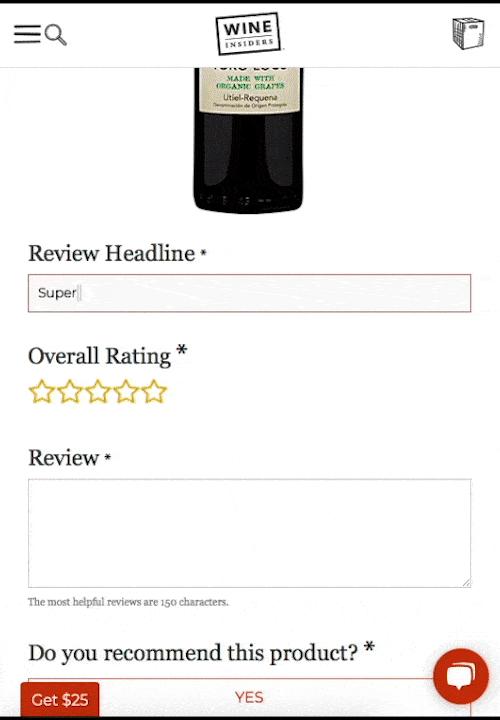 3. Make it easier for shoppers to consume your review content.
Display ratings and review content both online and in-store. Online, feature reviews prominently on your product pages, and share positive customer feedback on social media. In-store, display QR codes or print them on your product packaging with links that take users directly to your online reviews.
4. Complement reviews with visual content from verified purchasers. 
Visual content builds trust. It helps customers visualize using your product, and imagine the size, scale and basically enables them to envisage how they would use it. They're especially important for personal products like health and beauty. So, display images from real customers on your in-store displays, social media, and product pages.
5. Ask for reviews. 
Seriously. Often, all you have to do to get a review is just ask. 70% of people are willing to write a review if asked. On average, sales double when a product goes from having 0 reviews to just 1 review. Frame feedback as easy and quick (people are strapped for time), but hugely valuable to you. Here's an example from Vistaprint:
Reviews have always mattered, but they matter even more in the age of COVID-19. Don't wait to seize the moment. Check out our Complete Guide to Ratings and Reviews for 2021, and develop a growth-busting UGC strategy for this year.
Special thanks to our friends at
PowerReviews
for their insights on this topic.