Good businesses are fast. From quick shipping to prompt support, customers reward speed. The same is true when it comes to your online store. Sluggish performance and slow load times can drag down your business's first impression—and your sales.
That's why we're releasing new transparent reporting that lets you see exactly how fast your online store is and where you can make improvements. We run speed tests for your home page and highest-traffic collection and product pages, then combine each page's Google Lighthouse speed score into an overall score. Plus, you'll get a sense of how your store's speed compares to similar businesses.
From first impressions to return visitors, give your customers the speedy shopping experience they expect. You can check your store's speed in Shopify, and all Shopify merchants will have access to the report by next week.
What's your speed score?
Your online store's speed score, powered by Google Lighthouse, will be a number out of 100. Before taking direct steps to improve your score, it's best to understand how it's calculated, and how it works for your Shopify store.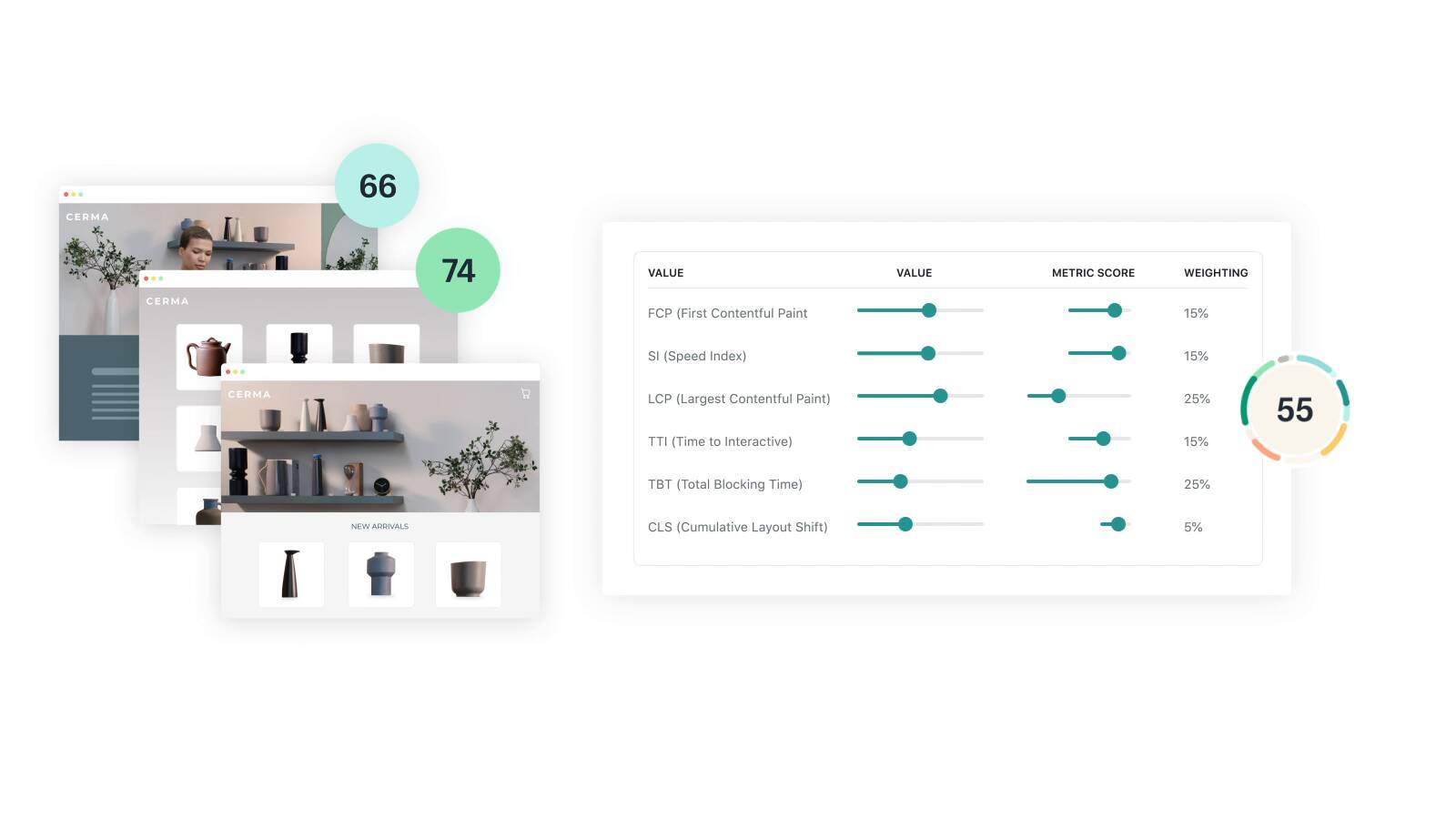 Google Lighthouse measures a variety of performance metrics to determine how fast your website feels to most visitors. As a result, your average score will fluctuate over time. You also shouldn't expect a perfect score of 100, especially as you add features to your site that contribute to your customer's experience, like apps or images.
Remember, all numerical scores are just a way to better understand how you're performing in the eyes of your customers. The score you see in Shopify is built with this in mind: we measure the performance of your top three pages, as they contribute the most to your customer's experience. It's also why we include information about how your store's performance compares to businesses like yours.
Improve your Shopify store's speed
A variety of pieces make up the whole of your online store—your theme, images, videos, apps, and collections all contribute to the shopping experience you create for customers. Your store's speed is an important factor, but it's not the only thing that matters.
For example, videos are larger files than static images and usually take longer to load. But videos can also share colorful details about your product that traditional photography can't match. If you sell a complicated or feature-rich product, it might make sense to keep videos on your product pages, even if they result in slightly slower load times.
Only you can decide whether an individual trade-off between functionality and performance is the right decision for your business.
Speed is a competitive advantage. That's why we're always working to keep your store fast, automatically. This new report is the first of many resources we're building to make it easier to understand how your online store is performing, and what steps you can take to make things even faster. And there are more tools coming soon—on your marks, get set…
This article originally appeared in the Shopify blog and has been published here with permission.