This is part of our #SmileABCs series, highlighting and going in-depth with small businesses and ecommerce brands. Check out the full series here.
One dream changed the trajectory of Lisa and Adam Harrington's life. Lisa and Adam are co-founders of Mermaid Straw, an eco-friendly and sustainable straw company that has expanded into other eco-friendly products. "We are proud to offer the highest quality, fun, and stylish eco-friendly alternatives to single-use plastic straws, cups, bottles, utensils, etc." states their website.
It all began with Lisa's dream one night while she was battling Postural Orthostatic Tachycardia Syndrome (POTS) which left her bedridden for over a year. "I'm definitely someone who is highly self-motivated. So I could not let my illness overcome my day-to-day," says Lisa. "I needed to find purpose again. I wanted to make a lasting, positive impact on this world but really didn't know how I could as just one person."
That dream led to Mermaid Straw and within 3 months, Adam joined her full time and they've been growing Mermaid Straw ever since. "Once I woke up from the dream about creating the company, the name Mermaid Straw truthfully just popped into my head while still laying in bed! I just thought the name fit so well with our mission to reduce single-use plastic because of the effects on our oceans."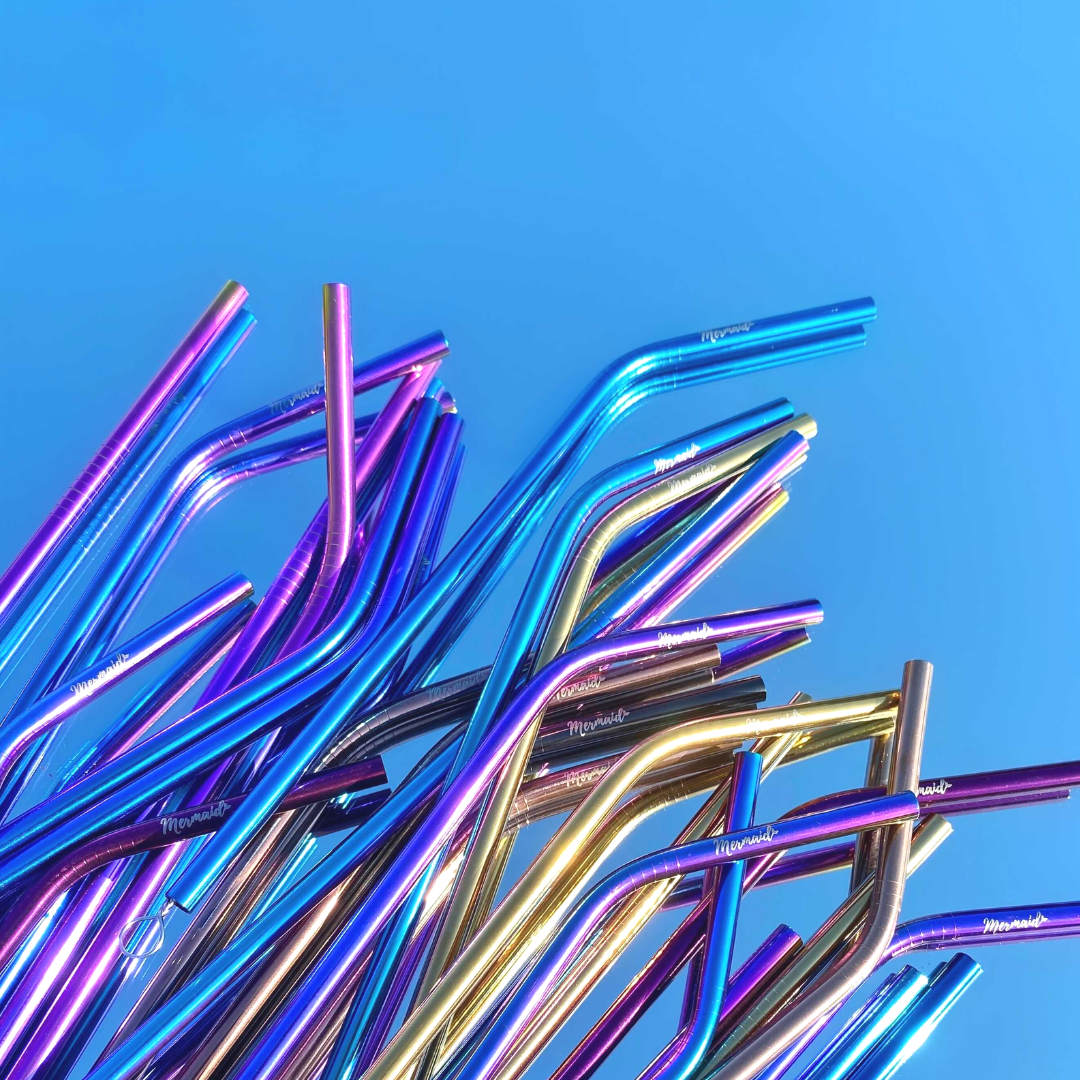 On a mission
Mermaid Straw's mission is to provide education on the effects of single-use plastic on the environment, ocean, and wildlife. "We hope to inspire and empower people to live a more sustainable, plastic-free lifestyle so they can lower their footprint on the environment and help save our lakes, rivers, oceans, and all the animals that call them home," says Lisa.
Every year, from April through September, Mermaid Straw hosts beach cleanups on the last Saturday of each month on Lake Michigan. Anyone is welcome to join and if they are not in the local area, Mermaid Straw encourages their community to do a cleanup in their area. "The use of approximately 306 million straws and 5.5 million plastic bottles have been reduced through the sales of our products," says Lisa. "We also donate to an organization called Plastic Bank with each purchase and have been able to collect an additional nearly 1.4 million ocean-bound plastic bottles from our environment through our donations!"

Mermaid Straw Beach Club
The Beach Club is what Mermaid Straw named their loyalty program, offering 1 point for every dollar spent. "We named our reward program the Beach Club and our points are called Shells. It adds a fun little twist to our rewards system," explains Lisa.
A loyalty & rewards program has been such a great addition to our business! Our customers love earning points and redeeming coupons for discounts off their next purchase. A lot of our customers love a great deal, and I would too!
Mermaid Straw rewards customers for purchases, taking social actions, and celebrating birthdays. "Our Beach Club is an easy thing to shout out on social media to those that may be on the fence, but love a good incentive! Customers knowing they can get rewarded for their purchases might just land the sale," says Lisa. "We also love referring those that don't qualify for our Ambassador program to our Beach Club as an alternative to still be able to be rewarded for their referrals."
Our Beach Club has helped us grow our email list tremendously!
Mermaid Straw is supported by tight communities that are different from one another but find Mermaid Straw as a common love. "Our brand hits a couple of really tight-knit niches, which has definitely helped our growth! We have our eco-warriors whom we absolutely love and adore. Then there are our ASMR lovers who enjoy our order packaging posts on social media and who have really driven the most growth of our pages. We also have our chronic illness friends that relate to me on a personal level as I share my journey with POTS. And last but certainly not least, we have our pod of Mermaids!"
Advice to growing brands
One key success to Mermaid Straw's growth has been focusing on being sustainable through every part of their business. "Packaging matters! Finding sustainable, recyclable, preferably made from recycled paper shipping materials should be a responsibility all business owners take on," says Lisa. "We also feel that limiting outer product packaging is another important tip because packaging is intended to be trash from its conception, so the smaller impact you can have, the better!"
Subscribe to Talking Shop
LEARN FROM LOYALTY PROGRAMS STRAIGHT TO YOUR INBOX
This originally appeared on
Smile.io
and is made available here to cast a wider net of discovery.