And just like that… it's 2022.
While everyone is talking about the new Metaverse, the rise of NFTs, and whether the pandemic will end anytime soon, you might be wondering what the future holds for eCommerce and how your business will fit in all this.
Staying ahead of the new marketing trends is crucial for brands who want to outshine competitors and be top of mind for customers and prospects. 
Let's take a look at our selection of 6 major eCommerce trends you need to prepare for in 2022, and how a solid SMS marketing strategy can help you maximize results with every customer interaction.
Mobile-first Еxperiences & SMS
Nowadays, it is easier than ever to shop online with just a few taps on your phone, so it's not surprising that mobile commerce sales are expected to reach $700+ billion by 2025. To get a slice of the pie and remain competitive in this new mobile-first landscape, brands need to readjust their marketing strategies and reach out directly to consumers on the most personal medium – their phones. 
One of the most popular myths about text marketing is the archaic perception of SMS as spammy. And you know why it's called a myth, right? A recent consumer survey breaks this stigma once and for all, showing that, in reality, over half of shoppers (51%) expect and prefer to be able to text with their favorite brands, and 54%+ want to receive coupons, discounts, and promotional offers via SMS.
A relatively unsaturated channel with a 98% open rate and read time of 3 minutes or less – SMS is quickly becoming the go-to choice for businesses that want to be in line with the trends and interact with their customers on a more direct and personal level. Texting is how modern consumers prefer to communicate. Especially now, when the shopping power of millennials and Gen Z audiences is on the rise, and the only way to grab the attention of these fast-paced, tech-savvy generations is through mobile-optimized, unique experiences.
Key Takeaway: Brands that cater to mobile consumers and offer frictionless shopping journeys are the ones who will thrive in the new age of mobile commerce. 
Customer Privacy & SMS
Privacy was, no doubt, the hottest topic of 2021. On the one hand, Apple released important iOS 14.5/15 updates, imposing strict limitations on app users' targeted ads and data sharing. For the first time, people actually have control over personal data being used for marketing purposes. On the other hand, Google has announced it will join Safari and Firefox in blocking third-party cookies in its Chrome web browser in an attempt to make data tracking less intrusive. 
Both events shook the entire digital universe to its core, triggered massive waves of concern among marketers, and initiated privacy-centric conversations on a global scale. As modern digital ads heavily rely on data, the changes meant that brands needed to find new ways to collect information and engage with consumers. Zero and first-party data quickly became more precious to companies than gold. 
SMS is an integral part of the equation and helps brands respect customers' privacy, while also successfully gathering even more valuable and truthful information straight from the source. In 2022 getting shoppers' personal data, such as emails or phone numbers, will be considered a value exchange. In return, brands would have to offer unique and personalized shopping experiences such as loyalty programs, personalized offers and product recommendations, early VIP access to hot deals or new collections, and, of course, stellar customer service. 
Due to higher acquisition costs, marketers must rethink and adjust their strategies. Rather than spending more on ads to acquire fewer customers, brands should focus more on retargeting, building relationships, and growing their own zero-party database. 
"Privacy compliant engagement tools like SMS, loyalty programs that build lasting relationships, and UGC that creates trust all offer a clear and sustainable roadmap for brands in the post-cookie world" – Rosa Hu, Vice President of Product Marketing at Yotpo. 
Key Takeaway: Invest in owned communication channels. As text marketing is built on zero- and first-party data, it will enable brands to seamlessly collect information about customer behavior and purchase history in full compliance and gain access to private data that customers share willingly and proactively through interactive SMS experiences.
Conversational Commerce & SMS
Remember how brands used to advertise products just about a decade ago? From newspaper ads or cheerful radio spots to outdoor campaigns with billboards, street posters, and paper brochures overflowing your mailbox. 
In the last few years, marketing has taken a giant leap forward into an all-digital future. Those channels are now considered a thing of the past mostly because they were used as a platform by brands for basic, one-way communication, while nowadays, consumers crave personalized experiences that cater to their wants and needs. 
Conversational commerce means selling products or services to customers via a direct chat or messaging platform – think Facebook Messenger bots or a straight-forward SMS. They enable businesses to engage with customers in real time, give personalized product recommendations, assist in the purchasing process, and even receive valuable feedback. It's a win-win solution for both brands and shoppers. 
Another great advantage of conversational commerce is that it allows for fully automated customer interactions, such as welcoming new subscribers, reaching out to inactive shoppers, etc. It's not only cost-effective but also helps stores provide excellent customer service and offer engaging shopping experiences.
Key Takeaway: Conversational commerce and SMS enable businesses to be "always on," available 24/7, and just a tap away. Being engaged in a direct and personalized 2-way communication with a brand helps shoppers build trust, nurture loyalty, and adds up for a seamless buying experience.  
Omnichannel Strategy & SMS
Remember that day when major platforms went down for more than 6 hours? While this might sound like a scene from every digital marketer's worst nightmare, October 4, 2021, proved that we should not take anything for granted. Even Facebook.
But these unfortunate outages resulted in much more than a few funny memes and trending hashtags. Do you know what kept working when the modern-era channels failed businesses and advertisers worldwide? That's right – the good ol' SMS took a stand and proved its efficiency and reliability. The fact that you can send a text message to the most remote corners of the earth, at fully predictable costs and with no internet connection needed, takes reliability to a whole new level. 
Some brands leveraged the situation to get ahead of competitors and reached out to their audience via SMS. Check out some of the best examples of creativity from SMSBump stores on that day:

As new outages followed, marketers quickly realized that putting all your advertisement eggs (budgets) in one basket (social media channels) is just not sustainable. Stability and reliability are not something brands can afford to risk, even for a few hours. Businesses need to build a diverse marketing strategy and engage customers on multiple channels, or the so-called omnichannel approach. 
Nowadays, the typical buyer journey can cross multiple channels – online and offline, and as a result, 81% of marketers leverage 3 or more marketing channels to interact with shoppers. Or, as Samantha Tepper from Assembly puts it: "In 2022, omnichannel will be non-negotiable for eCommerce brands. If a brand isn't everywhere, it will lose to someone who is."
Key Takeaway: Shoppers are multi-channel, and brands should be too. Build comprehensive customer experiences to fit every shopper's preferences with each interaction – via SMS, email, social media, on-site, and more. 
Tech-enabled Revolution & SMS
Shopping nowadays is an interesting hybrid of online and offline. Real-life and digital experience. 
You can go to the local B&M store of your favorite brand or purchase through their website. Your package can be delivered straight to your doorstep, or you can pick it up in store to make sure you have it on time. The so-called BOPIS (Buy Online, Pickup In Store) allows businesses to blend online and in-store services to provide the perfect customer experience. From social distancing and pandemic safety measures emerged the term BOPAC, when you buy online and pick up at curbside, often without the need to even leave the car. Adding BORIS (Buy Online, Return in Store) and ROPIS (Reserve Online, Pay In Store) to the mix might make your head spin… 
The future belongs to phygital shopping – "reinventing the in-store experience digitally." In 2022 we'll see further amalgamation between real-life and online interactions. SMS is the perfect medium to successfully connect both worlds. Its versatility and immediacy allow brands and shoppers to remain in touch at all times. You can purchase through your phone and go to the store to pick it up yourself. Or you can scan the QR of a product tag at a physical store through your mobile device to learn more about its origin while signing up for more deals and offers from the brand. Convenience is King, and these are the new shopping realities. And speaking of realities…
Augmented reality shopping is among the fastest-growing trends, with multiple eCommerce apps offering immersive interactive experiences. Let's say shoppers want to choose a new sofa, but they are not sure if it would fit well in their living room. Is there enough space for it, does the color match the drapes? AR shopping enables them to visualize all this and more. It is safe, convenient, and a great way to help shoppers make their purchase decisions. 
AI-powered solutions such as visual search will also become complete game-changers for the entire eCommerce industry. Imagine walking down the street and spotting an amazing outfit. You take a picture with your phone and run it through an online platform for image recognition that instantly sends you an SMS with shoppable links to each clothing piece – welcome to the future! 
According to Harvard Business Review, "while e-commerce will continue to be an essential element of retail strategy, the future success of retailers will ultimately depend on creating a cohesive customer experience, both online and in stores."
Key Takeaway: Brands must take a holistic approach: maximize both online and offline interactions and learn how to leverage reliable communication channels like SMS to make phygital shopping experiences as frictionless and agile as possible. 
Influencer marketing, Social commerce & SMS
In the last few years, influencer marketing shifted from a relatively new trend into a common and well-established marketing strategy. Brands partner with influencers who create bite-sized sponsored promotional content for their audiences on various platforms and channels. From dance routines on TikTok through beauty tips on Instagram to cooking tutorials on YouTube: influencer marketing can take many forms.
Collaborations with influencers help companies grow their SMS subscribers, create social buzz around new products and releases, generate brand awareness, boost sales and collect social proof. Furthermore, it's a worthwhile investment – estimates show that for every one dollar spent, you get an ROI of $5.78. 
The term "social commerce" means using the power of social media to promote and sell products. It provides consumers with native ways to discover new products and brands while browsing their favorite social channels. For mobile-first generations like Gen Z or millennials, social presence is every brand's first and only chance of impression. They trust influencers' authentic product recommendations because they consider them regular people like themselves, sharing common interests.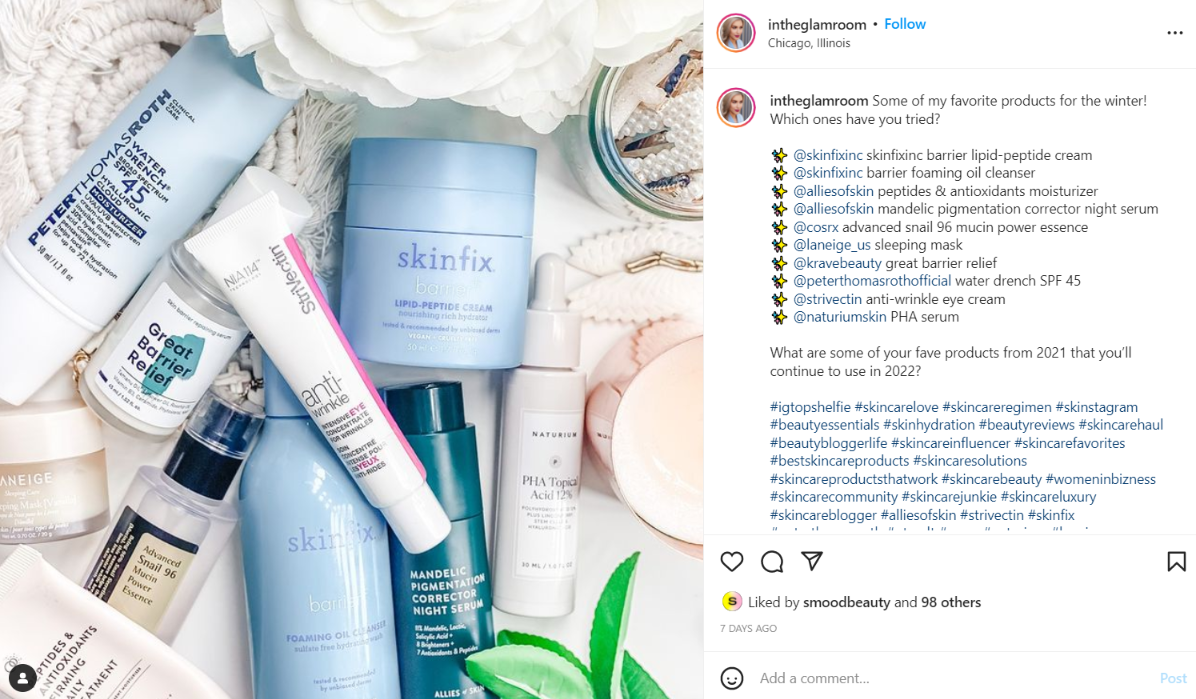 You can use the power of influencers to successfully grow your own list of SMS followers. Collecting new subscribers via giveaways using shareable links or memorable keywords on social media is Text Marketing 101. A creative and well-thought collaboration campaign can skyrocket your SMS audience in just a few days, with just a fraction of the budget you'd need for promoting your brand through other "traditional" channels. 
In 2022 digital communities will continue to be a major source of shoppable revenue for both influencers and brands. Spending on influencer marketing in 2021 expanded by 42% and is expected to reach $15 billion by the end of this year. Most platforms are now predominantly sales-oriented with dedicated features and sections. Influencers capitalize on shoppable links, while businesses leverage social channels to collect tons of valuable user-generated content and add reviews to their Facebook or Instagram shops.
Key Takeaway: As mobile commerce is booming, time spent on shopping apps will continue to increase as well. Tap into the world of influencer marketing and social commerce to quickly grow your SMS list, generate more brand awareness, boost social proof and drive more sales to your store. 
This was our selection of the most important industry trends to keep an eye on in the coming year. 
Brands must focus on creating mobile-first experiences for a high-converting and frictionless shopping journey. With the ongoing privacy changes, investing in owned channels based on zero or first-party data will be greatly rewarded. Conversational and social commerce will become key ingredients of establishing deep and personal relationships with shoppers, while omnichannel presence in the era of phygital shopping is a must-have for successful and sustainable business growth.
SMS is a mobile-first, customer-first, privacy-first channel and, as such, can quickly become the greatest asset to your overall marketing strategy. Ready to take your business to the next level? Get started with SMSBump today and start texting!
Special thanks to our friends at
SMSbump
for their insights on this topic.