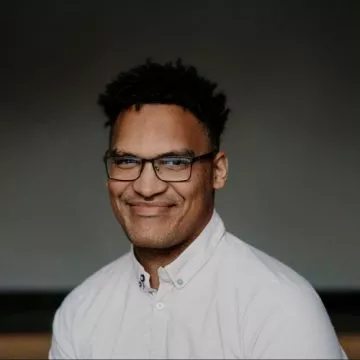 Bernard Meyer
Content Growth Marketer
Reading Time: 5 minutes
On June 7, Apple released news of its upcoming updates for iOS 15. These updates are causing quite a stir in the email marketing community since Apple users will now be able to:
Turn off open tracking
Hide their IP addresses
Hide their email addresses
Of course, you can understand the brouhaha that this is causing, since the biggest takeaway is that open rates will most likely be turned off by the users. (We can guesstimate a similar adoption to iOS 14.5's app tracking update, which saw 96% of users leave tracking disabled.)
To make matters more serious, Apple Mail commands a 45% email client market share. Taking that into consideration, the fear becomes clear: marketers will lose the open rate and IP data for nearly half of email recipients.
This is estimated to be a big loss, since the open rate is such a fundamental measure of any campaign's success, or a subscriber's behavior and engagement.
Primarily, a lot of campaign and automation workflows are going to be affected. Retention and re-engagement marketing, which depends on open rates as an engagement metric, is going to need updating. Deliverability tracking, which ensures that emails get to the recipients, will be affected.
Segmentation based on engagement, including conditional splits by opens, will have to adjust. It will also impact list hygiene, in which you determine how much a recipient actually wants to receive your emails based on, in large part, the open rate.
Moving beyond iOS 15's disabling of open tracking, IP-based geo-segmentation will be rendered useless if recipients aren't showing their true IP addresses.
It certainly is a lot, and it will require a lot of changes now—but it's not the end of the world. The difference between a good marketer and a poor one is not the tools they use or operating under perfect conditions, but the ability to adapt quickly to any conditions.
And this is what the iOS 15 update is going to require of us. Let me explain.
What You Can Do Before and After the iOS 15 Update
Preparing for the iOS 15 update is going to be important to help us set benchmarks for the new data we'll have to lean on to measure engagement, deliverability, and certain behavior.
A full release of iOS 15 is expected to come in the fall, most likely in September or October. This gives marketers about four or five months to prepare. 
Here are some steps to take now:
Start A/B testing variations of your email subject lines for your core automations now so that you can find the winning version before the update. In addition to measuring the open rate, you may want to shift to measuring the effectiveness of subject lines by looking at which ones generate the most clicks.
A/B test the content and copy of your automated emails. As measuring click rates for engagement tracking becomes increasingly important, you'll want to ensure you are providing recipients the most optimized email possible.
Clean your lists of inactive contacts now since you won't be able to use open rate data to manage your deliverability later on, at least not until new solutions are implemented.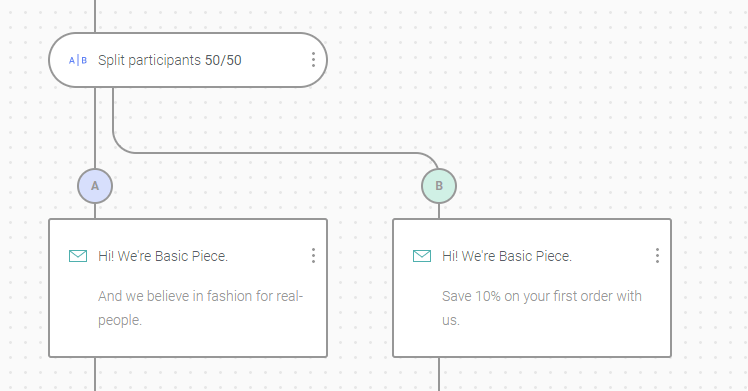 These take a natural fact—that open data is currently the best way to gauge engagement and interest—and allows you to schedule these actions in advance to use data while you still have it.
Once the changes take effect in the fall, you'll need to adapt your own marketing strategies. Here's what you can do:
Focus on click rates
Yes, you are probably aware that the goal of any campaign is most likely not to have engagement but to have conversions, and marketers are already focused on click rates. But now we'll need to lean on this metric even more.
Omnisend's campaign reports, for example, calculate click rates as clicks compared to emails sent, so there won't be any impact on performance benchmarks and history after the update for Omnisend customers. You can also use the Benchmarks feature to see whether you already need to optimize your click rate by comparing it to similar brands.
Optimally, you'll be rolling out these changes before the fall so that you can iron out any kinks while you still have the time.
Expand your engagement-based segments
Your engagement-based segments can no longer depend only or mainly on open rates. You should expand the criteria to include clicks and purchase activity. The amount of contacts who meet these criteria will naturally be smaller after the update, but it's a good way to continue having highly-targeted engagement segments.
Omnisend customers can use the Funnels feature to segment their contacts based on how far they are on their path to purchase. This provides another data-driven measure of customer intent and engagement that can be used for targeting.
Look to new channels
To be honest, if you haven't already added other channels to your marketing strategy, then you're already behind the industry.
Other channels like SMS and push notifications can help you expand your reach. Omnisend's statistics report shows that last year, the number of SMS messages sent increased nearly 400%, and SMS conversion rates increased by more than 100%.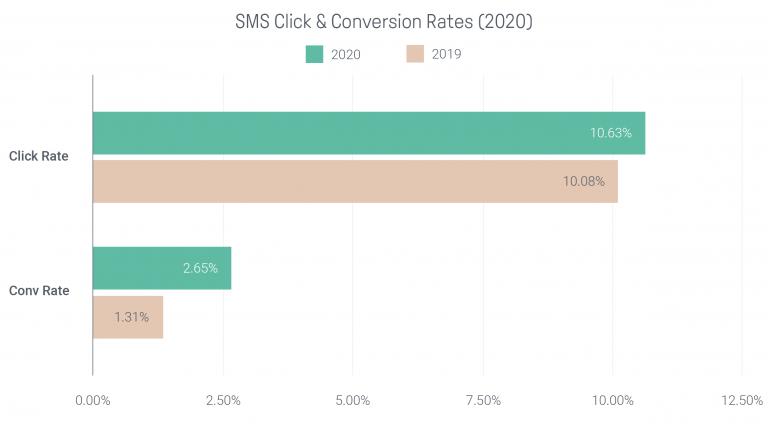 Web push notifications, on the other hand, had a 28% conversion rate, which is nearly a 500% increase over the previous year.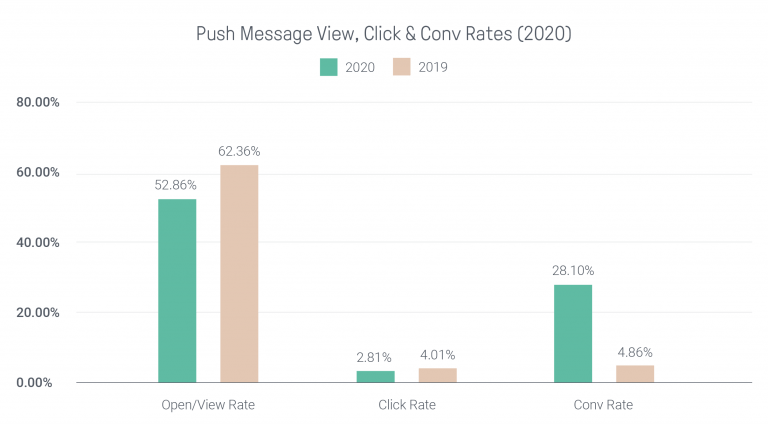 You should be using these channels in your omnichannel automation workflows to bypass the problems of no longer having complete open data. For example, you can send an SMS to your customer on delay if they haven't yet clicked on an email.
Use shopping recency, frequency, and value for re-engagement
Before iOS 15, customer engagement would lean heavily on open rates. After iOS 15, we'll have to start using other metrics, such as the shoppers' recency, frequency, and order value data. 
For Omnisend customers, this can be found in our Customer Lifecycle Stages feature, which can identify customers based on those behaviors.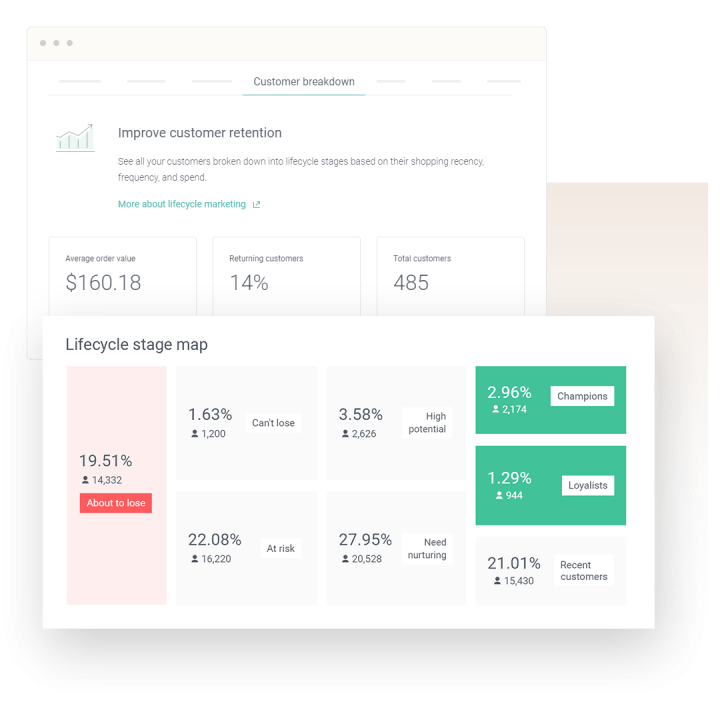 This will allow marketers to build and automate data-driven retention tactics that go beyond email opens-as-engagement, but take into consideration actual purchase behavior.
Be creative
Adapt. Marketers need to roll with the punches and pivot quickly when things change. We should be actively looking for new ways to provide value to our customers, as the ultimate goal is sales, not open rates. 
At Omnisend, for example, marketers can use our Product Analytics to help understand customers' product preferences and build smarter product promotions. Yes, one part of the easy engagement metric will be removed, but the ultimate metrics—clicks and conversions—will still remain.
Key Takeaway
The core of the marketer's mission is to provide the right value to the right customer at the right time, and no update will take this away from us.
However, Apple's iOS 15 update is certainly making it more challenging. If the floppy disk and CD drive are any indication, Apple usually leads the changes that other tech giants will follow. Therefore, this is presenting, perhaps reluctantly, a good opportunity to look at the variety of ways customer engagement and behavior can be measured and improved.
Most marketing automation platforms are already working on more resilient ways to allow marketers to understand their customers. At Omnisend, we are working on different tools to help marketers segment their customers and personalize their message across a variety of channels.
We will see how Apple Mail users actually use these new iOS 15 updates and how that impacts our campaigns. But, rather than taking a simple wait-and-see approach, now is the time to prepare and pivot.
Start a free trial today, and see how easy it is to increase your email and SMS marketing sales.
Special thanks to our friends at
Omnisend
for their insights on this topic.