Karolina Petraškienė
Content Marketing Manager
Reading Time: 8 minutes
Typically, ecommerce marketers use open rates, click rates, and the number of orders to determine the success of their email marketing efforts—and this is the right thing to do. However, one piece is often overlooked, and by paying attention to it, you can improve your email marketing performance significantly and increase sales.
The missing piece of the puzzle is email deliverability, including the various ways of avoiding spam filters when sending ecommerce emails.
If your campaigns trigger spam filters and the emails you send land in the Spam folder instead of your customers' inboxes, you lose on the overall campaign performance and, of course, sales.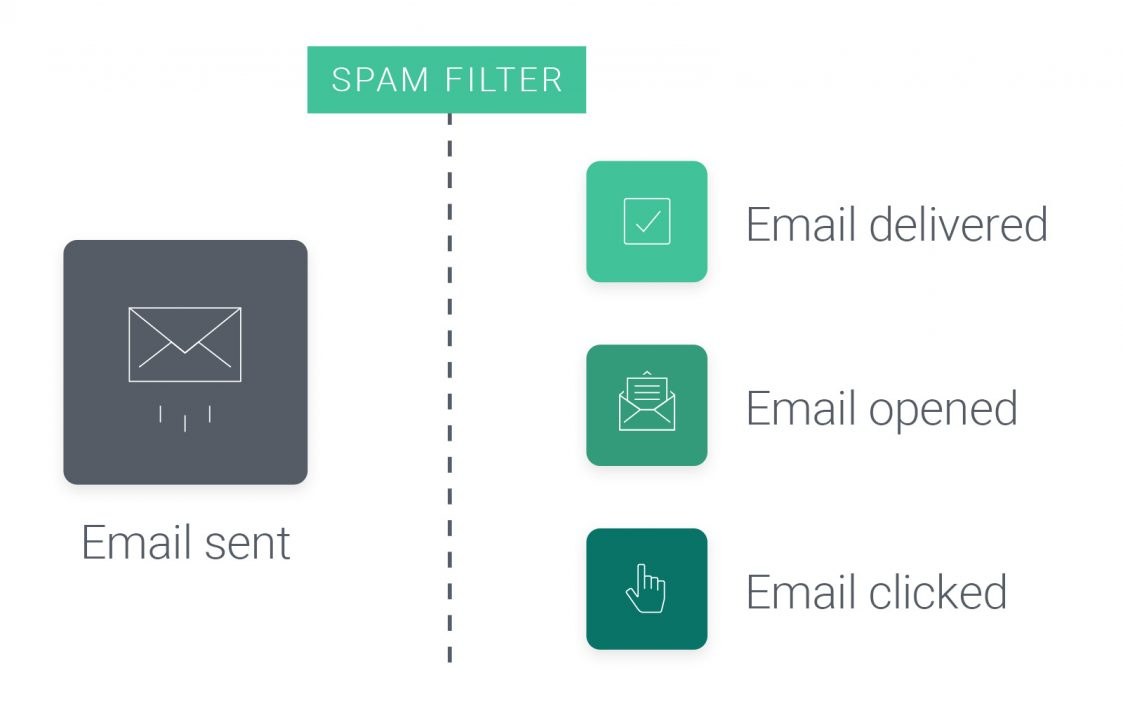 At Omnisend, we pay a lot of attention to email deliverability. Analyzing our clients' data, we see the patterns that help our clients achieve great inbox deliverability success as well as the repeating pitfalls of those who don't. Certain things are crucial when switching your email service provider or initiating a new email marketing strategy. So keep on reading and learn about how you can avoid spam filters and other trouble with email deliverability.
Note: This article is about ecommerce email marketing, which has some differences than B2B marketing on how to avoid spam filters.
What Is Considered Spam?
Spam is an unsolicited email sent in bulk to a list of recipients who have never expressed their will/permission to receive one. Even if you have an outstanding offer that you know people won't be able to resist, if you send them an email about it without having their explicit permission, your email is considered spam.
The Most Important Spam Laws in the US, Canada, and the European Union
Three main regulations cover the laws in the United States, Canada, and the European Union. They all foresee huge fines for those who violate them. To avoid ruining your email deliverability rates and being penalized for sending promotional content to strangers, you should familiarize yourself with the following documents:
1. The CAN-SPAM Act 2003. It became law in the US on January 1, 2004. According to the Federal Trade Commission, violating this law results in a fine that can reach $11,000 for each offense. In other words, you will have to pay $11,000 per each email address on your mailing list. Make sure you are familiar with this document if your main marketing activities are held in the US.
According to this law, the main requirements are the following:
Never use misleading From names, reply-to addresses, or subject lines.
Always provide an unsubscribe link.
Always include your physical mailing address.
2. Canada's Anti-Spam Legislation (CASL). This law went into effect on July 1, 2014, and carries even more significant penalties than the CAN-SPAM Act. Canadian law is very similar to the US law but covers all electronic messages, not just email.
3. General Data Protection Regulation (GDPR). Going into effect May 25, 2018, GDPR applies in all European Union Member States. This law requires having consent from your entire mailing list and penalties for violating it can be up to 10 million euros.
With that being said, let's dig deeper and learn how to avoid junk folders.
How Do Spam Filters Work?
As the issue of spamming has increased over the years, internet service providers have invested large amounts of money to make spam filters more sophisticated and ready to deal with spammers. Spam filters are like self-learning machines that adapt according to people's behavior–what they identify as spam is informed by clicks of the button "Mark as spam," or sending emails to the junk folder.
For spam filters, there is a long list to check before letting your email into the inbox or flagging it as spam and sending it to the spam folder. While none of the inbox administrators fully reveal their filtering practices to the public, there are some good practices on how to prevent emails from going to spam.
10 Best Practices on How to Avoid Spam Filters
1. Configure your ESP account to send emails from your business domain
For ecommerce email marketing you will need an email service provider that will help you not only build professional-looking newsletters and see reporting on those emails but also get access to the whole infrastructure to deliver large amounts of emails to your customers.
When setting up your account, pay attention to your sender email address. It's important to establish your email with your business domain (e.g., From name: [email protected]). Emails from such senders are treated by email service administrators as more legitimate, as spammers typically don't go through this process.
So if you want to set up the floor for successful email marketing, spend some time setting up your account on your email service provider platform. To learn how to do that quickly and easily in Omnisend, check here.
2. Increase your sending volume gradually
Unexpected sender behavior and spikes in sending volume can be considered as spam filter triggers. So if, for example, you change your email service provider or upload a significant amount of emails to your existing mailing list, don't send to all contacts at once.
Learn more about how to do the email warm up wisely without spoiling your reputation and sending all emails to spam.
Pro tip: when you migrate from one ESP to another, migrate your best contacts, those who are actively engaging with your emails, first, and start by sending to those only. That way you'll gradually transfer your good reputation from one email service provider to another.
After a while, you can migrate the rest of the contact list. Once again, migrate gradually. Start with a small list, then grow the number of email recipients. At Omnisend, you can get some assistance for your list warm-up.
3. Create a segment for lapsed or inactive subscribers
Perform email list hygiene periodically to avoid sending emails to abandoned emails that later become spam traps.
Inactive subscribers might harm your sender reputation and deliverability rates. Therefore, create a segment of subscribers that are not opening or clicking your emails for a while and unsubscribe them from your list with no mercy.

Subscribers that lapsed just a month or two ago might receive an automated re-activation campaign after which they either convert or get into the inactive subscribers' segment. More about must-have ecommerce segments can be read here: 5 Simple Customer Segments Every Retailer Should Use.
Check out this short video on how to validate your email addresses and perform list hygiene on your list!
4. Don't buy email lists
Buying an email list is a dirty email marketing tactic because of a few reasons:
It's against the Terms of Service of your email service provider.
People on the list have never permitted you to contact them. Since they don't know you, you become a spammer if you send them messages. Also, if they delete your emails without opening them, that can trigger spam filters.
You never know the quality of such lists, so you won't be able to identify spam traps or inactive accounts (you can try to validate them with Mailgun or similar services, but it won't prevent you from spamming active ones).
In addition, there is one financial reason not to upload such lists onto your ESP account—you will have to pay for those fake subscribers. Sooner or later these contacts will spoil your reputation and send your emails—these and your good email addresses—to the junk folder.
5. Grow your list of subscribers organically
"Organically" doesn't mean ineffective. Well placed sign-up forms, landing pages, good copy, and an incentive to sign up can create magic. You can also give a try to interactive forms, like the Wheel of Fortune or its alternatives.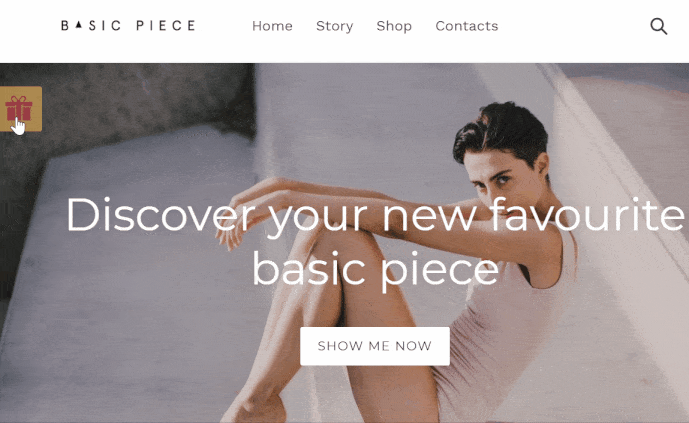 The engagement of such subscribers is drastically higher. That's why the following good practice is sending them an email that generates incredibly high open rates and helps to convert new subscribers into customers.
6. Welcome new subscribers immediately after they sign up
Sending an automated welcome email, or series of them, is one of the most common practices among ecommerce sites, and here is why:
New subscribers have a high interest in the brand, so they open welcome emails to look for confirmation or to check what the brand has to say. It's a great chance to ask them to add your emails to their address books (to whitelist you) and introduce your brand. Adding you to the address book, as well as high open rates of your email, makes a good foundation for further communication.
New subscribers have a very high intention to buy. Businesses know this and tend to send a promo code for all newcomers to help convert them into new customers.

7. Set the right expectations for new subscribers
The spam report rate and the unsubscribe rate might shrink if you let people know how often they will receive your emails. Also, consider asking them what kind of content they are interested in and act accordingly. That might require more effort to build email campaigns with tailored content for each group but it will pay off as customers nowadays expect personalized communication, not bulk emailing.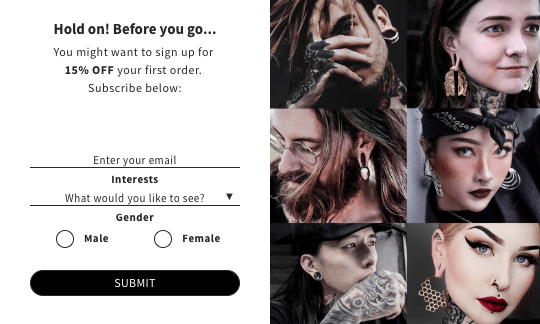 8. Test single and double opt-in methods to know which is better for you
If you use single opt-in sign-up forms, make sure they have the explanatory checkbox inside which briefly explains what site visitors have signed up for.
The double opt-in method is valuable because you have more evidence that each recipient gave you permission to email them. This method's downside is an extra step (confirm the subscription by clicking on the link in their email) that is never taken by some of the new subscribers.
No matter which way you choose, the essence remains the same–your subscribers have to give you permission to email them.
9. Respect unsubscribes
According to Spam laws, all promotional emails require an unsubscribe link or an easy, one-step process to unsubscribe. If your subscribers unsubscribe from your emails, respect that, let them go, and never email them promotions again. Failing to do this will not only cause recipients to delete your emails without opening or mark your emails as junk— which will hurt your sender reputation and email deliverability—but will also run you in violation of the law and susceptible to large fines.
10. Avoid Spamming Words
Although this practice is a well-known one, it raises some debates among email marketers. It's because words in the subject lines like "free," "now," and percentage and dollar signs are determined as spam filter triggers, but they are so common for ecommerce emails and we get so many of them in our inboxes!
That's why, at Omnisend, we don't think that spammy words alone can harm your email deliverability. However, there is a common agreement that multiple exclamation signs and all caps text in subject lines, looks like shouting at people. There are many ways to write actionable and compelling subject lines without using those signs.
So our piece of advice is–send consistent to your brand messages, and be you.
How to Avoid Spam Filters: Additional Useful Resources
Email deliverability is a broad topic that can't be covered in-depth in one blog article. At Omnisend, we pay a lot of attention to this advanced field of interest. We have dedicated deliverability managers and help customers to deal with this important issue.
You can learn more about email deliverability and how to avoid spamming here:
Join a platform that actually cares about your deliverability. Sign up for Omnisend today!
Special thanks to our friends at
Omnisend
for their insights on this topic.