Reading Time: 8 minutes
Finding ways to boost ecommerce sales is almost always a priority for online business owners.
It can be tempting to spend on paid ads, but this may not necessarily be the best way to optimize your sales funnel. In fact, some of the most successful ecommerce sale strategies come from leveraging the power of your audience, UX, and customer services.
If you're trying to learn how to boost ecommerce sales on a budget, your search ends here.
This article will explore 12 proven ways to grow ecommerce sales with either free or low-cost solutions.
1. Build an email list
Regardless of your niche, an email list will be the best way to ensure long-term growth goals. 
Capture visitor emails with popups, embeds, bars, and signup forms scattered throughout your store. In exchange for their email address, you can offer your visitors incentives to join your newsletter, like discounts or product information.
This popup from chocolatier To'ak is an excellent example, generating an 18% conversion rate. Over time, the company was able to increase email generated revenue by a whopping 460%, 39% of which was through automated emails.
Ready to build an email list of your own? Sign up for Omnisend today and start the process of converting customers while you sleep.
Read Also:
2. Set up automatic email marketing campaigns
If you want your email list to help you boost ecommerce sales, you'll need to have an email marketing strategy firmly in place. 
Start with a simple sequence consisting of a welcome email and a weekly newsletter containing news, promos or offers. These should have at least a few standardized characteristics:
As time goes on, you might want to start making your newsletter more substantial, particularly as your subscriber count grows. Understand all newsletter best practices as you start refining your strategy, which will assist in boosting ecommerce sales.
This campaign from Crocs is one of the most effective types of welcome email examples, adding plenty of value within a small space.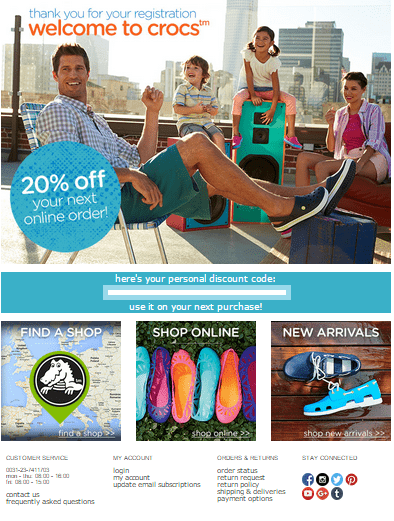 Read Also: How Eat Me Guilt Free Increased Email Subscriptions By 900%
3. Display customer reviews in prominent places
In a competitive online world, reviews act as a type of social proof. In fact, 87% of customers read reviews before choosing to buy from a local business, up from 67% in 2010. Plus, product pages with embedded customer reviews have a 3.5 times higher conversion rate than those without. 
Displaying reviews in prominent places such as product pages, menus, and checkout areas can significantly increase customer confidence. 
This example from Kerrits shows the average user rating directly under the product, plus a quick method of reading user reviews. This is a quick, extremely low cost tactic to increase ecommerce sales.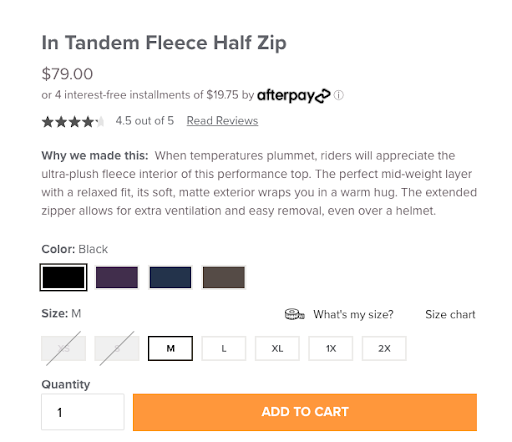 Don't have any customer reviews yet?
No problem. Emails are a great way to ask for reviews, and these tips to create a product review email will have you collecting them regularly.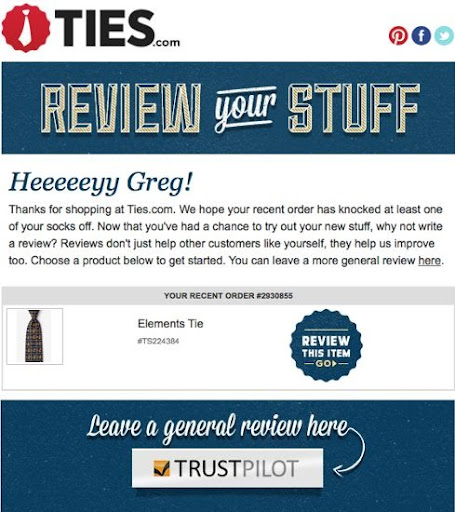 4. Recover abandoned carts with emails
Abandoned carts are a serious challenge for ecommerce businesses. The average abandonment rate is just under 70%, meaning only three in ten shoppers will actually purchase your product. But not all is lost. A cart abandonment email campaign can help you to bring those visitors back to your site and boost ecommerce sales.
Abandonment emails have the potential to teach you how to grow ecommerce businesses the right way. Here are some tips that will help you get started:
Send the first email an hour after abandonment, the second message 12 hours later, and the third 24 hours after that.
Use high conversion keywords in your subject line.
Feature the abandoned product in your email.
Add ways to contact customer support in case the shopper had questions or issues while ordering.
Ecommerce giants like UGG place plenty of customer information directly under the product, helping customers reassess their purchasing choices without being too pushy.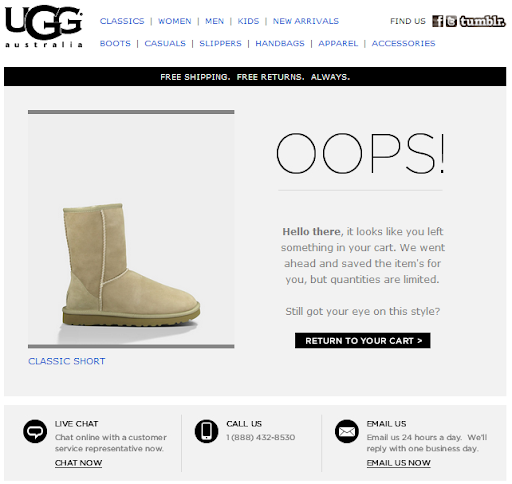 Another aspect of UGG's cart abandonment email worth copying is how they add various ways to contact their customer support. This could be useful for those shoppers that wanted to buy something, but had questions or issues that prevented them from placing an order.
Read Also: 
5. Use video product demonstrations
In modern ecommerce, high-quality product images are a gold standard across the board. Videos, however, are not. This provides the perfect chance to stand out without spending exorbitant amounts of money. If you're looking for how to grow your ecommerce store on a budget, video product demos are an excellent choice.
Unlike still images, high-quality videos can be used for product exploration, or to demonstrate products being used in their idealized environment. 
Allbirds is one example of a business that engages visitors using product videos. By showcasing dynamic videos alongside their photos, they capture the shopper's attention by showing the products in use.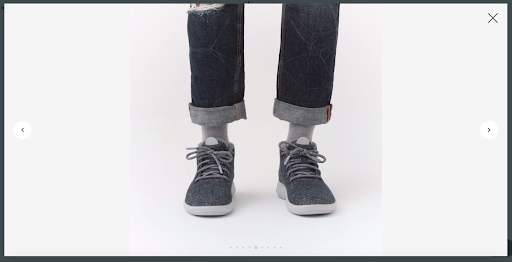 6. Give more product recommendations
Showing similar items underneath your product page will encourage visitors to browse more and often put additional items in their cart. If you're looking for an easy way to learn how to boost ecommerce sales, showcasing product choices is key.
Adding product choices to your pages doesn't need to be complicated. For example, Kerrits uses unique sections to both upsell and cross sell, packaging items together to entice customers into additional sales.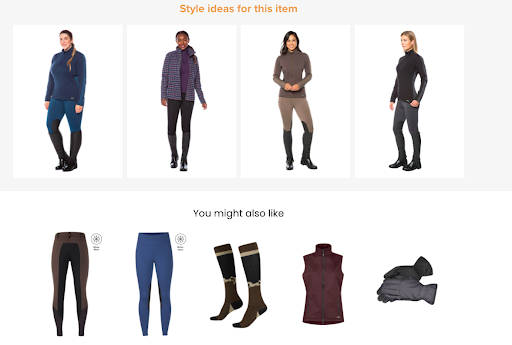 Read More: Cross Selling In Ecommerce
7. Add a live chat to your store
Emails and phone calls have their place, but customers will always gravitate to the speed and simplicity of live chat. Live chat is a customer support method that offers the highest customer satisfaction rate at 73%. People are more likely to use live chat than any other communication method, making it ideal for your ecommerce platform.
Adding a live chat function to your website will allow you to communicate with customers more effectively without breaking the bank.
The live chat widget at Pooch Bandana combines humor with simplicity, instantly catching the shopper's attention. It's also an excellent example of how to increase website sales.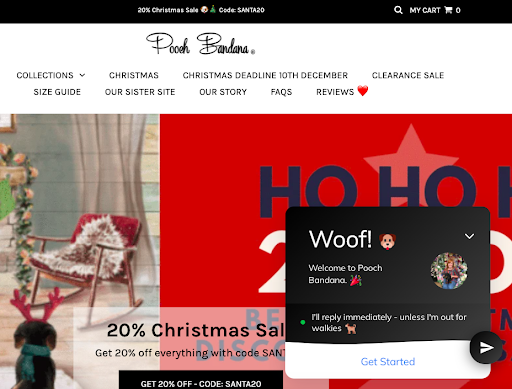 8. Simplify the checkout process
In 2021, more than 18% of customers left their carts because of a complicated checkout process. The longer and more complicated your pipeline is, the greater your risks are for cart abandonment.
You can simplify your checkout by: 
Dropping unnecessary registration requirements, like asking for 'profession' 
Allowing visitors to check out with a guest account
Offering multiple methods of payment
The pros at Baking Steel offer an express checkout option for their customers, streamlining the pipeline and drastically reducing unnecessary abandonment. This is a major part of a successful checkout simplification strategy, and a great example of how to increase sales on your ecommerce website.

9. Use urgency and scarcity tactics
Urgency and scarcity are two tactics of behavioral science that induce FOMO (fear of missing out) and encourage customers to buy your product. In some studies, a sense of urgency has helped to increase sales by up to 332%. 
However, proceed with caution. Scarcity tactics could also be overused to the point of dilution, reducing their effectiveness.
Still, they can be highly effective and are worth trying for any business that wants to learn how to increase ecommerce sales. Notable ways to implement them are:
Free trials
Discounts or coupons
VIP lists
Consider this example from Kerrits, which clearly demonstrates their knowledge of how to grow ecommerce sales using urgency and scarcity tactics. This popup offers a free shipping code that works only for a single day. Since free shipping is a top reason why people buy, Kerrits' strategy is leveraging both psychology and great marketing tactics all in the same popup.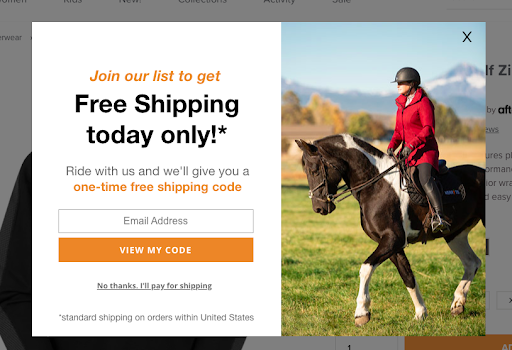 10. Improve your store's SEO
Performing regular search engine optimization (SEO) for your store is essential for picking up more sales. Studies show that organic search is responsible for 38% of overall website traffic. 
The more you optimize landing pages, keywords, and blog posts, the higher your store will rank on search engines. Business SEO strategies in ecommerce can generate an ROI of $2.75 for every $1 spent.
11. Inspire visitors with an Instagram feed
In 2017, up to 76% of consumers bought a product they saw on social media. Major platforms to target include:
Facebook
Pinterest
Snapchat
Twitter
Instagram
Because social media sites like Instagram are a familiar place for customer inspiration, they can also be the perfect opportunity to organically showcase your wares. 
Begin this process by adding an Instagram feed to your website that will be a source of inspiration for shoppers. With more than one billion active users on Instagram every month, your ecommerce sales potential could be virtually limitless. This outstanding example from Naked and Famous Jeans serves as a great starting point. Take note of the bright colors, great composition, and constant product showcase.

12. Run paid marketing campaigns
If you've got your site converting well and want more ways to boost ecommerce sales, it could be time to try paid ads. Done effectively, paid ads can be one of the most lucrative tactics, with recent estimates suggesting an 800% ROI for Google Ads.
When creating your first campaign on Google Ads, target relevant keywords that combine search intent with your product offerings. 
For example, searching for Omnisend on Google brings up a paid advertisement, listing deals, features, and other subcategories that may be important to the searcher. The more you optimize your store, the higher your chances are of sealing the deal. Additionally, the use of clear, straightforward text helps to quickly tell shoppers what you're offering.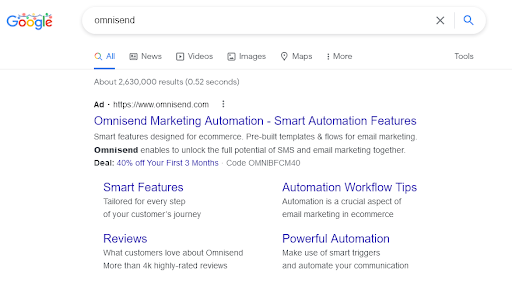 How to boost ecommerce sales: summary
Learning how to increase ecommerce sales doesn't have to be overwhelming. There are various free or low-cost options to try, from building an email list to sending automated campaigns that generate sales around the clock on your behalf.
It's a good idea to try out as many methods as possible to increase your sales potential and find out which ones have the most impact in your business.
Special thanks to our friends at
Omnisend
for their insights on this topic.