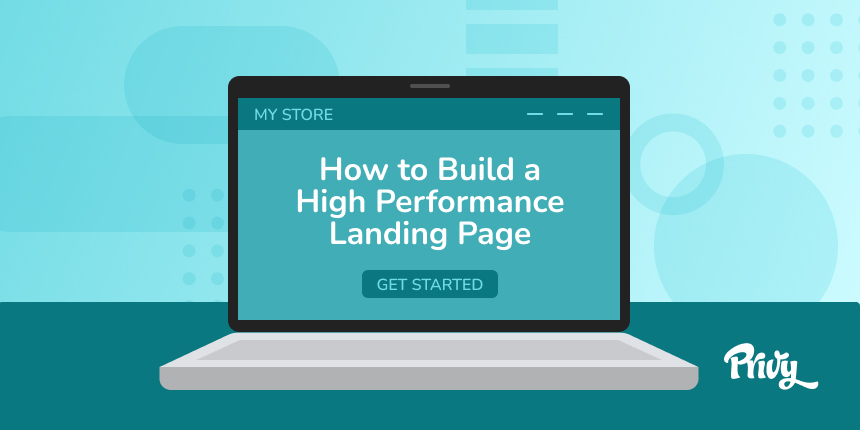 The more targeted and relevant an advertisement is, the more likely it will convert.
In marketing, it's called the Rule of One: An ad should contain 1 great idea for 1 type of person with nothing to distract from their decision to take action.
But what happens when someone clicks from your highly focused ad to a generic home or product page? None of the copy or images are specific to that visitor or the ad that attracted them. There are menus, links, and other products suggested – all distractions from taking the 1 action you want them to take.
That's where ecommerce landing pages come in.
An ecommerce landing page is a standalone page on your website that's designed to convert visitors from a specific marketing campaign. Every element of a landing page – the copy, images, and buttons – are all there to convince a visitor to do a single thing, like buy a product or subscribe to a newsletter.
The more landing pages you use, the more new leads you get. And since landing pages are stripped of most technical webpage elements, they're also the easiest to create. With this step-by-step guide, you'll have everything you need to design highly effective landing pages that turn visitors into leads and customers.
Get our best content on ecommerce marketing in your inbox 2 times a week
1. Understand what landing pages are (and aren't)
Ecommerce landing pages are the welcome mat for visitors coming to your website from a specific marketing campaign. Their only goal is to get that visitor to act on the deal offered in the ad. That singularity of purpose means landing pages have a few different characteristics than other locations on your website.
Here's an example. Allergy treatment brand Picnic placed an ad on Instagram asking people to take an allergy quiz. Here's the page those visitors landed on.
Now compare it to the website's homepage.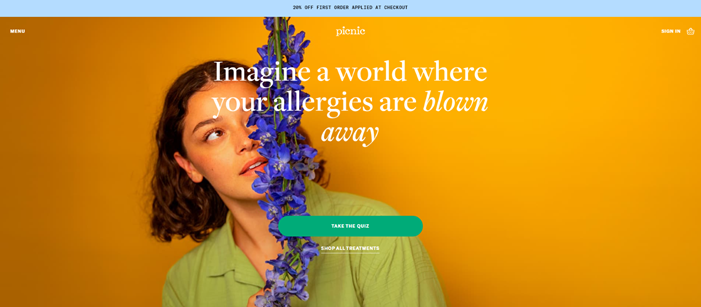 Pretty similar, right?
But notice what's not on the landing page. There is no menu, no sign-in link, no view cart button, and no "shop all treatments" call to action (CTA). In fact, the only thing you can do on the landing page is take the quiz. They've removed anything that distracts visitors from doing it.
Also, take a look at the difference in copy. The homepage talks about getting rid of allergies, something that speaks to all of their potential customers. The landing page is much more targeted.
Homepage copy: Imagine a world where your allergies are blown away
Landing page copy: Treat your congestion with Picnic
The copy is written for people who suffer from congestion as opposed to itchy eyes or coughing. They could have searched terms like "the best decongestants" or "how to stop allergy congestion."
If you dug through Picnic's website, you'd find there are no links to get to the landing page. The only way to get there is through their ad. That's because the landing page, like the ad, is temporary. It's only used as an extension of the campaign.
The goal of Picnic's landing page is to generate leads through their quiz. There are several other lead gen and conversion goals they could have chosen, like:
purchase a product
subscribe to a newsletter
enter to win a contest
get a discount
Why didn't Picnic send visitors directly to their product or category page? It also has a singular conversion goal (to get people to buy) after all.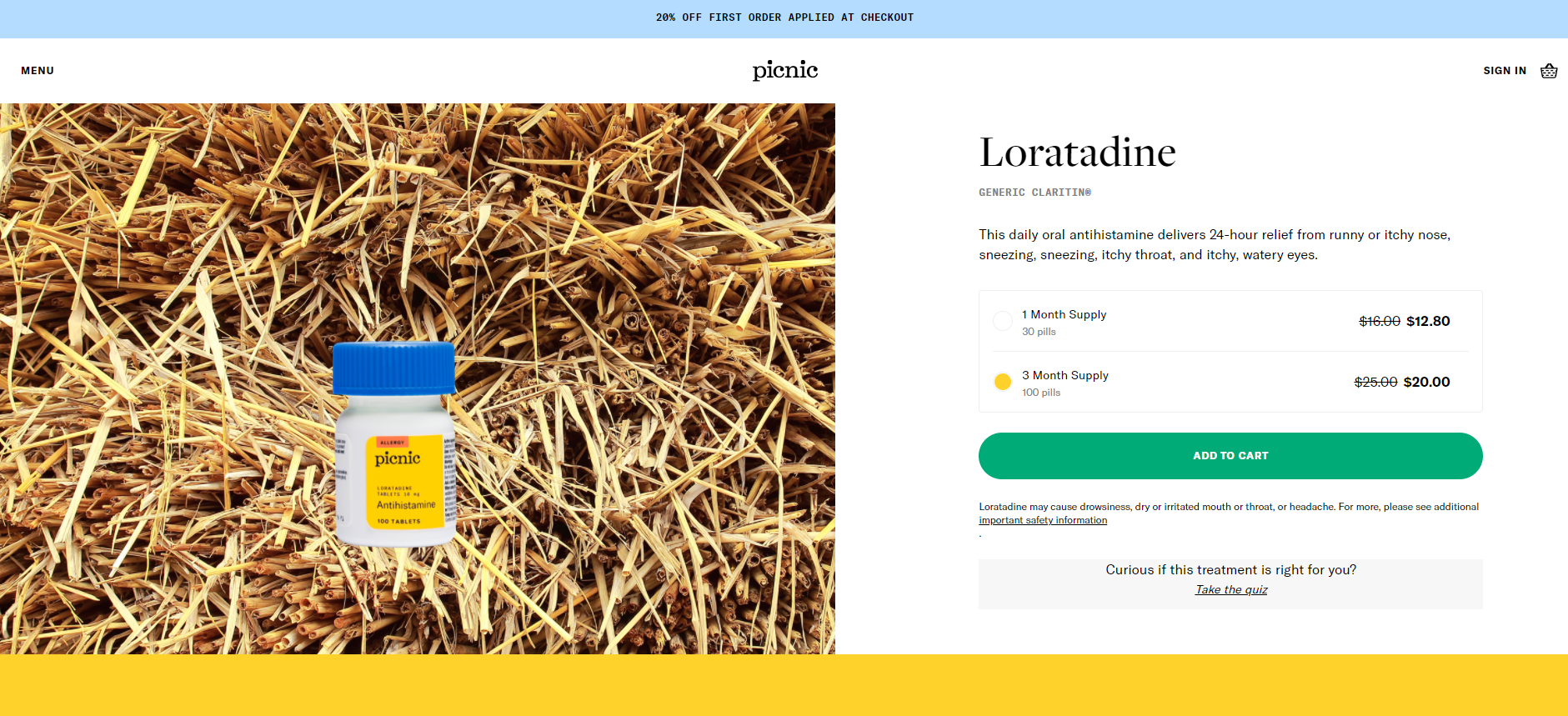 However, unlike the landing page, Picnic's product page has lots of potentially distracting links and menus. Plus, it's not designed for the specific audience – congestion sufferers in this case – that were attracted by the ad.
To recap, ecommerce landing pages:
have no distractions like multiple links or menus
are personalized like ads
are standalone and not a part of the website's menu
can be used for several types of lead gen and conversion activities
Not every landing page follows all of these rules. The best ones usually do, though. You'll find best practices for high-converting landing pages in section 3. First, we'll run through the ways a landing page helps you capture more leads and move people to the checkout page.
2. Personalize the page
The power of personalization in marketing has been studied and proven for years. But you can't personalize a home or product page for several different personas.
A brand that sells drink coolers, for example, may provide the perfect product for family beachgoers, concert attendees, and workers on the job site. Their product page has to either show all or none of these uses. It can't leverage the Rule of One.
The brand can create 3 landing pages, though: one featuring a beautiful ocean scene, one with a brightly lit stage, and another full of hard hats and work trucks. Those personalized pages will engage each audience segment better than their generic product page counterpart.
Landing pages can also be optimized for different devices. If your ecommerce business sells office furniture, the landing page for your professional line might be optimized for desktop computers since that's where those customers find you. Then the college dorm collection landing page could be built for mobile.
3. Run A/B tests
A/B testing is a sure way to find the most effective page elements. Images, copy, and even the color of your CTA button can all give your conversion rate a boost.
It's a heavy lift to continually create and test multiple versions of each product page. Not so with landing pages.
Since landing pages have so few technical elements, you can whip up multiple versions in a few minutes. Each variant exposes the elements that your customers love.
Did the quiet beach image outperform the sand volleyball scene? Now you can use that picture in future pages and social media ads.
4. Create a magnetic CTA button
The CTA button is the most important element of your landing page. It's the one thing a visitor has to see if they're going to convert.
Contrasted color
When choosing the color for your CTA button, it's not about picking the perfect hue (there isn't one). It's about contrast. An orange button against a brown background won't cut it. Bright red on white will do the trick.
Perfect placement
Placement is important, too. Ideally, you want your CTA link above the fold (the part of the screen a visitor sees before scrolling). It should have plenty of white space – or at least empty space around it. If you can place it in either the horizontal or vertical center third of the screen, even better.
Convincing copy
Writing clear CTA button copy is an art in itself. Always include an action word like "get," "take," or "contact." Then add a couple of words that describe what happens when they click:
Get 50% off
Take the quiz
Contact an allergy expert
Avoid vague verbiage like "Get started." Get started doing what?
Every attribute of your CTA button should make it stand out on the page. If you can't see it from across the room…go bolder!
5. Explain the value quickly
Visitors land on your page with an expectation. Use the copy to confirm what they're getting quickly. And do it in a way that's relevant to them.
Highlighted deal
Whatever your ad promised, repeat it here. If it was a discount, a promise of weekly emails, or a chance to win, put it front and center on the landing page.
Sense of urgency
You want visitors to act now. So make sure you give them a reason to – like limited supplies or a time-sensitive offer. Just make it sincere, or you'll come off as scammy. No one likes a fake going-out-of-business sale.
Prioritize clear, concise, clever
Your landing page copy should follow a hierarchy:
First, be clear so readers know what to do and what they'll get
Then, strip out unneeded words so it's concise but still clear
Finally, add some cleverness only if it doesn't make the copy confusing or wordy
Picnic's 5-word value proposition, "Treat your congestion with Picnic," isn't overly clever, but it's perfectly clear and concise.
6. Design for conversion
A couple of tried-and-true landing page design principles will keep visitors heading toward the CTA button.
Generous white/blank space
If you want something to stand out, let it stand alone. Each important element of your page, especially the CTA and value statement, should be surrounded by a buffer of blank space.
High-quality visuals
People process pictures faster than words. So the images on your landing page will convey quality, trust, and value before the words you write. Choose professional pictures that match your brand and reinforce your offer. Generic stock photography need not apply.
7. Build trust
Most people say they buy more from, recommend, and share information with brands they trust. Since you're asking visitors to share their information and/or money on a landing page, it's the ideal place to establish trust.
Social proof
Let visitors know that other people put their trust in you and are happy they did by adding elements of social proof.
Here are a few types of social proof to consider:
Reviews/testimonials/ratings/case studies
Number of products sold
Media coverage icons
"[customer] just bought this product" scroll
Awards you've won
Make sure your claims are believable. Being the "No. 1 cat scratchpad" doesn't mean much unless we know who gave you that title. Try "Named the best cat scratchpad by Feline Weekly" instead. It also sounds less braggy.
Guarantees
Commitment can be scary, especially for people who don't know your brand well. Devote a little space on your landing page to ease the tension for new customers.
Consider including:
Money-back guarantee
Opt-out option (for newsletters)
Promise not to share/sell info
Place these guarantees close to your CTA button so visitors are sure to see them.
Get inspired by the best ecommerce landing page examples
Building a landing page is easy. Crafting one that triples your conversion rate is a little harder. You're not starting from scratch, though. Get a head start by applying some of the lessons from these stellar examples.
Utz's crispy copy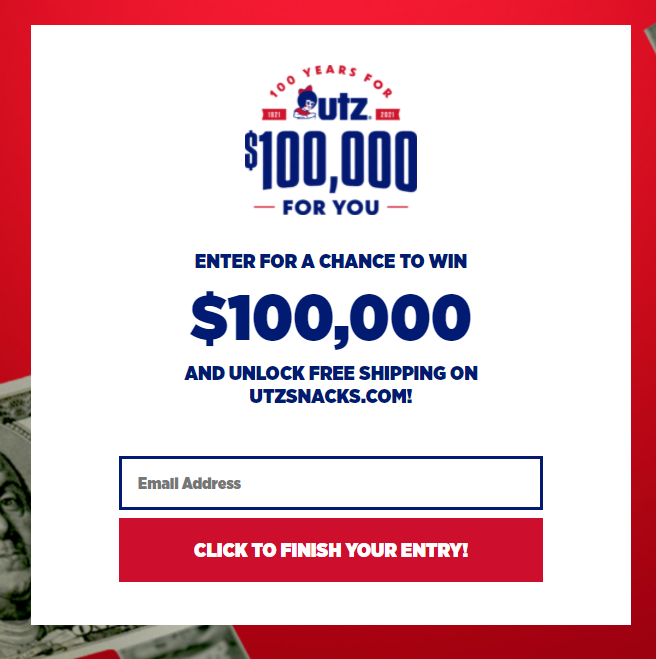 There's no mistaking it: Utz wants to give you $100,000. On a landing page of limited copy, it's boldly stated in the largest font twice. And that's why it works. Landing pages are the place for bold.
The CTA copy is worth mentioning, too. "Enter to win" would have been OK. But their CTA tells you exactly what will happen when you click the bright red button.
Utz could have also used a popup to catch people before they closed the page.
Caldera Lab's picture-perfect page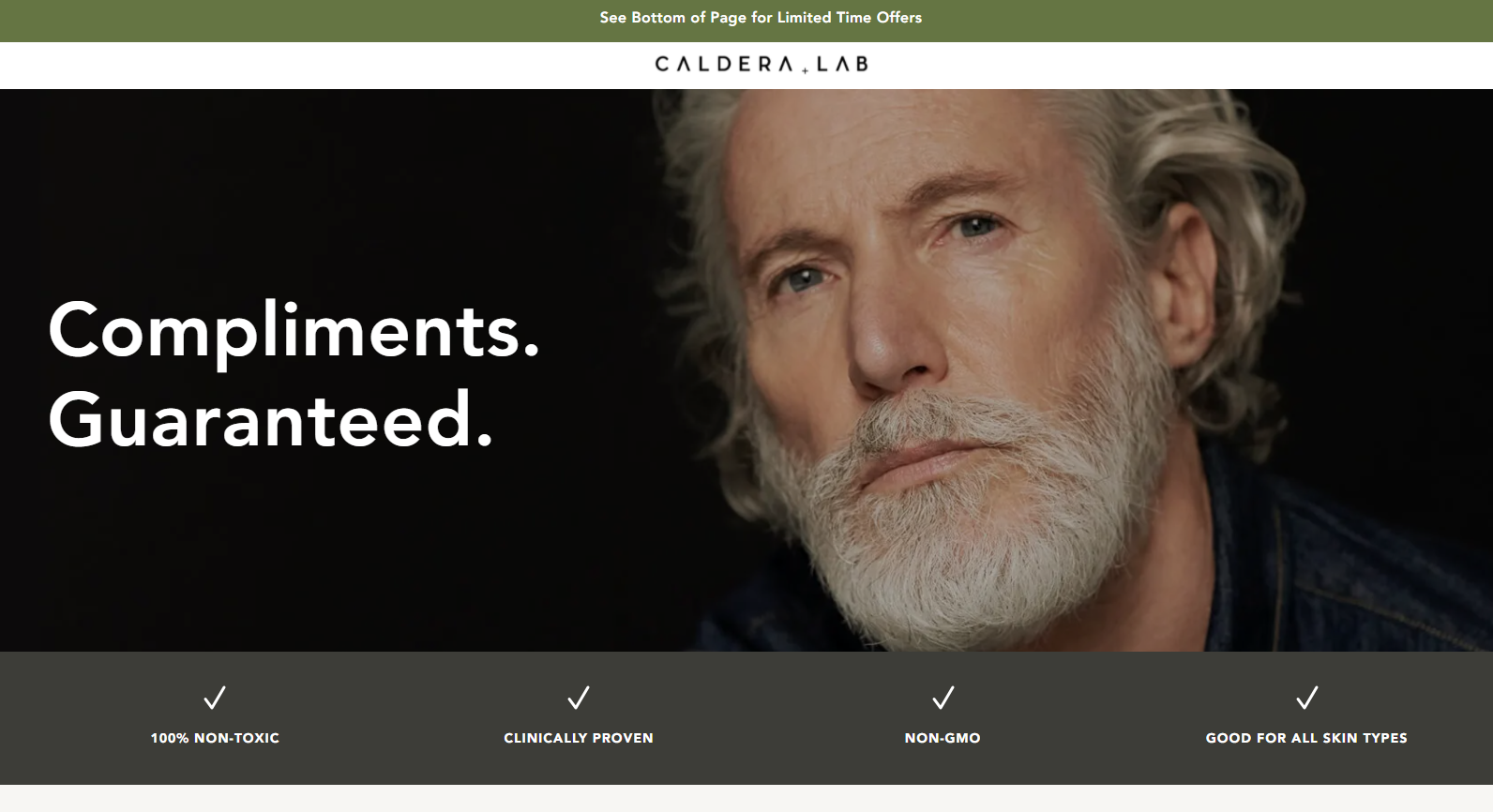 Look at the use of black space. Their simple value proposition practically leaps off the screen against the stark, black background.
The Caldera team chose a high-quality image as well. Our brains are built to quickly recognize other humans, so pics of people are always a solid choice. And if you're selling skin cream to men battling the effects of aging, which they are, you couldn't have picked a more on-brand model.
Babbel's limited-time language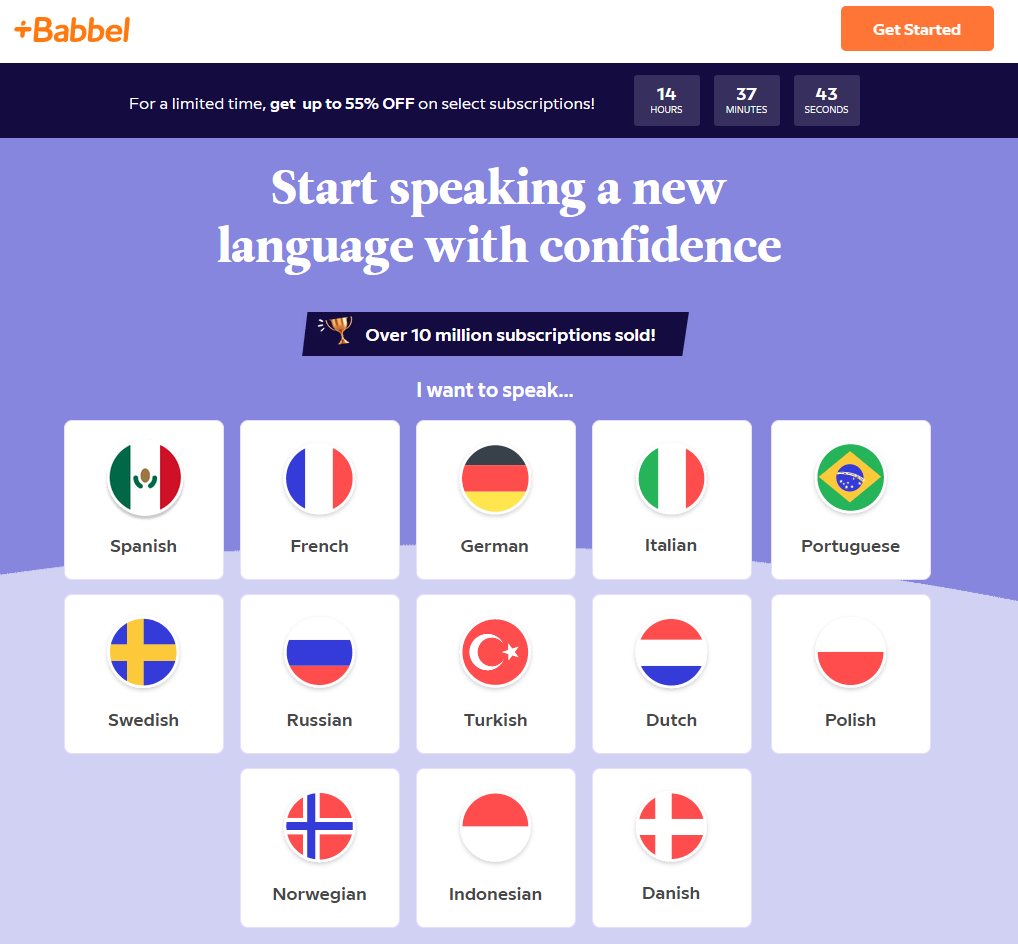 If you want to highlight a sense of urgency, add a countdown timer. That's what language learning software maker, Babbel, did here. While they could have made it a little more prominent on the page, they did pair it with a great offer of up to 55% off. Combining a valuable discount with a sense of urgency is a great way to motivate action.
Warby Parker's spectacle qualifier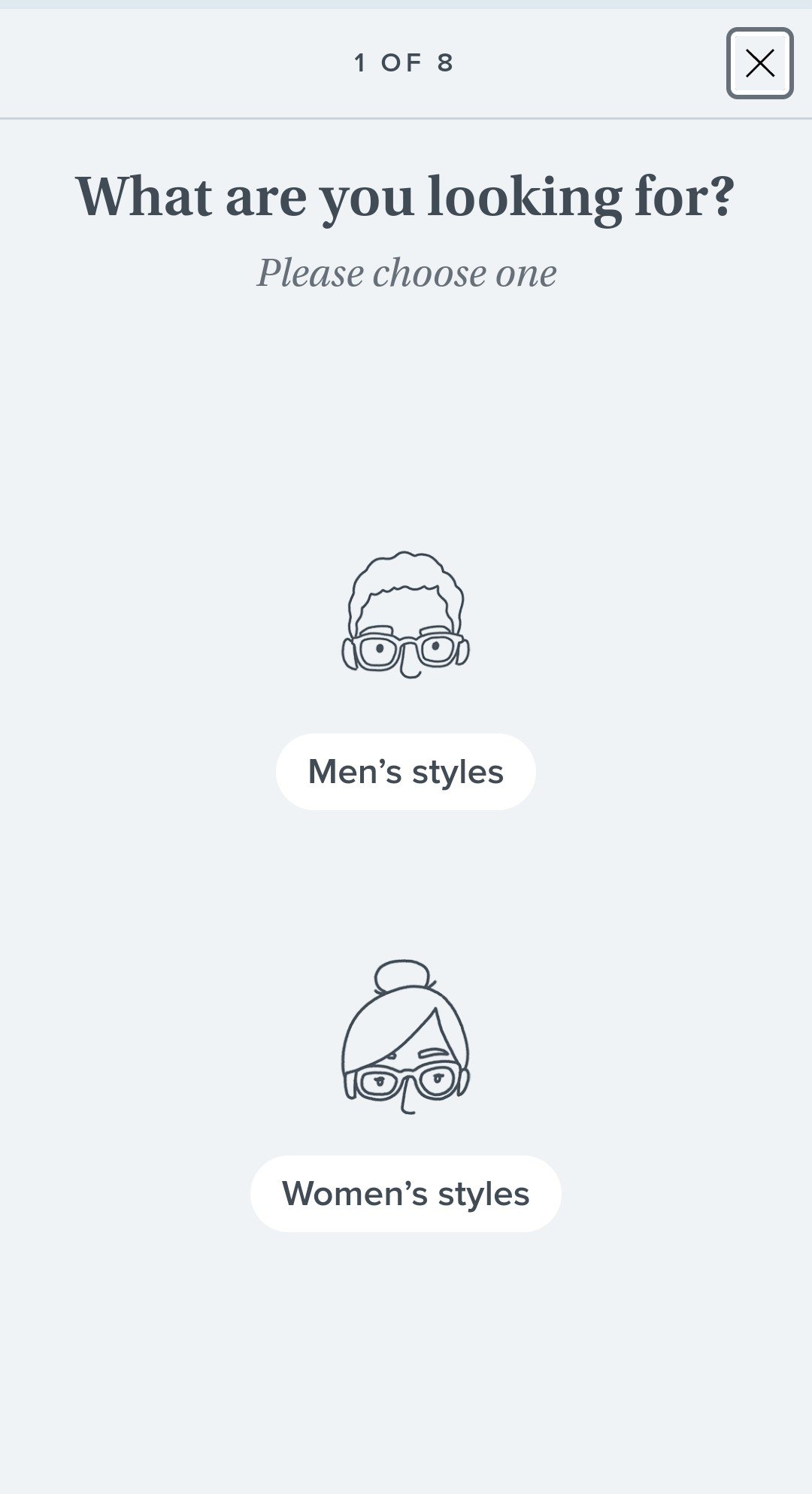 As a trailblazer in the direct-to-consumer business, Warby Parker is known to buck a few trends. Their landing page is no different. Instead of targeting their ad for a segment of their audience and designing a landing page for them, WP simply asks visitors to identify themselves.
Through a series of 8 questions, potential eyeglass customers share their frame preference, face shape, and other qualifying characteristics. In the end, the brand offers the perfect specs for purchase.
Picnic's peer pressure relief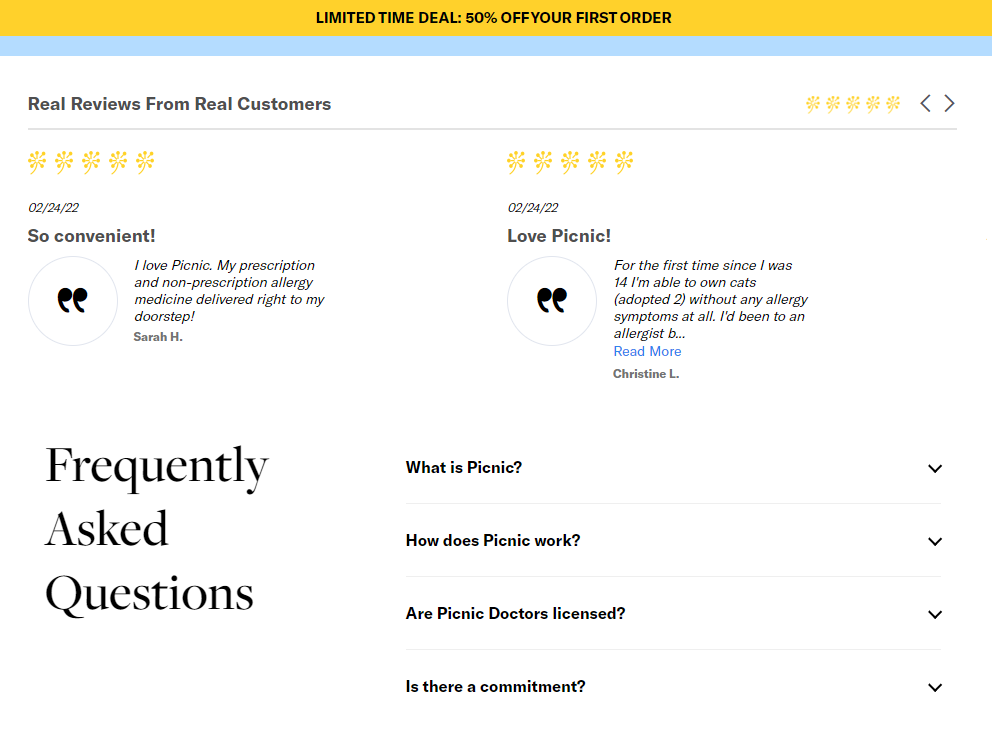 We've talked about what's above the fold in Picnic's landing page. Scroll a bit and there's something else worth noting. They've addressed customer hesitation head-on with social proof and an FAQ section.
The testimonials scroll, so there is plenty to read without overwhelming the page. The FAQs look like they were pulled directly from hesitant customers' brains.
Hiatus' proof of savings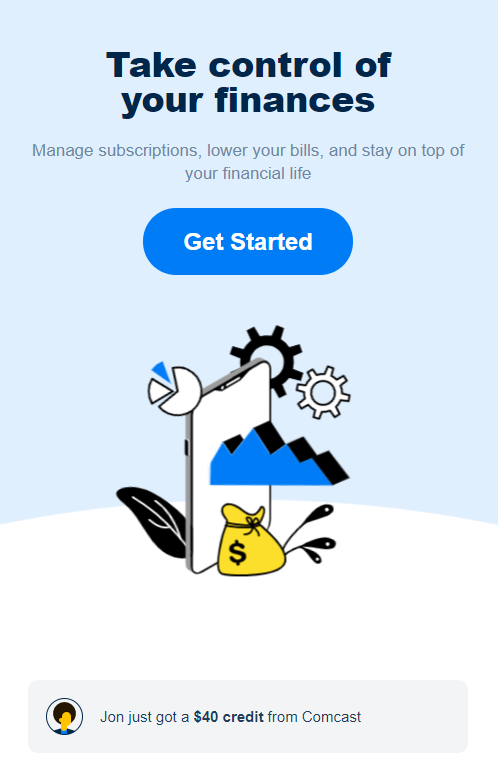 Is this the deal real? That's what visitors to Hiatus' landing page might be thinking. The subscription management tool answers that question with a scrolling list of real users, how much they saved, and from which providers. The specifics of their social proof are what make it so compelling.
Upstart's smart layout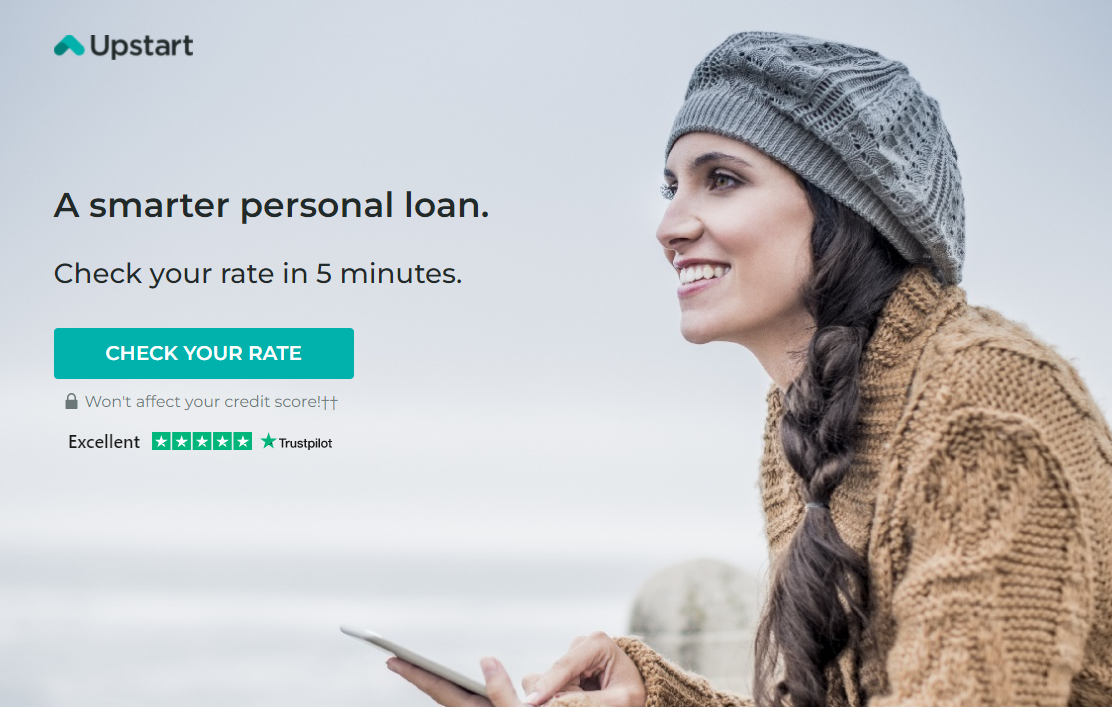 Everything on Upstart's landing page is designed to get our eyes on the CTA. The green button stands out against a light gray background. The copy is arranged in a reverse pyramid, with the CTA at the bottom.
Even the model is turned to face towards exactly what Upstart wants us to see. This would also be an excellent place for an influencer's image.
The Perfect Jean's Z formation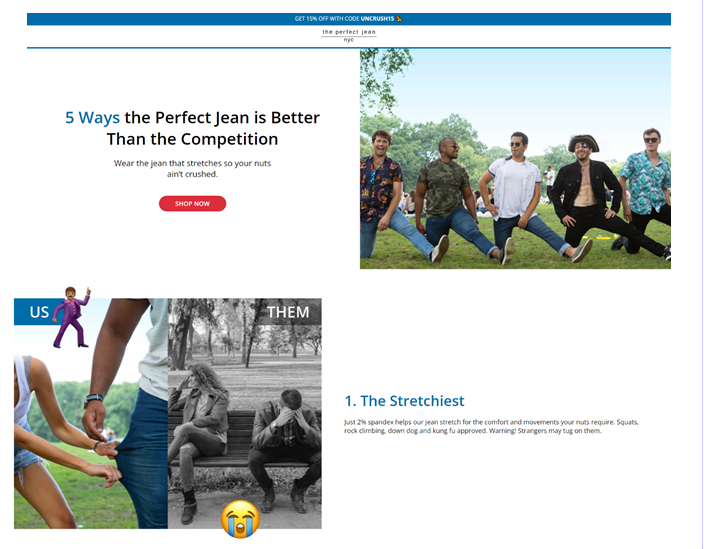 The first thing you'll likely notice about The Perfect Jean's landing page is the risqué humor. But step back, and you'll see they've perfectly applied a foundational aspect of great design: the Z-pattern.
By alternating their images with copy, the page takes advantage of how we read – from left to right, then back to the left and to the right again. This layout keeps visitors flowing through all of their copy and leads them to the inevitable CTA button at the bottom.
Use ecommerce landing pages for all marketing funnel stages
Many of the landing page examples here are designed to engage new leads or customers. They break the ice and build trust with people who have either never heard of the brand or never bought a product.
But landing pages are also a great place to send people who click on customer winback, cross-sell, and abandoned cart messages. Wherever there's a personalized marketing campaign getting clicks, landing pages will help convert those visitors into customers.
Topics: Website Conversion
Special thanks to our friends at
Privy
for their insights on this topic.