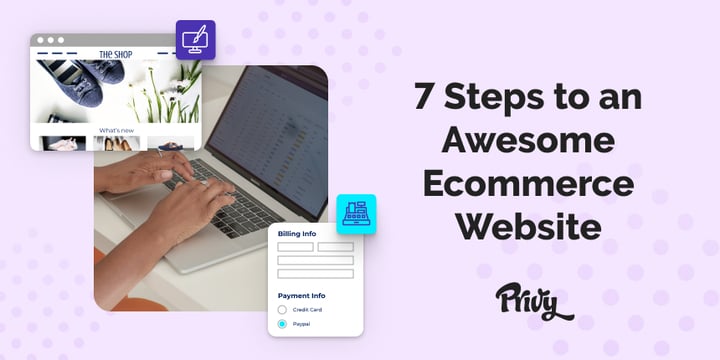 In 2020, global ecommerce sales generated a jaw-dropping $4.28 trillion – and that's not a fluke. That number is expected to surge to $5.4 trillion in 2022.
There's money to be made selling products online, but if you want to tap into the ecommerce boom, you have to start simply: build an ecommerce website.
Thanks to a multitude of tools and tutorials, building an ecommerce site is easier than ever.
You don't need any expertise in coding or digital design. But in order to be profitable, you do need to make sure your online store is functional. These 7 steps will help you get there.
Get our best content on ecommerce marketing in your inbox 2 times a week
1. Choose and purchase a domain name
A domain name (also called a URL) is the foundation of your ecommerce website. Just like physical stores need a street address, online stores need a web address.
Ideally, your domain should reflect your business name and/or what you sell. For example, if you sell handcrafted chocolate candy, your domain name could be CalebsCraftChocolates.com.
Once you brainstorm some ideas for your domain name, head over to a domain registrar to make sure nobody currently owns it. Here are a few domain registrars you can use:
If your dream domain is taken, you still might be able to buy it with a different domain extension such as .net or .co. There are also niche domain extensions like .shop, .store, and dozens more. According to Google, domain extensions don't impact your visibility to search engines – it's just a matter of how you want customers to perceive your site. For example, you wouldn't use .edu or .org for ecommerce purposes.
As far as price, expect to spend anywhere between $10-100 on your domain. This depends on factors like how valuable your keywords are and any add-ons you buy, such as domain privacy.
2. Choose an ecommerce platform
Once you've secured a domain, it's time to build your website. That's where ecommerce platforms come in.
An ecommerce platform will help you build and manage your online store from a single dashboard without writing a single line of code. Here are two we recommend:
Shopify
Shopify powers more than a million online stores, making it one of the most trusted ecommerce platforms available. It's a dedicated ecommerce platform, meaning it comes with all the tools to run an online business, whether you have 10 customers or a million.
Shopify has a 14-day free trial with five pricing tiers, depending on the size of your store:
Shopify Lite: $9/month
Shopify Basic: $29/month (this is their most popular plan)
Shopify: $79/month
Advanced Shopify: $299/month
Shopify Plus: starts at $2,000/month
For a detailed view of what's included in each plan, head over to Shopify's pricing page.
Wix
Wix helps millions of people create all kinds of custom websites, but for the sake of this article, we'll focus on Wix's ecommerce capabilities.
As you'll see with the following pricing plans, Wix Ecommerce is slightly less expensive than Shopify:
Business Basic: $23/month
Business Unlimited: $27/month
Business VIP: $49/month
To see the features that come with each tier, check out Wix's pricing page.
Wix is usually ideal for small businesses or individual sellers with a few products. However, if you want more tools and resources to scale your business, Shopify might be a better option.
3. Build your ecommerce store
The specific steps for building your ecommerce site will vary slightly depending on the platform you choose. But the process boils down to three main phases:
Create your site's pages
Every ecommerce website should have these four foundational pages:
About Us/Our Story: Information about your brand and why you started it
Shop/Store: A section where visitors browse your products
Contact Us: This is where you visitors can send messages and ask questions
Frequently Asked Questions (FAQ): Provide answers to common questions about your products, exchange/return policy, and more
Add products to your store
Your ecommerce platform will have a dashboard where you can add products to display in your store.
To stay organized and make your products as compelling as possible, follow this checklist:
Write detailed descriptions that include your product's dimensions, materials, and other information buyers need to know.
Upload high-quality product photos or videos (hiring a professional photographer is ideal, but smartphone pictures can suffice in a pinch).
Price your product competitively. Researching similar brands is useful here.
In your dashboard, indicate how many products you have in stock so you can track inventory levels.
Design your store
It's important for your online store to reflect your brand's vibe, whether that's classic, modern, elegant, or minimalistic.
Ecommerce platforms like Shopify and Wix come with hundreds of predesigned website templates. Use these as a baseline and customize them with your own colors, copy, typography, and images.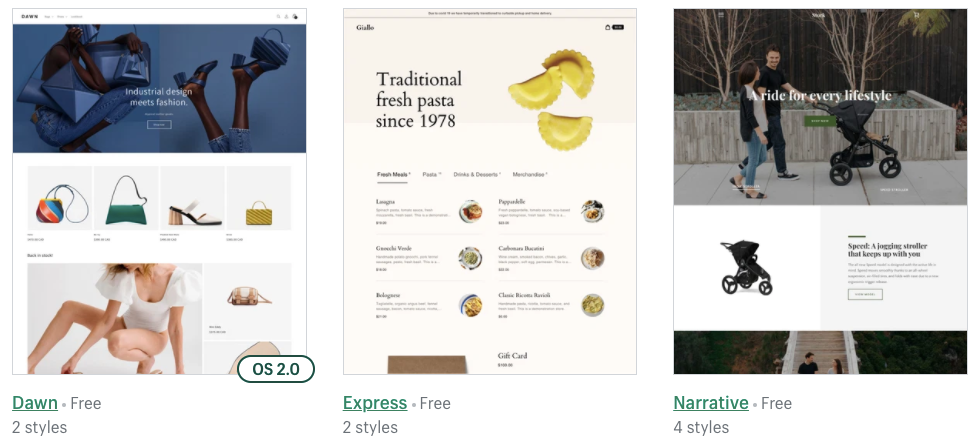 Shopify and Wix are both known for their user-friendly functionality, which makes designing online stores a breeze, even for first-timers. If you get stuck, you can always contact their support teams, watch tutorials, or read their guides.
If you're strapped for time and have room in your budget, consider hiring a freelance web designer who specializes in building ecommerce stores for your specific platform.
4. Set up your payment methods and taxes
Once your products are on display, it's time to give your customers a way to pay for them.
The easiest way to accept payments online is through your ecommerce platform's default processor. For example, Shopify Payments and Wix Payments both let you accept major credit/debit cards and other common payment methods without dealing with a third party.
You can also set up options to accept cash, checks, or point-of-sale transactions, which is helpful if you plan to make sales in person.
After finalizing your payment methods, your ecommerce platform will prompt you to configure your sales tax settings. One option is to build your taxes into the price of your products to simplify the process for customers. Otherwise, tax is added when your customers check out.
Your sales tax rate depends on variables such as your location and sales volume. If you need help setting up your taxes, ecommerce platforms have helpful guides like this one from Shopify or this one from Wix.
5. Choose your shipping and delivery settings
Getting a surge of orders is exciting, but manually creating shipping labels slows you down and can get expensive. That's where shipping software comes in.
Shopify comes with a built-in shipping integration that lets you select carriers, create and print labels, and automate notifications to your customers – all from a single dashboard. You can even save up to 88% with discounts on USPS, UPS, and DHL shipping rates.
Wix, on the other hand, requires a third-party shipping integration, such as ShipStation or ShipBob, to fulfill your orders. These services work just as well as Shopify Shipping; the only difference is the added step of integrating the app into your Wix store.
Regardless of your shipping solution, set shipping rates based on how much it costs to ship your products. For example, if it costs $7.20 to ship a T-shirt, you could charge $5 for shipping and build the remaining cost into the price of the product. Or, you can build the entire shipping cost into the price of the product and offer free shipping – it's all a matter of personal preference.
6. Optimize your store for sales and conversions
Building an audience and generating sales is tough for any business – let alone a brand new ecommerce store.
You haven't been around long enough to benefit from word-of-mouth marketing, and you may not have the budget for a massive advertising blitz. So while you might not sell out overnight, you can still increase the chances of turning your website visitors into paying customers.
That's where Privy, an all-in-one ecommerce marketing platform that integrates directly with Shopify and Wix stores, comes in. Here are a few Privy features that have helped drive nearly $4 billion in online sales:
Popups to grow your email list
Popups are one of the most efficient ways to collect visitors' email addresses so you can build lasting relationships.
For example, someone who stumbles onto your site might not be ready to make a purchase yet. But if you entice them with a discount or exclusive content in exchange for their email address, you have permission to communicate with them and (hopefully) drive sales.
In fact, on average, Privy customers generate nearly $16 for every email captured.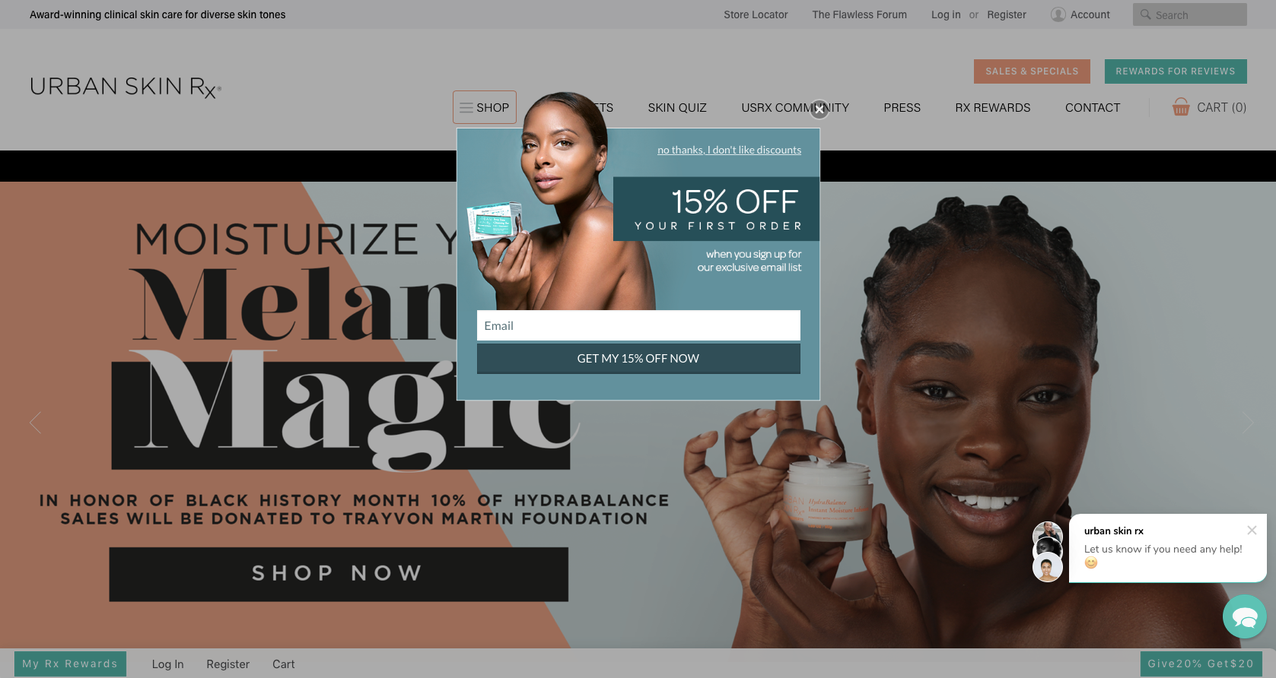 Best of all, Privy lets you create and publish custom popups in less than five minutes without writing a single line of code.
Automated emails and newsletters
Newsletters are an easy, affordable way to stay top of mind with your customers. You can use them to announce product launches, send discounts, or share exclusive content.
But automated emails, like welcome emails are sent automatically once they're up in running. Which means you can drive sales while you sleep. 
With Privy's drag-and-drop editor, designing eye-catching, on-brand emails has never been easier. You can even link your social media accounts and pull in products directly from your Shopify catalog – all with just a few clicks.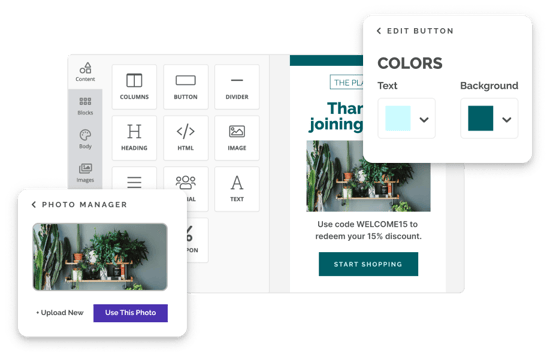 Abandoned cart emails
As of July 2021, the average shopping cart abandonment rate was over 71%. That means that 7 out of 10 shoppers might leave your site, even after adding a product to their cart.
Fortunately, you can recover a good chunk of those sales by simply following up with these shoppers. With Privy's cart abandonment emails, you can automatically send visitors who leave products behind a series of emails. Here's how it works:
Email #1: Goes out one hour after abandonment
Email #2: Goes out 24 hours after abandonment
Email #3: Goes out 48 hours after abandonment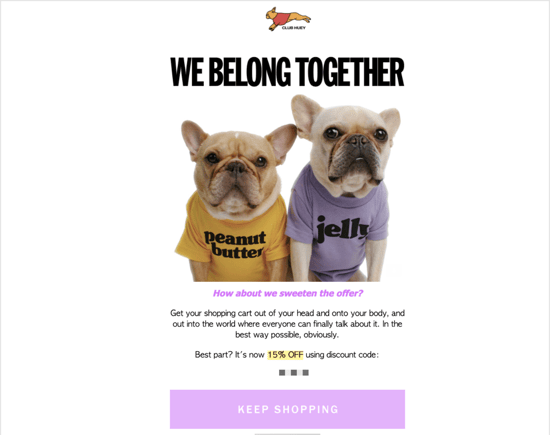 For each email in your abandoned cart series, you can expect to recover 3-4% of carts. That means if you have three emails in your series, you could recover 9-12% of the revenue you otherwise would've missed out on. It's a no-brainer.
You can also use Privy's cart saver to stop abandonment before visitors with items in their cart leave. Or start sending abandoned cart texts. 
Privy is the all-in-one marketing platform you need to grow your store. And you can get started for FREE.
7. Test and launch your ecommerce store
The finish line is in sight. But before you press that button to go live, take your ecommerce site for a test drive to make sure you don't run into any preventable issues on launch day.
Here's a prelaunch checklist:
Double-check all of your product information, especially your prices and descriptions.
Place a test order (Wix and Shopify have test order functionality, so you don't have to spend real money).
Make sure no links are broken and that they direct to the proper pages.
Make sure all product images load.
Send a test message using your contact form.
Ask a friend to review your site – a fresh pair of eyes might catch something you missed.
Once you're comfortable, publish your site and give yourself a pat on the back – you're officially an ecommerce entrepreneur.
Tap into the ecommerce boom
In the early days of the internet, starting an online business was clunky and confusing. But thanks to platforms like Shopify and Wix, the barrier to entry for ecommerce is lower than ever.
For the cost of a few coffees, you can introduce your idea to the world. There's no shortage of competition out there, but if you tap into the right niche, you can turn your side hustle into your full time gig.
If you ever need advice or inspiration to grow your brand, we're here to help. Schedule a meeting with one of our ecommerce coaches, check out our on-demand masterclasses, or tune in to our daily podcast Ecommerce Marketing School. 
Topics: Ecommerce Marketing
Special thanks to our friends at
Privy
for their insights on this topic.