Wouldn't it be great if there was a tool that saved you lots of time, kept in touch with your customers, and helped you make money at any time of day or night?
It might sound too good to be accurate, but that's exactly what email marketing software does. If you ever wished to clone yourself to get more done, you might now feel it's possible.
In this article, we'll look at precisely what these platforms do, their differences, and how you can choose the best email marketing software.
Download now: Why Choosing an Ecommerce-First Email Provider Matters.
What is Email Marketing Software?
Email marketing software or an application sends many emails to a dedicated list of subscribers. This software can often segment or target a subscriber list, automate different messages, and perform several other tasks related to email marketing.
Email marketing software is one of a business's most powerful tools. Designed explicitly for maintaining contact with site visitors and customers, it's a highly effective way of generating additional sales, even from people who left your site without buying.
Unlike sending emails from Gmail or Outlook, these specific marketing tools include an array of helpful tools and features, such as:
Open and click rate reporting, showing how many people are engaged with your emails.
Lists and segments that allow you to send specific messages to specific people, e.g., 'similar items' to buyers or discount coupons to new subscribers.
Automation, you can increase your sales and revenue without manually sending each email.
That last point is critical. One of the most compelling attributes of email marketing software is automation, through which you can write emails once, and they can send forever. Despite accounting for less than 2% of email sends, automated emails drove almost two-thirds of email marketing orders in 2020!
Perhaps best of all, the trend is only getting more optimistic. We analyzed over 10 billion email messages from the Omnisend platform in 2019 and 2020 to compile our Ecommerce Statistics Report 2020, and we found that conversion rates for promotional email campaigns stood at 6.49%—an increase of 111% from 2019.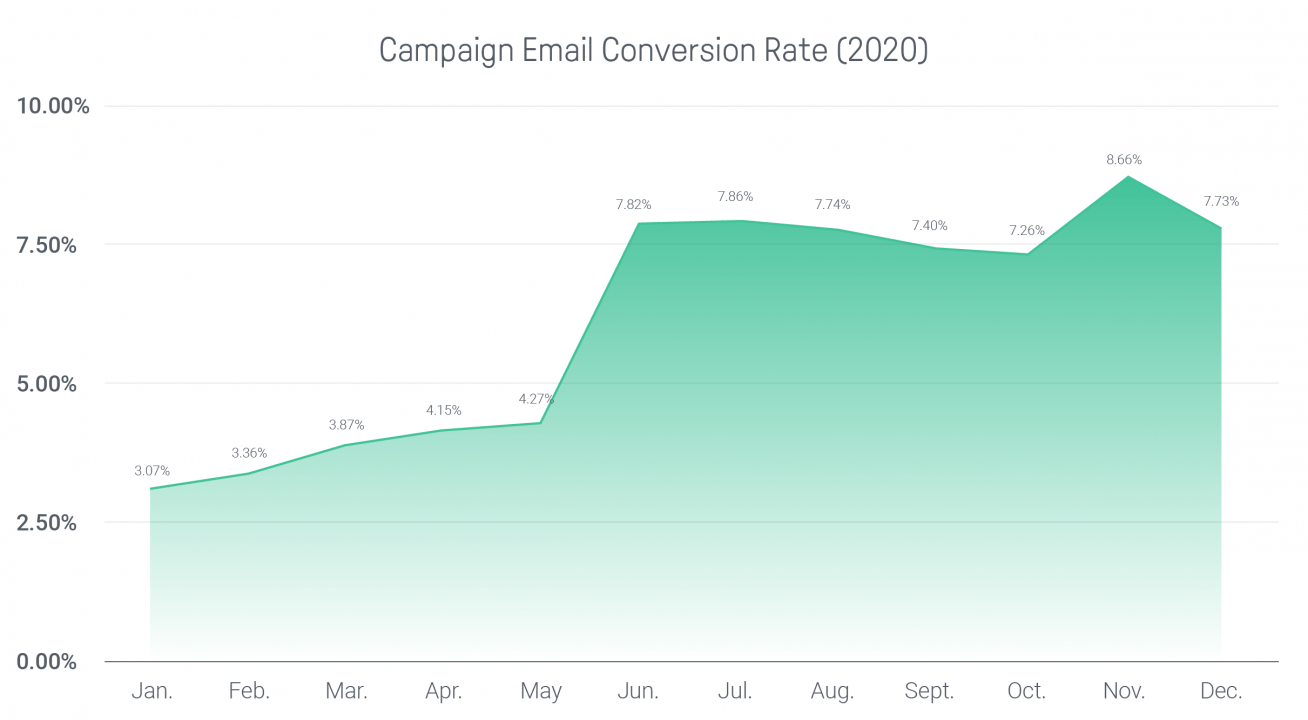 How to Choose a Good Email Marketing Platform (and What to Look for)
Although there is some overlap between email marketing software platforms on critical features, they're not all equal. There are essential differences in everything from pricing to specific features and how they integrate with other platforms. That's why asking the right questions before deciding is always a good idea.
Choosing the most appropriate email marketing platform is crucial for ecommerce businesses because our Ecommerce Statistics Report 2020 shows that cart abandonment emails had a conversion rate of 33.89%. Add to that the 18.21% conversion rate for post-purchase emails, 17.53% for product abandonment, and 17.32% for browser abandonment emails, and it becomes very clear why dedicated ecommerce email marketing software is so essential.
The 7 Best Email Marketing Platforms for 2021
There are many options, so choosing the most appropriate one for your business can be overwhelming. We've written this email marketing software comparison to help make the choices more transparent and make that decision easier.
1. Omnisend: Best for Ecommerce
Omnisend was built for ecommerce, from commerce-focused features to integrations with platforms like Shopify, BigCommerce, WooCommerce, and more. The template designer lets you create beautiful, visual templates for your subscribers, and when integrated with an online store like Shopify, Omnisend automatically imports your products into your email campaign. It can even offer recommendations based on recently-browsed items and what other similar customers have also browsed and purchased.
Omnisend's commitment to ecommerce is also present in the little details. While multiple email marketing software platforms have the functionality to add discount codes, Omnisend takes it a step further with gamification features such as a virtual gift box and spinning Wheel of Fortune.
One of the essential features of an ecommerce business is sending the right message to the right person at the right time. Subscriber segmentation is another feature shared across every email marketing software platform, but Omnisend pushes it further. In addition to the standard segmentations, like engagement with previous emails, Omnisend also incorporates shopping behavior.
Do your subscribers have a preferred color or buying habits? Your automated emails can factor these in so your customers enjoy a personal experience, boosting your ROI.
If you're concerned that all these powerful features will be confusing, don't worry. Omnisend's pre-built automation workflows take the hard work away and can even prompt new ideas. For example, how about sending a birthday email on the same day each year, following up on orders, or recommending items the recipient will likely buy based on past purchases? All of this is possible with Omnisend.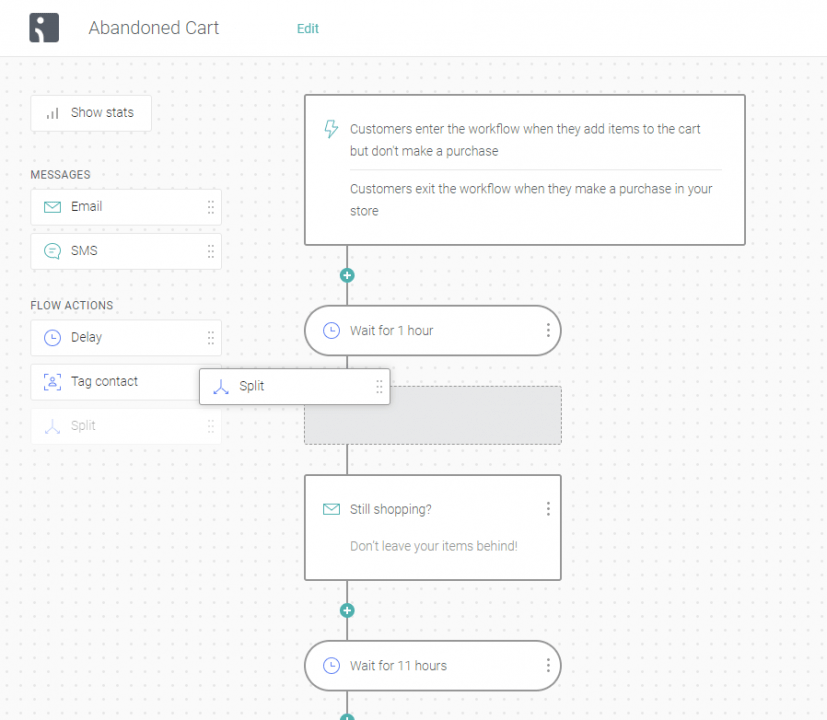 And, as the name suggests, Omnisend isn't limited to emails. To be the best ecommerce marketing software means recognizing that not everyone prefers emails. That's why Omnisend gives customers the choice of how to receive notifications, and each of your campaigns can include emails, SMS, web push notifications, and Facebook and Google retargeting.
All of this is scratching the surface of what Omnisend offers for ecommerce businesses, and the best way to understand what it can do for your business is to experience it for yourself with a free trial.
2. Mailchimp: Best for Beginners
If there's one email platform that you've already heard of, it's almost certainly Mailchimp. It's the market leader, with a whopping 70% marketshare. Does that make it the best email marketing software platform available? Not necessarily.
Of course, the usual caveat applies: "The best" depends entirely on your needs. It first became famous by focusing on ease of use, allowing users to build emails with a drag-and-drop interface, and offering various templates to remove friction in building campaigns.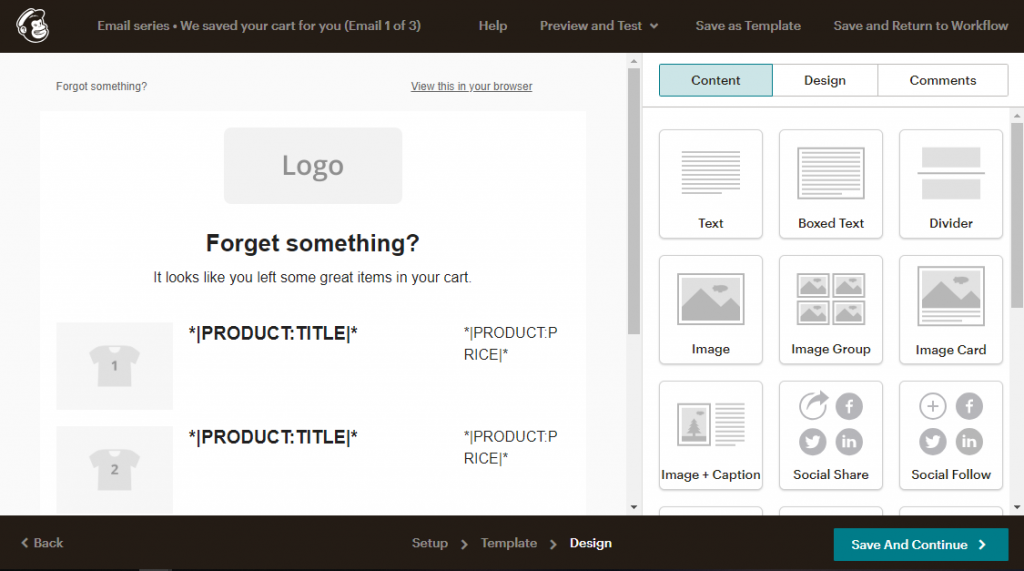 For users who only want email (instead of the additional channels that Omnisend offers) and like the simple approach, Mailchimp is a good option—after all, it didn't become the biggest name on the block by not being good. But it's worth considering alternatives to Mailchimp when you need to do more.
For example, Mailchimp offers automated workflows, but you can't see them visually. It has increased its prices over time, and users on the free plan have a minimal experience—such as being unable to use automation (except for a single welcome email), workflows, retargeting adverts, or A/B testing. Users on the free plan don't even have access to email or chat support and are limited to one audience.
One of its main benefits is that Mailchimp integrates with many other platforms, such as WordPress. However, it no longer offers native support for Shopify and relies on users linking up ShopSync to get the two media talking. Other workarounds include Zapier and adding Mailchimp code to your store, but these need vital features, including ecommerce tracking and reports.
It's also essential to note Mailchimp strictly forbids affiliate marketing. It states that affiliate links "in general are fine," but "we prohibit affiliate marketing." Violating this rule can get your account deleted, so depending on the nature of your business, this may rule out Mailchimp as an option for you.
3. Constant Contact: Best for Basic Needs
If Mailchimp is the best for beginners due to its simplicity and ease of use, then Constant Contact is the best for companies with the most basic needs. Besides, free trial plans are available and paid: Email and Email Plus.
Both plans have some essential features for ecommerce email marketing software, like store integration, abandoned cart emails, and the ability to drag products from your store into email campaigns.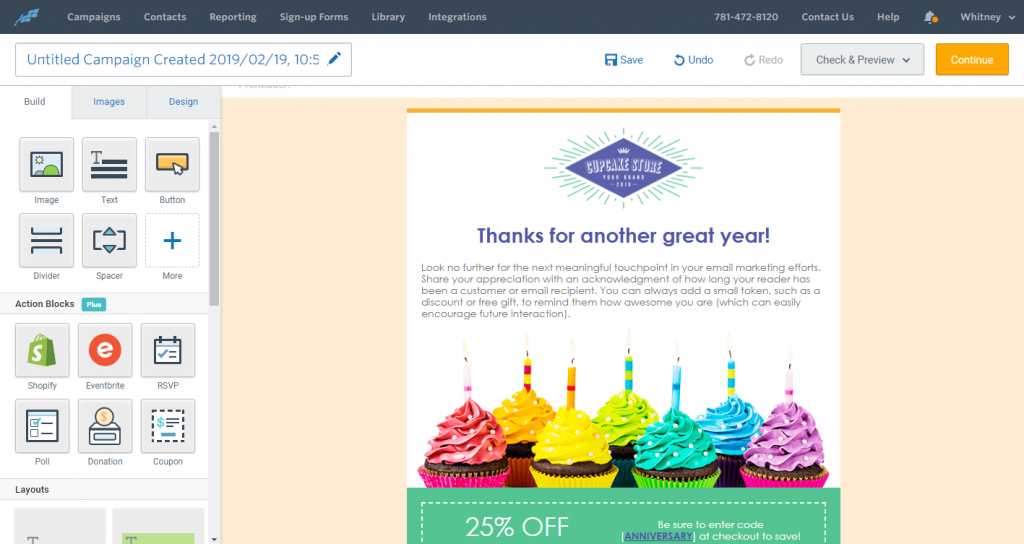 For members who upgrade to the Plus plan, the ecommerce features improve. You'll have segmentation, so you can tailor the emails to boost ROI and customizable pop-up forms, coupons, and additional features. Automation is also available, although they're limited to the Email plan. Both plans come with the same level of customer support, including a marketing advisor.
Constant Contact has robust social media integrations, syncing with Google My Business, and can run Facebook, Instagram, and Google ads. It can even handle the organic social posting and includes a social inbox and monitoring feature.
Mailchimp and Constant Contact have some shared features and a shared lack of features, including no native SMS service.
4. Active Campaign: Best for Larger Budgets
While it may not be as popular as Mailchimp, Active Campaign is one of the better-known platforms, and it always does well in an email marketing software review. Ironically, what makes it the best choice for some users is the same thing that makes it inappropriate for others: it's so feature-packed that it can be too much for your needs. Email marketing software has to find that balance between offering enough to be helpful and not so much it becomes an obstacle.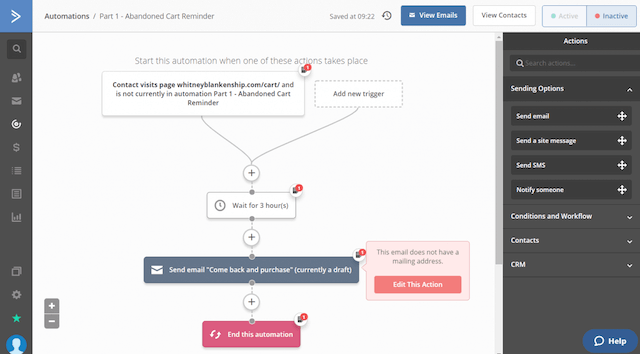 The features are split into three categories: Marketing Suite, Sales Suite, and Service Suite. The marketing features include what you'd expect: newsletter templates, drag-and-drop functionality, automation sequences, reporting features, and audience segmentation. Users on the Plus plan or higher can also send SMS.
The Sales Suite is where Active Campaign comes into its own, particularly compared to more fundamental or free email marketing software. Users have their own native CRM, which includes sales automation. The Sales Suite also includes contact lead scoring and SMS prospect nurturing.
The Service Suite offers customer success pipelines, customer health scoring, and personalized product experiences, among other features.
Active Campaign is a powerful workhorse for users that need these features and may mean subscriptions to other sales tools aren't required. But the comprehensive features are more than many users will need, so we think Active Campaign isn't best considered as an email marketing software for small businesses but for businesses with larger budgets and comprehensive needs. Anyone can use it, but one of these Active Campaign alternatives may be a better option.
5. Drip: Best for Small Ecommerce Businesses
Like Omnisend, Drip has been built with a focus on ecommerce. One of the most important features of ecommerce email marketing software is personalizing the customer experience, and Drip has features to achieve that, including behavior-based automation.
Drip also allows users to contact customers on multiple channels, including SMS, Facebook, and Instagram. And because ROI is so essential, Drip provides a substantial variety of data that allows you to see precisely what is and isn't working. You can A/B test different messages and see the results on the insights dashboard and automatic revenue attribution.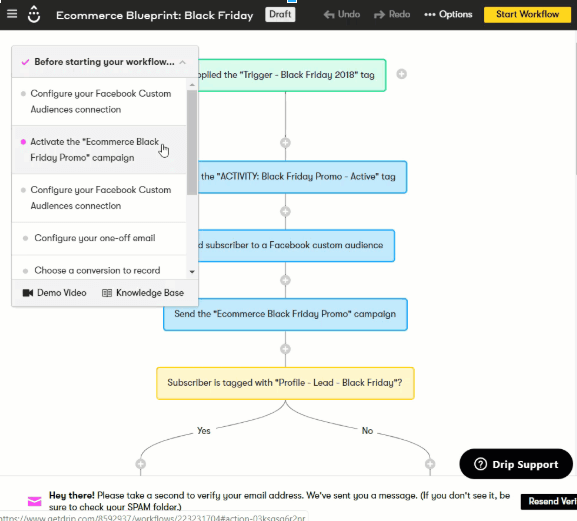 Users new to ecommerce email marketing software will appreciate Drip's pre-built workflows to help you get up and running quickly. At the same time, the reporting lets you see the results of all channels and tests in a single location. If you'd prefer to use free email marketing software to start, Drip's free trial gives access to all of its features except the ability to send SMS or unlimited emails. That's still a good start, and the generosity of features on the free plan is just one of the differences between Drip and Mailchimp.
6. ConvertKit: Best for Bloggers
Any email marketing software comparison needs to consider who it's designed for and what they need. While Omnisend and Drip have a clear ecommerce focus, and Active Campaign is a reasonable consideration for large, complex businesses, ConvertKit was designed for professional bloggers.
This doesn't mean no one else can use it, but its narrow focus might leave you wanting more, particularly given its higher price point than some of the others on this list.
For example, ConvertKit offers some email templates, but there's a limited number, and they're mainly text-based. You'll probably feel frustrated if you want to create something more visual—an essential feature for ecommerce.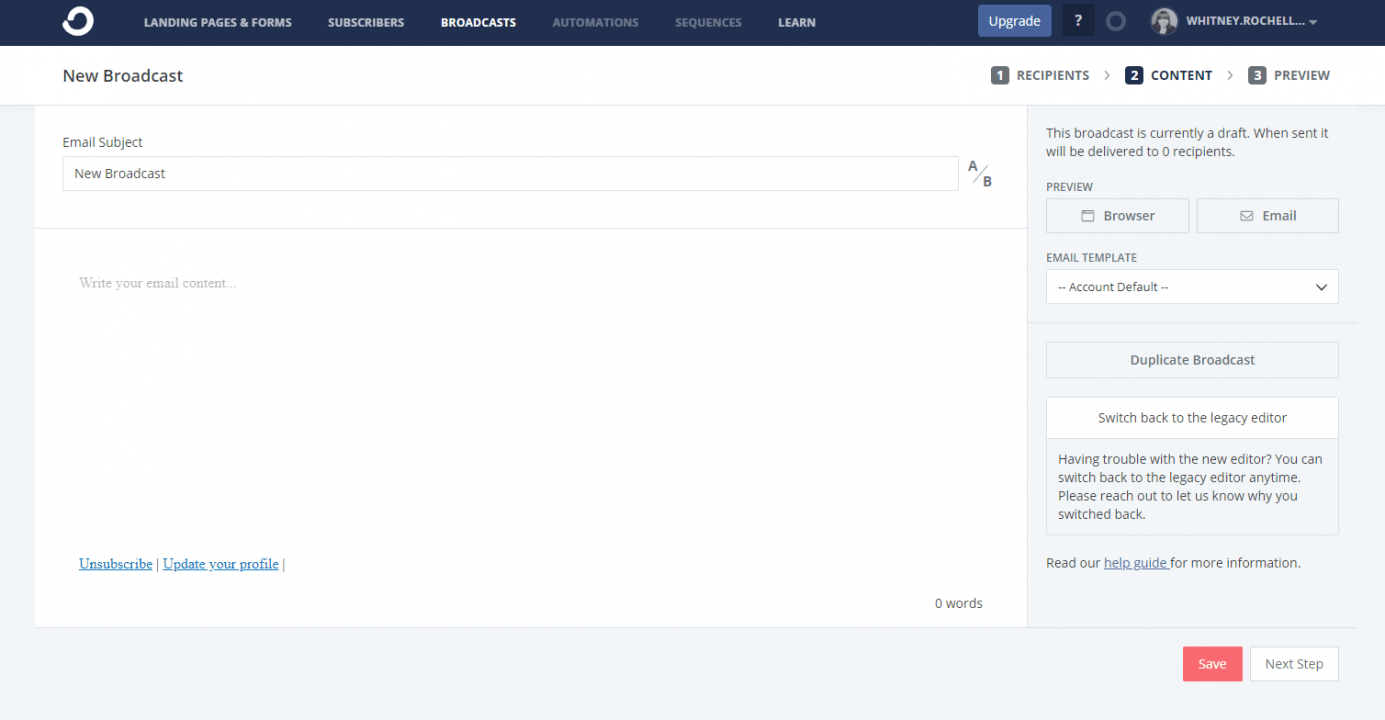 Templates aside, ConvertKit has more robust offerings than expected in the best email marketing software, such as segmentation for your audience, advanced automation, a landing page editor, and integration with Shopify and other platforms. However, beware that ConvertKit is solely an email platform, and there's no native SMS or multi-channel offering.
7. Hubspot: Best for B2B Companies
Hubspot has built a formidable reputation and is particularly popular with B2B companies. Presenting itself as an all-in-one solution, Hubspot makes it possible to see the entire lifecycle of a customer, from their first touchpoint with your business to the moment they become leads and then customers.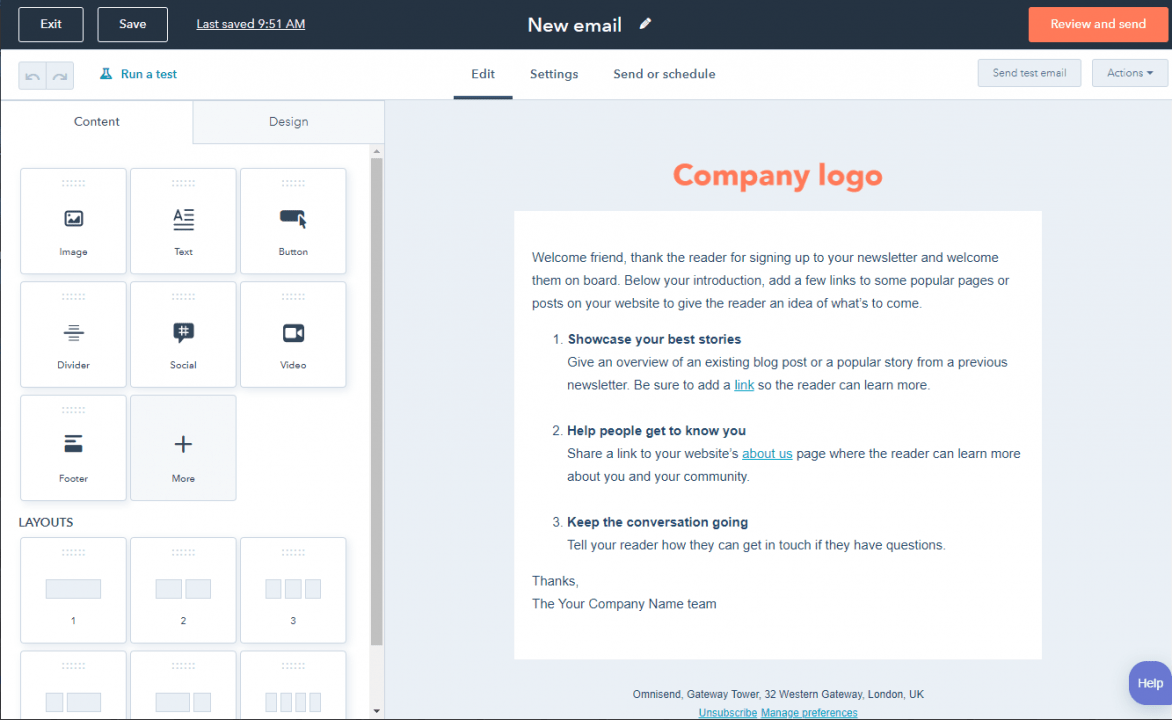 For users that go all-in to Hubspot, you can manage your content, and social accounts, create landing pages, and view consolidated reports that factor in each touchpoint. If you've already got a site elsewhere, you can integrate with Hubspot's tools as a workaround.
Hubspot has a free package that includes a substantial array of features. This free plan even allows you to have up to a million contacts, sign-up forms, and add live chat to your website. As with Mailchimp, though, the free tier excludes more compelling features, such as workflows, A/B testing, and segmenting your email subscribers.
Once you exhaust what the free plan can offer, you might find the paid plans on the pricier side. The Starter plan starts at $50 a month, but you need the Professional program to access automation, social media, and A/B testing, and that starts at a staggering $890 a month.
That's a significant price difference compared to the other companies in this email marketing software comparison. However, it's important to note that Hubspot isn't solely an email platform; it's a complete inbound marketing tool. As with Active Campaign, that's excellent if you need most of what's included, but it's likely more than is necessary for many users.
Wrap-up and insights:
So with everything considered, which is the best email marketing software?
The good news is the market has options for every need and every budget. Active Campaign or Hubspot are strong contenders for email marketing platforms that include everything and the kitchen sink.
ConvertKit is a robust choice for bloggers or creators with undemanding needs. It's focused on a particular niche and serves it well. On the other hand, Mailchimp remains an excellent all-rounder. Although it doesn't offer everything, its simplistic approach will appeal to many people.
When it comes to the platforms that excel at ecommerce, Omnisend takes a lot of work to beat. It covers all the bases for online sellers with templates, visual workflows, integration with online stores, multi-channel touchpoints, and e-commerce-specific features like adding products from your store into your email.
You can get started with a free trial to see how Omnisend can improve your business without immediately committing to a paid plan.
Special thanks to our friends at
Omnisend
for their insights on this topic.