There was a time when the only way to stock up on food, beverages and other essentials was to browse the grocery store aisles. But that's no longer the case. 
Of course, the brick-and-mortar grocery store is still a viable option. But today, consumers have access to a large (and growing) number of digital grocery shopping options — including pickup and delivery from local grocery stores, online-only services (such as Thrive Market), meal boxes, and third party services like Instacart that pair consumers with a personal shopper. And that's just to name a few. 
Online grocery services have experienced steady growth; however, when the COVID-19 pandemic hit, that growth went into overdrive. According to eMarketer, online grocery sales reached $95.82 billion in 2020, which was a 52% year-over-year increase. And our own survey of grocery shoppers found that 73% of respondents said they had purchased groceries online in the most recent 90 days, compared to 17% who said this was the case in 2017. 
Growth of Online Shopping
Have you or anyone in your household made an online grocery purchase in the last 3 months?
And it seems shopping online for groceries isn't just a passing fad that'll go away once the pandemic is behind us. Quite the opposite; eMarketer predicts that online grocery sales will reach $187.7 billion by 2024. 
While the places consumers are shopping for groceries are changing, so too is the information they're using to make purchase decisions. Notably, grocery shoppers are relying more on user-generated content, including reviews, photos and videos — whether they're shopping online or in a brick-and-mortar store.
Grocery shopping behavior is undergoing a massive shift, which means strategies that were effective just two years ago may no longer cut it. Grocery brands and retailers must adapt to changing shopping behaviors. And one component to this is to make UGC a key component of their digital and in-store strategies. 
In this guide, we'll explore why UGC matters for grocery, as well as how to build an effective UGC program that helps you attract and convert grocery shoppers — wherever they choose to shop for your products.
Why UGC Matters for Grocery Brands and Retailers
Before we cover the steps of creating a best-in-class UGC program for grocery, let's take a step back to explore why UGC matters for grocery products in the first place.
By now, it's well understood that consumers depend on reviews and other types of UGC when shopping for just about anything. This is especially true when consumers are shopping online and don't have the opportunity to see and experience a product before making a purchase. 
Consumers shopping for groceries are no exception.
Grocery Shoppers Seek Out UGC
Our research found that the vast majority (82%, to be exact) of online grocery shoppers read reviews at least occasionally; 42% do so always or regularly. In addition, 36% value user-generated imagery when shopping online for groceries, and 16% find user-submitted videos to be useful. 
Shoppers are actively seeking out UGC for grocery products. If they can't find that content on your website, they're likely to look elsewhere. And if they do, they probably won't return. 
UGC Boosts Conversion for Grocery Products
Collecting and displaying reviews for your grocery products is also a powerful way to boost your bottom line. That's because a lot of consumers are more likely to try out a grocery product they haven't used before if they're able to read reviews for it. This is true whether they're shopping online or in a brick-and-mortar store. Our survey found that 78% of online grocery shoppers are more likely to purchase an unknown grocery item they're considering if there are customer reviews for it. 64% say this is the case when they're shopping in-store. 
Reviews are Essential for Grocery Shoppers
of online grocery shoppers read reviews at least occasionally.
of online grocery shoppers are more likely to buy a new-to-them grocery item if there are reviews available.
of in-store shoppers are more likely to purchase an unknown grocery item if there are customer reviews for it.
UGC has the power to attract grocery shoppers — and increase the likelihood that they'll make a purchase. Collecting this content is a must for grocery brands and retailers. Those that fail to leverage reviews and other types of UGC are quite literally leaving money on the table. 
How to Build a UGC Program that Attracts and Converts Modern Grocery Shoppers
Modern grocery brands and retailers must incorporate ratings and reviews into their digital and in-store strategies if they expect to attract and convert shoppers. But building a UGC program can seem like a tall order. 
The good news is, it doesn't have to be. 
Here's a 8 step framework to help you start building your program. It's based on our extensive experience helping top brands and retailers (both inside and outside grocery) maximize the impact of UGC — as well as our most recent research into the grocery shopping habits of modern consumers.
Before you start building your UGC program, you've first got to take a step back and determine your goals. In other words, you've got to decide what it is you hope to accomplish with UGC. After all, without a clear goal, it's impossible to measure success.
For example, your top objectives might be to drive more traffic to your product pages — and increase conversion on those pages.
If you're just getting started with UGC, your goal might be to achieve a certain level of review coverage. Review coverage is the percentage of products in your catalog with at least one review. So, for example, you might aim for 50% of your products to have at least one review or whatever makes sense for you depending on your UGC maturity level. 
If you've been collecting reviews for a while, your goal might be to increase the volume of reviews for certain products — for example, those with a high volume of traffic, but low conversion. Because UGC is especially important for new products, another goal could be to generate x number of reviews for five products you're releasing within the next 12 months. 
Of course, UGC isn't limited to ratings and reviews. If you value visual content (and you should!), you might make a goal to increase the volume of user-generated photos and videos you collect, as this content is proven to boost conversion.
2. Create Your UGC Collection Game Plan
If you want to get great results from your UGC program, the first step is to generate plenty of this conversion-boosting content. This seems simple enough, but there's actually a lot to consider when developing an effective collection strategy for grocery products.
Ask for UGC from Your Grocery Shoppers
A lot of grocery shoppers are willing to write reviews, but they won't do so automatically. Instead, they need a friendly reminder. The best way to provide it is to send a post purchase email, asking the shopper to submit reviews (or visual content) for the products they've recently purchased. If the first post purchase email doesn't work, don't hesitate to send a second. A recent survey found that nearly a third of consumers need to be asked to leave a rating and review at least twice before they'll actually do it. 
Make it Easy for Shoppers to Submit UGC
Once a shopper has clicked through the post purchase email, it's important that the process for submitting UGC is easy to complete. If they get hung up on a step, they're likely to abandon the process altogether.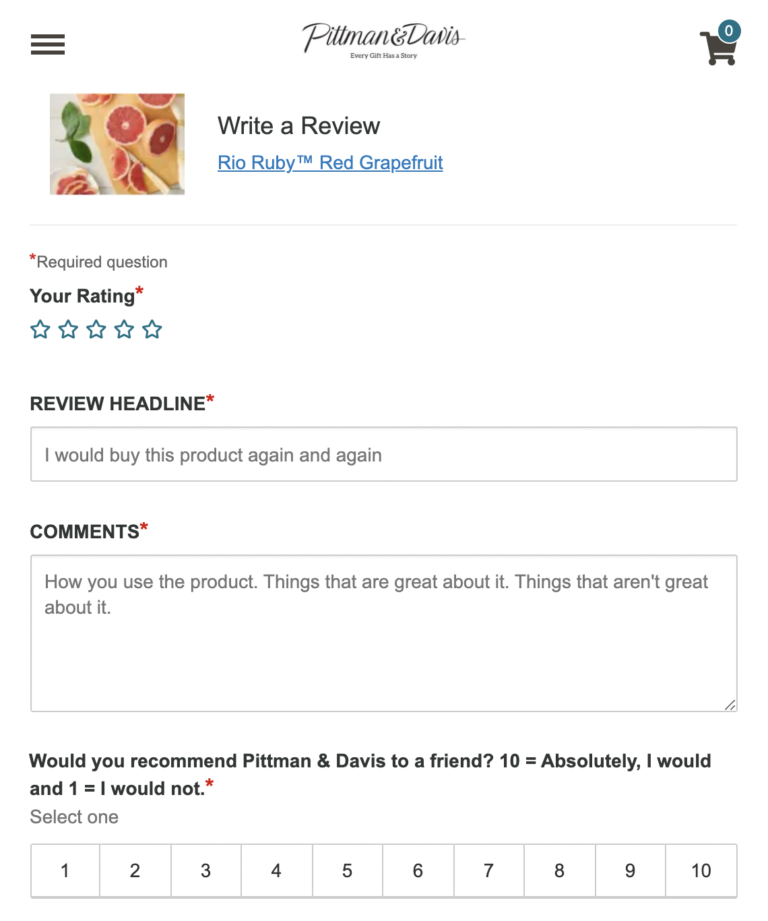 Consider your goals when setting up your UGC submission form. For example, if your goal is to generate more photos and videos, consider asking for that content first — and allow shoppers to submit it without any accompanying, written review. However, if reviews are your top priority, make sure you ask for that content first.
Also, remember that online grocery shoppers typically purchase several products in a single transaction. So make it as easy as possible for those shoppers to write reviews for multiple products from a single page. If you require them to navigate to a separate page to write each review, they won't do it.
If you're not generating as much content as you'd like, consider sweetening the deal with an incentive. A few incentives that are especially enticing to shoppers include:
Free samples

Getting early access to a product

Discounts with the store or brand

Loyalty points with the store or brand
For the sake of transparency, be sure to disclose when a reviewer received an incentive in exchange for their content. 
Don't Overlook In-Store Shoppers
Finally, remember that while a growing number of consumers purchase groceries online, brick-and-mortar is still thriving. Our research found that 93% of consumers had shopped in-store for grocery products within three months of being surveyed. So don't overlook these in-store shoppers as a source of UGC! 
There are a few effective ways to generate reviews from in-store grocery shoppers. One way is to include language at the bottom of store receipts, asking shoppers to submit reviews. Or, you can have store associates verbally remind shoppers to submit UGC. 
Another – more direct – way to generate more reviews from in-store grocery shoppers is to leverage a service like "Receipt. Review. Collect." from PowerReviews – which has just hit the market. This leverages extensive consumer (online and in-store) purchase history data (from more than 100 million monthly receipt uploads) to generate verified buyer reviews by UPC. Tom's of Maine used the program to grow review volumes by 18,600% in 21 days (yes, that's a real stat).
Designed specifically for CPG Brands – which typically struggle to generate reviews in the quantities needed to move the needle – it enables them to consistently refresh review collection to solve the huge review recency problem (71% consider recency when reading product reviews, with 34% looking for reviews that are between a week and a month old).
3. Consider Product Sampling for New Products
As we already highlighted: our research shows that the presence of reviews can increase the likelihood of a shopper purchasing a new (or new to them) grocery product, whether they're shopping online or in a store. So if you're releasing new grocery products, it's important to have this content in place.
But how do you generate those critical first reviews?
Through product sampling. 
If you're launching new products, consider doing a pre-launch sampling campaign. This involves sending samples to consumers and then asking them to submit a review. It's an effective way to ensure the product page has reviews from day one — as long as you work with the right UGC partner. Here at PowerReviews, we've found that on average, 86% of consumers who receive a free sample go on to write a review.
Product sampling can also be a great way to generate reviews (or other types of UGC) for existing products — including those with a low volume of reviews or no recent reviews. 
Again, it's important to remember to disclose when a reviewer received a free sample.
Nearly all grocery shoppers are looking for reviews when shopping online. And they don't want to look hard to find it. In fact, the vast majority (80%) want to find reviews directly on the grocery website or app they're using to shop. 
So be sure it's easy for shoppers to find reviews and other types of UGC, wherever they shop for your products online.
Display UGC on Your Own Website and Mobile App
The best place to start is to prominently showcase reviews on your own dot com and mobile app. At a minimum, you'll want to display this content on product pages. For example, this product page displays the average star rating and review volume right at the top of the page. And then the visitor can scroll down to sort and filter content to find information that's most relevant to them.
In addition, look for opportunities to leverage UGC on category pages and other areas of the website. For example, this beverage brand showcases the average star rating and an excerpt from a review for a featured product — right on their homepage.
Also, be sure to prominently showcase the user-generated visual content you've collected. For example, Canyon Bakehouse displays user-generated photos and videos in a gallery to show shoppers the delicious creations customers are making with their products.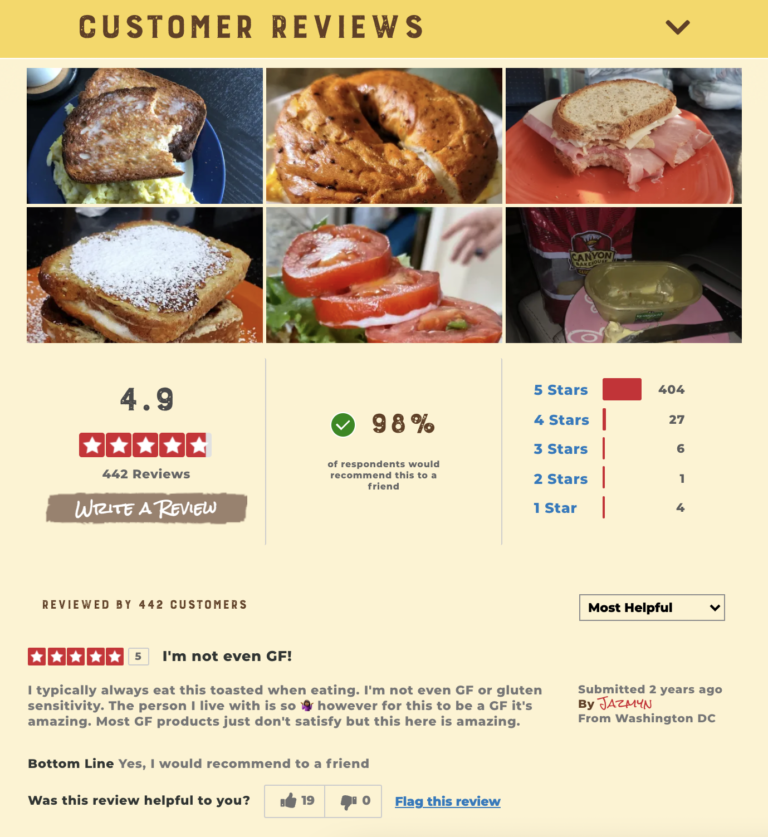 Display UGC on Key Retailer Sites, as Well as Amazon
If you're a grocery brand that sells through a network of retailers and Amazon, it's also important to ensure your product pages on those sites have reviews and other UGC. Ask your UGC provider if they provide a way for you to share or syndicate reviews collected on your website to other key sites where your products are sold. For example, this toothpaste review was written on Colgate.com — and then syndicated to retailer websites including Target.com. That way, shoppers can find reviews for the product, wherever they choose to shop for it. 
5. Make UGC Available In-Store
An in-store grocery shopper is unlikely to consult reviews when shopping for their habitual items — for instance, the granola bars, yogurt and cereal they add to their cart on a weekly basis. That's because they already know they like these products. 
However, this same shopper is likely to turn to reviews and other types of UGC when considering a product they've never purchased before. In fact, 83% of in-store grocery shoppers are interested in accessing product ratings and reviews when considering an unknown product. And 64% indicate that the presence of ratings and reviews increases the likelihood that they'll purchase said unknown product.
Consumer Interest in Reviews When Considering a New Product In-Store
When considering a new grocery product, how interested are you in accessing product ratings and reviews while shopping in a grocery store?
As such, it's important to ensure in-store shoppers can easily access reviews and other types of UGC. But what's the best way to get this content into the hands of in-store shoppers? 
The greatest share of in-store shoppers (49%) want to access ratings and reviews via the store's mobile app — so that's a great place for grocery businesses to start. A good portion of shoppers also want to access reviews in the store itself, so look for opportunities to display this information on shelf tags, store signage and on the packaging of the product itself.
Where In-Store Grocery Shoppers Want to See Ratings and Reviews
When receiving communications from a grocery provider or shopping in a grocery store, where do you want to see ratings and reviews?
Mailed ads & promotional materials
Display boards around the store
6. Uncover Actionable Insights from UGC
Sure — UGC helps drive traffic and sales. But this content is also a rich (yet often underused) source of insights brands can leverage to improve products and customer experiences. For example, a grocery brand might notice that they're getting a lot of negative reviews for a squeezable peanut butter product they offer. They dig in deeper and see that consumers seem to love the product — but often complain that the squeeze top doesn't work. This is an opportunity for the brand to improve their packaging — and boost customer satisfaction.
Manually sorting through reviews to identify opportunities for improvement isn't exactly an easy endeavor, though. Instead, ask your UGC provider what kind of reporting and analytics they provide to make it easier to gauge shoppers' feelings about your products — and shed light on opportunities to improve. 
7. Optimize Your UGC Program on the Regular
OK, you've successfully launched your UGC program. Now's the time to sit back and watch the content pour in, right? Wrong.
Instead, it's important to regularly measure the performance of your UGC program. Doing so helps you understand whether you're achieving the goals you created in step #1. Regular measurement also helps you identify opportunities to optimize and improve your UGC program to achieve even greater results — and larger ROI. 
Be sure to ask your UGC provider what types of data they provide to help you measure your success — and optimize your program appropriately.
8. Partner with a UGC Provider that's an Expert in the Grocery Space
A great UGC program has a lot of moving pieces. Sure, you can create and execute your UGC program on your own. But let's be real: that takes a lot of time — on top of your other job responsibilities. And it involves a lot of trial and error to determine what works (and what doesn't). 
A better approach is to leave it to the experts by partnering with the right UGC provider.
Any UGC vendor you're considering should offer innovative tools that empower you to collect, display, share, and analyze UGC. It's also important to find a vendor with extensive experience driving bottom line results for grocery brands and retailers. These are the vendors that can share best practices to get you the best results as quickly as possible.  
Here at PowerReviews, we partner with leading grocery brands and retailers to help them attract and convert more customers with UGC. Ready to see what we can do for your brand? We'd love to help. Contact us today to schedule your free, personalized demo.
Special thanks to our friends at
PowerReviews
for their insights on this topic.