Home » Uncategorized » How to Create Spin-to-Win Pop-Ups That Convert – 4 Key Strategies
Modeled after the Wheel of Fortune game show, these pop-ups are a great way to capture lead information, reduce cart abandonment, and convert visitors into customers by providing a fun way for users to interact with your site.
What is a Spin-to-Win Pop-Up?
A spin-to-win pop-up is a promotion where users are presented with a spin wheel game in which they can win prizes that can be applied to their purchase.
Like the example below, each section of the wheel typically shows a discount.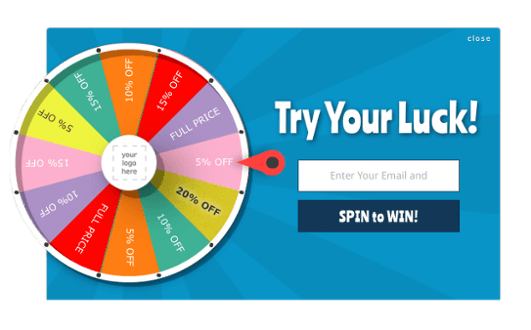 This promotion not only incentivizes users to play the game by offering a money-saving opportunity, but also then incentivizes the user to make a purchase or take an action.
For these reasons, spin-to-win wheels can serve as an excellent tool in conversion rate optimization by driving purchases and lead capture.
How to Create a Spin-To-Win for Maximum Conversions
1. Display Your Pop-Up After a Delay or Upon Exit
According to Sumo's Pop-Up Statistics, the best-converting pop-ups in general were displayed on the website after 15 seconds.
Other data shows that one of the greatest reasons why users don't like pop-ups, and specifically spin to win and other gamified pop-ups, was the fact that it displayed immediately on the website.
Another great way to increase the conversions on your promotion is to display it upon exit instead of displaying it during the visitors session.
Exit offers are when a website displays a pop-up or promotion as soon as a visitor moves their mouse toward the 'close' button on the browser or when they motion toward a different tab.
These offers are proven to 'save' 10-15% of visitors who would otherwise leave the site, by offering an incentive to stay and/or make a purchase.
Combining this exit offer strategy with your spin to win promotion can be a great conversion strategy, and an excellent implementation of your promotion.
2. Do Not Display During The Holiday Season
One very important consideration when using spin to win style promotions and pop-ups is that you should not use them during the holiday season, including Black Friday and Cyber Monday.
According to Justuno's Annual BFCM Promotion Statistics, during Black Friday / Cyber Monday specifically, the average conversion rates of the spin to win promotion decreased to 6.5% from the average 13.3% of the rest of the year.
We have found that this steep drop in effectiveness is due mostly to the fact that it adds steps to the buyer's journey, when they are already going to make a purchase.
Other promotions such as a Countdown Timer, which creates urgency, or automatically-applied discounts are much more effective during the holiday season when timing and effort required are deciding factors.
3. Take Steps to Avoid Cheating
We urge you to take the following simple steps to avoid users cheating your promotion. While it may be rare for users to attempt to cheat, it can be costly.
First, even the average user can easily clear their cookies in order to keep playing over and over until they win the most valuable prize.
The easiest way to combat this vulnerability is to simply ensure that you are not offering any prizes you aren't willing to give away to every subscriber.
Even low-percentage prizes can be won through this cheating with enough attempts, and if the prize is really that valuable, you better believe some people will try to exploit your promotion.
Second, experienced technical users can modify the promotions code exclusively for themselves when they are on your site in order to win the desired prize.
Again, the easiest way to combat this is to ensure that your prizes are not too valuable or that the most valuable prize is the one subscriber win every time.
There are other, more advanced techniques to avoid cheating as well, although they may hinder the user experience in some situations.
One of these techniques is using CAPTCHA. This addition to your form mandates users complete a brief puzzle or select images containing a certain object in order to submit the form.
CAPTCHA is useful because it not only prohibits 'robots' or scripts from completing your form, it also extends the time and effort required to play. Be careful using this technique as it will likely turn some users away who do not wish to complete extra steps.
Another useful tactic is using gated forms. Gated forms ensure that users must complete the form before they are able to play or gain access to their prize.
We always recommend that you include in the terms of the game, which users must agree to in order to play, that you reserve the right to disqualify and/or ban suspected cheaters.
4. Focus on Design and User Experience
Gamified promotions, namely spin to wins, are an opportunity for the marketer to create an ultra-branded experience.
In the example below, Simply Carbon Fiber's spin to win promotion was designed to look like one of their featured products.
This promotion resulted in an impressive 18% conversion rate, proving that providing a unique and engaging brand experience built around your promotion boosts engagement and conversions.
For more examples of high-conversion spin to win promotions, check out Justuno's Guide to Gamified Promotions.
On the other hand, while some users will be delighted that they have the opportunity to play your spin to win, other users will not be.
Always be sure to have a clear, clickable 'close' button. To take it a step further, I personally recommend that you ensure that if a user clicks the screen outside of the boundaries of your promotion, it will automatically close.
Nothing turns a user off of your site like a pop-up that doesn't want to close. 
At the end of the day, prioritize the design and smooth functionality of your pop-up. How visually appealing your promotion is and the easier it is to use, plays a large part in how many visitors participate.
Spin-to-win pop-up promotions can be a highly effective and highly engaging way to interact with users on your site and drive sales.
To recap, create promotions that are visually appealing, with enticing discounts or prizes that are not too valuable.
Take the necessary precautions to prevent cheating and be sure to avoid this promotion entirely during the holiday season.
Check out Justuno's Spin to Win Page to begin creating your promotion, and start increasing conversions!
This free and instant analysis of your website performance will show you what Justuno can do for your business.
Please enter a valid email address
Special thanks to our friends at
Justuno
for their insights on this topic.