Quick links:
---
A rewards program is anything that you use to motivate customer behavior. A VIP loyalty program elevates that strategy by making customers feel special! 
Rewarding your customers is the fastest way to build brand awareness. Loyal customers contribute to the most sales, refer more new customers than any other type of customer, and actively market your brand for you. 
A VIP loyalty program gives your business a structured way to reward loyal customers. Using strategies like outstanding customer service, personalizing your marketing segments, and connecting with your customers, you can give back to your most dedicated fans and drive profitable repeat sales.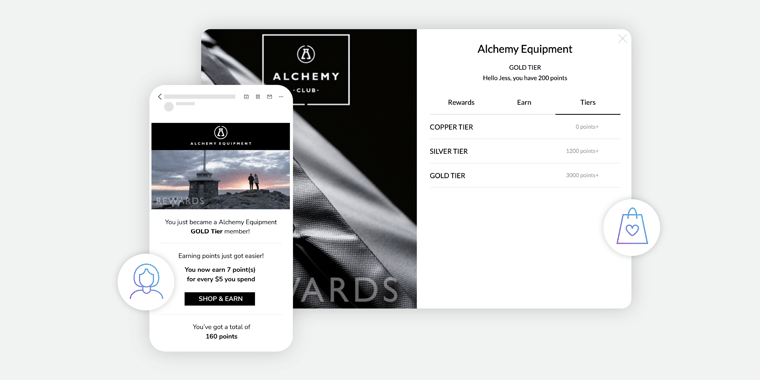 How do loyal customers help with business growth
Loyal customers grow your business because of something called the Pareto Principle. Also known as the Law of the Vital Few, this theory states that80% of your sales generally come from 20% of your customers. That 20% are usually your most loyal and regular customers. 
From a simple ROI perspective, this is where you want to put your money. 
Not only do your top 20% of customers contribute to 80% of your revenue, they also drive referrals. 
A 2015 study showed that 83% of people would trust a recommendation from people they know. As well as this, shoppers who existing loyal customers have successfully referred have a 37% higher customer retention rate and have a 25% higher lifetime value than other customers. 
Investing in your loyal fans with some kind of VIP program is invaluable. 
Why is it important to have a strong VIP program
Building a VIP program into your sales strategy is the easiest way to reward loyal customers. 
It is also a great way to create NEW loyal customers. That's because you are making a direct correlation between people engaging with your business or product and getting a positive reward. You are incentivizing actions that are typical of loyal customers. 
Successful VIP programs:
Are simple to join 
Are easy to understand (i.e., customers know exactly how to earn points or move between tiers) 
Have a branded community built around it with branded tiers in the loyalty program 
Focus on rewarding the customer, not just increasing revenue (that's just a side effect of loyal customers!).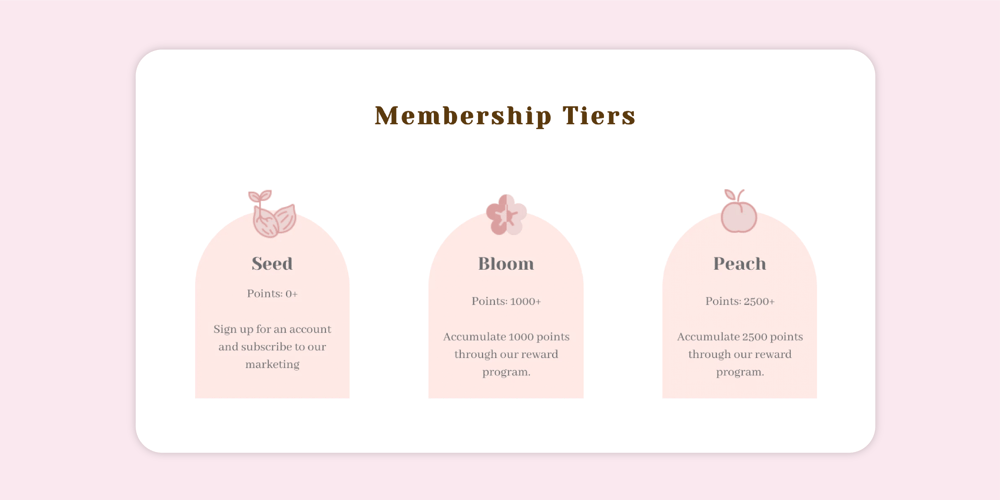 How to convert your regular customers to VIP's
So how do you strengthen your customer relationships enough to create vocal brand advocates and lasting loyalty?
1. Deliver outstanding customer service
The best VIP rewards in the world won't drive repeat customers if you have terrible customer service. 
In fact, according to Microsoft, 54% of consumers globally say that they have higher customer service expectations than they did in 2020. 
If you have to choose where to spend your yearly budget, you could put just about all of it into customer service for your most loyal customers. A person with a positive Net Promoter Score (i.,e. they would promote your business to their friends) has a lifetime value of up to 1400% more than someone who wouldn't promote your business. 
2. Identify your customers that provide value
Your long-term business strategy should obviously include bringing in new customers. However, identifying your Most Valuable Customers (MVCs) is just as important. 
Your MVCs are the ones who order frequently and have a higher value per order. In other words, your loyal customers. You probably know that it is more cost-effective to retain customers than acquire new ones. Who are your existing VIPs? 
Here's what bespoke jewelry brand Anna Beck had to say about finding their MVCs: 
"Through the data, we've found that we have incredibly loyal customers. Once they make their second purchase, they are highly likely to be lifelong customers. Marsello allows us to easily reward those loyal customers for sticking around, it was a no-brainer. Anna Beck has only been an online retail brand for a handful of years, and a loyalty program was the natural next step."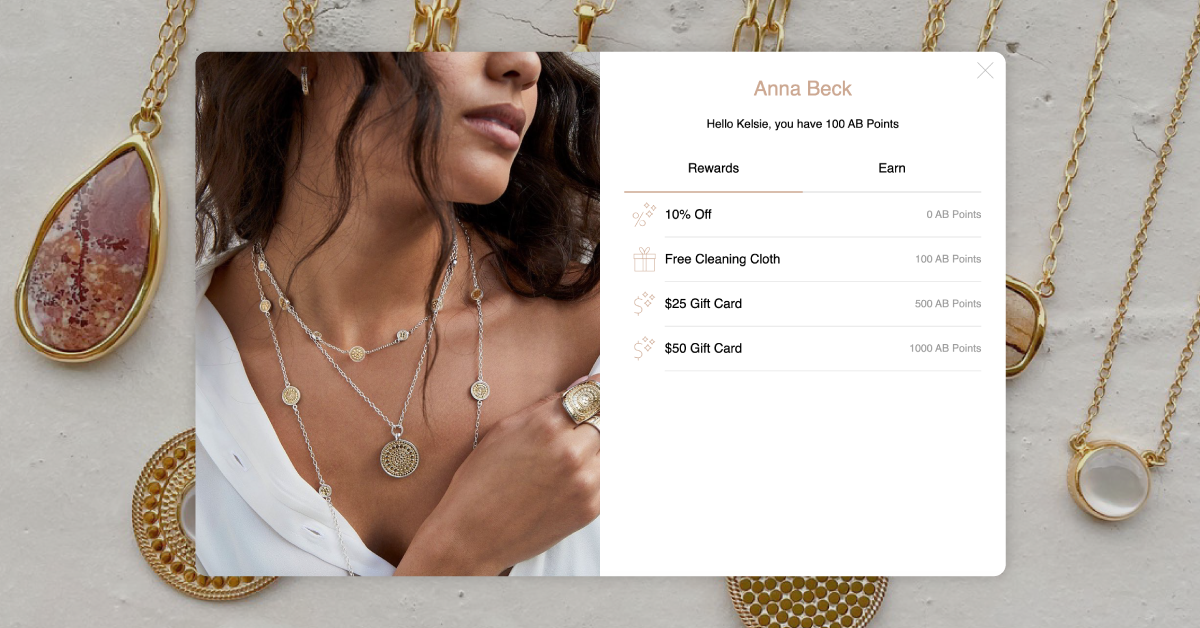 Some of the ways you can identify your Most Valuable Customers: 
How often do they purchase 
How much they purchase in each order compared to your average customer 
What their overall lifetime value is- you're looking for people that spend the most overtime, not a one-time big hit, and then never come back 
3. Use hyper-personalization for your target users
Marketing automation is the fastest way to personalize customer experience while still scaling. Research from Accenture showed that "33% of customers who abandoned a business last year did so because personalization was lacking". 
Ways that you can start personalizing your VIP customer experience: 
Create an automatic email sequence for new members 
Send product recommendations based on their previous purchases using segmentation 
Send VIP members special surprises or freebies on their birthday
Save abandoned carts 
Run a tiered loyalty program that lets them unlock exclusive rewards 
The best part? All of this can be done through the Marsello platform! 
Hyper-personalization makes it even easier to target VIP customers who are most likely to buy anyway. 
How to create repeat customers with a loyalty program
The cornerstone of loyalty success is repeat customers – so how do you keep your customers coming back time and time again, and how do you reduce that repeat purchase cycle?
1. Give something in return to your customers
You can start driving repeat customers by giving them something in return. 
The easiest way to start? Create a reward points system. This is where customers earn 1 point for every $1 they spend (as a simple example). Once they reach a certain threshold, they can exchange it for a reward. Consider building a VIP loyalty program model into your loyalty program too; this way loyalty members can accumulate points or spend thresholds to move up to the next tier and see increased value with each engagement with your store. 
For example, the Evermore Toys loyalty program gives their customers $10 for every $100 they spend. This simple yet elegant system of giving back to customers resulted in 156x ROI.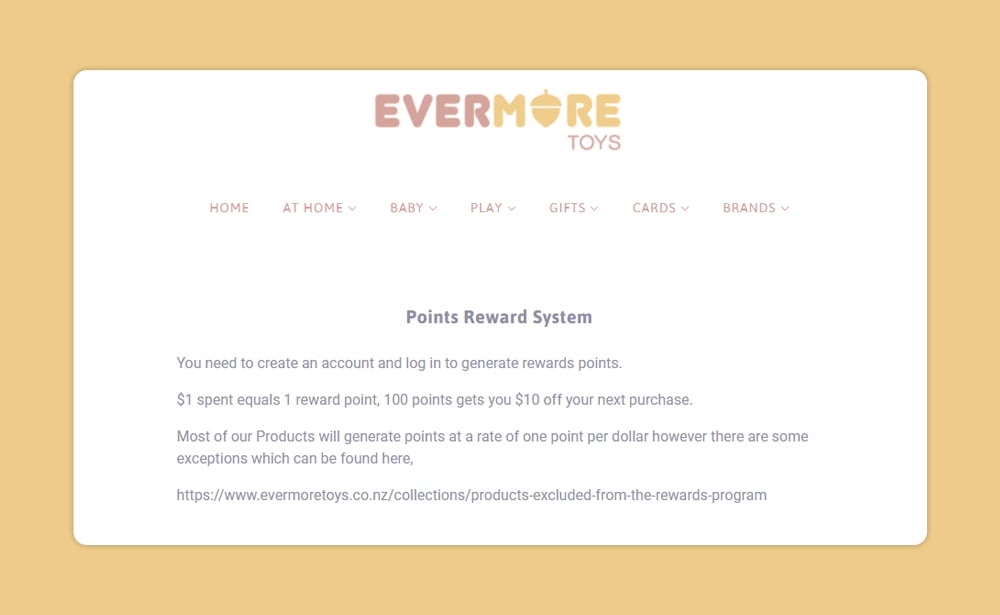 No matter what your VIP rewards program is, it must be customer-centric. 
2. Connect with your customers beyond purchase
Connecting with your customers looks like community building, strategic email marketing, and content marketing. This achieves two things (besides giving you more small opportunities to engage with customers online). 
Firstly, it increases brand awareness. 
Content marketing and email workflows keep you top of mind even if you are not selling directly. Your online presence also contributes to the feeling of a community, especially if you refer to your VIP members specifically. 
Secondly, it encourages repeat customers. 
For example, signing up for your VIP program might trigger an automatic email marketing sequence. If product recommendations in the first email don't motivate a purchase, automatically follow it up with an exclusive discount just for them.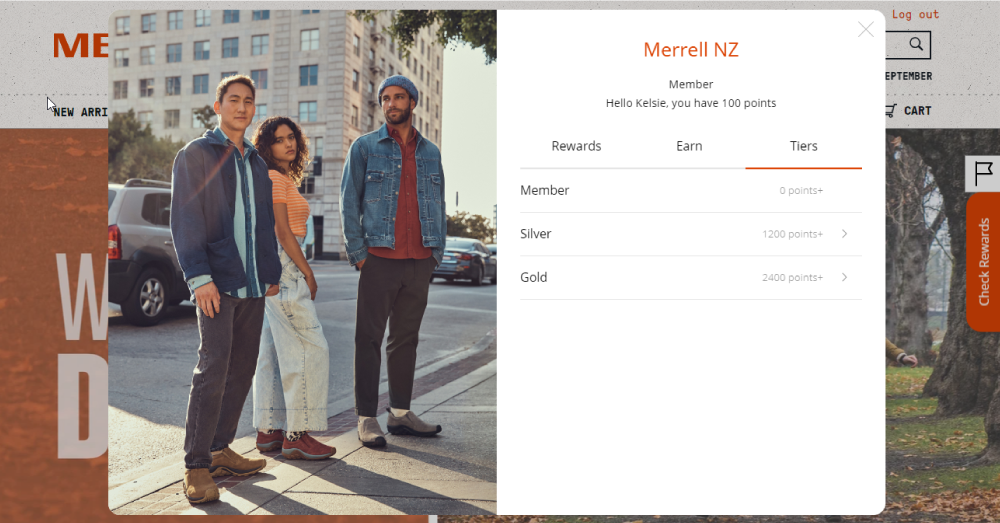 They aim to create community through the communications they produce by linking their loyalty members and email marketing list to local events, thought leadership articles, and engaging topics. 
They also communicate through social media to further develop these relationships and encourage customer engagement in events that are particularly relevant to the likes of hiking, outdoors, sustainability, and socially progressive causes.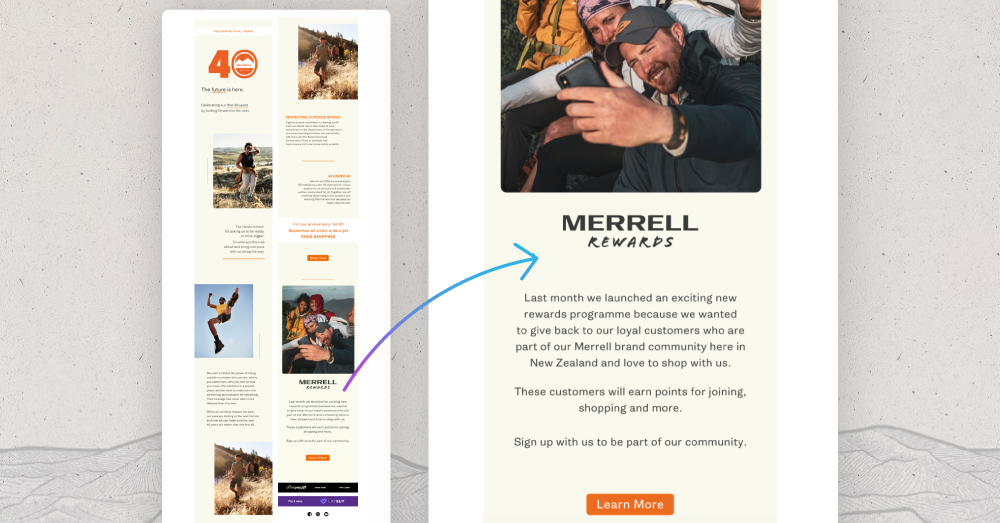 3. Turn your customers into brand advocates
Turning existing customers into brand advocates increases revenue without increasing your marketing budget. So how do you get people to talk about you? 
Running a VIP program makes customers feel seen and appreciated. That's the first step for creating brand advocates. You can even give them store points in exchange for sharing or engaging on social media. 
Next, create excitement around launches or events. This gives them things to talk about on social media or in their network. 
If you have an active social media presence, make sure to share content that they tag you in! User-generated content is excellent social proof for curious followers.
Lastly, provide an outstanding product or service. Customers will be thankful to have a product they can count on and will naturally want to shout about it. 
Want an impressive example of customer engagement? Go check out what Our Bralette Club is doing with their community. 
Not only did they have a reward redemption rate of 71% in 2020, but they are also extremely active on social media to deepen relationships with their biggest fans. That's how you turn customers into advocates. 
4. Provide opportunities to incentivize your customers
Incentivizing isn't just about buying more. You can create multiple opportunities for customer incentives. 
That's because loyalty programs are all about motivating particular behaviors that grow your business. 
Examples of ways you can incentivize your customers by rewarding points:
Sharing or tagging you on social media
Referring a friend or family member 
Signing up to be a member
Signing up to your email list 
Following you on social media 
Surprise them with points on their birthday. 
The lingerie brand, Our Bralette Club lets customers earn basically every time they interact with them. Join the club? Reward. Make a purchase? Points. Collect 1800 points? Enjoy 15% automatically!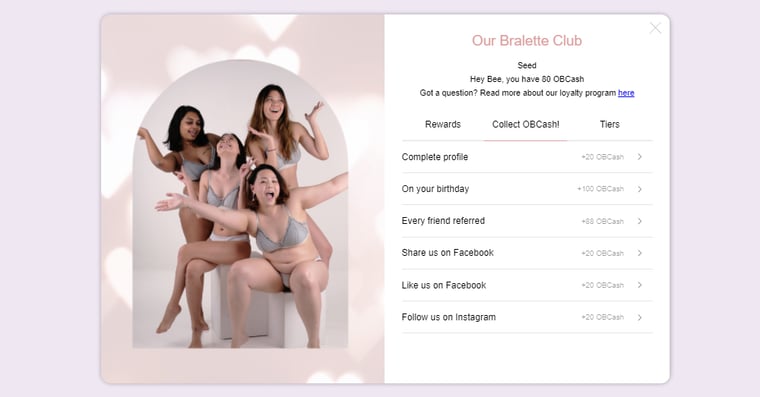 This is a stand-out approach that helps to keep OBC's loyalty program fresh and engaging. 
5. Provide rewards in the form of experiences
You don't just have to give VIP members discounts or points. You can also use experiential customer rewards. 
Experiential rewards are just that- they give customers something they can experience. It creates a long-lasting emotional connection, creates life-long brand advocates, and rewards your high-spending, loyal customers. 
For example, Sephora's Beauty Insider Community is a tiered loyalty program. If you are in their "Rouge" top tier, you don't just get discounts and free shipping. You also get first access to new products, free samples, exclusive beauty events, and meetups. 
Experiential rewards help you go above and beyond for loyal customers. 
Final words
Building a VIP loyalty program creates a feeling of community, rewards your loyal customers, and builds brand awareness. If you are looking to improve your marketing ROI and lifelong customer loyalty, use Marsello to create a VIP loyalty program that benefits both you and your customers. Marsello is the ultimate all-in-one loyalty program software, perfect for eCommerce, in-person stores (or both!).
Published Nov 11, 2021 8:51:08 AM
Special thanks to our friends at
Marsello
for their insights on this topic.