How to Encourage Google Reviews From Your Customers


If you're searching for a product or service online, do you read a review or two before clicking "book" or "purchase"? If so, you aren't alone: 93% of consumers say that online reviews influence their purchasing decisions, while 70% of people will only use a business if it has a star rating of four stars or more.
But it's no longer enough to list a review or two on your website and call it a day; today's customers want to see a large amount of social proof before they trust a business. In fact, 54.7% of consumers read at least four product reviews before making a purchasing decision.
So, what does this mean for businesses?
It means that you need an ongoing source of positive Google customer reviews to maintain a strong customer acquisition rate. In this post, we're going to explain how you can get more Google reviews with ease – with a little help from Marsello.

---
Quick Links:
---
Why Google business reviews are essential for any business
With a whopping 92.6% of all search queries going through Google as of June 2021, it's no secret that Google business reviews are some of the most valuable. 
When Google is the one-stop shop for consumers searching for everything from hairdressers to restaurants, you need to ensure that you're at the top of those search results. Otherwise, your business is practically invisible to potential customers. And if they can't see you, they're not going to click through to your website.
By managing Google reviews more effectively, you can make your business more visible – all thanks to something called local SEO.

Why frequent positive reviews are essential for good SEO

Local SEO focuses on optimizing a business's online presence to assist nearby consumers in finding it more easily in search. If a consumer is showing search intent for a particular product or service, Google's algorithm matches that search query with relevant businesses close to where the person is located.
For example, if you're a restaurant in Manhattan, your target audience is likely to be people who are living or visiting in that area. So, if a person searches for "best restaurants in Manhattan" you want your establishment to be as high as possible in those results. 
According to Moz's State of Local SEO Industry Report 2020, 90% of search experts believe that review activity is "moderately important" or "very important" in determining local SEO, while 78% agree that Google has become the new homepage for businesses. As such, Google reviews are a fantastic tool to boost local search presence – if you do it right.
How Google My Business reviews work

To start collecting Google reviews, you need to either claim or set up a Google My Business listing. This is a free tool offered by Google that allows businesses to manage their presence on the search engine. In addition to reviews, Google My Business listings can also include information such as:
Opening hours

Address/Contact details

Menus

Booking widgets 

Photos of your establishment
It's important to make an effort to fill out as many parts of your profile as possible, as a comprehensive listing will help to boost your local ranking. 
Check out the listing of the restaurant Chat Thai, which has a number of locations across Australia. All of Chat Thai's Google listings are fully populated; you can view key business details and contact info, as well as photos and reviews. There's even an "Order Online" button that lets customers order straight from Google.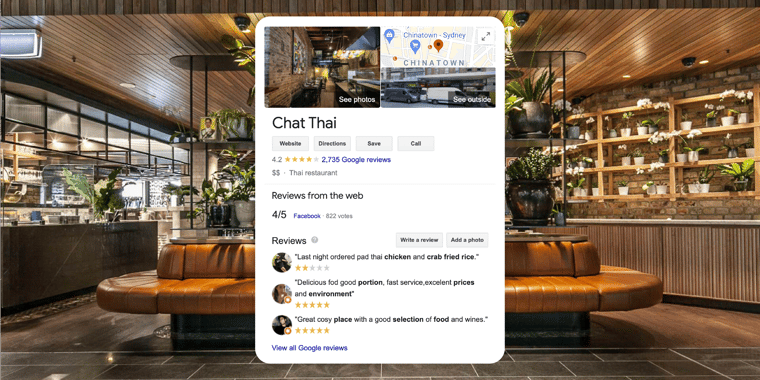 Once Google My Business is set up and optimized, you're ready to start driving review activity.
This is where Marsello's Google Reviews feature comes in.
How to use Marsello's Google Reviews Manager
By integrating your Google My Business account with your Marsello marketing, you can easily generate new reviews through automated email and SMS campaigns. 
Here's how it works: connect your Google My Business account to Marsello, then enable automated email or SMS flows to encourage people to leave a review. You can customize your email flow with segmentation rules to ensure that you're engaging the right customers. For instance, you can configure the workflow to only ask your "Best" customers for a review after they purchase. 
Note that Google Reviews workflows will only be triggered after someone places an order, so you can guarantee the authenticity of your business reviews.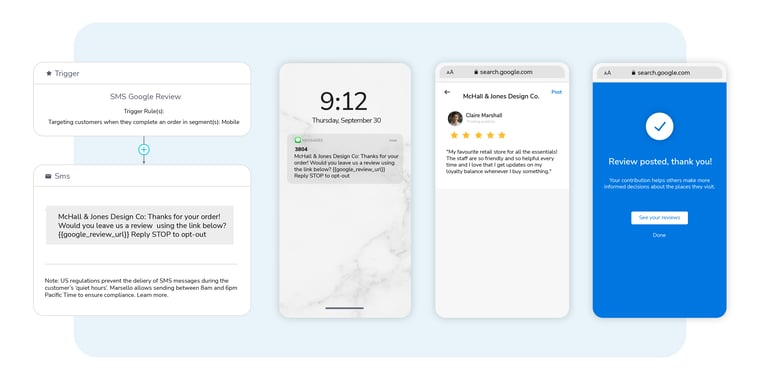 Finally, it's easy to track the success of your review automations. And when you receive a review, you can respond to your customers in-app, reward them with loyalty points to say thank you, or email the customer directly – manage reviews your way! 
Get in touch with our team to book a demo and learn more.
How to use Google Reviews to increase brand awareness
Before the web existed, businesses and hospitality establishments had to rely on being as visible as possible to attract foot traffic. Everything from flyers and store signage to branded shopping bags have been valuable tools to help businesses increase brand awareness.
This principle is no different online. Your business needs to take up as much "space" as possible to become known and recognized by as many customers as possible in such a competitive environment. 
In a time where digital marketing can feel increasingly like a pay-to-play model where only the biggest budgets see results, Google reviews offer a way for less-established businesses to level the playing field. By getting more reviews on Google, you'll stand out over bigger but less-reviewed competitors.
How to encourage customers to leave positive reviews
It's easy to assume that customers will shout from the rooftops when they have a stellar experience at your establishment. But this isn't the case in reality; less than 50% of customers (47%) say they don't post negative or positive reviews online at all.
There are a variety of reasons for this. A lot of us are busy and forget to write a review. Many businesses don't make it easy or intuitive to leave reviews. If we've written reviews in the past and haven't gotten a response, we might decide it's not worth the effort.
By this point, you're probably asking: How can I get more Google reviews for my business? Continue the following top tips:
Prompt for reviews after purchases with automated emails and SMS
The first step to getting customers to leave reviews? Strike while the iron is hot.
Businesses want to create balance by asking for reviews while a customer's experience is fresh – this can be tough to coordinate if your establishment asks for reviews manually. 
Moreover, sending out individually-written emails or SMS is a massive drain on your time. To make asking for reviews as painless as possible, consider investing in marketing automation software that can handle review requests on your behalf.
Marsello's automated email and SMS campaign tool enables businesses to send and manage review requests via a straightforward interface. Set the ideal time for your messages to go out to customers and even automate the sending of follow-up messages to give you another shot at securing positive reviews.

Make an effort to respond to customer feedback

Getting more customers to leave reviews isn't just about how you ask for them, but how you choose to respond when you receive them. 
In fact, 89% of consumers read a business's responses to reviews during the consideration stage. Why? Because how an establishment engages with positive and negative reviews tells potential customers a great deal about how that business treats its patrons.
Suppose a customer leaves a negative Google review and that business makes no effort to respond; this could be interpreted as the company not caring about the quality of their customer's experience, which is a massive red flag. 
Plus, if you aren't in the habit of replying to reviews and showing that you're listening to feedback, what incentive do customers have to put in the effort?
Restaurant and Bar, The Monday Room, has done a great job of replying to Google reviews, even thanking customers who write more detailed reviews and provide photos: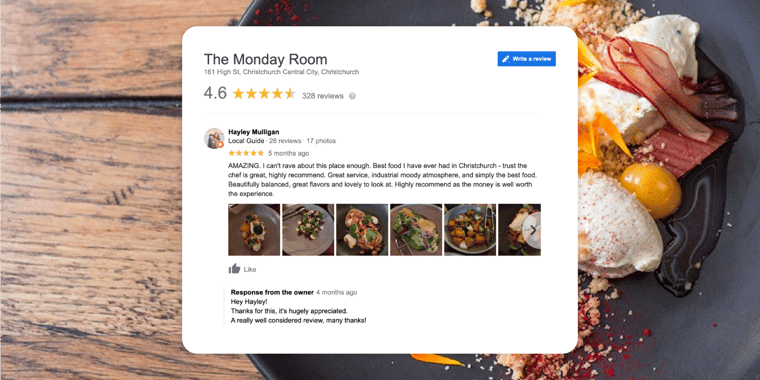 Use positive reinforcement, but don't bribe customers
If you're looking to shape consumer behavior in ways that are advantageous to your business, it might seem like a good idea to offer customers a discount on their next order in exchange for leaving a positive review. However, this isn't a good long-term strategy for most businesses. 
Too many 5-star reviews on a business listing create suspicion, with studies finding that consumers were more likely to purchase a product or service when the rating is between 4.2 to 4.5 stars. You don't want your efforts to come across as though your business is buying reviews or deleting negative Google reviews, which can cause potential customers to doubt their authenticity and can even result in your business being penalized by Google. 
It's much better to reward customers after leaving a review to guarantee honest feedback. For example, lifestyle and clothing boutique Harry & Her rewards customers with loyalty points if they leave 4 or 5-star reviews, but they don't actively promote this policy on any of their marketing channels. This practice increases customer satisfaction and ensures that all positive reviews are genuine. 
The team at Harry and Her was also one of the first to test Marsello's Google Reviews Manager and they've found that Google Reviews are an undeniable source of revenue growth for their business. So much so, they're not going back! Here's what they had to say about their review process and the response from customers:
"We use Marsello's Google Reviews feature to encourage customer reviews after they buy something from one of our stores. First, we send an automated SMS; then we follow that up with an email to those who have not seen the SMS campaign. It's also been exciting to see our customers respond with so many positive reviews – we now have a 5-star average across our stores!"
Final words
Managing online reviews can feel a bit overwhelming, especially if you have a brand-new Google My Business listing and gather reviews from scratch. But it's well worth the effort to create a streamlined outreach strategy to build social proof for your business; when you have a long list of positive customer testimonials, you're in a much stronger position to acquire new customers.
By taking advantage of SMS and email automation to coordinate review requests and communicating how feedback enhances the customer experience, you can build a lasting Google review strategy that acquires and retains loyal customers. Marsello's Google Reviews Manager makes this easy! Book a demo to get started today.
Published Mar 30, 2022 9:20:09 AM
Special thanks to our friends at
Marsello
for their insights on this topic.