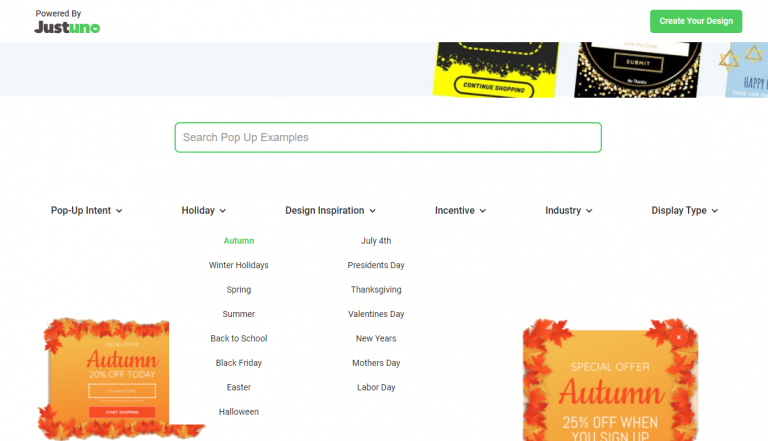 Breakdown of Search and Filter Options
The search function is incredibly useful not only because it allows the user to narrow down the search with keywords that may not be included in the filter categories, but also because it allows for search by brand name and image description.
By searching for a brand name or a description such as 'mountains' or 'beach', the user can find a very specific look and feel that they would like to emulate.
Used in conjunction with the filter options, users can find very specific design examples, making it easier than ever for the promotion designer to draw inspiration and create a winning design.
The filter categories feature is a core feature of the Pop Up Examples site. This feature allows the user to select options in multiple categories in order to narrow down and specify the design examples that they'd like to see.
An example combination of filters could be:
Email Capture – Summer – Call to Action – Discount Offer – Beauty – Center Screen
The Pop Up Intent category allows the user to choose between different objectives that their pop up may be used for. In the examples below we can see the various options for this objective, ranging from email capture to spin-to-win.
Email Capture

Upselling

Exit Offer

Messaging

Threshold Offer

Welcome Offer

Countdown Timer

Spin-to-Win
The Holiday category is very straight-forward; it displays options for specific holidays as well as seasons. When selected, the pop up design examples that meet the holiday will be shown.
Autumn

Spring

Summer

Winter Holidays

Back to School

Black Friday

Easter

Halloween

July 4th

Presidents Day

Thanksgiving 

Valentines Day

New Years

Mothers Day

Labor Day
Design Inspiration refers to the origin of the design. Specifically, Call to Action means that the example is built around persuading the user to take an action such as sign up for an email list.
Custom Forms refers to examples that are built around a unique, custom form. Elegant Design brings up examples that were particularly elegant and well-crafted. Branded means that the design included some sort of branding or identifiable feature.
Call to Action

Custom Forms

Elegant Design

Branded
The Incentive category allows the user to select the type of incentive that the examples should be based on. Most examples are built around a discount offer, as this could mean any percentage or dollar amount off of the order.
Discount Offer

Free Shipping

Free Gifts

Giveaway

Rewards and Loyalty
The Industry category makes it easy for brands to specify the niche that their examples should represent. This category is especially useful with the search feature, as examples will show for even more specific/niche keywords.
Fashion & Clothing

Food & Health

Furniture & Decor

Childrens

Publishing

Sports & Fitness

Pets

Beauty

Other / General
Display type refers to the screen orientation in which the pop up is displayed. This filter allows users to curate their list of examples with even more precision, especially if a specific display and size is required.
Center Screen

Full Screen

Mobile

Banner
You can explore these features and hundreds of pop up design examples at the new Pop Up Examples site.
Draw inspiration from these real-world designs, and create promotions that convert. To go ahead and start creating a design today, check out Justuno's Free Trial.
This free and instant analysis of your website performance will show you what Justuno can do for your business.
Please enter a valid email address
Special thanks to our friends at
Justuno
for their insights on this topic.