Before we get into growing your email list, it's essential to understand why you should care about email as a channel.
Why is curating an engaged database of email addresses worth your effort?
First and foremost, when a consumer gives you their email address, you get explicit permission to enter their inbox – an inbox that 98.4% of consumers check at least once a day and 60% check more than 3 times a day.
And 94% of people get online just to check their email.
This means it's an insanely powerful way for you to get in front of your audience, build a relationship, and ultimately get sales for your business.
But how do you find the right people? Email list growth should be organic and requires maintenance.
Whatever you do…do not purchase your list. Instead, start with these strategies to grow your email list.
Get our best content on ecommerce marketing in your inbox two times a week
Why is growing your email list important?

Your email list gives you direct communication to your customers and prospects. It's a relationship YOU own, which is what makes it so powerful.
It can help you turn visitors into customers, first-time buyers into repeat customers, and more. This means the more significant your email list grows, the more revenue you should expect to bring in (as long as you have automated emails up and running and send regular newsletters, of course).
And your chances of being seen in the inbox are much higher than, let's say, if you're relying on a channel like Facebook. As Campaign Monitor explains, 90% of email is successfully delivered, whereas only 2% of your Facebook fans will see your posts in their feed. So rather than you owning the relationship, Facebook ultimately has the control over whether the user you are trying to reach on their platform will see your content.
Not only that, but when people sign up to receive your emails, they tell you they'd like to hear from you. So it's your job to ensure they remain loyal fans (and subscribers) by sending them valuable content they enjoy consuming.
You want to be that brand they look forward to hearing from. And to do that, you need to focus on building an actual relationship from the very beginning.
Because at the end of the day, your email list = $$ for your business. And the more excited and engaged this audience is, the more sales you'll bring in.
The basic principles of email list growth
There are 4 main components to growing a solid email list which all boil down to getting them on your site (traffic), convincing them to sign up (conversion), making the correct offers to the right people at the right time (targeting) and finally, having a solid follow up plan to keep them happy and engaged. Here's what that means.
Driving traffic to build your email list
First things first. When you think about ways to get people on your site, you have to know who your desired audience is.
Because if you sell skincare products for men between 20-65 and you somehow end up with a list that's made up of a bunch of younger women, your messaging probably isn't going to resonate. So it won't matter that you've added hundreds of new contacts to your database.
You want to be where your audience is to get them on your site. That should be your filter.
Because, again, the intent has to be there if you have any hope of your email list impacting your bottom line.
To start getting that traffic up, you've got a couple of options: paid and organic. We recommend a mix of the two, but lean heavily on your organic efforts: this is what your audience stays for.
The best way to increase your organic traffic is to position yourself as an expert in your industry. Things like blog posts and other informative resources can help here. This way when people search for information about a product you're selling, they'll hopefully come across your store, find the answer they were looking for, and possibly a solution they can purchase (and a place they can come back to). And boom, you just got some qualified leads, or at the very least, relevant traffic.
But organic takes time. To help you get that content (and your products) out there in the short term, you can use ads to bridge the gap and get more traffic to your store. You can just experiment with different ads to see what content resonates with your audience most.
Another channel you can use to drive relevant traffic is social media. By posting shareable content, engaging with your followers, partnering with like-minded companies, and leveraging influencer marketing, you'll build brand awareness and get more traffic to your store.
Just remember that email is one step after social media, so to get your customer through that journey from awareness to consideration, your social posts should be focused at the very top of the funnel, and as they get to the site, your content should become more specific. Then you'll get the most qualified subscribers on your list.
Identifying how to convert your traffic
There are a few ways to get an interested consumer to take the plunge and give you their email address. But popups give visitors a quick and easy opportunity to opt-in to your list.
If you cringed at the word popup, you're not alone.
But popup is NOT a dirty word. So please don't knock it until you've tried it. As a way to grow your email list, they work.
And if you're relying on a form at the bottom of your site to get new subscribers, you're missing out on list growth daily.
It would be best if you made it really clear what you're asking for (and what your visitors will get in return). This is why popups, flyouts, and spin-to-win campaigns are amazing options for converting your traffic into subscribers.
What really matters is that you find what works for your audience.
Privy Convert can help you create pop-ups, flyouts, and other displays to help grow your email list.
Targeting your audience segments
The very first thing you have to figure out is where your audience is more likely to visit your website, desktop or mobile. You should have experiences that fit both, though.
And since you don't know your subscribers before they join your list, they're just traffic numbers at first. But, it is still possible to build customized experiences that will increase the likelihood they'll opt into your email list by targeting visitors based on where they're coming from and what they're searching.
You don't need to show them everything you sell; rather take them to landing pages and other content focused on the specific thing they're looking for.
Here are a few things to look out for (and meticulously track):
Location: Where is this person?
Source: How did they find your store?
Device type: Are they on mobile or desktop?
Landing page: Which page did they first visit?
Bounce page: Which page are they on when leaving your site?
Visit number: Is this there first time on your site, or 15th?
Page number: How many pages have they viewed so far?
Cart value: How much is their current shopping cart worth?
Campaign signed up: Which of your previous campaigns have they seen or signed up for?
If you think through the 2-3 most common customer journeys on your site, can you come up with a relevant matching offer or opt-in opportunity for each? That's where you should start.
Some ideas: showing newcomers your best-selling products and showing repeat customers your new stuff, or letting local customers know shipping is free.
Building a relationship with your customers

Two things can go very wrong after all that hard work you just put in to convert that high-quality traffic into potential leads (subscribers).
1. You send them too many emails they're not interested in.
2. You don't engage with them enough and lose momentum.
Make sure you've got a
welcome email hits their inbox as soon as they subscribe, confirming their registration, setting expectations on the type of content you share, who it's for, and how often. Then ensure you make good on your promise – for example if you offered a discount code.
Being in your customers' inboxes is a privilege. Don't abuse it, and don't get spammy. The more you learn about your audience, the more you'll be able to send them exactly what they want by segmenting them into specific groups.
You can do this in one of two ways, looking at the data from your ESP (which emails get read, which ones get skimmed, where are they clicking, etc.) and start creating your segments this way, and you can also ask by sending out surveys and letting them choose what type of content they'd like to receive.
Same thing goes for the unsubscribe option. You can ask them what type of emails they'd like to unsubscribe from. But, hey, you'll still get people who want to unsubscribe from everything. Don't take it to heart. The end goal is to keep your email list clean and full of interested customers.
Four easy strategies to grow your email list fast

Now, let's dive into the juicy stuff. Here's where we get into what you have to do on your site (and on social) to drive those sign-ups.
Grow your email list with popups
I know, popups have a bad rap as unwelcome disruptions. But here's the thing. They work!
Depending on your offer, you should expect to convert anywhere from 1-10% of your visitors into subscribers. And every email address you capture = $33 (up from $16 in 2019). Which means every new signup means $ for your business.
But you can't just throw up any arbitrary popup and expect it to convert. Your offer and the design matter.
Signup campaign (No coupon, just asking people to join your list): Convert 1% of
Coupon campaign (Discount or code for free shipping): Convert 5% of visitors
Enter to win campaign (Gift certificate, free product, etc.): Convert 10% of visitors
The simplest way to launch a popup is to offer a coupon in exchange for an email address.
If the standard coupon popup is performing below average (5% conversion) for your ecommerce store, you should experiment with different offers based on the context of the page, where your visitors are in their journey, what they've browsed in the past, etc..
This way you can better target your visitors depending on their history.
You can also add a little fun to it by gamifying the popup with a
spin to win.

Everybody loves a chance to win a prize, and incorporating gamified elements into your popups is a great way to entice shoppers to sign up.
Grow your email list with giveaways

There are two ways to run giveaways: by yourself or collaborating with similar brands to launch a massive sweepstakes contest.
A group giveaway is the fastest way to scale your email list, generate traffic, and increase sales. But you have to make sure that every participating brand has an audience of similar customers.
Here's how a group giveaway works:
You contribute a gift card (or specific products) from your store as a prize.
You collaborate with other similar brands who also offer similar sized gift cards to create one huge giveaway.
Each participating brand sends the co-branded email to their existing email list.
Users enter their email addresses to join the giveaway.
A grand prize winner is chosen.
All participating brands get to keep the entire email list and instantly grow their audience.
While the giveaway is running, you can also use an automated email series to offer special discounts and incentives to purchase! It's also a great time to introduce your brand to this new group of people.
Giveaway #1: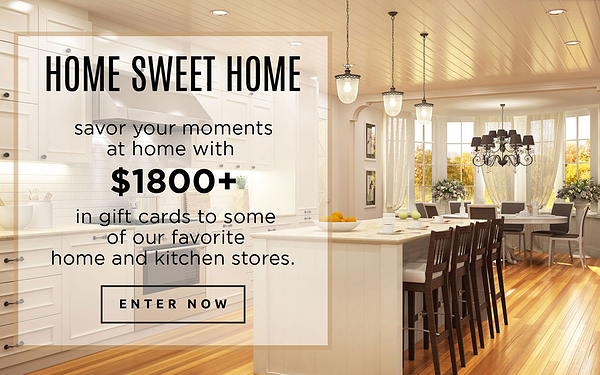 Total Emails Acquired: 11.7K
Average Email List Size Of Participating Brands: 20,822
Average Email List Size Growth: 56.25%Giveaway #2: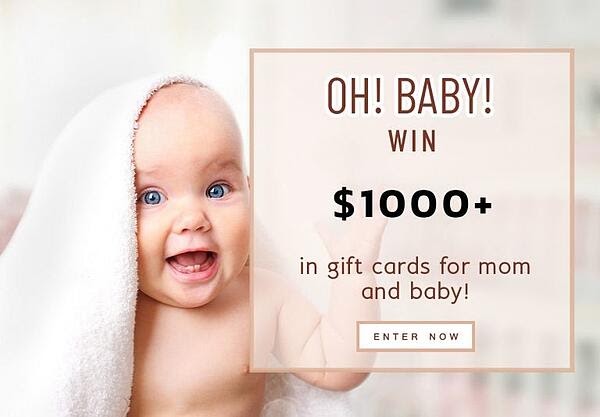 Average Email List Size Of Participating Brands: 4,395
Total Emails Collected: 2,088
Average Email List Size Growth: 46.5%
Traditional giveaways involve a single prize as opposed to a group giveaway.
In most cases, you'll have to spend money on ads (usually on Facebook) to launch a traditional giveaway and expand your reach.
If your offer and ads are well targeted, you can acquire leads at a
super reasonable price.
But for this to really work, you've gotta pick the right price. Big prizes = big signups. As a general rule, a good prize is worth at least $150. But, it's not all about the money. When selecting a prize, think of a product that your dream customer can't resist.
After choosing your prize, you should use a platform like
ViralSweep to launch your giveaway. ViralSweep allows you to set up, run, and manage your giveaway all in one platform.
The key benefit of using a giveaway service is that you can make your giveaway go viral by offering additional contest entries to entrants who share the giveaway on social media or via email.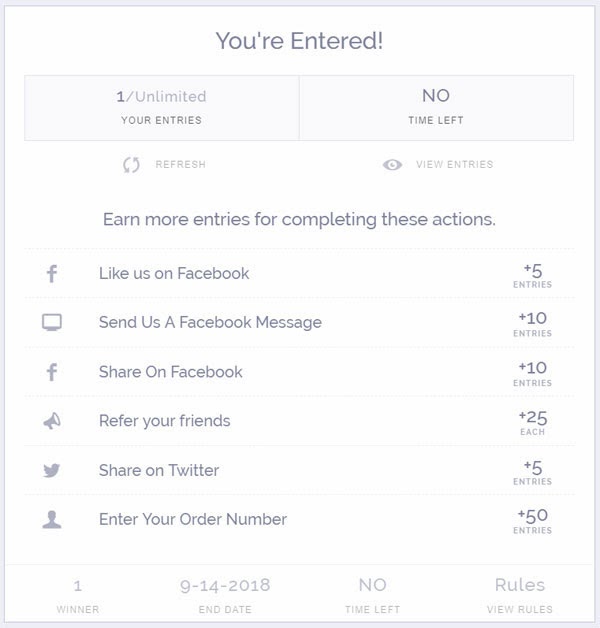 Just don't forget to email your new subscribers throughout the giveaway.
Most people sign up for a giveaway and quickly forget. So constant communication is important. Make sure you set up an automated email series to provide special offers and keep entrants engaged throughout the campaign.
As soon as a visitor signs up, you should place them in an email series that:
Encourages participants to share your giveaway with their friends in return for more contest entries
Drives participants to your store with special offers and promotions
Tells your brand story and unique value proposition
Educates the customer about the different products you offer
At the end of the giveaway, you should always announce the winner publicly to all of the participants, it also helps to ask for photos of the winners and include them in your announcement.
You've also got to maintain a positive relationship with your entrants even if they didn't win. Consolation coupons and other offers can turn your signups into sales almost immediately.
The goal of your giveaway is to turn your newly acquired list into paying customers. So you must continue to email your subscribers on a regular basis even after your giveaway is over.
Another key step after the contest is to clean up your list.Some people sign up for your contest just for the freebie without any intention of making a future purchase, better to filter out good prospects and minimize spam complaints.
You can follow these steps to filter out good prospects from your list:
Scrub your email list and retain only the email addresses of your most engaged subscribers.
Segment your emails by location and take out the countries you don't sell to.
Optional: Remove AOL, Microsoft, and Yahoo emails from your database. Your email deliverability can significantly go down if users of these services mark your messages as spam.
Grow your email list with lead magnet content

Before you get crazy with lead magnets, you need a blog filled with informative posts your customers are searching. Tools like Ahrefs will help you perform keyword research to determine relevant content.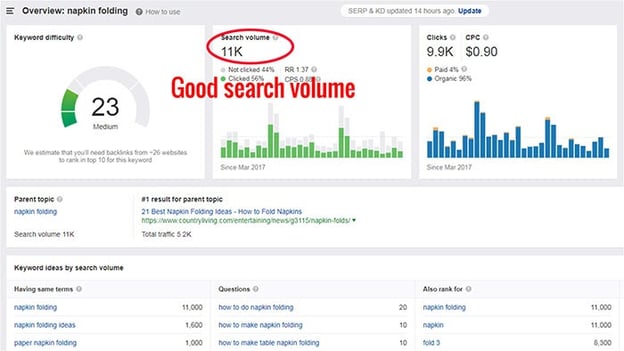 Once you've got your topics with good search volume and have several posts your audience is likely to engage with, you can include a combination of popups and forms specific to each blog page.
Take a look at your analytics to see your best performing posts – these are the ones you'll be creating specific lead magnets for.
For example, visitors checking out the arts and crafts blog posts of Bumblebee Linens get this popup: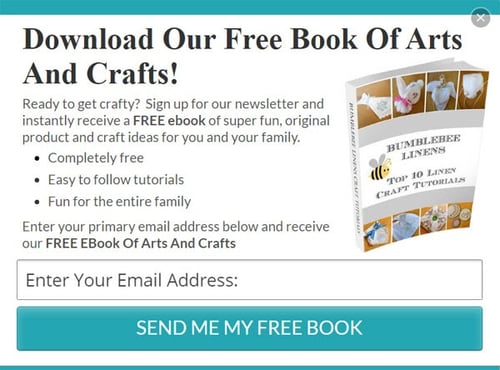 Adding an image to your sign up form increases conversions, making the offer more tangible for your readers.
Lastly, you can also place a form at the bottom of your page or post. That tends to convert your most valuable customers because they've either gone looking for a place to subscribe or have consumed your entire post.
Blending the form with the rest of your content is a good strategy, since it doesn't disrupt the flow and is a natural next step after reading the post.
Grow your email list with social media competitions

We've already covered a bit about giveaways, but another method is to use Facebook Messenger. Since it's more direct, conversion rates on Messenger ads are higher than any other.
But, there's also an expectation of immediacy. The cool factor of Messenger giveaways is that your customers don't feel like they're filling out a form, instead they're talking to a bot (which is basically a form). To create your Facebook chatbot, you can use a tool like ManyChat.
It's also quite efficient, since you can set up your contest once and the chatbot takes care of everything else, drawing winners and assigning prizes. Plus you can keep it running, and pause it whenever.
Here's a quick run through of how to set it up:
Step 1: Your giveaway starts by running a Facebook Messenger ad to drive visitors to your giveaway campaign. Once a user clicks on the ad, it activates your Messenger chatbot.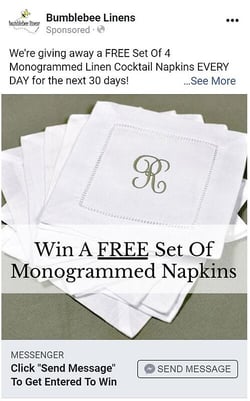 Step 2: The chatbot then sends them a message prompting the user to confirm whether they're joining the giveaway.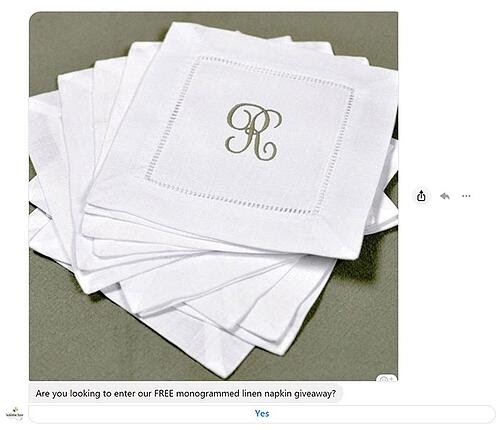 If the user selects "Yes," they instantly become a Messenger subscriber. This allows them to receive follow up messages and broadcasts in the future.
Step 3: To enter the giveaway, the user selects the email linked to their Facebook account.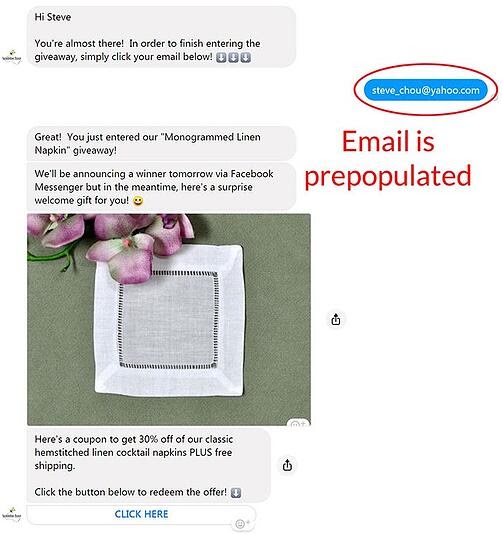 By auto-populating the form with a valid email address, the chatbot ensures that you get real email addresses, rather than burner email addresses people use for giveaways.
Step 4: After selecting their email address, the user gets information about the giveaway and receives a special welcome gift.
Step 5: After 23 hours, the Messenger bot runs the draw and informs lucky participants that they've won the giveaway.
A winner automatically gets a coupon code to redeem their prize on your online store.
A non-winner gets a consolation prize in the form of a discount like the example below.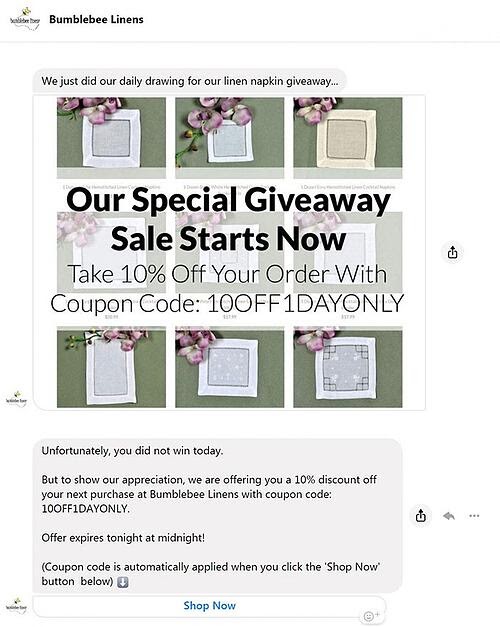 All new subscribers are also placed in an email series that's similar to the one used in a traditional giveaway.
How to grow your email list with 1 Privy campaign  
It's no secret that most small businesses depend on Facebook ads to drive traffic to their site. But, ads are expensive, and the conversion is often low.
Facebook's algorithm is pushing for clicks, so what we have is a bunch of people who were interested, clicked, got to your site and nothing happened.
That means lots of wasted money. But Privy can help you capture that traffic so you can build a relationship and hopefully keep them coming back to your store, eventually making a purchase.
This founder grew his email list by 598 contacts in just 5 days with 1 Privy campaign. Here's how:
Step 1: Capture emails in a fun way
Why are popups so hated? Because honestly, most of them kind of suck. They're intrusive and offer no real value, but if you make yours fun and relevant, you're guaranteed to get qualified subscribers. Privy has 7 different display types you can customize to capture emails on your site. That way, it doesn't feel out of place, it feels like a part of your website.
Like this spin to win campaign: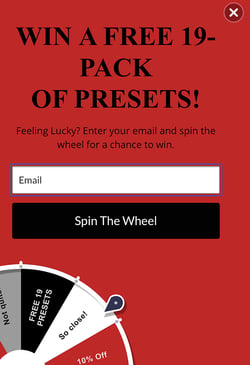 It's not just a popup asking for an email address, it's a game. There's chance involved, and multiple prizes. You can customize each display with the look and feel of your brand. Get creative and have some fun. Think about how people landed on your page, what they were looking for, what they need, and make it entertaining.
Step 2:  Build your offer
It's a good idea to include one big offer to entice your audience and a few other smaller ones as consolation.
For example:
90% chance you get a 5% off coupon
9% chance you get a 10% off coupon
1% chance you get the product for free
Usually, free stuff is the golden ticket. People LOVE getting free stuff. But, if you're using coupon codes, you might be worried people will start giving it out.Luckily, Privy allows you to create unique coupon codes for every new subscriber.
Which means that once someone receives their coupon code, it is a one time use for that person only. You can even set an expiration date.
Here's what that looks like when you're setting it up in Privy: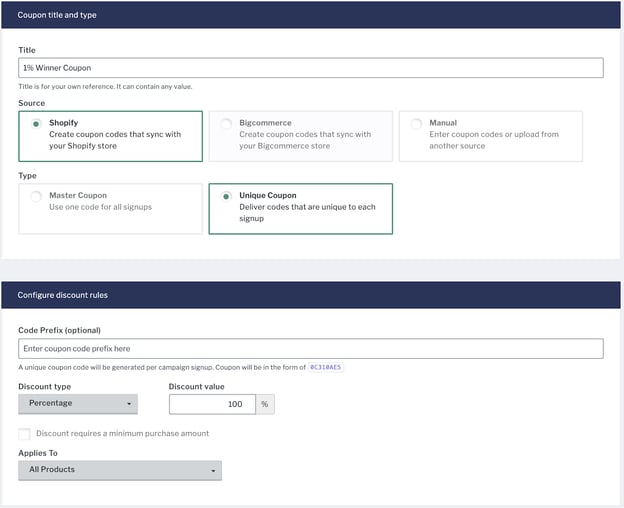 Step 3: Use coupons
How many times have you seen a coupon code as an incentive to sign up for a brand's mailing list? ALL the time, right? That's because there's something in it for your visitor. There's a clear ask and incentive for them to give you their email address.
So whether that's a coupon code, free gift with purchase, or something totally different, is up to you.
But you should know that the better your offer is, the more willing your visitors will be to give you their information.
Step 4: Targeting for personalization
The more specific your offers and content can be to your visitor, the higher the chance that they'll convert into a subscriber.
That's why things like desktop vs. mobile campaigns, where the traffic is coming from, location, and history are so important.
Check out your analytics to see your top performing posts and use that as content for your lead magnets.
You can use all these data points to target your email subscription forms to the right people.
Find out which types of campaigns work best for each of your segments and build the experience to match.
Remember
 the content/offer in those campaigns is the most important factor when it comes to your conversion rate.
Step 5: Rinse and repeat
Find a groove and stick to it. Once you've got everything running, just check in every so often to see how it's performing: subscribers over time, views and clicks. Tweak as necessary.
It's a process, and sometimes it's a slow one. Hang in there and trust that if you're putting the legwork in, really getting to know your ideal customer and what they need, you'll soon fill that list with potential customers.
How to maintain your email list

Once you've got a nice email list going, you've got to do some upkeep.
Cleaning your list every few months is a must. You can do so by filtering unengaged contacts, bots, fake emails, and removing them.
You've also got to keep it organized through segments. You can start simple, with location-based segments if you have local offers, product interests based on their purchase behavior, and setting up triggers depending on specific actions so that you capture subscriber intent.
As you get to know your audience and look at your data, you'll be able to create more detailed segments and send them relevant content based on reading behavior as well as opens and clicks.
Keeping a steady line of communication is also crucial. Don't overdo it (spam warnings!) but definitely make sure they're hearing from you about once a week, or at the very least once a month.
Use your email content not just to sell but also to establish relationships with your customers and prospects, using a personal tone and providing some entertainment, so that when your subscribers get your email, they're excited to open it.
Email list growth FAQ
How do I grow an email list?
Growing an email list boils down to driving traffic to your website through strong keyword placement and social media efforts, converting said traffic to subscribers with the right offers and making sure you're building a relationship with them over time.
How big should my email list be?
For this one, quality is definitely more important than quantity. Instead of focusing so much on getting a really big list, focus on making the right offer and capturing the right people. A good place to start is with 1000. If you've got 1000 potential customers subscribed to your emails, you've got enough to start seeing some actionable data and increasing your revenue.
What is a good email list growth rate?
It depends. The bigger your list gets, the smaller your rate will be. If you've got 10 subscribers and earn 10 more in a week, that's a 100% growth rate, but in the end it's just 20 subscribers. The real trick is to decrease your unsubscribe rate. If it's high, something is wrong and it's time to change things up, whether it be your target or your email content.
Why should I grow my email list?
Because money. The ROI of email marketing is 4300%, which is double the ROI of any other digital channel.
What channels should I use to grow my email list?
Social media, paid, and your own website. If you're writing about what people are searching and offering a strong incentive to subscribe, you're well on your way.
Topics: Website Conversion
Special thanks to our friends at
Privy
for their insights on this topic.