Any small ecommerce store owner knows that loyalty is the customer journey goal you're aiming for. You want customers who will stick by you no matter what, get excited for your product launches, and keep coming back for more.
The key to creating these brand advocates is a little something called loyalty marketing. And while having a customer loyalty program is a great tool, it's not the end all be all. Loyalty marketing involves every part of the customer journey and when done correctly is a great growth strategy.
So without further ado, let's get into the nitty gritty of what customer loyalty marketing is, what it can help you achieve, and how you can start implementing it today.
What is loyalty marketing?
One of the best ways to achieve sustainable growth is through the marketing strategy called loyalty marketing. While there are many different tools that you can use to achieve this, let's start with a basic definition of what loyalty is in marketing.
Loyalty marketing is the approach to marketing that involves retaining existing customers through incentives that keep them engaged.

It's pretty easy to see how a loyalty program achieves this. Incentives = rewards and engagement = repeat purchases.
But let's look at another example–an online Facebook brand community group. Incentives = access to like minded customers and engagement = interacting with those customers.
Loyalty marketing is anything that checks these two key boxes:
Providing incentives
Retaining engaged customers
The goals of loyalty marketing
The ultimate goal of loyalty marketing is to create a community of loyal customers that will advocate for your brands to others. But let's break that down a little bit more.
Some of the tangible goals of loyalty marketing include:
Save money while increasing profits. One of the biggest benefits of retaining existing customers is reducing customer acquisition costs since repeat customers are more profitable.
Create a community that people want to be a part of. Sometimes, customers continue to engage with you for reasons other than buying your products. Through loyalty marketing you can retain customers through value-add marketing, creating a sense of exclusivity, or by leveraging the value of referrals.
Informs your marketing efforts with live customer data. The best business decisions are backed by data because they can help predict consumer behavior. Using website analytics or loyalty program data are great ways to gain insights into what customers find valuable and motivating within your current marketing strategies.
How to measure customer loyalty
Loyalty marketing provides you with valuable data but only if you understand how to use that data. Here are 5 important metrics you can use to evaluate the success of your loyalty marketing efforts.
Customer Retention Rate (CRR)
A high customer retention rate is the ultimate goal of loyalty marketing. CRR measures how many customers you retain over a period of time. It is the percentage of your loyal customers who have shopped with you before during a predetermined period of time.
For example, let's say you had 10 customers on January 1st.  You then introduce a new loyalty program and gain 4 new customers and you still have 8 of the original 10 customers in June. Your CRR would be (12 – 4)/ 10 = 80%. This means that you retained 80% of your loyal customers–good job!
Net Promoter Score (NPS)
Net Promoter Score is another great way to measure the effectiveness of your loyalty marketing. You want customers to shout how great you are from the rooftops. Unfortunately in reality, bad news can travel just as quickly. NPS looks at the percentage of promoters, or people who would refer your brand to others, compared to the percentage of distractors, those who would not recommend your brand.
NPS is measured through an online survey that asks, "On a scale of 1-10, how likely are you to recommend this brand to others?" Anyone who gives you a 0-6 is a distractor, 7 or 8 are passives, and 9 and 10 are promoters.
You can calculate your net promoter score by taking the percentage of promoters and subtracting the percentage of distractors. So imagine you survey 100 customers. 50 give you a 9 or 10, 30 give you a 7 or 8, and 20 give you a 1-6. Your calculation would be:
NPS = (50 – 20)/100 = 30%.
Active Engagement Rate (AER)
If you do have a rewards program, whether it's a points program or a referral program, active engagement rate is a must. This measures how many people who have signed up for your program are actually earning or redeeming points.
This metric will let you know how effective your program is. If you have a low AER you might need to reevaluate some of your program details. Are points too hard to earn? Do your customers not find your rewards motivating? The goal of loyalty marketing is to keep customers engaged so aim for a high active engagement rate.
Repeat Purchase Rate (RPP)
This is another great tangible metric that will let you know how your loyalty marketing efforts are translating into sales. Repeat purchase rate tells you how many customers are purchasing from you multiple times within a year. You want customers to keep coming back because you don't have to spend lots of money to acquire them and they are going to be the ones recommending you to their friends.
The number of purchases that you use for this formula will vary based on the nature of your product. For example, if you sell clothing you may want to see customers making 5-10 purchases in a year but if you sell furniture then 2-4 annual purchases might be enough. This will depend on your own goals and competitors but in general a RPP of 20-40% is considered good.
Loyal Customer Rate (LCR)
If loyalty marketing is the name, then a high loyal customer rate is the game.  While repeat purchase rate is a little more subjective, a loyal customer is determined here as one that purchases from you more than 4 times in a year. This metric tells you how many of your total customers are loyal to your brand.
By improving your loyal customer rate, you will be able to spend less time and effort attracting new customers and let your loyal brand advocates start doing some of your marketing for you. One of the best ways to increase your LCR is loyalty marketing, so let's get into some practical ways you can put this into practice.
3 growth strategies using loyalty marketing
Customer loyalty marketing is more than just adding a points program to your website. It's about strategy for small business marketing that involves incentivizing your customer to keep engaging with you time and time again.
One brand that is doing an amazing job with their customer loyalty marketing is beauty and skincare brand, Glow Recipe. Let's take a look at how they're creating a glowing customer experience.
1. Loyalty programs
While it may not be the only way to achieve customer loyalty, loyalty programs are a great loyalty marketing tool. This includes everything from points programs, to VIP programs, to referral programs.
By incentivizing customers with points and rewards you can increase your active engagement rate, repeat purchase rate, and loyal customer rate. Referral programs on the other hand are a great way to increase your net promoter score. Having both is the best of both worlds.
Glow Recipe incentivizes customers with their Glow Rewards VIP program. Customers are encouraged to spend more to earn more points and move up through their coveted tiers to earn even more exclusive rewards. This is a great way to encourage brand loyalty and ensure customers keep coming back to rack up those points and cash them in for valuable rewards.
2. Value-add marketing
Value-add marketing is anything that enhances the customer experience beyond your products. This includes content marketing strategies such as educational blogs, YouTube tutorials, style guides, recipes, how-to's and more. Content marketing is also a great way to improve your search engine optimization, which will help customers find you in the first place. And once they find this valuable content it gives them a reason to stick around.
The Glow Recipe takes their value-add marketing to the next level with their separate blog micro-website, The Glow Edit. With content categories including trends, reviews, education, routines, interviews, and videos, customers can find an answer to every question they might have. They can also subscribe to their newsletter to bring the value right to their inbox. Email marketing tactics like this are a great customer loyalty marketing tactic because they serve as a constant reminder to your customers that you exist and are valuable to them.
Online brand communities are one of the most effective ways to grow sustainably. They give your devoted customers a chance to connect with each other and relate on a personal level. This is something more valuable than any product or service you could sell to them.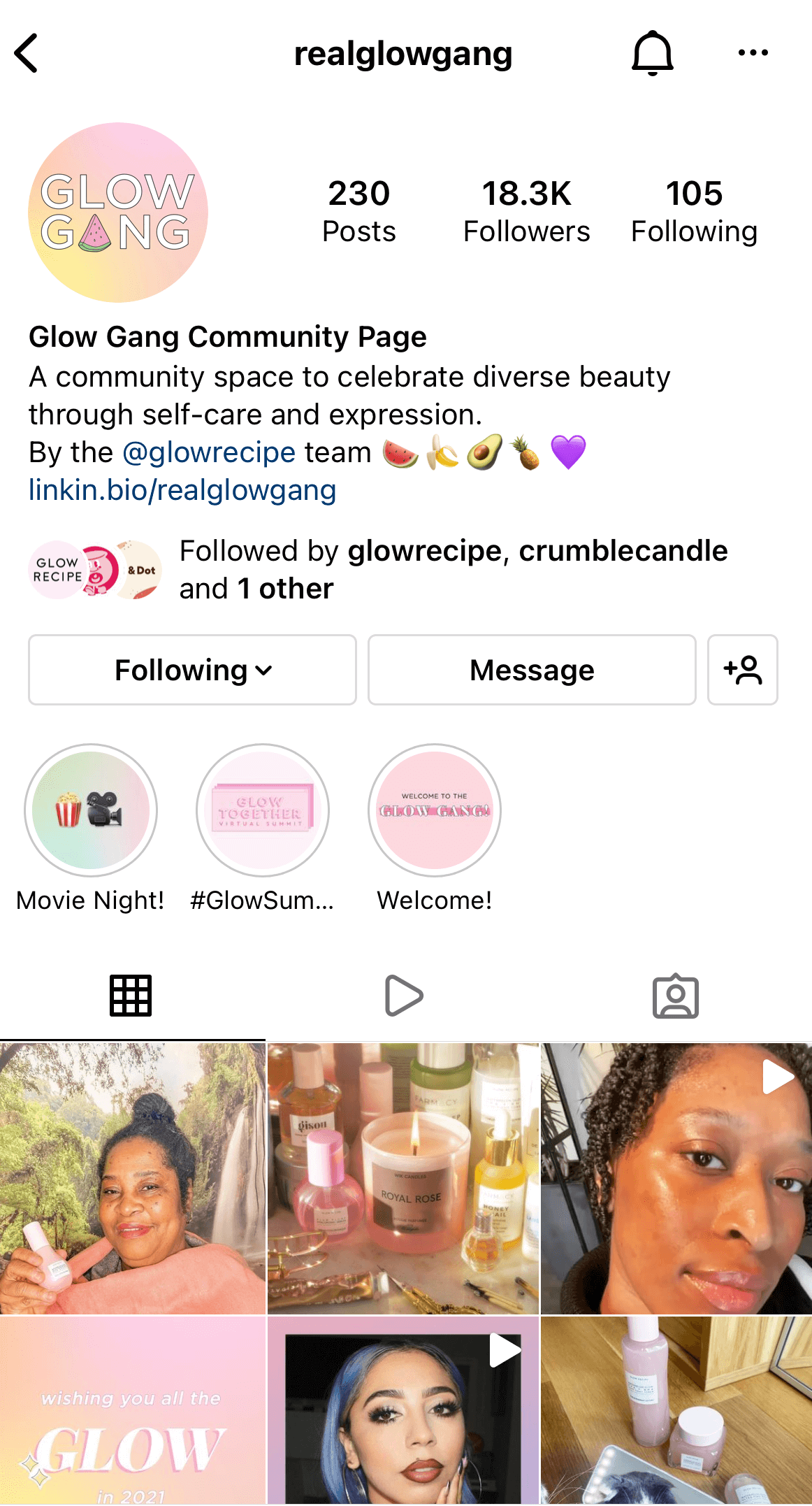 Glow Recipe takes a cost effective approach to creating an online brand community by using social media. This separate, private Instagram page is a safe space where customers can celebrate their diverse beauty and express themselves. Sounds pretty great to us and their 18.3k community members would agree!
You can create online brand communities using whatever platform fits best with your customers: Facebook groups, private Instagram pages, dedicated apps, or online forums on your website. No matter what you pick, giving your customers a place to connect is priceless and will help improve your customer loyalty marketing.
Ready, set, grow
So there you have it–you're ready to put your customer loyalty marketing strategy into action to grow your small business. You've learned what customer loyalty marketing is, why it's valuable, how to measure it, and how to use it for your brand. That's a lot of learning for one blog post–give yourself a pat on the back.
Remember, any time you implement a new marketing strategy ask yourself two questions:
Does this incentivize my customers?
Will it retain and engage them?
If you can answer yes to both of those, then carry on and go crush your growth goals!
This originally appeared on
Smile.io
and is made available here to cast a wider net of discovery.