Whitney Blankenship
Content Marketing Manager
Reading Time: 8 minutes
Your VIP customers are your absolute best customers. They're the customers you want to retain at all costs, as they purchase more frequently and/or spend more when they shop with your store.
To retain the VIP customers, you first need to know who they are. But how do you define and identify them? And once you do, what VIP retention strategies should you heed to keep them coming back for more?
In this article, we'll go over:
What makes a VIP customer.
How to identify them using customer data.
VIP retention strategies built to keep them coming back for more.
Want automatic VIP segments without lifting a finger? Try Omnisend free for 14 days!
What Makes a Customer a VIP?
A VIP (very important person) customer is extremely valuable to your ecommerce business. It's true that all customers provide value to some degree. Yet those in the VIP club spend more, shop more often, or have been long-time loyal customers.
How a VIP customer is defined will completely depend on:
What products you sell (and the typical lifecycle of those products)
How often your customers shop with you
Your store's average order value (AOV)
For example, a clothing brand might consider a VIP customer one who spends $100 on clothes every month. This same brand might view customers who rack up $500 worth of purchases every three months as VIPs, too.
Typically, a VIP customer will fulfill one or more of the following criteria:
Extensive or frequent purchase history
High average order value
How you specifically define a VIP customer is unique to your ecommerce store.
How to Easily Identify a VIP Customer
The criteria for what makes a customer a VIP can make for a dizzying exercise in identifying them. Where do you even begin? We have three different ways to figure it out. Which approach you choose depends on your resources and email service provider capabilities.
Use Customer Lifecycle Stages
Omnisend's Customer Lifecycle Stages feature helps you quickly and easily identify your most valuable customers by displaying them through a dashboard and requiring no work on your end.
The Customer Lifecycle Stages automatically categorizes your customers and visualizes them—assigning percentages per each bucket. As you can see from the map below, this tool includes all customers, not just those who are most valuable to your business. Your VIPs can be found in the following segments:
Champions: the cream of the crop; the most active, valuable and recent shoppers
Loyalists: customers who frequently buy
High Potential: customers who have larger purchase amounts
Can't Lose: customers who used to shop more often and/or spend more than your other customers, but haven't purchased anything for a while
These recent, high-spending, loyal customers are the ones you want to spend the most time reconverting.
This is by far the easiest way to identify your VIP customers. Omnisend does the work for you by using AI-assisted algorithms that segment based on the data you've collected. You won't need to create any manual filtering or segments to target these customers.
From here, you just need to focus on strategies for keeping these customers engaged and interested in your online store.
Segment by AOV and Shopping Frequency
If you're not using Omnisend, the process will be a bit more manual. You'll need to perform an RFM analysis (the foundation for Omnisend's Lifecycle Stages feature) to manually track and assign scores to your customers.
This segmentation feature breaks down your customers using into an easy RFM analysis:
Recency: how recently your customers have purchased
Frequency: how often they purchase
Monetary: how much they spend on average
A great email service provider (ESP) is able to segregate this data for you. You should be able to pull AOVs and segment the VIP customers that spend the most with your store. This aggregated customer data will help you identify which of your customers are your biggest spenders.
From here, create segments based on the most recent purchase from your high-spending customers. You'll want to layer those segments for more precise targeting. This means creating the first segment of "high-spending customers." From there, create another, smaller segment to differentiate between purchase recency based on the time elapsed from the last purchase.

Those who have bought "most recently" should be nurtured. Use post-purchase campaigns tailored to their purchase. For high-spending customers who last purchased a while ago, it might be time to try a win-back, lapsed-purchase, or retargeting campaign to try to bring them back into the fold.
This method will require a bit of research to determine what benchmarks you'll need to use to identify these customers. Once you have that data, segmenting your high-spenders is relatively easy, though time-consuming.
Use Product Purchase History
There is a third method to define VIP customers, though it may not be as precise as an RFM analysis. You can define a VIP customer by looking into purchase history and selecting those who purchase more expensive products as your VIP customers.
This method only works if you have a wide range of products that span different price points, like various brands of makeup that range from low cost to high-end designer products.
The customers who buy your higher-end products will be the high-value customers you'll want to focus on.
This method doesn't work well for brands that maintain a single price point across products, whether they are affordable or luxurious.
It can also be a bit tedious to segment out. However, if you do have a product line on the higher-scale, this method can help you identify customers that you'll want to prioritize.
The Best Strategies to Retain Your VIP Customers
Layering these different segments is critical for your next step. Now you need to implement personalized communication to retain these VIP customers. A big-spender you're about to lose should not receive the same message as a big-spender who purchased last week.
Tailoring the way you respond to these customers will affect the way you keep them engaged.
Targeted Post-Purchase Automation Workflows
For VIP customers who have purchased recently, you'll want to nurture that VIP experience. As those who spend more, purchase more often, or have extended history with your brand, you'll want them to know they're appreciated.
Say Thanks
A well-targeted thank-you email can be the perfect way to show that appreciation. This is especially true if you offer a sweet incentive to purchase again. These are your most valuable customers—a little something special every once in a while will go a long way to keeping their experience positive.
Sending an incentive every time can become a bit stale, however. Instead, keep them for special occasions, and focus on adding value to your thank-you emails.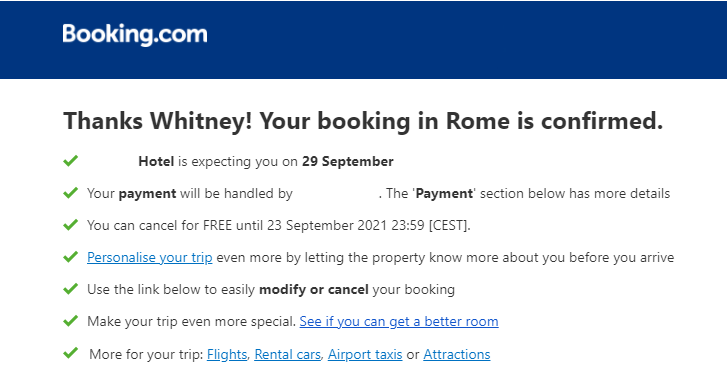 For example, Booking.com sent me a thank-you confirmation email with:
Important information on my booking
How to upgrade my room
Different things to do in Rome
A reminder to check up on different transport options
Adding value in your thank-you email is a great way to show VIP customers that they're appreciated.
Get Feedback
A VIP customer is someone who values your ecommerce store. After all, they're choosing your store, more than once, over a sea of competitors.
This means there must be something they enjoy with your store, whether it's convenience, pricing, fast or free shipping, or something else. Why not find out what attracts them to your brand?
Send post-purchase emails requesting feedback to understand what makes your VIP customers happy. Knowing what brings them to your store over others is great for forming strategy to transform new shoppers into VIP customers. You can use these findings to highlight the best aspects of shopping with you.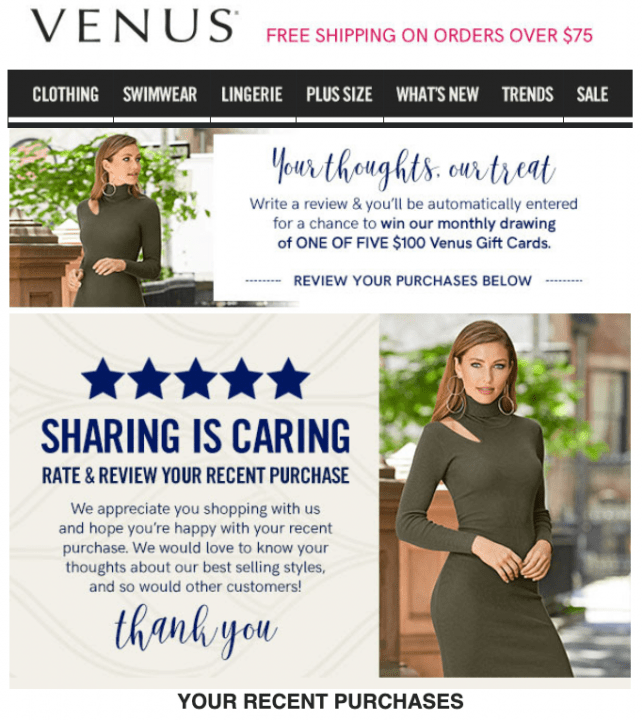 On the flip side, if you want negative feedback from anyone, it's your VIP customers. The slightest negative experience can damage your relationship with them, so you'll want to know if there are any glaring issues to resolve. Fixing the issues that affect your VIP customers will improve your overall customer experience.
Targeted Lapsed-Purchaser and Win-Back Workflows
Some of your VIP customers may have lapsed in their purchasing habits, and are quickly becoming cold. Your can't-lose customers should be top priority and need to be targeted with reactivation workflows.
Tone
When writing the messages of your lapsed-purchase workflow, maintain a genuine "we miss you" tone. You want your VIP customers to feel appreciated and valued, so transmit that in the tone of your emails and SMS campaigns.
Recommendations
Offer personalized product recommendations based on recent purchases the customer made. Go for products that complement what was purchased, plus mix in a few fan favorites.
Incentives
Since VIP customers can be those that spend frequently or spend quite a bit, you'll want to personalize incentives. Perhaps for your frequent VIP purchasers, the more valuable perk is free shipping on the next two orders. The higher spenders might appreciate a significant discount on their next purchase instead.
Personalizing your lapsed-purchase and win-back workflows with relevant messaging keeps your VIP customers engaged.
Retargeting Ads for VIP Customers
For VIP customers who have gone cold, retargeting ads on Facebook and Google are the way to go. Based on email address, these ads are a great way to bring customers back after an abandoned cart or browsing session. Omnisend makes it easy to sync them to your account.
Sometimes VIP customers won't respond to a normal cart abandonment workflow. At this point, a retargeting ad featuring the abandoned product can be effective. Show them the reason they fell in love in the first place. If a week or two of retargeting ads featuring the abandoned product aren't working, move on to highlighting a few favorites or new products.
Leveraging Loyalty and Rewards Programs
Loyalty and rewards programs are the best way to incentivize your VIP customers and thank them for shopping with you over other stores. However, many customers won't log into their account to check their points balance. Rope the balance, plus other loyalty perks, into your various automation workflows to keep them informed.
Loyalty points can also be abstract. Instead of relying on a point balance, show your customers what that point balance means in concrete terms.
For example, if 1,500 loyalty points is equivalent to $15 off their next purchase, show a product that might interest them with the price slashed at $15 off. Be clear that it's their loyalty points accounting for the price reduction.
If 5,000 points is the equivalent of a $50 product, send your customer a message with product recommendations around that price. If you opt to use a minimum spending threshold to redeem loyalty points, be sure that's clear as well.
What If Your VIP Customers Aren't Ready to Buy?
You can still leverage your loyalty and rewards program to engage your VIP customers, even if they're not quite ready to purchase again. Show them other ways, aside from purchasing, they can earn loyalty points. This will engage them further and prime them for future purchases.
Some ways could be:
Leaving a review on a previous purchase
Referring a friend or family member
Engaging on social media with a particular post—commenting, liking, sharing with friends, etc.
Participating in a contest or giveaway
Taking their own photos of previous purchases and posting them on social media under a certain hashtag (or tagging your store)
These are great ways to engage your VIP customers and keep them thinking about your ecommerce brand and products. These small bits of engagement may not earn an immediate sale. But the more loyalty and rewards points your customers have, the more likely they are to use them in a future purchase.
Key Takeaways
Your VIP customers deserve the VIP treatment. You can't afford to lose them, and knowing how to keep them interested is the best way to retain them. Leverage your best channels: email, SMS, and retargeting ads to create a unified VIP customer experience. Learn what earns VIP status with your ecommerce brand, and focus on transforming other customers to that VIP status.
Use the customer data you have to identify your VIP customers. Once you know how to identify and segment them by their lifecycle stage, you're better equipped to send them relevant messages that keep them engaged.
Omnisend identifies VIP customers and automatically creates these critical segments for you—try Omnisend for yourself free for 14 days!
Identify and keep your VIP customers coming back for more—all without increasing your workload. Try Omnisend free for 14 days!
Special thanks to our friends at
Omnisend
for their insights on this topic.