This post will look at ways you can succeed with eCommerce content marketing. When you think of driving sales for your eCommerce site, what's the first thing that comes to mind?
You may think of buying PPC ads, spending money on tv or podcast ads, or anything else. Content could be the last thing you think of.
Content can bring leads and sales to your eCommerce site. Let's see how:
Start by Picking One Form of Content, say Email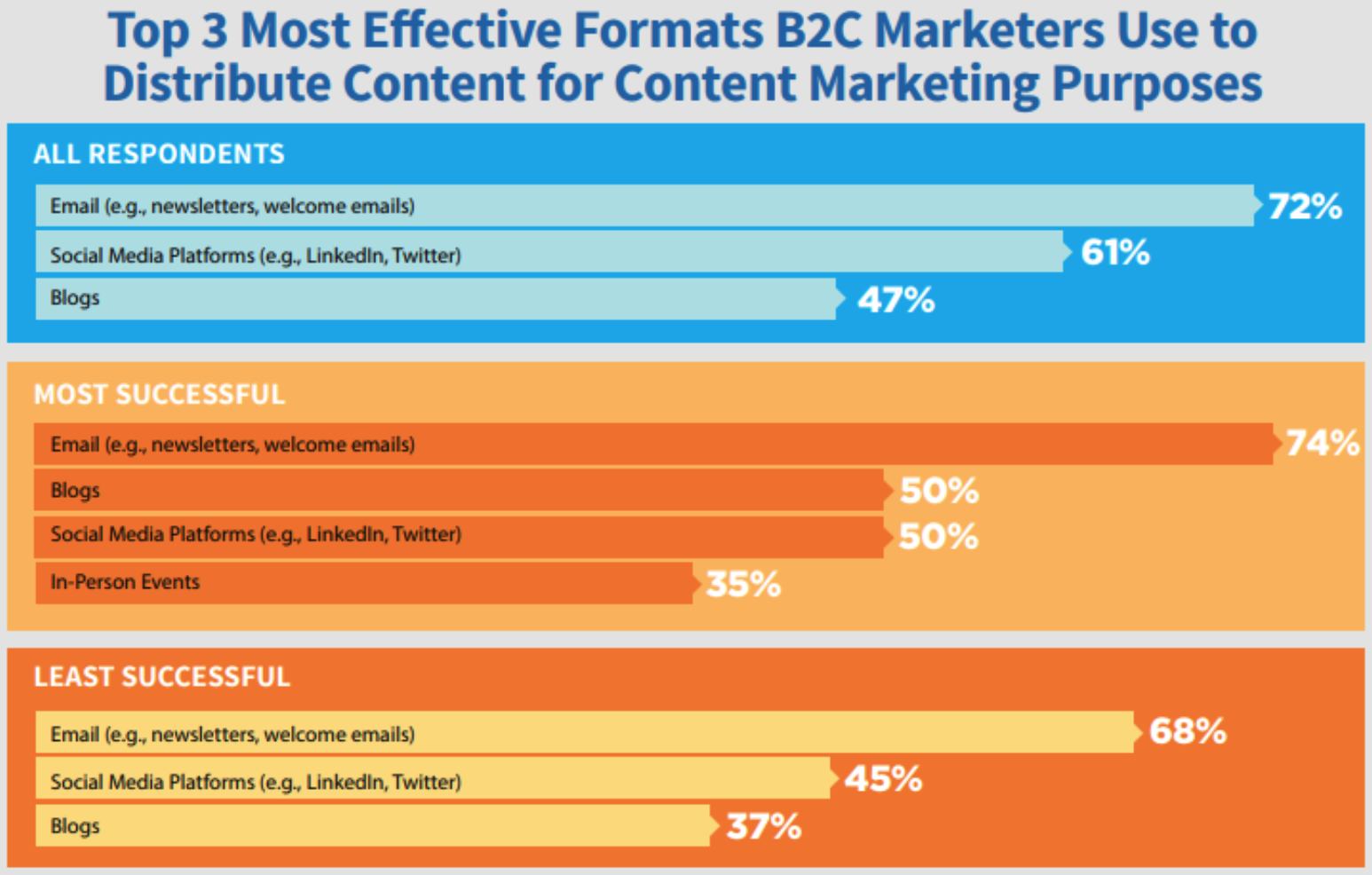 The best advice with eCommerce content marketing is to stick with one form of content. Don't expend limited resources to create content from different platforms and formats. 
For instance, one of the most successful ways B2C marketers approach content is through Email. 74% of the most successful B2C marketers use email as their primary way of distributing content.
Why? Because it works. It offers the highest returns on investment.
Automated emails are better than running manual emails. Automated welcome emails, promotional emails, and event emails are some of the most common forms of email content marketing and can be easily automated and managed with the help of a marketing automation software.
Emailing past customers is a great way to boost traffic and sales. These are people who already like your product or service. 
To get going with content marketing, start with a medium you like. It can be emailed if you want. It can be webinars.
You can add a blog section to your eCommerce store and write blog posts. If you have a blog or area of your site where you can post valuable content, make the content easy to share. You can also schedule your content to social media channels by using a tool to schedule Facebook posts or any other social media scheduler. You can even reduce content creation time using an AI text generator for inspiration.
If you're making YouTube videos, make sure you stay with them. Be consistent, and you will find success.
You can pick whichever channel seems easy for you to create content on. While email marketing is easy for me, Youtube video marketing might be the one for you.
Once you see some success with this and know your platform, you can choose other platforms. You can always repurpose content from one platform to the next.
Create Content on YouTube
If you can create videos, then YouTube is one of the best ways to share your content online.
Videos are engaging and have higher conversion rates when building your audience and email list. Product review videos are a big hit on YouTube and tend to attract a ready audience for your eCommerce store.
Videos help you build a community on platforms relevant to what you're doing. That implies you need to start frequently posting on these platforms. You can also create invite-only groups. This sometimes goes against basic reasoning since, at the early stages, only a few people see what you do.
But this works for other people. And if you want to attract more people to your channel and boost brand awareness, you must increase YouTube views by optimizing your content for discoverability.  
Guest Blogging: Earn Backlinks
Guest posting on blogs or other similar sites is a great way to drive traffic. Ideally, you would want to visit Google to find similar blogs. Let's say you're searching for cheap wedding dresses or wedding dresses for sale. Once you find blogs, ask them if they accept guest posts. The reward is a link to your blog if you can write a good article.
Search for blogs that write about your niche. Links from sites that relate to you will help you more than a link from a random website.
Targeted referral traffic is always valuable.
Create Valuable Assets for your Audience
Here are a couple of ways to create value through content for your targeted audience.
Create an infographic
Let's say your site sells wedding dresses. Create an infographic about how to find a wedding dress from scratch or take inspiration from one that already exists. If you share this with customers, you will get links to your website using an infographic that adds value to the audience.
Do market-related studies
Search for recent articles about the niche and create polls and surveys. Hire people from Upwork, Fiverr, and Mechanical Turk to conduct these polls for you.
There are plenty of tools like SignalHire or JustReachOut that you can use to find journalists and content authors. Once you have the survey results and the emails, you can start pitching journalists with your findings.
Next, conducting market studies is a great promotional tactic that most sites, even fashion websites, can use to succeed. You can talk about recent trends in fashion, the dresses that sold most in 2022, or which colors are trending. Anything goes.
Now that you have traffic, let's see what we can do to bring people back and offer value to visitors to share content with others.
Create a Webinar
If you love interacting with people, you can consider running an interactive webinar for your users.
The beauty of this is that you can record it and offer it anytime for users to view later.
I suggest using something like WebinarJam for this, as it is straightforward.
Ask those visiting your website to sign up for the webinar and share it with their social media accounts.
You can offer an incentive to that sharing if you would like to gain more viewers.
Create a Useful Related Software Tool
This may be a sore point to many. However, there are plenty of people on UpWork, Freelancer, and other sites where you can meet development experts. Having people come to the site is as crucial as getting them there for the first time.

If your blog is about SEO and digital marketing, it will be helpful for others to check rankings in real time for specific keywords. Suppose you're in real estate, mortgage, or the banking industry. In that case, you can create handy calculators that will help users determine the amount of home mortgage they can afford based on their actual income or the loan payments they can afford month over month. When you create a blog, make sure you can share the links directly to Facebook or Instagram.
These are examples, but they tell you what you can do to get people to keep coming. If you're in the web design industry, you can create graphic design tools like procreate brushes(Procreate is a popular software). If your audience is independent contractors, offer a free tool like this contractor invoice template.
Build Product or Service Guides for your Customers
Choosing how you share the content is one decision. The second part is in deciding what to share.
A quick way to do this is to prepare guides for customers on how to assemble, fix a product, and use it, among others. Offer details regarding the services you offer.
Creating content for your customers helps you move them through the purchasing funnel to make them ready to buy something.
These guides should be a place to educate customers and not to sell to them. Use guides to show the audience that you care about helping them make the best decisions.
Always include visuals. Consumers should be able to see how your products work and what they look like. 
Another great way to combine both information and visuals is with the help of infographics.
This helps you earn links and helps increase your reach to potential customers.
You can also expand beyond product and service guides to attract customers at the top of your funnel. For example, if you want to attract business owners in the plumbing industry to your site, you can create a plumbing salary guide to help them attract top talent. You've not only helped them with one of their pain points but have also brand built awareness.
Create Product or Service Videos to Show your Offerings
People are visually oriented. So the next suggestion is to use videos.
There are plenty of different ways to use video on your eCommerce site. Run short ad campaigns, webinars, online courses, or anything else.
Make sure the ad campaign has a hook. Only hooks go viral.
A perfect example is Metro Trains' Dumb Ways to Die videos.
The catch is the video shows dumb ways to die.
Jumping in front of a train is a dumb idea to die, and in this way, they ask viewers to be careful of railway tracks.
Another example is Greggs.
One of Greggs's most famous viral marketing campaigns is where it introduced its new sausage roll to the world. The film parodied the tone of the iPhone commercial and got five million views.
The video was shot in just around 37 seconds. It's a quick watch and frees users to share the video. Here's the video: https://www.youtube.com/watch?v=uC1Gh8CdDYQ
A New York Times study shows that one main reason people share content is to entertain others. And humor is just that- entertainment.
Offer an Online Course
Webinars and online courses offer an excellent way to engage your audience and grow your eCommerce sales. An interactive course builds engagement.
You can use the same to interact with people and record it to offer it to others.
There are excellent tools to record webinars and repurpose them as a course. You can also use Google Hangouts.
You can create a course on these platforms, like Kajabi or Udemy.
Offer Information in Digestible Formats like Size Charts or FAQ Sheets
Size charts aren't only built for t-shirts or shoes. They are great for all kinds of tools, furniture, and equipment.
Have a look at the products. Do you have anything that allows the customers to ask these questions?
Will it fit in my X?

Will I have space for that in my deck, toolset, or office

Can I use it with my height or weight

Is it going to be too large for me to carry by myself?




Is it going to be too large for me to carry by myself?
EyeBuyDirect has a handy size chart that lets you buy glasses based on your needs.
Again another place to give a resource for commonly asked questions is through FAQs. Do customers call or comment about the same questions?
If offering a product, customers often have these questions in mind. 
How long does shipping take

Do you

deliver

to this location?

What if it breaks

Is there a free trial period?

Is there a loyalty program or discount for subscriptions

What's the difference between the primary and premium packages?
Revisit your FAQ sheet as you get new questions people are wondering about.
Share Customer Stories
Sharign stories is a no brainer. You are sharing with potential customers whose peers love your product. You also get customers to do the content for you.
This content is accurate, authentic, and cheap to produce. For instance, look at what Lays did.
Lays ran a UGC campaign on Twitter. With the #DoUsaFlavor contest, they asked consumers to pitch their favorite Lays flavor. In return, the participants could win $1 million.
Users had to visit the Lays website, pitch their flavor with three ingredients and design the bag. Judges chose three flavors from the contest, and the winning flavors would be released as a product to the market. Lays didn't share customer stories. They did something even better by creating and selling products their customers asked them to.
Find original inspirational stories and request permission to share what you learn. 
Also, create a competition to encourage people to share stories, pictures, or videos that promote the product.
Conclusion
Getting traffic to your site is how you grow your business. Once you have the traffic, start engaging the users, build brand loyalty and trust, and ensure the traffic keeps coming back.
This is where a content strategy can be of great help.
You can use content in adverts to get customers to come back, engage with them through that content and prove your expertise to earn their trust for longer.
With the average ecommerce conversion rate being 1-3%, you need another way to capture interest and grow brand awareness.
Once you have the strategy in place, you need to execute it. You can also do this with the help of an email capture form.
So this sums up how you can make content marketing work for your eCommerce stores.