Shopify is the most popular eCommerce platform among online merchants. It comes with all the core functionalities you need for creating and launching an online store.
Shopify will help you with designing your shop, displaying products, accepting payments, and much more. In short, Shopify offers a lot. And while the range of features may seem overwhelming, setting up a store is surprisingly fast and straightforward.
So, how about you find it out for yourself? We'll help you out and outline all the necessary steps you need to take to register, set up, and launch your first Shopify store.
Follow these steps to start a Shopify store:
Choose a business name
Create a Shopify account
Customize store settings
Create essential business pages
Add your products
Set up the main menu
Add content to the home page
Choose a store theme like the Debut Theme
Add a Shopify marketing app
Launch your store
New to Shopify? Take a look at these guides as well:
1. Choose a Business Name
Your business name should be short and memorable.
Typically, one or two words are ideal. If you prefer to use three or four short words, try to create a phrase that your audience will be able to remember easily.
Also, the name must be original, meaning that it's not already used by any other company. The same goes for URLs—do a domain name search before you register your store.
If you're out of ideas, try Shopify business name generator or any other free generator you can find online.
2. Register a Shopify Account
To begin, click the Start free trial button and enter your email address, password, and store name in the signup form.
Your store name must be at least four characters. If a store name you entered already exists, the signup form will prompt a message.
The store name will become your default URL (e.g.: yourstore.myshopify.com) and you won't be able to change it (unless you buy a custom domain).
When you're done, click the Create your store button.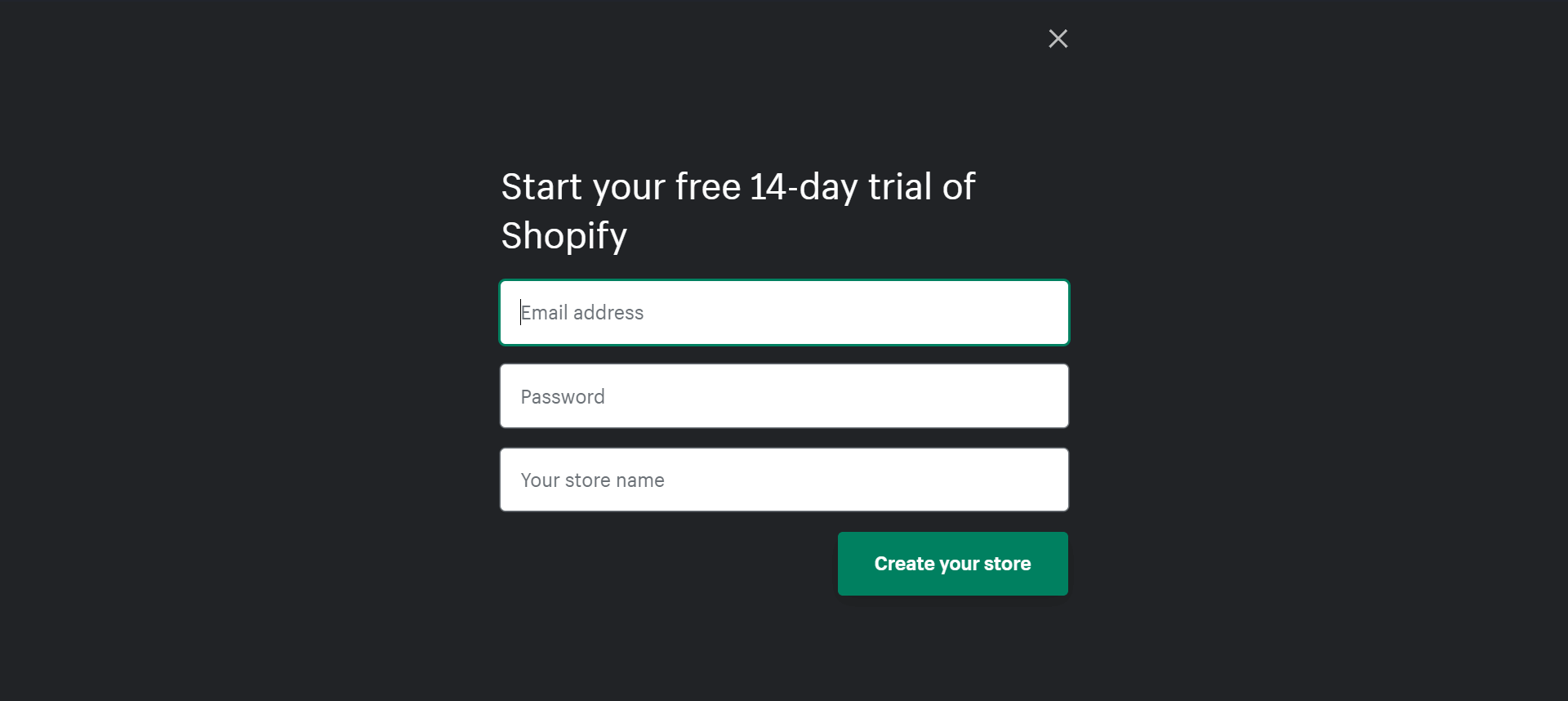 There are two more steps to go through.
First, you'll be asked to fill in more details about your products, revenue, and business industry. You can skip it or select "I'm just playing around" and "I'm not sure" to continue.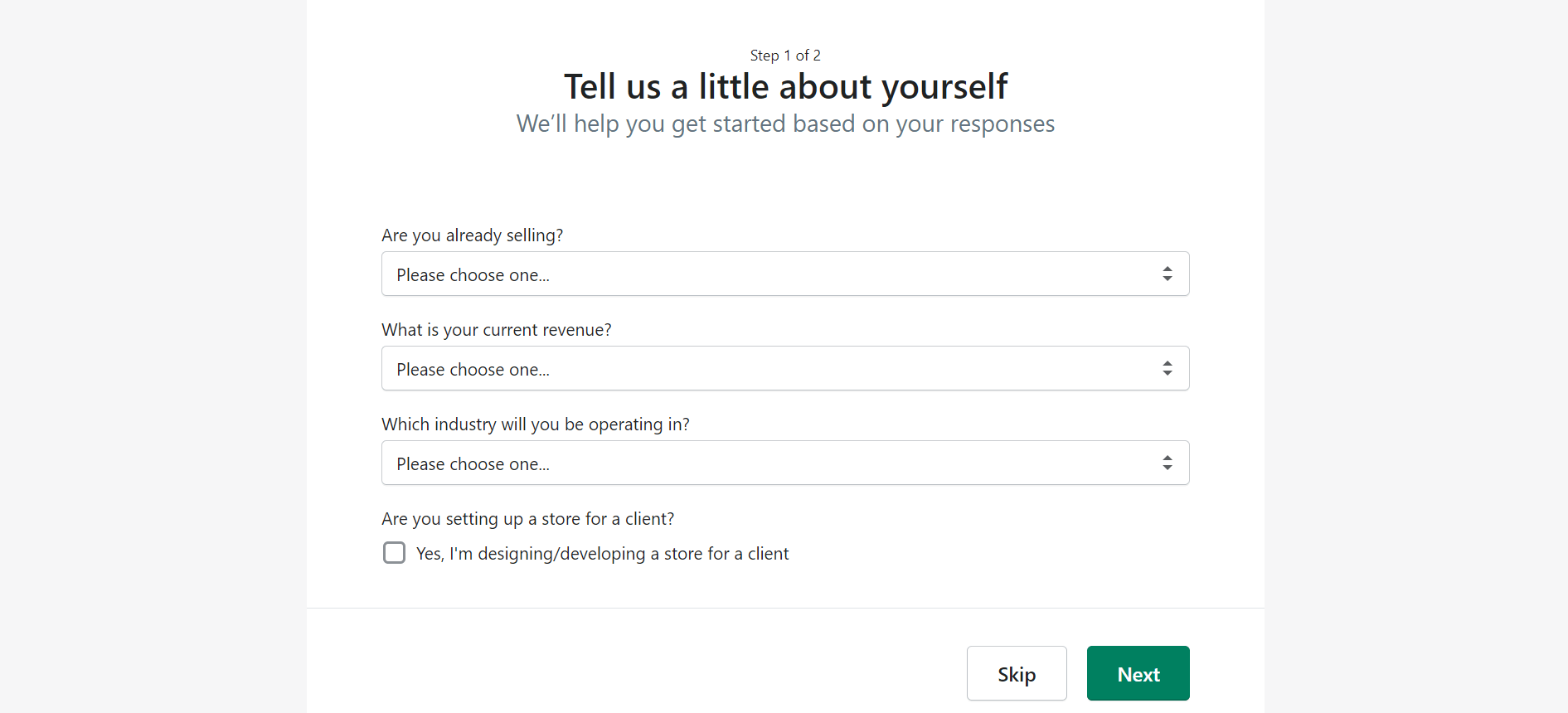 Then, you'll need to provide your business address. Click Enter my store to finish the registration process.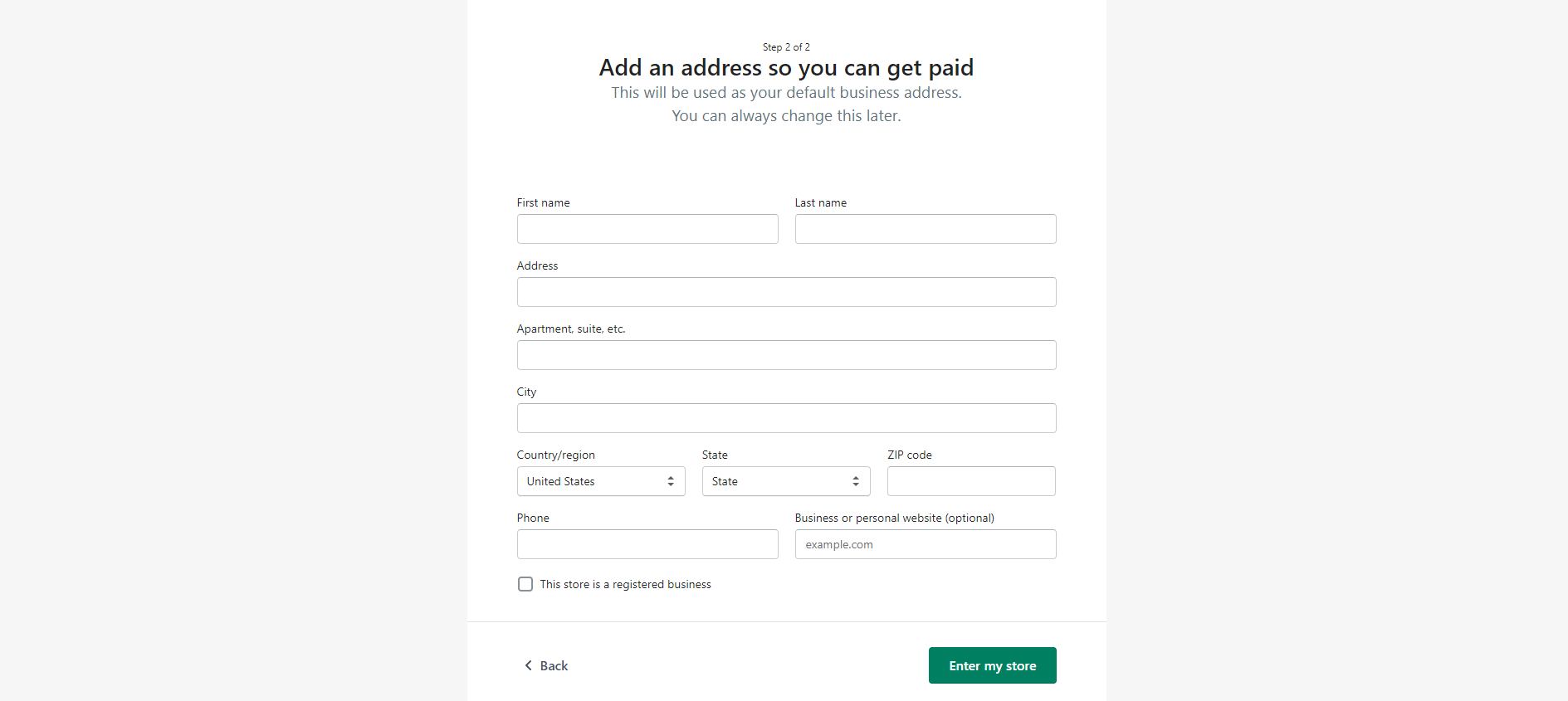 Your Shopify account is now active and you can try out all the features, including premium ones, for free for the duration of the trial period.
3. Customize Store Settings
After you've signed up, you'll be taken straight to your store admin panel where you can customize a range of different settings to fine-tune your store.
Navigate to the bottom left corner of your Shopify admin panel and click the gear icon to access the Settings page.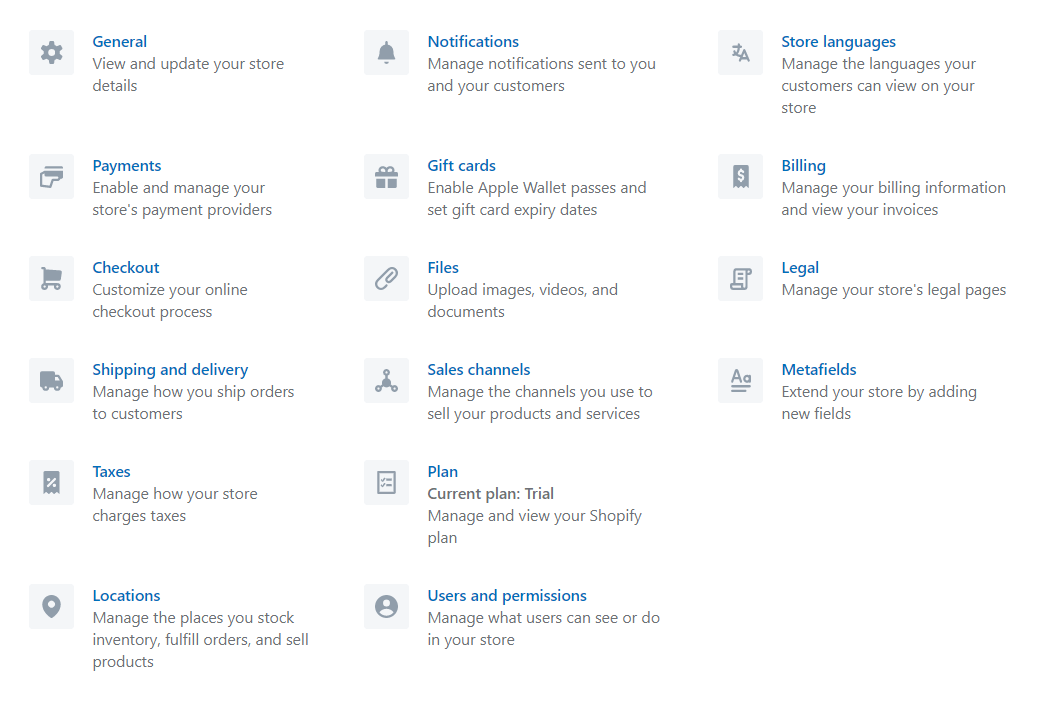 Start with filling out all the store details in the General part that covers all the information about your business your customers need to know.
Next, let's move to other important settings under General, namely Payments, Checkout, Shipping and Delivery, and Legal.
Payments. Naturally, you need to set up a payment gateway for customers to be able to do transactions with your store. PayPal is the default method, but you can add third-party and alternative providers that are available in your country.
You can also sign up for Shopify Payments. For that, you'll be asked to provide your business information, product information, as well as personal and bank account details. This method will spare you the transaction fees (if you're eligible).
When you're happy with your payment capture and gateways methods, hit the Save button to save your settings.
Checkout. Here, you can choose if you want your customers to checkout as guests, have them register an account, or either. Keeping creating accounts as optional is recommended as it allows buyers to check out as guests.You can set what kind of contact details and extra information you want them to provide in order to checkout. Ideally, you don't want them to fill in too many details but you'll want to ask them for their email address if you want to build an email list for email marketing.

Shopify will automatically send abandoned cart emails that will go out ten hours after someone abandons their cart. This feature is turned on by default.

Save your changes and move on to another settings page.
Shipping and delivery. You can boost your sales with free shipping. But if you choose to charge for shipments, Shopify lets you set your preferences for domestic and international orders, minimum order price, and specific shipping rate.
Tip: You can enhance your shop's functionalities by adding apps such as Shopify shipping and order tracking apps. You can discover many more in Shopify AppStore.
Legal. Your store needs clear terms and conditions, a product return policy, and a data privacy policy. They are important for protecting yourself and the customer during the buying process. You can write them from scratch or auto-generate templates.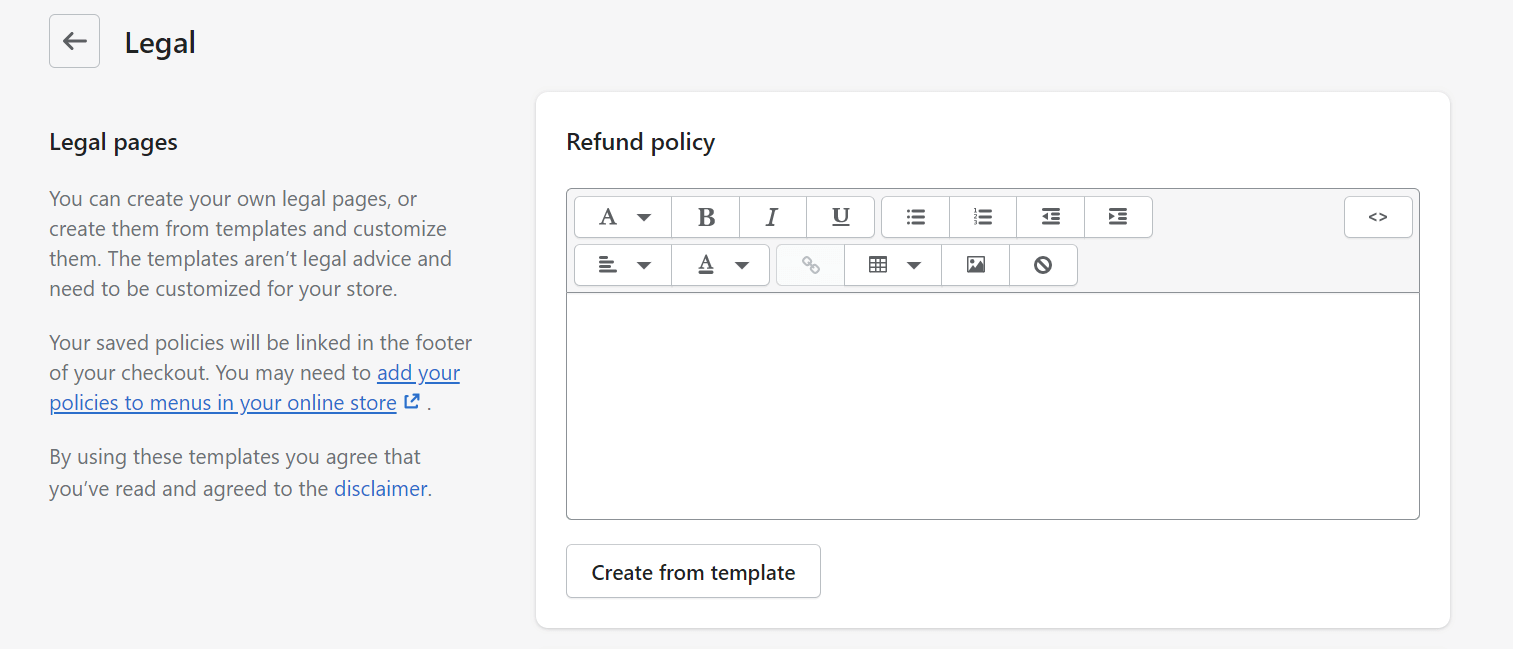 Taxes. As an eCommerce store, you're obliged to collect a sales tax from your customers. Shopify will auto-calculate taxes for you on the basis of the ongoing sales tax rates around the world.
However, you may want to consult a professional to make sure you're charging the right amount. You can also add a tax override for region-based products and customize the shipping rates if you're shipping to designated areas.
When everything's set up, don't forget to click Save.
4. Create Essential Pages
The excellent store design is not just the website's homepage, blog, landing page, and product pages. There are a few other pages you'll need to take care of to improve the customer experience in your store.
To add and edit new pages, go to Online Store > Pages.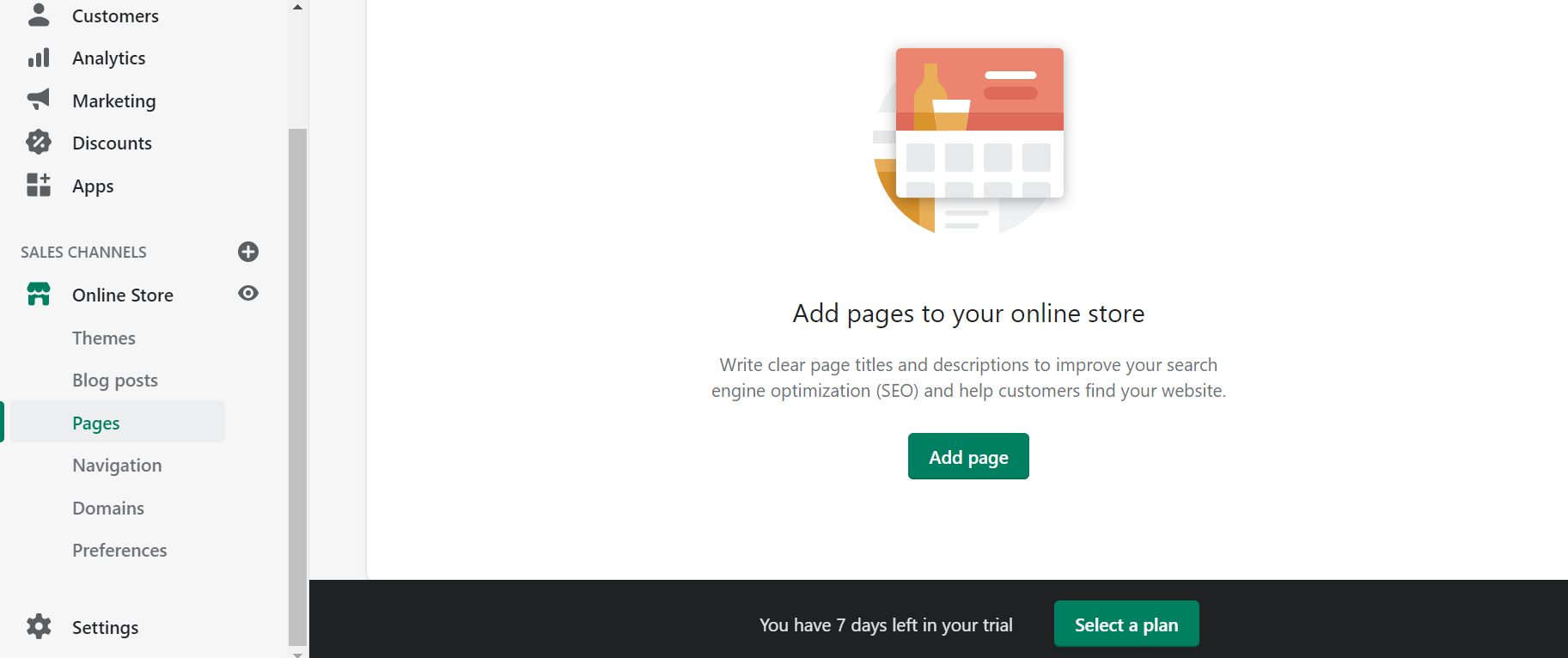 We're going to start with the Contact Us pages.
Click the Add page button to open the page editor. Fill in the page title and content. In the Template section on the right, choose "contact" from the drop-down menu.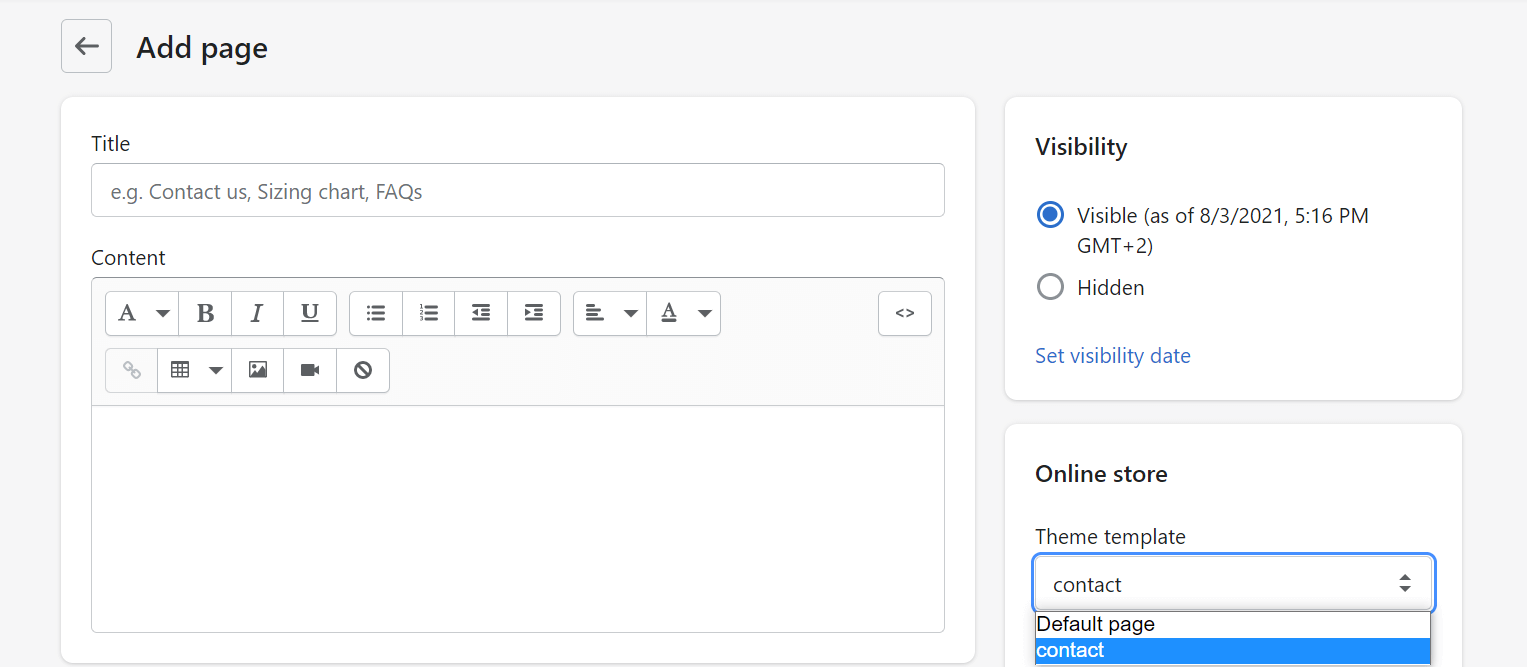 Contact Us
The Contact Us page is often one of the most visited pages. It's also going to be an important element of your store. That's because it will help your existing customers to resolve their issues. It will also help you convert your prospects.
A link to a contact page can be located in the top menu or in the footer.

The contact page usually includes contact details such as an email address, a phone number, and links to social media profiles. But that's a bare minimum. Depending on your store and goals, you may want to offer more than that.
Here are a few ideas on what else you can add to your Contact Us page to make it more customer-friendly:
Link to a live chat page. Live chat is a great tool that allows for convenient communication in real-time. It can improve your conversion rate by 3.84 percent and improve the sale value for every visitor by 60 percent.
Business hours and response time. Let your customers know when you're available to respond to their queries, so they know when to call you, start a chat, or expect an email response.
Map and physical address. If you run a physical shop, you may add an address and pinpoint it on a map to help your customers find it.
Additional email addresses. These will come helpful if you would like your customers, wholesalers, and potential partners to use different addresses to contact you.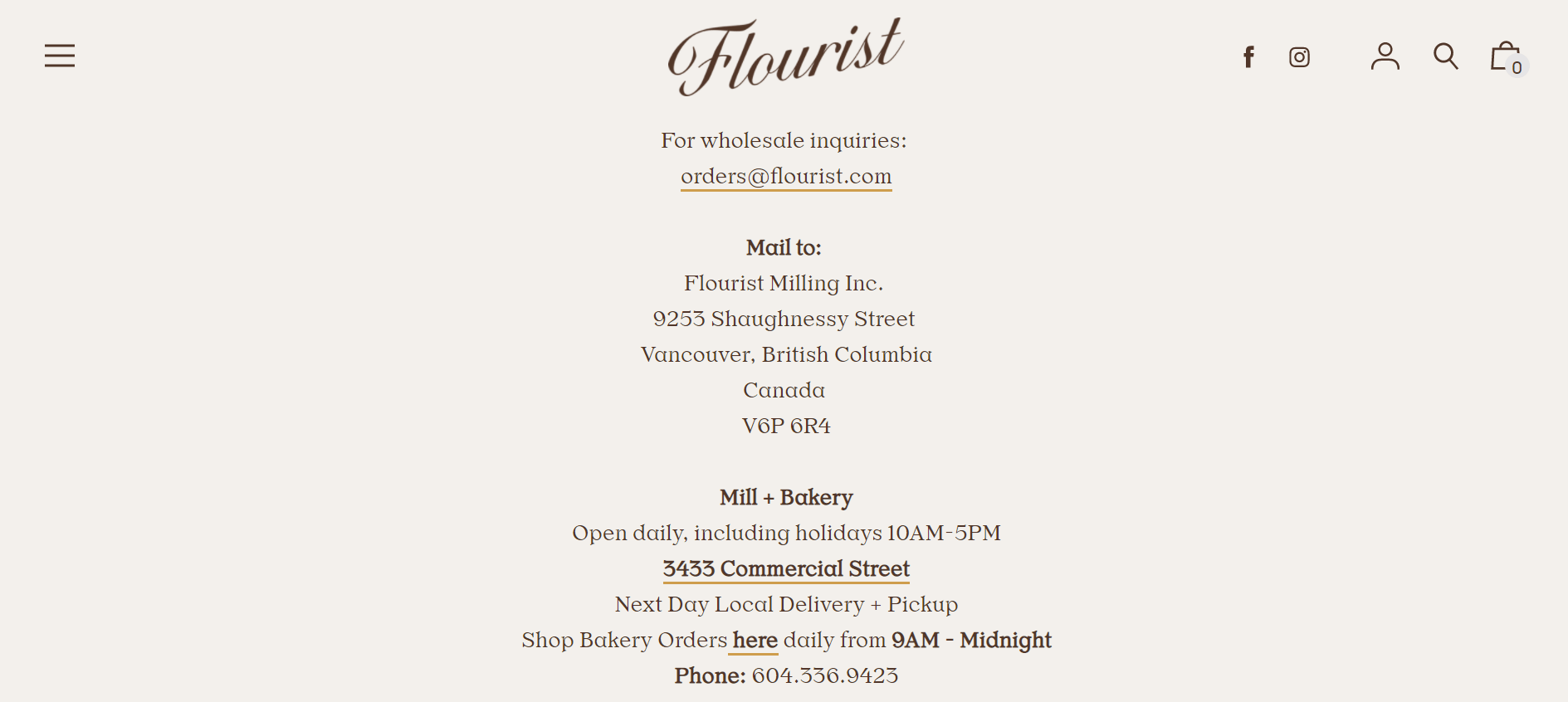 Contact form. Contact forms are convenient because visitors can send their inquiries without leaving the website. It will also become an effective tool for generating leads if you design your contact form to convert.
The last thing you'll need to do is SEO optimization. Click the Edit website SEO link under the page editor and provide meta title and meta description for your Contact Us page.
Try to include a few good keywords in your description to help your prospects find you through the search engines.
Tip: Use Shopify SEO apps to optimize your store for search engines.
About Us / Who We Are
An About Us page is a special page that gives you a chance to tell your audience your story. It's a place to explain who you are, what inspired you to sell your chosen type of goods, and why it matters to you.
It helps your audience identify with your brand and entices them to shop with you.
What makes the About Us page great?
First, the page should be informative to the point of giving your audience an idea about who you are and what kind of goods they will find in your store.
It should also be engaging. You can include, for example:
Photos or videos of your physical store, staff, factory, workshop, bakery, etc.
Photos of satisfied customers who pose with your products or show them off in action.
Logos of companies who use your products or services.
Here's a good example of an About Us page that also features the description of the brand's owner.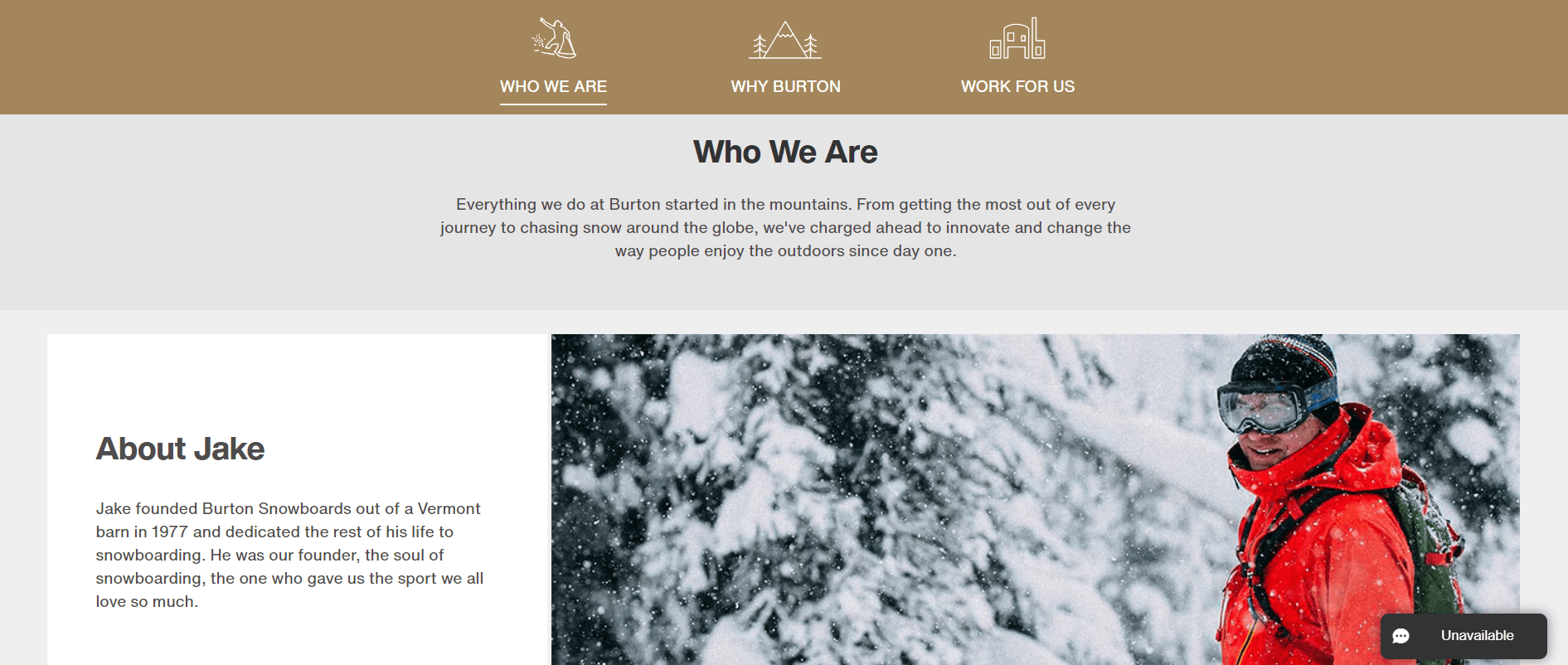 As previously, don't forget to optimize your About Us page and Save it before you start editing another one.
Privacy Policy
A privacy policy is a legal statement that informs your visitors how your store collects, stores, shares, and protects their data. This data typically includes buyers' names, addresses, contact details (phone, email) date of birth, and their behavior on your website.
The specific contents of a privacy policy document depend on the laws that are in force in the countries in which your business operates. Most countries have their own set of guidelines regarding what information is eligible for collection and how it may be used.
Privacy laws include GDPR, CCPA, CalOPPA, PIPEDA, Australia Privacy Act, and many more.
You absolutely need this page but you don't need to be a lawyer to create one. Shopify offers a handy online privacy policy generator you can use for free.
FAQ
The main purpose of a Frequently Asked Questions (FAQ) section is to answer questions your customers might have before they reach out to your support agents.
An FAQ page can become an effective element of your store website because it:
Can relieve new customers' anxiety they experience when making purchase decisions.
Decreases the workload for customer support by addressing repetitive questions from customers.
Can increase your SEO efficiency if you manage to write a well-optimized FAQ copy using Google's help.
Can help you build trust by showing your visitors and customers that you care about addressing their concerns.
Works 24/7, so your visitors can try to solve their issues on their own whenever they need it.
Although there are no official rules on how a FAQ should be structured, there are some good practices you may want to follow:
Give answers to the real questions. If you're just starting out and don't know your customers too well yet, try to put yourself in their shoes or check your competitors' websites.
Keep it simple. People who're going to read your FAQ will visit it for information, that's it. Use simple language, short sentences and paragraphs, and bullet points whenever it makes sense.
Add a search bar. If your FAQ section has many questions, you can make it easier for your users to find what they're looking for by adding a search bar.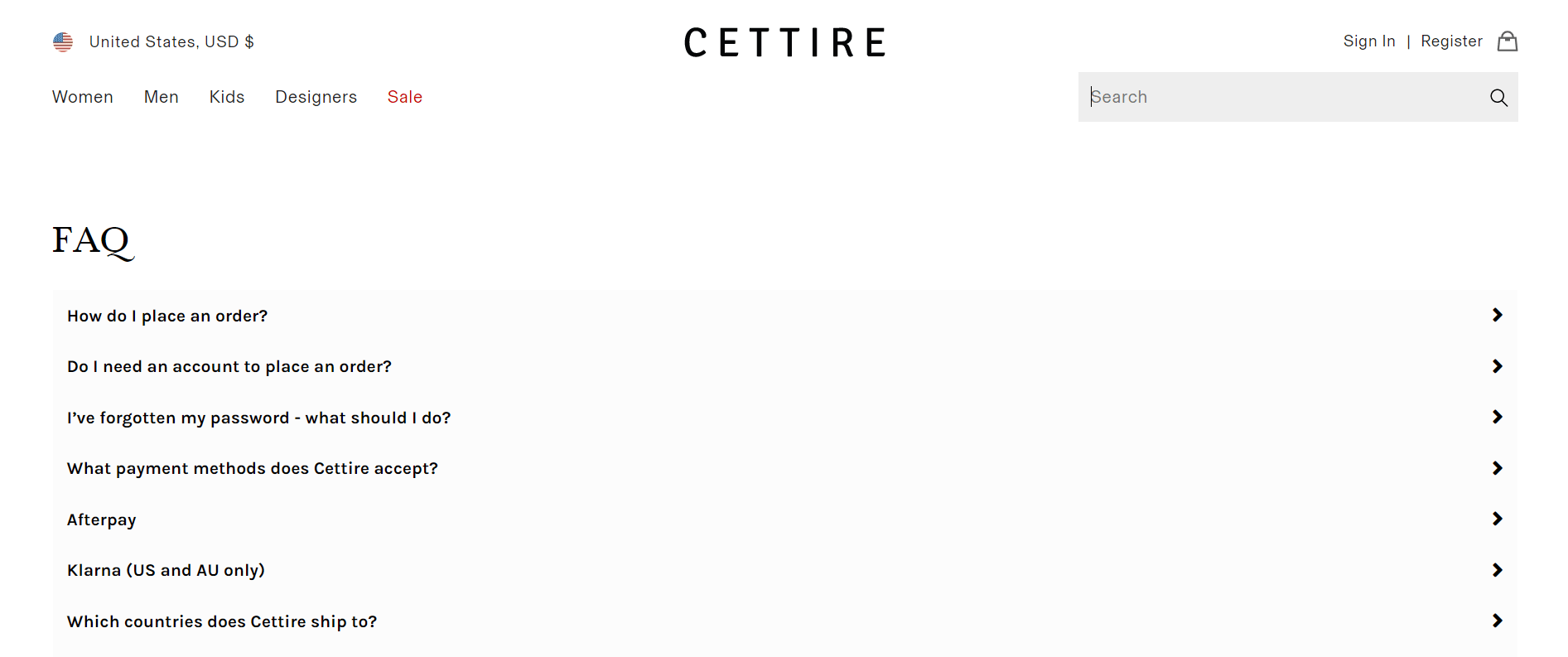 If you plan to start with a simple and short FAQ, then using the Shopify editor will probably do the job. But why not make it great straight away?
You can easily create a stunning FAQ section with dedicated Shopify page builder apps, such as PageFly, Easy FAQ Page, or HelpCenter. There are, of course, many other similar apps so be sure to visit the Shopify App Store for more.
5. Add Products
You've done a lot so far. Good job! But before you're ready to open your Shopify store, you still need to do a few things, including adding products for customers to buy.
You can add a product (or update information about it) from the Products page in your Shopify admin dashboard.
Click the Add product button and enter a title and description for your product, along with additional details. The details include:
Media (you can upload images or embed a video)
Organization (product type, vendor, collections)
Inventory (barcodes, quantities)
Shipping (weight, country)
Status (draft, active)
Pricing
Tip: Like any other page, products pages are a great opportunity to improve your organic traffic. When writing your product title and description copies, try to optimize them for popular keywords and phrases.
You can help your customers find your products in your store by adding tags. You can also use tags to create automated collections. You can apply up to 250 tags to each product.
Click Save.
6. Set Up The Main Menu
After you add your products, collections, pages, and policies, you need to organize them so that your customers can find them.
To view and change your online store navigation, go to Online Store > Navigation page in your Shopify admin.

On the Navigation page, you'll build a structure for the website menu but its look and location will depend on your store's theme.
The items you put in the menu can have multiple dropdown levels. For example, if you sell electronics, you can group a collection of mobile phones under one menu.
Your store has two default menus that appear on every page:
Main menu includes Home (the main page) and Catalog (product pages).
Footer menu.
You can link your main menu and footer menu items to:
Product collections
External websites
Web pages
Blog posts
Products
Policies
Search
Email
Blogs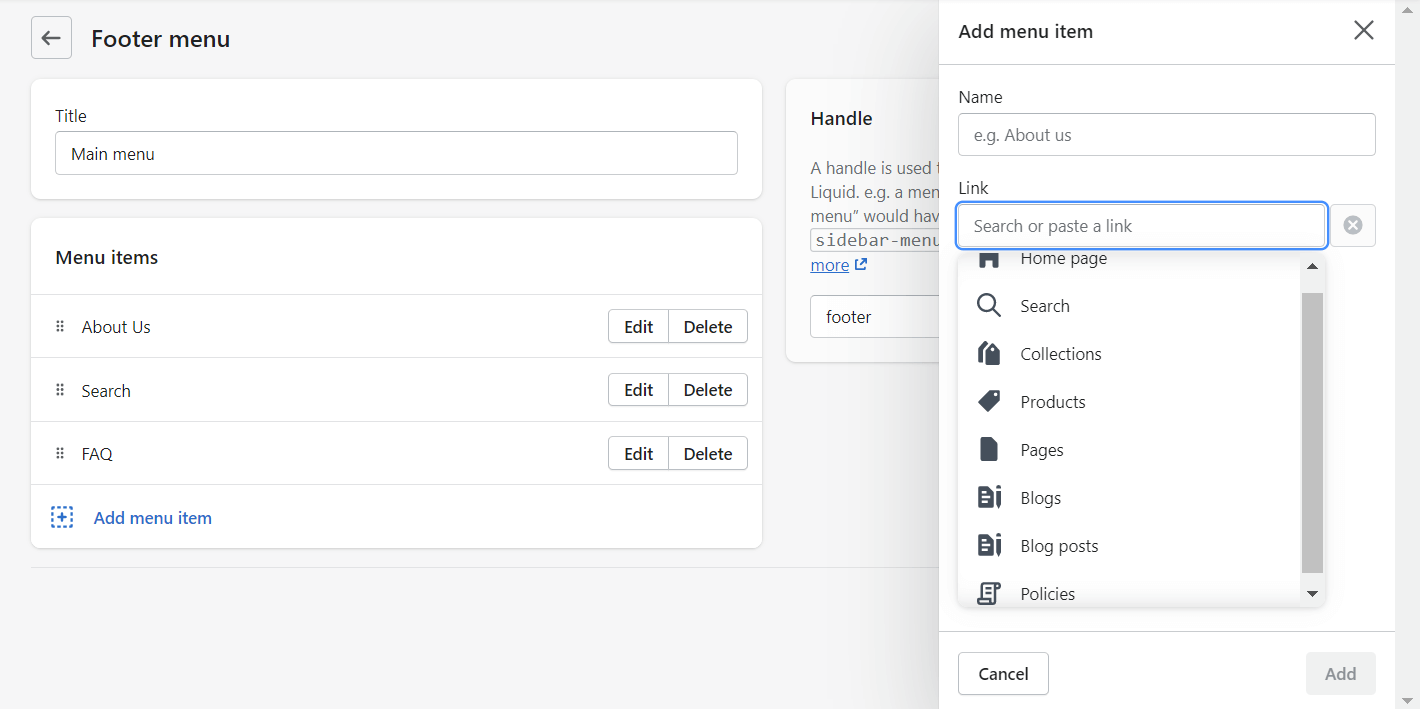 You can also add a new menu by editing the settings in the theme's Header section. But again—it will depend on the store theme whether it would be possible to add an extra menu or not.
7. Add Content to the Home Page
Your home page introduces your customers to your brand, it tells them about your brand's values, and what they can buy there. A good home page can help you convert customers.
To get started building content for your home page, go to Online Store > Themes and click the Customize button in the "Current theme" section.

At the bottom of the sidebar menu, find an +Add section option and click on it. You can then select the type of section you want (slideshow, featured product, newsletter, etc.) and then click on the Add option.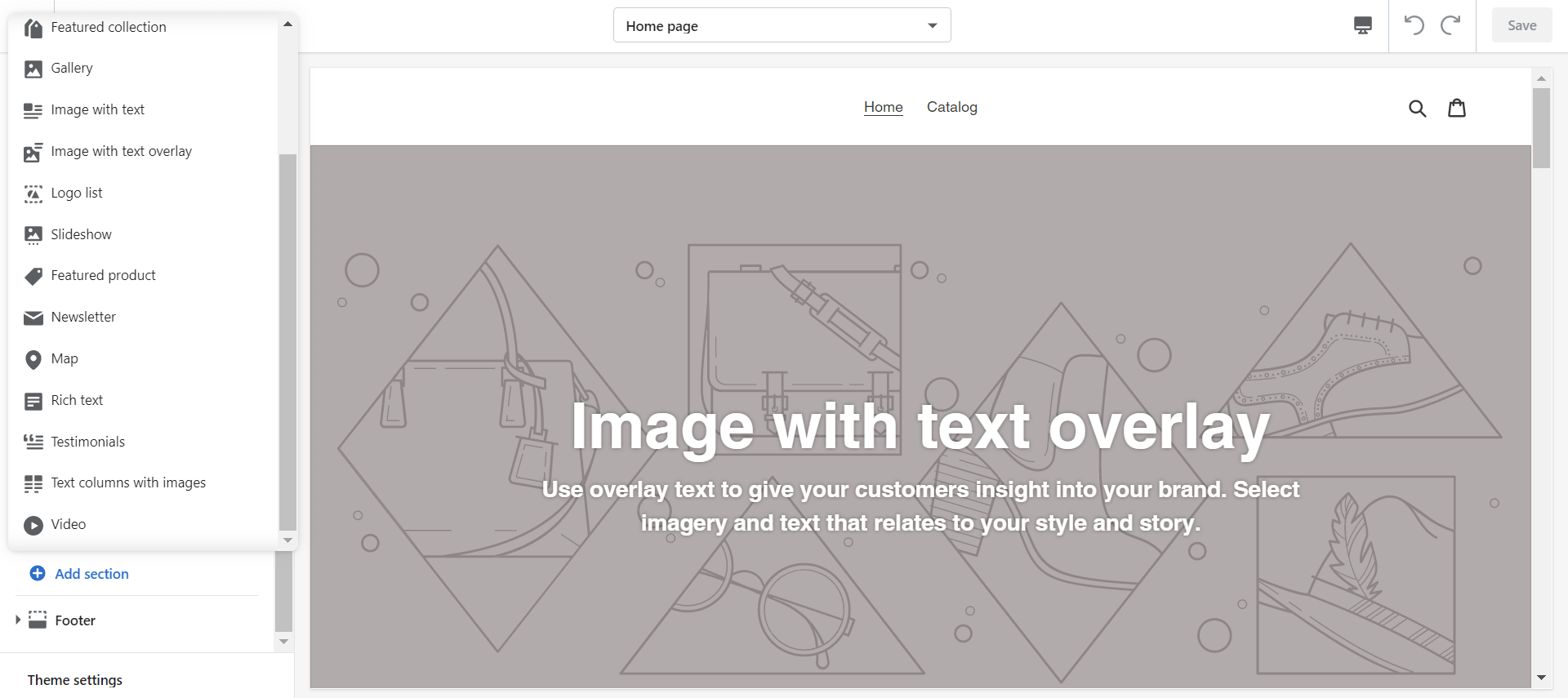 When you add a new section, you can edit, move, and hide it from the Home page. You can also delete it by clicking on it and selecting the Remove section option.
Go through other sections as well and customize them to your liking. It is crucial that you add high-quality photos and text that will engage customers and boost your SEO.
8. Choose a Theme
Shopify automatically assigns a Debut theme to all new stores. It's a good theme but if you decide to use a different one, then check out the free Shopify themes.
You can edit each theme from the Online Store > Themes/ Current theme >Customize page the same way you did with your homepage.
If you want to add a new theme, you can:
Get one from the Shopify Themes store.
Download it from another website that sells themes and upload it as a zip file (e.g.: ThemeForest).

Connect to a theme source code via GitHub.
All themes contain sections that you can edit, rearrange, temporarily hide, or remove. You can experiment with different layouts until you're satisfied with the outlook of your store.
If you need some design inspiration, take a look at the selection of the best Shopify stores.
And in case you come across a store that uses a theme you like, you can easily detect the Shopify theme it uses.
Tip: There's no need to buy a premium theme until you've generated enough money through your sales. You can create a beautiful store with free online logo design apps (e.g.: FreeLogoDesign) and design graphics and photos with apps like Canva.
9. Add a Shopify Marketing App
By now, you're pretty much done with core building. The last thing that is left to take care of before you open your Shopify store is online marketing.
As a future online entrepreneur you will need to wear a lot of hats, and having decent skills in already mentioned design is only one of them. Another essential skill is marketing.
First, you'll need to create a Shopify marketing strategy for your store. Think about:
What kind of channels do you want to utilize?
Which channels will work best with your audience?
How much can you spend on your campaign?
What kind of results do you expect and how will you measure them?
Then, the next step will be to decide on the Shopify apps you want to add to your store. There's also a ton of useful marketing automation software that will put a lot of your work on autopilot and help you get the best results from your campaigns.
Some of the best apps are free to use, so you won't damage your budget too much when you're just about to open your Shopify store.
Tip: If you're worried that having too many apps could slow down your store, look for omnichannel marketing apps like Firepush that will let you engage visitors and prospects on multiple channels.
10. Launch Your Shopify Store
If you have managed all that way–congratulations. If you are eager to start your Shopify store straight away, remove your password page (under Settings > Preferences) and start telling the world about your business.

To remove the password, you'll need to pick a plan.
But if you'd rather spend some more time polishing design, trying out apps and different settings, then hit the button at the very bottom of your screen reading Continue building to extend your trial by another fourteen days.
Once you're open for business, it's time to start attracting customers. There are many effective ways to promote your Shopify store which, best of all, will not cost you a fortune.
Secondly, you can consider creating Shopify discount codes that will help you incentivize customers to give your store a shot.
And finally, if despite your best marketing and SEO efforts, your store is getting high traffic but low sales, there are dozens of reasons and ways to fix it.
Don't get discouraged—troubleshoot, analyze, and fix the issue. Then rinse and repeat until your store is in the best condition it can be.
How to Start a Shopify Store: Summary
Starting a Shopify store is a step-by-step process. You begin with setting up an account, then go through the settings, theme, design, building essential pages, and uploading your products.
Keep in mind that there is plenty more to do with your Shopify website, but you can find answers to all of your questions in the Shopify Help Center. What you've done so far should be enough to have your store ready to go.
Good luck on your eCommerce journey!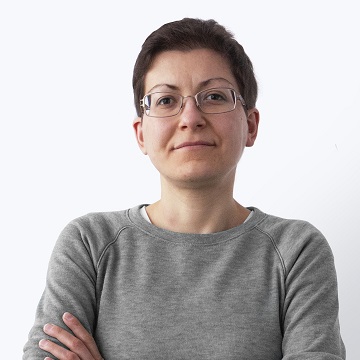 Aggie is a digital marketing expert with a strong understanding of customer journey and sales processes. She creates detailed guides, customer success stories, and other content to help online stores drive sales in an organic way. Besides digital marketing, she has a passion for sports (bike riding), studying, and healthy lifestyle.
Special thanks to our friends at
FirePush
for their insights on this topic.