Reading Time: 6 minutes
Product review emails are important for your BigCommerce store. 
Wondering why?
Did you know that 98% of consumers read reviews of local businesses? Therefore, it's highly likely that it'd be the case with your ecommerce store as well.
What's more?
One of the most important things here is the positive experience described in the review. And that's why it's crucial to get more positive product reviews for your BigCommerce store online.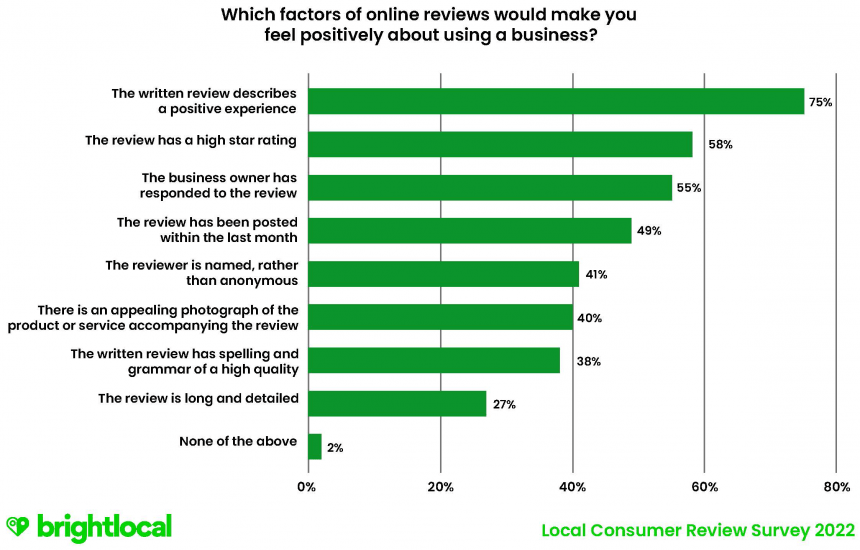 That brings up an important question — how do you get people to write product reviews for your BigCommerce store? 
Long story short, you could use an email service provider like Omnisend to send out product review emails for your BigCommerce store. These emails can incentivize your customers to write reviews about your products online.
And how can you go about it all?
Let's find out.
How to use BigCommerce product review emails
Here's how you can go about creating and using BigCommerce product review emails. 
1. Start using an email service provider
First things first — if you want to start sending out product review emails for your BigCommerce store, you need to first choose an email service provider for it.
Why, you ask?
The reason is pretty straightforward. You can't be sitting around sending emails manually to your customers requesting reviews once they make a purchase.
While the above may seem feasible when you've got a small customer base, it's just not possible with a larger base.
Additionally, an email service provider also lets you save all the emails of your customers for effective management.
And that's where a platform like Omnisend can help. After all, you need a service that can be integrated with BigCommerce with ease. Omnisend offers one-click BigCommerce integration to make things simple for you.
What's more?
It also offers integration with numerous apps that are meant specifically for reviews, such as Yotpo and Stamped. This further makes it the ideal platform for creating and sending product review emails for your BigCommerce store.
(PS: It's free to use too!)
Using it, you can take care of pretty much everything related to email marketing for your BigCommerce store. And this, of course, also includes product review emails. 
2. Collect your customers' email addresses
Once you've selected the email marketing service of your choice for creating BigCommerce product review emails, you can move on to the next step. This is the step where you start to look for the email addresses of your customers.
Without these, you'd not be able to send out emails to them requesting them to write product reviews for your BigCommerce store. 
Thankfully, with Omnisend, this is yet another simple task. 
You can easily take signup forms on your BigCommerce store and link them to your Omnisend account for easy collection and storage of email addresses.
However, it's important to note that these forms have to be those that are already present on your website as a part of the website template. All you've got to do is add a tag to the forms and Omnisend will start segmenting them for you. 
This way, whenever your BigCommerce store visitors fill out the form, their names and email addresses will be added to your email list.
3. Set up automation
The next important step that needs to be taken after collecting the email addresses is that of setting up the various email automation sequences that would get triggered based on your customers' actions.
To send out customer feedback emails, you can set up a custom email automation workflow on Omnisend. 
Here are the steps involved:
Click on Automations and then select New Workflow.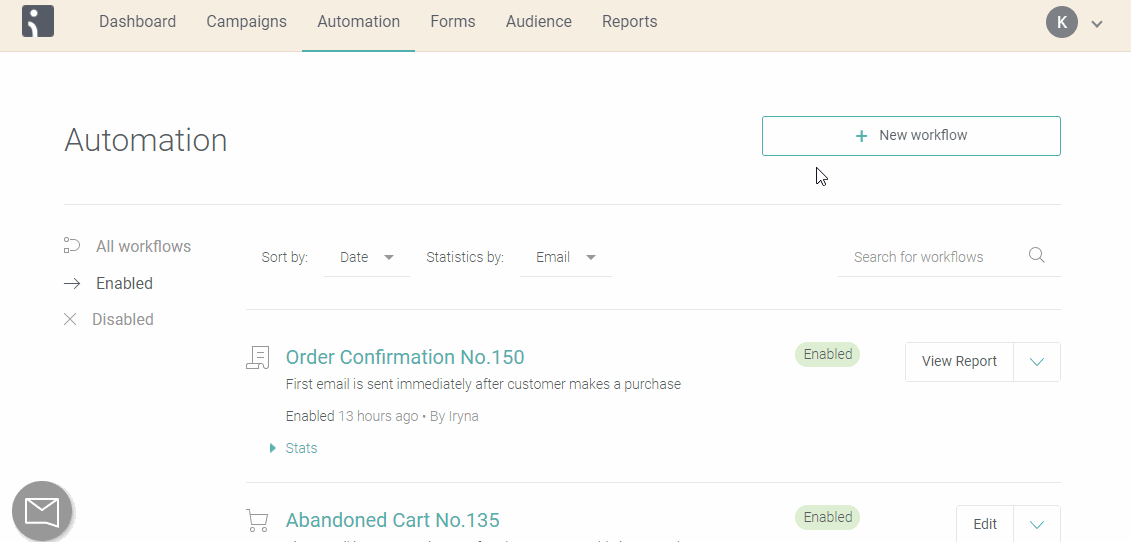 Next, you need to set up the trigger settings for your automation workflow. For sending product review emails for your BigCommerce store, you can use the below trigger:
Order Status Changed → Order Fulfillment Status is Fulfilled 
This trigger essentially sends the email once the order has been delivered to your customer. This is also the ideal time to send the email as that's when the customer would have checked out your product and would be likely happy to write a review about it.
You can then easily design the feedback email using the drag-and-drop builder offered by Omnisend.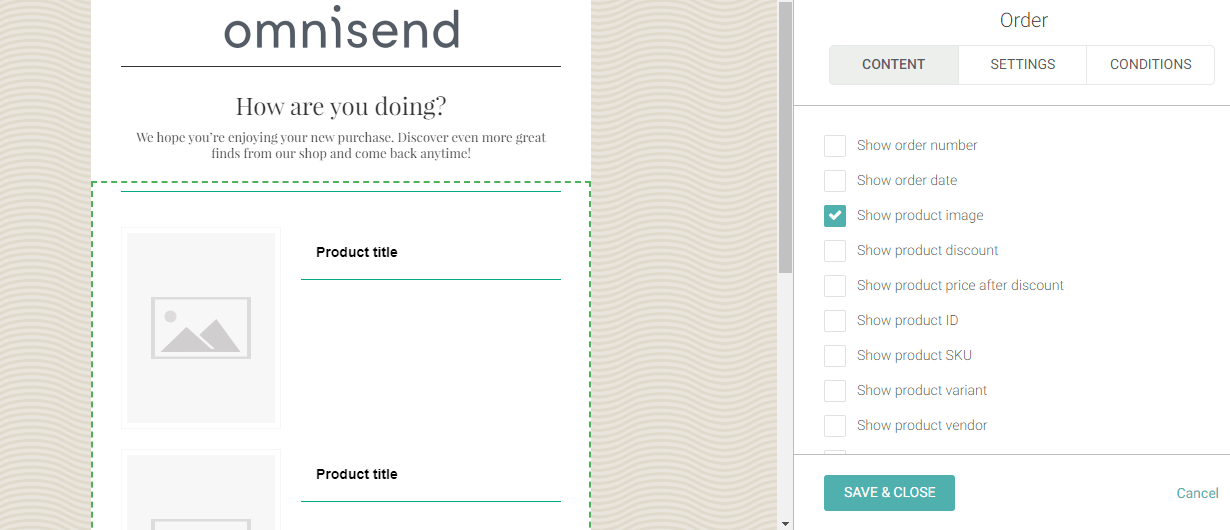 4. Segment customers based on feedback
This step comes after your customers have started leaving feedback for your products. Once customers start writing product reviews for your store, you need to further segment them so that you can send better-targeted campaigns to them in the future. 
Additionally, it gives you an idea of how satisfied your customers are with your product and services. Based on the feedback, you can change your approach to marketing to them and serving them to improve your value in their eyes.
So, how do you segment your customers based on their feedback?
You can head to Segments on Omnisend and then click on Create Segment. You can then click on Placed Order in the Shopping Behavior section and select good or bad customer order feedback for segmenting your customers.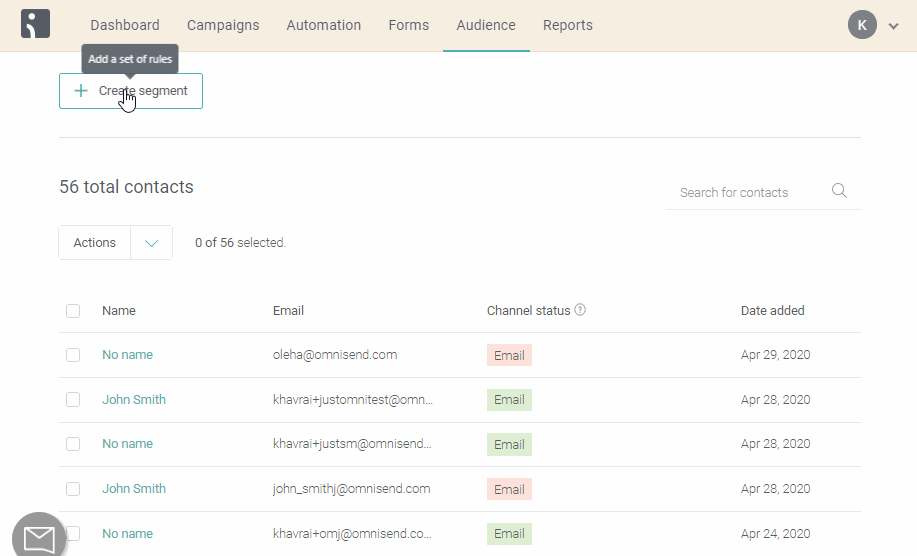 Examples of product review emails
Now that you know all about how you can create product review emails, let's take a look at a few examples of such emails. 
1. Ties.com
This email by Ties.com is perhaps one of the finest examples of a product review email. It's crisp and packed with graphical elements that make it pop. Additionally, it gives options for places where the customer can review to increase their chances of doing so.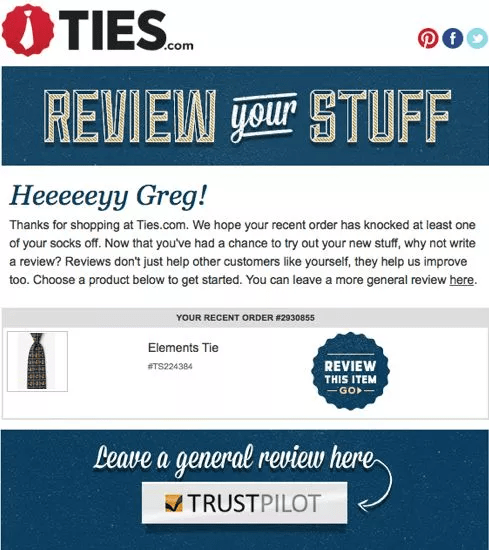 And guess what? 
Product review emails don't necessarily have to be just emails. You could incorporate SMS into the mix too, especially when you use Omnisend. Here's an example automation workflow you could use to get product reviews for your BigCommerce store.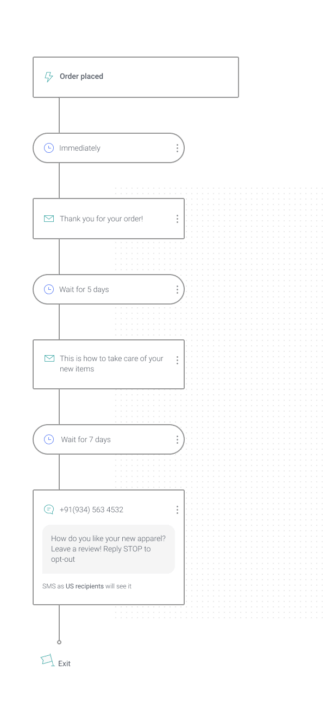 2. Dairy Queen
Here's a review request email example from Dairy Queen. It aces its feedback emails by making them colorful and packed with images of their products. They've even incorporated humor into the email to make it even more engaging.
The best part about this email is that they're pretty straightforward when it comes to the time that the customers will take to review the product. This could perhaps increase the response rate of the customers.
3. Grammarly
Grammarly, a grammar correction software solution, also sends fun emails to its customers to get their feedback on their product. 
The email is pretty straightforward and explains how they've perhaps been helping the customer with their writing. Additionally, the email provides two options for reviewing the product by enabling them to click on the stars or clicking on the CTA to leave a review. 
Start getting product reviews for your BigCommerce store
Product reviews play an important role in the buying decision process of customers and that's why it's crucial to ensure that you've got good reviews of your product online. 
And to encourage your customers to write reviews, it's essential that you nudge them for it. That's where product review emails for your BigCommerce store can come in handy. The emails you send them might convince them to write a review for your product on a platform of choice.
But for this strategy to work, you need a powerful email marketing solution that can help you send these emails in bulk, and more importantly, at the right time. 
That's where Omnisend can help. Get started for free here. 
Special thanks to our friends at
Omnisend
for their insights on this topic.