You've just switched email marketing platforms, and you've set up all your lists and segments and you're itching to send that first campaign to ALL of your subscribers.
But wait- have you warmed up your sender reputation?
Sender reputation warming is critical to maintaining great email deliverability. And neglecting this important step is a good way to damage your reputation.
But I'm going to show you exactly how you can warm up your sender reputation and get more ROI out of your email marketing efforts.
Let's jump in:
What is Sender Reputation Warming?
Sender reputation warming is when you basically warm up your server by sending batch emails in increasing increments over a span of time.
When you first switch email marketing platforms, the server from which you send your emails is new. A new server isn't allowed to send a large number of emails at once, and if it does, many of your emails may end up in a spam folder.
Email deliverability is tricky- and sender reputation warming is a great way to make sure your emails will get to where they need to go.
Keep in mind that ISPs are going to pay attention to the quality of your list so they can weed out spam, and it may take a little time for your deliverability to reach your previous rate with your new email marketing platform.
But if you warm up your sender reputation properly and make sure to clean your email list regularly, you'll be back in the game in no time.
How is it done?
Sender reputation warming is when you gradually increase the number of emails sent over a number of days or weeks. If receivers don't perceive an explicit opt-in, it might take a bit longer. This process will build up your sender reputation and your email deliverability will improve.
During the warm-up process, we recommend you send no more than 1 campaign per day, three times a week.
Warm up sending volumes and segmentation recommendations:
| | | |
| --- | --- | --- |
| Campaign | Volume/Campaign | Recommendations |
| Campaign 1 | 5,000 | Placed order once in the last 7 days |
| Campaign 2 | 7,000 | Placed order once in the last 14 days |
| Campaign 3 | 10,000 | Placed order once in the last 21 days |
| Campaign 4 | 13,000 | Placed order once in the last 30 days |
| Campaign 5 | 16,000 | Placed order once in the last 45 days |
And so on. We even offer the full plan for paid users.
When switching between automation platforms, you can retain the automation information you've collected on your customers from your previous email marketing platform, such as campaign engagement, opt-in date, order information, etc.
If, unfortunately, you can't, create segments in your previous marketing automation platform, download the data, and import it to Omnisend as a separate list.
If there is no data from your previous platform, import your contacts bit by bit, starting with your most recent opt-ins. You want those who are the most engaged with your campaigns to receive your warm-up campaigns.
Here are some steps to help:
Transfer data from your previous marketing automation platform to Omnisend
Segment your contacts and start sending to those who are most engaged
Send according to the above warm-up plan
During your warm up, do not send more than 1 campaign per day, three times a week
If you notice that you're not getting much engagement, don't continue to the next batch. Send your next campaign to the same amount of subscribers again.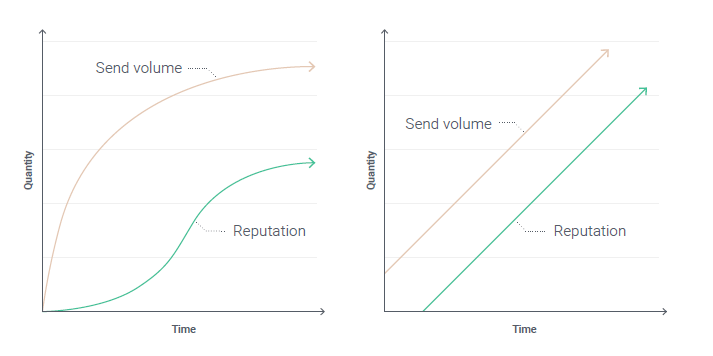 If there are a lot of spam complaints, unsubscribes, or bounces in your campaign reports, check your subscriber list again. Are you sure they're completely organic?
You have to follow good email practices otherwise your deliverability reputation can be permanently damaged and your account can be suspended. Shoot for a bounce rate under 3% and a 0.08% spam complaint rate.
Why you should warm-up your reputation
The best part of sender reputation warming is that you can monitor and optimize your entire email list. If you use the segmentation recommendations, you'll be able to find out who your most engaged segments are and adjust your campaigns around what they best respond to.
Building a great sender reputation is like building a foundation. You'll find that your email marketing efforts will go a lot further if you take the time to build up your reputation. Instead of wondering where you're going wrong and putting out fires, you can focus on fine-tuning your email campaigns so that they're the best they can possibly be.
During this sender reputation warming period, ISPs will evaluate how you send your campaigns, their content, and your subscriber engagement to see how well you maintain your list hygiene. They'll be looking for how willing you are to send relevant information to responsive users.
It's a perfect time to reassess your content and pick out which emails are generating the most or least engagement.
Quality always wins out over quantity. Subscribers who don't engage with your campaigns are the common cause of complaints, spam traps, and hard bounces. Too much of this means your email may find itself lower in an inbox, or an immediate banishment to the spam folder.
You want great ROI from your email campaigns, and including inactive subscribers affects that. So clean your list regularly and only send to those who are the most engaged.
This article was originally published by our friends at Omnisend.