As businesses across the world grapple with the COVID-19 crisis, there is a shared feeling of uncertainty for many retailers. How do I communicate with customers during this time, what should I say, and how can I help?
Here at Justuno we want to support our customers however we can, such as helping them to implement important messaging for their businesses and sharing necessary information to navigate this stressful time. There are a number of examples for how Justuno customers have put onsite messaging to work: notifying customers of order delays and store closures, current stock and shipping capabilities, charitable donation drives, and more.
After analyzing 1,000+ COVID-19 specific promotions built by Justuno customers, we put together a few findings below for inspiration on how to respond, and what your brand can do to connect with and help your customers.
"Yes, we're still shipping!"
For brands that still have inventory and are able to deliver, this operational message is critical and should be displayed to every visitor on their site. Depending on your brand's vertical and location, this may or may not be the norm, so make sure that this information is communicated efficiently to consumers, or they may assume otherwise.
Nosh Detox, is a UK-based natural food and juice delivery brand still delivering meal plans throughout the UK during the lockdown and wanted to offer a discount on meal plans. They created a center pop-up and banner letting customers know they were still able to fulfill orders, despite increased demand and lockdown measures where they operate.
By repurposing some designs they already had, Nosh Detox was able to get this onsite messaging up quickly and effectively communicate their status with shoppers.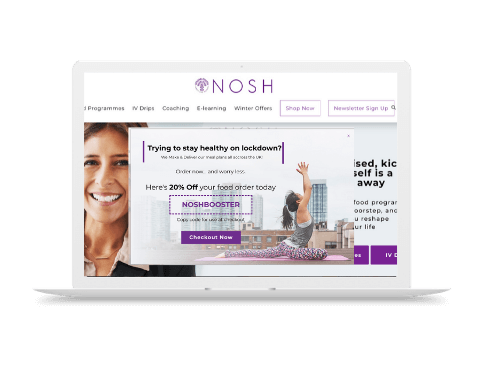 "We're experiencing shipping delays"
With cross-border restrictions and increased social distancing protocols, many retailers are experiencing shipping delays. Using a website banner to communicate this to customers lets them know their orders may arrive later than usual, but that you're still able to fulfill them.
You can take these banners a step further using geo-targeting to display specific details based on a visitor's region, giving them personalized information. This can either be in the banner itself, or as a CTA taking them to a dedicated page with continuously updated information.
Another great way to personalize shipping messages is to add a countdown timer to banners showing the average timeframe for orders being shipped out. This manages expectations of customers, rather than leaving them in the dark with questions that may cause them to abandon their cart.
The WOD Life is a home workout equipment retailer whose industry is currently experiencing a strong uptick in demand. They're using Justuno to let customers know that they're still shipping and working hard to fill orders, but to keep in mind the potential for delays. The WOD Life even goes further to address concerns about border closures and shipping, something that many online shoppers have considered. By addressing all potential questions regarding shipping with a big center promotion on their homepage, The WOD Life makes shopping an easy choice for consumers looking to stay healthy while staying home.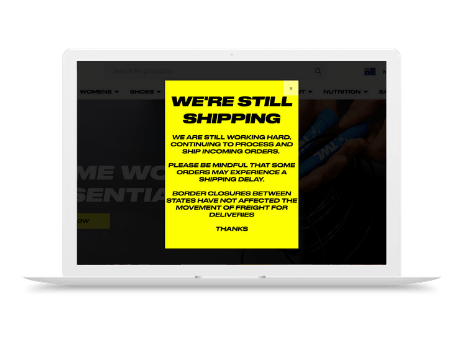 With certain items notoriously sold out these days, for brands that supply these products, it's important to manage expectations and immediately communicate any availability issues.
As businesses all overwork to keep inventory available and supply lines open, offering alternatives is a great way to continue to serve customers during this time. These can be substitution products, waitlists or back in stock notifications, gift cards, and more, depending on your industry.
"Our store is closed" or "Our hours have changed"
For brands with brick-and-mortar locations, communicating store closures or reduced hours is critical. With a patchwork of location or industry-specific regulations, there's certainly customer uncertainty about operations.
For restaurants, they're likely closed to dine-in service but may be able to offer takeout or delivery. Other stores like clothing or decor, have closed brick and mortar stores entirely, but online fulfillment is still going strong. Bigger stores that are deemed essential may still be able to operate, but have restricted hours for shoppers.
Use onsite messaging to display this information, so visitors can quickly find out what they need to know. Take these to the next level by combining with geo-targeting to display location-specific information, or have a CTA taking visitors to a dedicated page for these updates.
"Here's how we're contributing" and social responsibility
There has been an incredible outpouring of community and goodwill from brands eager to do their part. For some, that means shutting their business entirely to begin manufacturing only necessities. Others with distribution systems have forged unlikely partnerships to help get more supplies to consumers, like local delivery companies and dine-in restaurants.
Brands are matching customer contributions or using their platform to amplify important public announcements. No matter what their revenue bracket or industry it's clear that businesses, more than ever, want to do their part.
Justuno user, LA Linen, is a California based event linen manufacturer. With many special events on hold during this time, LA Linen knew that their facilities gave them an opportunity to give back. With that, they ceased all operations and dedicated their efforts to producing face masks. With a full-page takeover, they let visitors know this immediately, setting expectations that for the next month no new products would be sewn, and any orders will be on hold.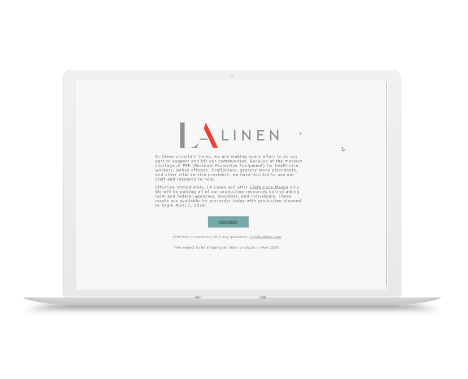 Take the time to make sure your marketing isn't tone-deaf right now. Review automated or pre-scheduled content and turn-off or rework any that may come across poorly. Birthday and anniversary emails are good examples of content to potentially pause. Double-check ad campaigns to make sure you're not running any on items that are out of stock or targeting areas where you can't fulfill orders. These pre-emptive reviews help avoid frustration and confusion for shoppers (and your fulfillment team).
The most important thing to remember right now is communication and transparency. Make sure that any pertinent information is shown immediately: i.e. don't let shoppers get all the way to checking out before they find out their items are sold out or their area can't be shipped to. Open and honest messaging is the best way to navigate the COVID-19 crisis while servicing your customers properly.
Finally, if you're a small business who for any reason (interrupted supply chain, local regulations, etc.) is unable to fulfill orders at this time, suggest to shoppers that they buy a gift card to redeem at a later date. Your customers can support your small business, and you're able to continue engaging with your audience while also supporting employees.
This is an uncertain time for everyone and many businesses are struggling in the current crisis. Here at Justuno, we want to help as many businesses as we can navigate this, which is why we created pre-built templates to help get these main types of messaging up on your website in just a few minutes. Log into your Justuno account for access.
This article originally appeared in the Justuno blog and has been published here with permission.