Video marketing is becoming more and more important to businesses. With 86% of marketers using video to connect with potential customers, it's obvious that your company should do what it can to keep up with this trend. 
Direct-to-consumer (D2C) businesses are especially able to profit from adopting video marketing. With the rise of apps such as TikTok, ordinary consumers engage daily with video content. The increasing ease of producing video marketing content also means that it is a great way of growing your D2C business, regardless of how large it is. 
So, how can you use video marketing to expand your D2C business and reach more potential customers? This article will explain what video marketing is and how it can help your company and provide some top tips for all D2C businesses looking to use video marketing to grow.
What is video marketing?
The last few years have seen radical changes in how businesses use technology. Whether it's the need to have a hybrid technology solution in your company or adapt to new customer expectations, it should be clear to all companies that the virtual world is a key part of business today.
Marketing is no exception. With customers increasingly shopping online, your D2C marketing strategies must be attuned to internet trends. While understanding things like new Instagram features is important, if you want your D2C company to grow, you need a good video marketing strategy.
Video marketing can include anything that uses a video to promote your business. This can be anything from a short informational clip to an expensively produced documentary about your business or industry. 
For D2C companies, video marketing is usually used to produce clips demonstrating how a product is used or introducing your brand to potential customers. Although video marketing may have been restricted to TV advertisements in the past, the ubiquity of social media means that even the smallest D2C companies can grow by using video marketing.
How does video marketing help D2C companies to grow? 
As a D2C company, you'll know the importance of your customer relationships. Good marketing is the best way for any D2C company to increase brand awareness, improve customer relations, and increase growth. Here are some of how video marketing can help you to achieve this: 
Customers prefer video content
The main aim of all marketing strategies has to be to suit your potential customers. This means that your content should take the form that customers prefer. Research shows that 73% of consumers prefer to learn about a new product through a video rather than other options, such as an article or infographic.
It shouldn't be a surprise that customers enjoy video marketing. Rather than forcing them to read through large paragraphs of text, videos allow you to get your message across simply and quickly. 
Video marketing also gives you more scope to incorporate humorous or interactive elements into your marketing strategy, allowing you to boost customer experience.
Videos improve search engine optimization (SEO)
Where your brand appears in search engine results can make or break a small D2C company. Therefore, all of your marketing strategies should focus on SEO. It is common knowledge that adding videos to a web page is a great way to improve your SEO.
Your videos can also be recognized by Google, meaning that you can appear on Google's 'video' results page. Therefore, you are likely to get more traffic through search engines—a crucial way for any D2C business to scale up.
Video marketing increases conversions 
Image sourced from wyzowl.com
Getting customers to take action is one of the main goals of any marketing campaign. Video marketing is a great way to improve click-throughs on your advertising: 86% of video marketers have said that videos have helped them to generate leads. 
The more engaging qualities of video marketing mean that your customers are more likely to click through to your sales pages when compared to text advertising. 
Videos can create a personal connection with customers
Now more than ever, customers want to do business with a brand they trust and recognize. This means that your marketing should reflect your brand's qualities and values.
Video marketing can be an easy way to achieve this. Placing your company's leaders before a camera can let customers build a more personal connection with your business. For a D2C company that is trying to grow, this builds loyalty with existing customers and ensures that your brand is memorable to potential customers.
What's the ROI of Video Marketing in Ecommece
Top tips for using video marketing in your D2C business
It should be clear that video marketing offers a great chance for you to scale your small business. However, a lot of businesses are unsure about how they can best achieve this. Fortunately, it is easier than ever to include video marketing in your strategy, especially considering the following tips.
Decide what you want to achieve 
One of the first things you should do when beginning a new marketing strategy is to create clear goals. This can be in the form of a certain number of new sales, social media followers, or just increasing brand awareness. 
These are important goals for any D2C business looking to grow, but focusing on certain aims will help you create a more streamlined video marketing strategy.
Use real customer experiences 
If you're unsure about where to start when brainstorming ideas for videos, consider using your existing customers. This can, for instance, be in the form of a testimonial video. These create social proof, allowing potential customers to see that your company is used and trusted by others. 
As well as this, you might want to use a web conferencing system to talk to a number of your customers and find out how they use your products. This feedback can then produce 'how-to' videos showing viewers how your products can be used in practice.
Utilize all of your social media channels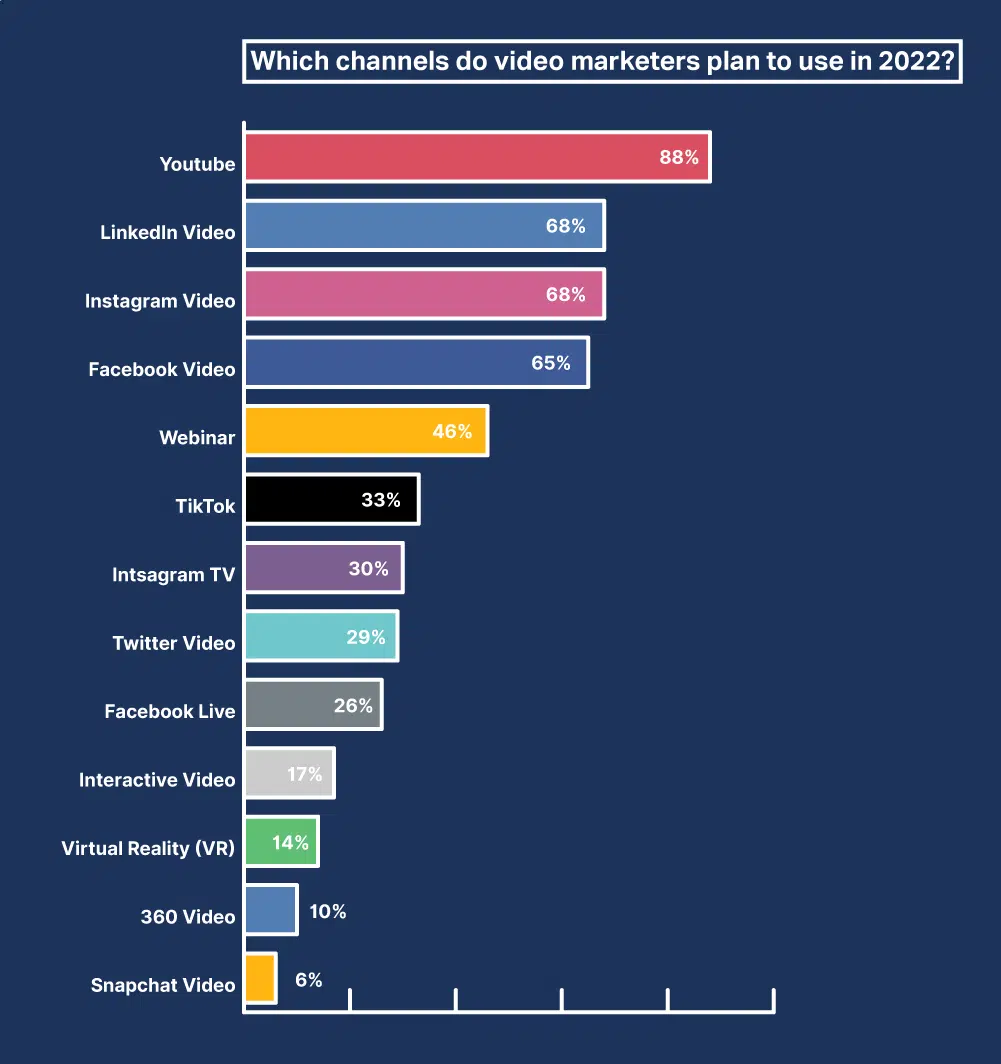 Image sourced from wyzowl.com
You might think that video marketing only suits social media platforms focused on video content, such as YouTube. However, people are familiar with consuming video content across their social media accounts.
Consider creating different edits of videos that are designed for specific platforms. Longer cuts may be suited for YouTube, for instance, while shorter and snappy edits can be used on your Instagram account or when advertising on TikTok.
If your D2C business is aimed at business users, you can even benefit from publishing your video content on LinkedIn. 
Think about what makes your brand unique 
One of the biggest advantages of video marketing is how you can build genuine connections with customers. Behind-the-scenes videos can be a great way to show what makes your company different from others.
For instance, a business providing an enterprise video conferencing solution might produce a video showing a development meeting and how their software is produced. This can give viewers a sense of your company's personality, and you'll stand out compared to other businesses. 
Keep it simple… but make your videos professional
Nobody expects you to produce Oscar-winning films. Remember that the main purpose of your videos is lead generation—this means that simple and short video content is suitable for most campaigns. Video under 20 seconds can often be the most impactful, especially if you're focusing on platforms such as TikTok.
To give your videos a more professional feel you may wish to hire actors to provide voice overs, as they are likely to have excellent communication skills and have experience using microphones to get a clean and clear sound. You might also consider investing in a ring light to make videos recorded using front-facing cameras on phones appear bright and well-lit.
Monitor and adapt your video marketing strategy
While you should publish your videos across all your social media channels, monitoring which sources give your company the most engagement is important. If you find that Instagram is the biggest traffic driver, think about how you can focus your campaign on that platform.
You should also reflect on the goals you set at the start of the video marketing process. Consider whether you've achieved them and how you could improve the output. 
It's also important to keep on top of changing internet trends—if a new social media platform becomes popular among your customers, consider how you can implement your videos onto it. 
All of this means that you can adapt your company's video marketing strategy to continue to scale up your D2C business, making sure that you continue to innovate and grow. 
Video marketing—the way forward for D2C businesses
As we've seen, the target audience for D2C companies—the customer—is increasingly likely to appreciate video content instead of other forms of marketing, such as written communication or infographics.
Video marketing also allows companies to have a unique opportunity to improve their SEO and lead conversion and build better and more personal relationships with their customers through video content.
Following the tips in this article, your D2C company can make the most of this new necessity for D2C businesses, helping you continue growing and scaling up.