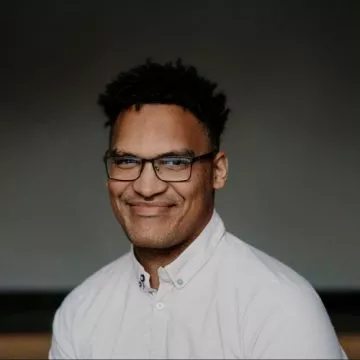 Bernard Meyer
Content Growth Marketer
Reading Time: 8 minutes
Most of us have heard the term influencer, but you might be asking yourself, "What is influencer marketing and how does it work?"
Influencer marketing is a type of social media marketing that uses product mentions, endorsements and testimonials from influencers (more about them in a moment).  Many ecommerce merchants work with influencers to increase awareness of their brand, products and services among their target audience.
If you think influencer marketing is only for the big dogs of ecommerce, guess again. We'll take you through the ropes, outline how to do influencer marketing, discuss its benefits, and show you some successful influencer marketing examples in ecommerce.  
What are Influencers?
A social media influencer has a dedicated online following and is considered an entertainer, relatable or an expert (or any combination of all three). Admirers seek to emulate them because they're viewed as trustworthy, and they respect their advice and opinions.
Some influencers slide into the game because of their celebrity status. For others, the influencer label was earned through organic growth—they were "average Joes" who became global superstars because of their social media activity. 
Influencers are welcome on virtually all social media channels. TikTok is today's popular platform, overtaking YouTube and Instagram influencer marketing.
An influencer was originally defined as someone with a huge social media following. They still exist, but social media's abundance has room for other influencer types, too. 
We categorize them by follower size:
Mega-influencers – over a million followers and fall into the "famous" category. They usually have a diverse follower base and are distant from  followers. They may not be considered experts in their chosen field, but they do provide a wide audience for brands who partner with them.
Macro-influencers – between 100,000 and one million followers. They are usually promoted to influencers by creating a lot of digital content. They tend to have a broad audience, with a bit more targeting than the mega-influencers.   
Micro-influencers – 1,000 to 100,000 followers. Generally, micro-influencers are considered industry or niche experts. As a result, they tend to have stronger relationships with their followers. They are ideal partners if your brand shares that niche interest and/or expertise.
Nano-influencers – less than 1,000 followers. A nano-influencer has influence within their community. Followers typically know them in real life in some capacity, as they are located within the same region. 
How to Create an Influencer Marketing Strategy
Influencers that align with your target audience, brand values and goals are great for building upon an established brand that people admire. If you sell barbeque products and your whole ethos is around eating meat, partnering with a staunch vegan blogger makes no sense and discredits your brand.
You may have your eyes on a certain influencer who is the perfect match for your product, and you're ready to reach out. Not so fast. That influencer might not be the right fit, and there's a host of other things to mull. 
Start by creating a strategy:
#1 Choose the platform that you want to focus on first. It's better to take it slow and get it right, than haphazardly scatter your resources amid different places. 
Your brand should already have a presence on the selected channel and the channel needs to contain an audience that aligns with your ideal customer. 

Alessandro Bogliari, CEO & Co-Founder of The Influencer Marketing Factory told Omnisend that it's crucial for ecommerce businesses to understand their audiences first: 
"Every social media has different core demographics: understand which social media would be better suited and where to find your potential customers. If you are using TikTok to promote your ecommerce, your ecommerce should reflect some of the "TikTok vibe" seen in the promotional influencer marketing videos." 
#2 Devise a budget. Determining your spending amount will either permit or bar access to your dream influencer, and impacts all that follows.  
#3 Formulate the purpose of your overall campaign and start to think about the messaging. What do you want influencers to highlight? What kind of content are you looking for them to create? How do they need to talk about your product? 
#4 Research influencers. Take into account the type of influencer you want to approach (macro-, micro-, etc.) based on your budget and campaign goals. It's also worth looking at the number of sponsorships that influencers are doing, as this can affect engagement if every other piece of content is a paid sponsorship.
Customers of Omnisend have the ability to identify potential influencers among their own customers. For example, the Gatsby app integrates with Omnisend to capture the social context of their customers, providing ideas for who might be a good collaborator.        
Whether using an influencer search tool or tapping into your own customer data, this groundwork helps you pinpoint some options. Once you've found a few, here are some questions to ask: 
Are they legit? Is there engagement with their own followers? 
Do they work with any competitors? 
Are they authentic?
Are they relevant to your audience? 
#5 Decide how you will manage the arrangement.  Any paid media campaign needs monitoring and subsequent adjustments to meet goals. Cultivating a fruitful relationship with influencers requires Hands-on involvement. 
Bogliari also reminds ecommerce businesses not to forget to include a CTA in their sponsored posts. "Have a strong CTA with incentive for the influencer's audience to go and buy," he tells Omnisend, "Use promo codes, and make the promotion time-sensitive."
Once you settle on options, pitch your proposal. Larger influencers are typically  represented by a management agency that handles the partnership. Contact smaller influencers by dropping a direct message to  their social media account.
How should you do influencer marketing once you have an agreement? We've found that providing clear outlines, briefs and deadlines will avoid confusion so you get the results you want. Share key product information and specific goals to ensure the influencer is in alignment with expectations and will produce authentic content.
Thereafter, both sides work together to deliver the campaign and make any tweaks necessary for achieving your sales goals.
The Benefits of Influencer Marketing
Working with the right influencers–of all sizes and in any niche– can result in some big wins. The benefits of influencer marketing include:
Build trust with a ready-made audience. For the most part, influencers have done the tricky part of the equation: cultivating relationships and building trust with an audience. People listen to their opinions, take notice of their content and act on their recommendations.
Get your brand out there. Influencers can greatly increase your brand awareness not only for those already familiar with you, but  new audiences as well. This is especially the case when working with an influencer who has a much larger, or even different, audience than that of your existing social media followers. This can lead to sales and other opportunities for your brand.
Content beyond the chosen channel. Influencers are experienced in creating professional content. You can repurpose and utilize it across other channels, such as your website and email marketing, to provide value to your customers
Best Influencer Marketing Examples
Get your creative juices flowing by reading some examples of successful influencer campaigns. While they all feature brands or influencers that dominate their markets, they contain lessons for any ecommerce brand.
McDonald's and Travis Scott
As one of the world's leading fast-food brands, McDonald's naturally pairs well with a mega-influencer. They teamed up with rapper Travis Scott to promote his favorite McDonald's meal, while Scott developed a line of McDonald's-inspired merchandise under his Cactus Jack label. The two brands also combined to support charitable organizations.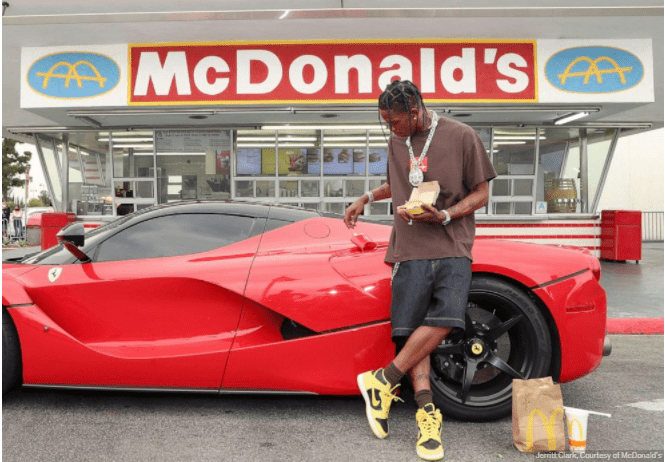 It worked due to the size of each brand, and the opportunity for positive PR for both. McDonald's capitalized on Scott's reach with a key target audience, and he managed to sell merch which quickly sold out.
Mattel and Micro-Influencers
Mega-brand Mattel chose to work with micro-influencers to promote the launch of an old brand steeped in retro nostalgia. To advertise Polly Pocket, it gifted the product to mommy bloggers like @peaceloveandmommy (16k followers at the time of the campaign)—women who were kids in the 1990s that would remember the popular toy and perhaps played with it, too. 
Such memories might incline them toward buying the toy for their own children.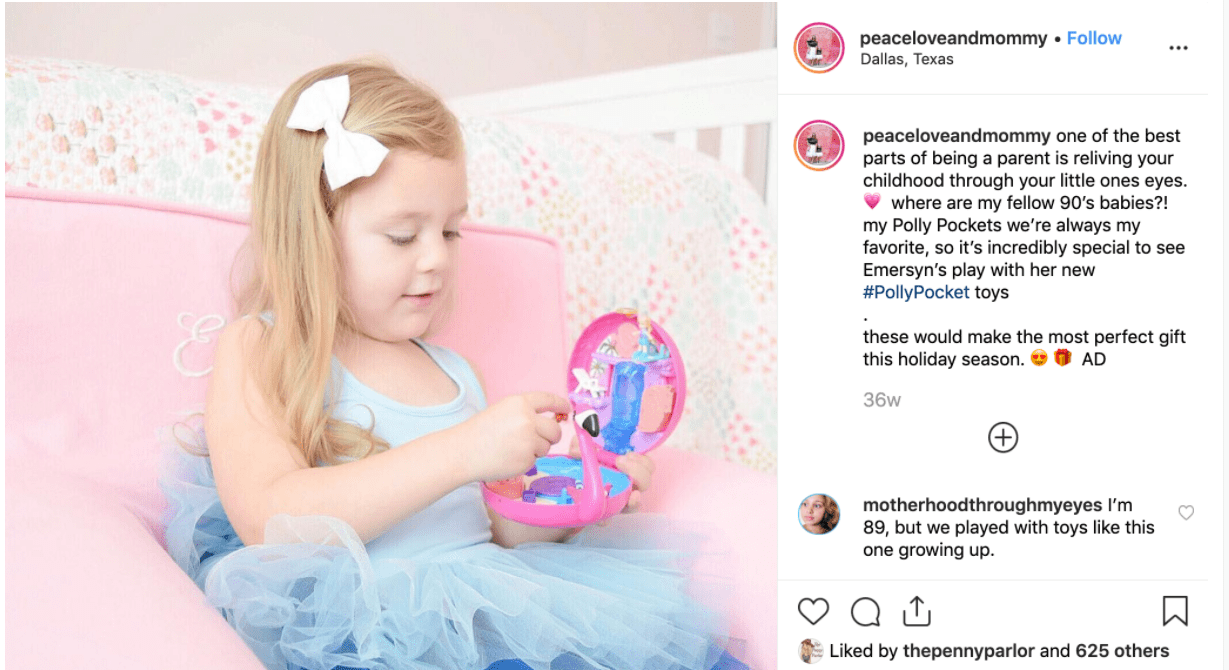 Even though Mattel is an established company, their approach is a great example for any ecommerce brand with a limited budget, particularly start-ups. Gifting  products to micro-influencers can expand your reach.
Fenty Beauty and Influencers
Singer Rihanna's beauty brand, Fenty Beauty, launched its online presence by using multiple macro influencers and digital channels to drive awareness, sales and growth. Due to Rihanna's strategy, she was able to garner organic marketing, with influencers discussing and reviewing her Fenty brand for free.
This wide variety of influencers aligned perfectly with the brand's key selling points of inclusivity, diversity, and fun, tongue-in-cheek personality. (Not to mention, the launch benefited from Rihanna's mega-influencer status, too.) 
Fenty Beauty still works with influencers to create and share content. The brand has accumulated over 10 million followers on Instagram alone, is stocked at a variety of offline and online retailers, and branched into skincare.
Most ecommerce brands don't have someone with such prestige as Rihanna at the helm. But Fenty Beauty's approach is a great example of how success comes from identifying and partnering with influencers that align with their brand and vision. 
Microsoft and National Geographic
Microsoft's "Make What's Next" campaign encourages young girls to pursue careers in science, technology, engineering, and mathematics.  On International Women's Day, the brand teamed  with National Geographic to feature female scientists and outdoor adventurers, their images captured by well-known wildlife photographers. The images generated more than 3.5 million likes in a day, as well as press coverage.
It's a great example of combining creativity and a good cause with influencer partnerships.
Subaru and a YouTube Influencer
Subaru's #MeetAnOwner campaign used influencer videos to showcase the new Impreza in various locations around the world to catch the attention of millennials. It culminated in YouTube Influencer Devin Graham (@devinsupertramp)—with 5 million subscribers—sharing content that showed his Subaru transporting him to a 500-foot cliff. 
From there, he and others jumped on a slip-and-slide that delivered them over the cliff.   
The advice? Tap into emotions for a more personal feel. 
How to Get the Most from Influencer Marketing
As mentioned, influencer marketing doesn't have to end on social media. Take the content created and use it across your other channels, like email, your website and print. These other outlets can sometimes be more effective than the original social media campaign in driving sales.
Leverage influencer marketing outside of social media with Omnisend to seamlessly automate your marketing processes and emails. You can send influencer content by email or SMS (text) to the right audience with segmentation. 
Try Omnisend for free for 14 days (no credit card required) to not only take advantage of the influencer marketing you create, but to strengthen your brand overall.
Special thanks to our friends at
Omnisend
for their insights on this topic.