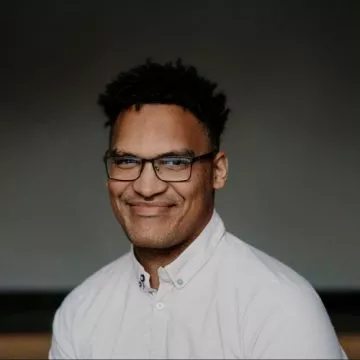 Bernard Meyer
Content Growth Marketer
Reading Time: 7 minutes
An integrated marketing campaign combines different channels to promote a brand, product or message to its target audience. An integrated campaign can contain digital and offline elements as well as paid, earned and owned media, but the key part is that they work together in an aligned way to reach marketing goals.
It's a way of structuring a marketing campaign so that it isn't just one touchpoint that you have with a prospective customer. By coordinating your message across different channels, you start to build brand awareness and product recognition with your target audience. 
Reminding consumers about your brand is important, even if they've purchased from you before or have never heard of you.
An integrated marketing campaign isn't the same as spamming, and shouldn't leave a customer feeling overwhelmed or wanting to mute your advertising.
Essentially, you have to understand what an integrated marketing campaign is, especially for ecommerce, in terms of what valuable message you can give your audience, just via multiple channels or platforms.
The main channels here would most likely be email, SMS and push notifications since they are some of the highest-converting. In fact, Omnisend's Ecommerce Statistics Report for 2020 showed that email has conversion rates up to 52%, push notifications conversions go to 28%, and SMS garners a 2.5% conversion rate.  
In order to be successful, you'll need to understand how to build these campaigns and what integrated marketing campaign management software will help you get there in an effective way. That's what we'll be looking at today.
Why Are Integrated Marketing Campaigns Effective?
Coordinating messages across channels can lead to key marketing outcomes such as increasing brand awareness, familiarity, favorability and purchase intent. This can be far higher than when taking a less integrated approach that fails to coordinate across different marketing tools available.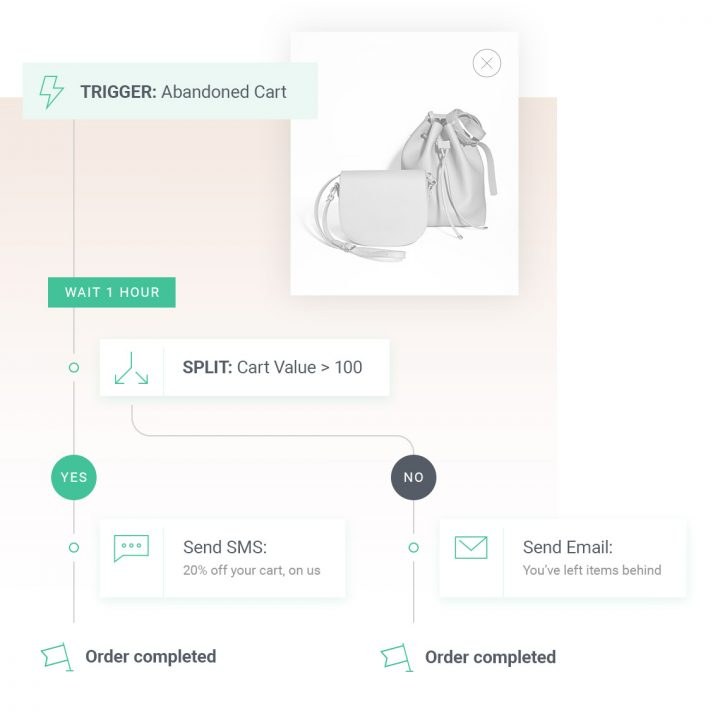 It's important that your integrated marketing campaign components work together effectively across different channels. Consistency in branding and messaging, and resonating with your target audience are key to an effective marketing campaign. 
Integrated campaigns can cut through the noise with consistent messaging and content to influence audiences as they go through the sales funnel to drive real business outcomes.
True omnichannel marketing can be even more effective, especially when you use a tool like Omnisend that enables you to manage all parts of the process via email, SMS, push notifications and more.
How to Build an Integrated Marketing Campaign
Building an integrated marketing campaign might seem challenging at first, but it's worth taking the time to plan and coordinate. Done properly, it can be really effective and work to drive conversions and sales. 
There can be a lot of different stakeholders and moving parts to think about, so here's our step-by-step overview of how to create effective integrated campaigns.
 1. Know your audience
This is one of the most important aspects of marketing—you need to know your audience's demographics, where you can target them, their interests, behaviors and motivations, what their problem is and how you can solve it for them. 
As a marketer, you have access to more data than ever before—so use it.
Understanding your audience will help you to develop your messaging, targeting and start to shape the campaign overall. 
For example, if you know you're targeting 18 year olds then you're probably going to have more luck with TikTok, brand partnerships, a targeted discount offer by email and digital ads rather than Facebook, newspaper coverage and a billboard.
2. Choose your channels wisely
As we've already said, knowing your audience will help you shape your campaigns. Think carefully about the channels you use for your campaign, and how effective they'll be to reach your audience. It can be tempting to try and do everything when it comes to an integrated campaign but this is probably going to be a waste of your budget and a poor return on investment. 
You don't need to be on every channel, just where your customers are going to be or where it is going to be most effective. 
It's also important to have an understanding of the channels you're utilizing as part of your campaign. It's crucial that you position your strategy so that you use an omnichannel, rather than multichannel, approach. The difference is clear—multichannel communication puts the company at the center, whereas the omnichannel approach centers itself on the customer and provides seamless experiences across each separate channel.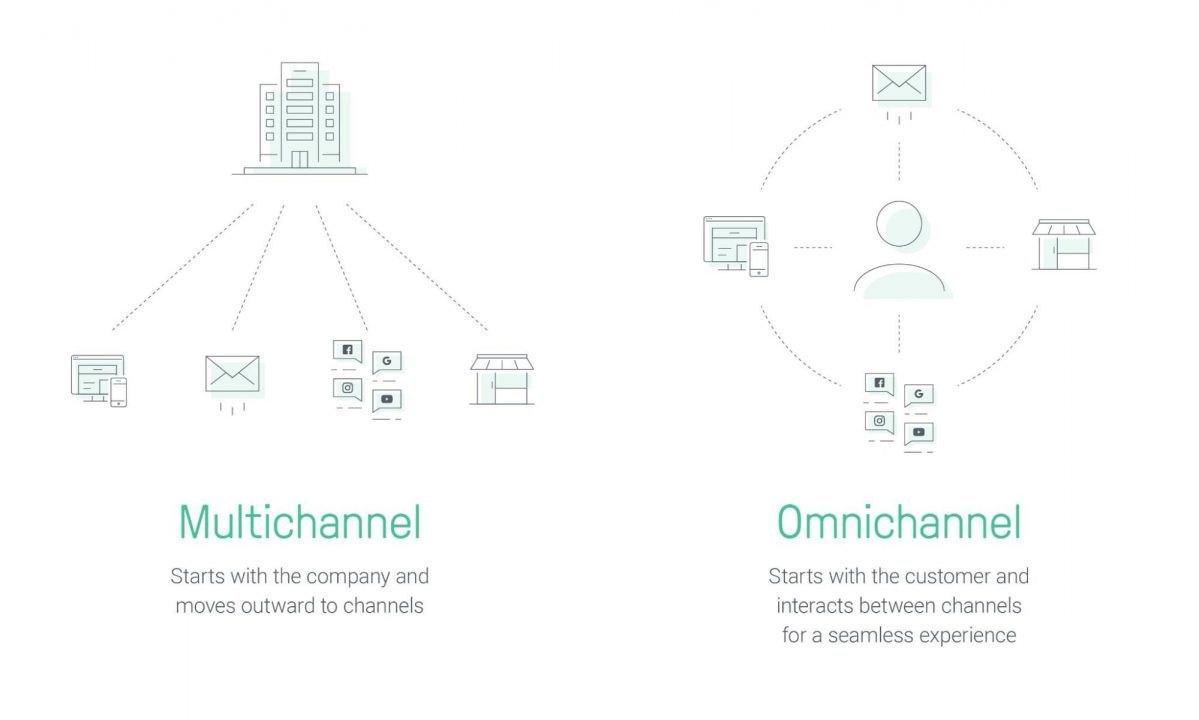 Understanding the levels of data you can get at the end of the campaign from each component will help you to measure success and establish if that channel works for your brand. Take a look at the 5 most important marketing channels for every ecommerce business.
3. Branding matters
Your integrated campaign needs to be recognizable and consistent across all channels. You want those potential customers who are seeing your marketing outputs on different channels to instantly know that they've seen this before, so that they start to take a closer look. An integrated campaign won't create that all-important brand awareness if everything looks the same.
Obviously content should be optimized for the channel it's on, but the visual identity needs to remain within the same design family and with the same branding. If you're using non-visual channels (such as radio or Spotify ads) then think about consistent slogans and messaging. The audience should be able to make that connection between the video ad they saw on social and the printed flyer that came in the mail.
It can take five or more impressions before someone recognizes your brand. It's easier to get those impressions from five different, complementary sources than getting a consumer to look at the same piece of material five times.
4. Cross-promote
A key part of the integrated campaign is cross-promoting that content. Got a great piece of influencer content on social? That can be used as part of your email marketing automation, along with that amazing blog post and the branding that was specially made for this campaign. 
An amazing testimonial can also be used across email and social, or can be built into a strong case study or press release (or the other way around). Don't try and force it but do utilize content from other channels where you can, and signpost between different content types.
5. Make sure your messaging connects
Your messaging needs to speak to the audience and compel them to act. 
Your messaging needs to be clear, concise and easy to follow. If you want the audience to do something (such as sign up to an email), make sure they know that's what they need to do.
 6. Keep in sync
There are likely to be a variety of different stakeholders within your integrated marketing campaign—they need to be kept informed throughout the process. Whether it's hitting deadlines, understanding goals or handling the design elements, there needs to be clarity throughout the entire process. 
You might need to get buy-in from some stakeholders too. Do this early and do this fast to ensure that everyone's on board and understands the campaign. You can share project updates through messaging, meetings or regular reports.
7. Measuring and reporting
Tracking campaigns is essential to measure success, return on investment and to analyze which aspects have been more successful than others. 
It's also important to report and analyze across the campaign holistically to test out what's worked and what to learn from next time.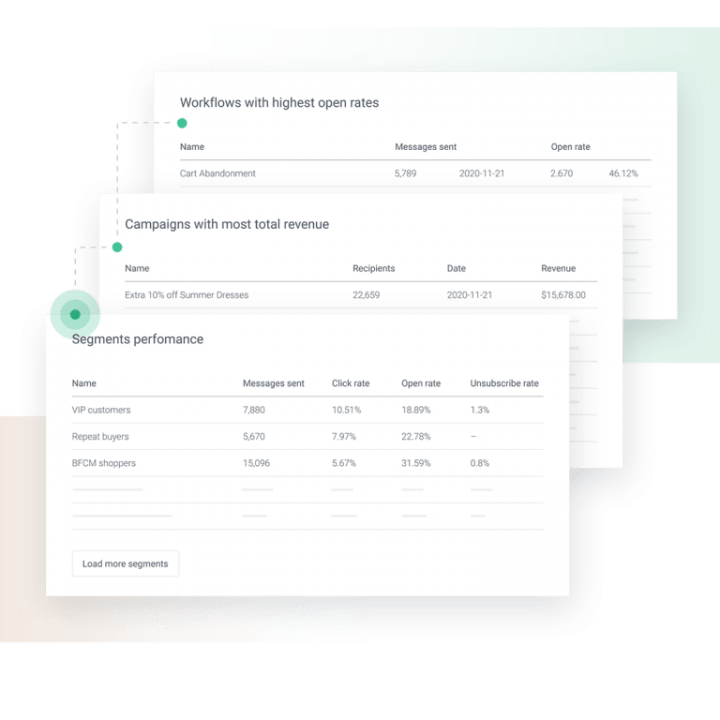 Integrated Marketing Campaign Examples
The best practices for integrated marketing campaigns is to ensure that your team, stakeholders and campaign elements are all working collaboratively. Your messaging needs to be clear and consistent across all channels and you need to know your audience. Measurement is also a must.
A good rule of thumb is to think about what your audience wants to hear, rather than what you want to tell them. This goes back to one of the first points we made about understanding your audience, as well as communicating consistently and effectively with them. 
Find out more about the best practices for ecommerce omnichannel campaigns. Now let's look at some of the best integrated marketing campaign examples.
Puma Fast Rider
In 2020 Puma relaunched their Fast Rider collection, first launched in the 80's. They targeted Millennials and Gen Z and decided to undertake an integrated campaign to reach both audiences. 
They utilized TikTok and Instagram along with a launch event website and influencer activity both offline and online. They hosted activities on a local and digital scale.
INGLOT Canada
INGLOT Canada utilized an omnichannel approach with Omnisend through a combination of email marketing, push notifications and SMS. They'd previously used email with good success but saw a significant uplift in their revenue through implementing additional channels.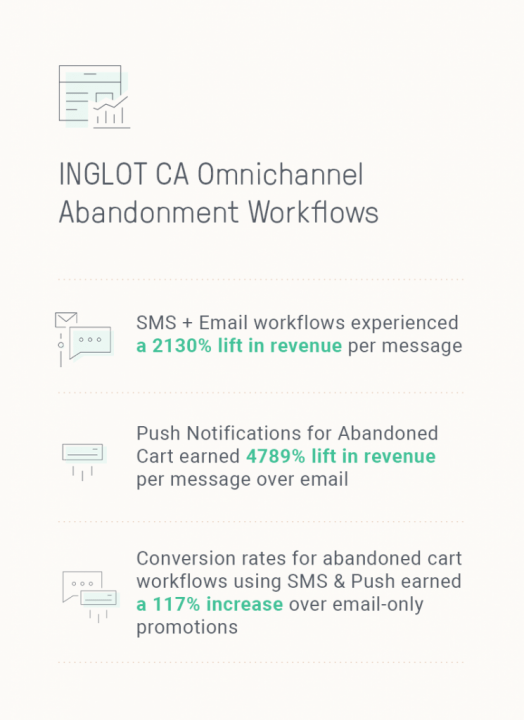 Find out more about INGLOT's success with omnichannel marketing.
Silver Street Jewellers
Silver Street Jewellers moved their brand from traditional retail stores to ecommerce at the start of the COVID-19 pandemic. They used an omnichannel approach that included SMS, email, Facebook advertising and offline activity, seeing a rapid increase in sales as they pivoted to an online offering. 
Automated email marketing has been the main way that they generated sales, as they'd been collecting email addresses and home addresses from their clients for a while, but had never utilized this effectively in their marketing activity.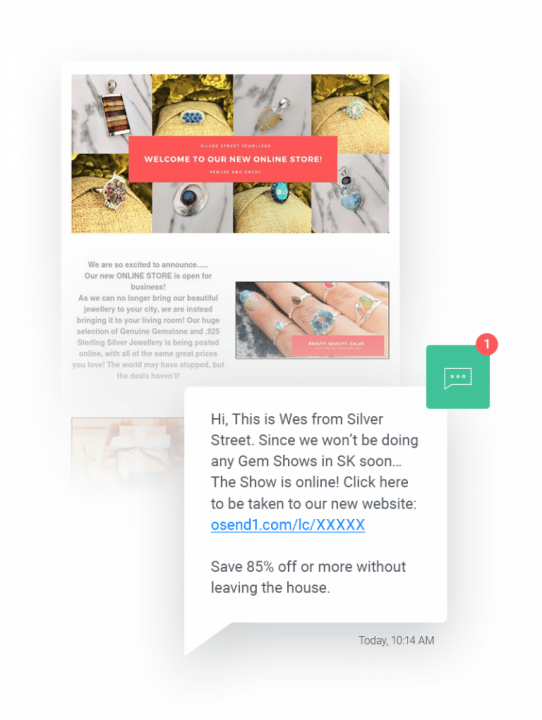 Read more about how they used Omnisend to achieve $100,000 in jewelry sales at the beginning of a pandemic.
Recommendations
There's no doubt that integrated marketing campaigns can be extremely effective and give real results, especially when compared with single-channel campaigns. The integrated marketing campaign examples showed how it's possible to do it with both larger and smaller budgets. 
In general, integrated marketing campaigns do take more planning, resource, budget and management than other types of campaigns but they can deliver real value and exponentially more return on investment in comparison to marketing campaigns that rely on one channel.
You can make life easier by using a tool that will help you plan, run, automate and measure omnichannel and integrated campaigns all in one go. Try Omnisend free for 14 days—no credit card needed—and see how omnichannel marketing can help your business thrive.
Special thanks to our friends at
Omnisend
for their insights on this topic.