Whitney Blankenship
Content Marketing Manager
Reading Time: 4 minutes
Over the last year, Omnisend has spent time building and developing our Partner Program, determining how we can help our partners and their clients drive more revenue.
Today, we're excited to announce the official launch of Omnisend's brand new Partner Program, designed specifically to provide maximum perks to partners while empowering merchants to grow via our best-in-class email and SMS marketing platform.
Our reinvigorated program also features a new and unique Partner Portal, making it easy for agencies, technology partners, affiliates, and freelancers to join and share the benefits of working together with Omnisend.
Jon Pruitt, VP of Partnerships at Omnisend, expresses his excitement on the new program launch:
"The goal of the program is to bring continuous value through education on best marketing practices and to help freelancers, agencies, and technology partners build sustainable businesses around one of the most powerful ecommerce marketing solutions available."
Advantages of Joining Omnisend's New Partner Program
Our new Partner Program makes it even easier for partners to share in the success of their clients. According to Pruitt, "Our viewpoint is that when we help our partners grow, everyone benefits. Ecommerce merchants get better services and marketing ROI, and partners elevate their trust and subject-matter expertise."
Benefits to partners joining the new program include:
Dedicated Partner Managers who are excited to help you grow as a partner.
A trusted marketing platform that offers 24/7/365 support for a partner's valued clients.
New and exciting revenue share opportunities, including bounties, percentages, and potential one-time bonuses.
Streamlined management of all your clients who are using Omnisend (without needing hundreds of different passwords).
Access to value-add services that promote growth and retention, industry knowledge and insights, and over 50,000 ecommerce merchants worldwide.
Earnings for every successfully created and transferred account.
And much more.
Because our Partner Program is built on mutual growth and benefit, ecommerce merchants will also see the benefits from the partnership.
Ecommerce merchants will also see the benefits of the new program. Merchants working with Omnisend partners will enjoy these benefits:
Trusted technology integrations that work seamlessly with other ecommerce solutions from shipping services to loyalty programs and reviews.
Access to trusted developers, copywriters, freelancers, website builders, and other third-party technologies.
New and easy ways to manage external partners to collaborate on marketing strategies.
Faster paths to success with the help of their professionals, who will be able to access their accounts and make needed changes to implement best practices.
"Omnisend is a great partner to StudioForty9. Since deciding to focus more on email marketing as a service, their support team, and Partner Program have consistently benefited both our agency and the clients we support." — Kevin McCarthy, Operations Manager, Studioforty9
Ready to get started with Omnisend's Partner Program? Apply today and let's grow together!
Introducing Omnisend's All-New Partner Program Portal
In tandem with the launch of the Partner Program, we're thrilled to announce an even easier way to grow with our new and unique Partner Portal. The new portal will allow freelancers, developers, and agency partners to easily create and develop accounts for their ecommerce merchants under a single user interface.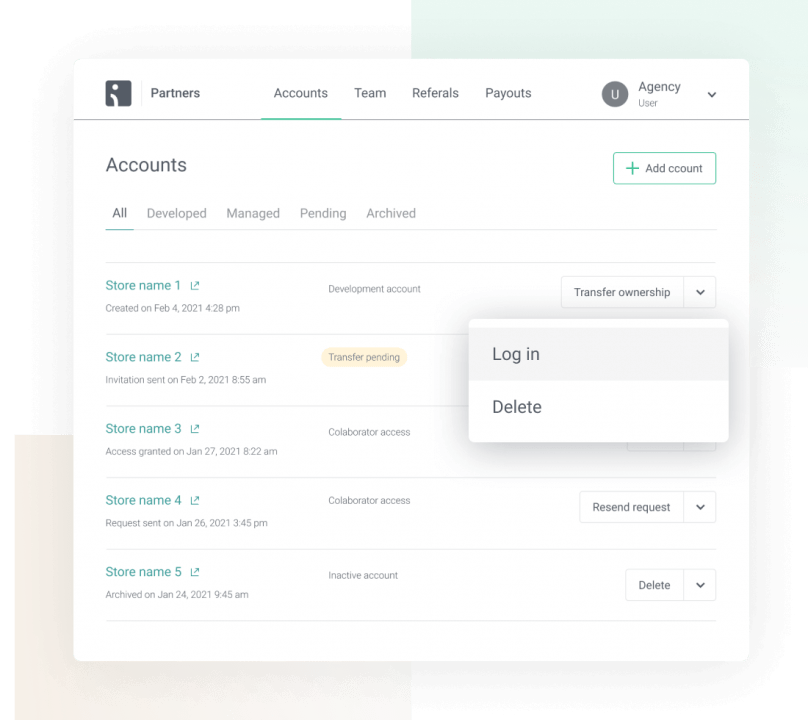 No longer will you have to create separate accounts for your clients or go elsewhere to launch sandbox stores for building and testing integrations. This unique platform will bring everything under one roof for ease-of-use and peace-of-mind.
Omnisend's unique Partner Portal offers:
Account creation for the various ecommerce merchants you work with.
The ability to launch sandbox stores for building and testing integrations.
Easy transfer of account ownership to the merchant.
Commission for successfully created and transferred merchant accounts.
"We are removing friction for our partners, allowing them to seamlessly spin up development environments on behalf of their merchants. This will make it easier to build automations, create templates, and much more. From there, partners can hand the keys over to merchants in just a few clicks—all while receiving their hard-earned revenue share from Omnisend and creating new lines of services that they can charge for along the way." — Jon Pruitt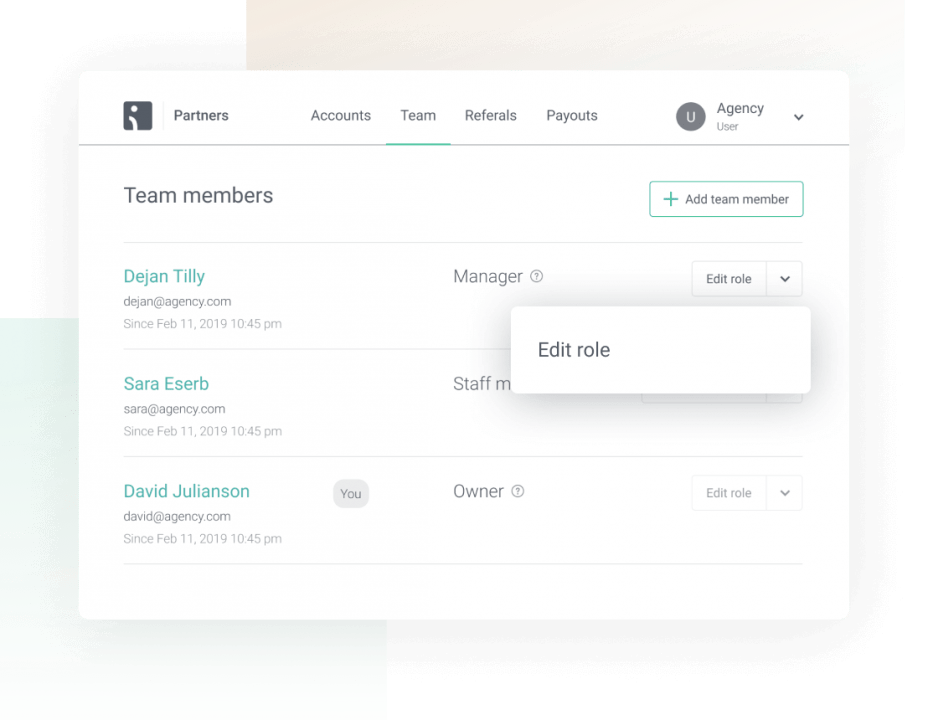 With this centralized management, partners will immediately increase their capacity to take on more clients, resulting in increased earnings for them and their clients.
Omnisend Co-Founder and CEO, Rytis Lauris, added:
"At Omnisend, we believe growth is strongest when we grow together. This Partner Portal, a new, easy way to collaborate together, will be integral to helping ecommerce merchants grow, and so, our partners too. We want to empower our partners to earn through commissions and to create a better way to work together—and our Partner Portal does just that."
What's Next for Omnisend's Partner Program and Partner Portal
According to Pruitt, this is merely the first release of many to come. "Our goal is to become a partner that is the easiest to work with in the marketing automation space, and this is a huge step in that direction."
The Omnisend Partner team has big plans to add even more useful and growth-focused features to the Partner Portal, including things like team management, specialized training resources, earnings tracking, and more.
Become an Omnisend Partner today!
For more information on how to apply for Omnisend's Partner Program, please visit our Partners page here.
Special thanks to our friends at
Omnisend
for their insights on this topic.