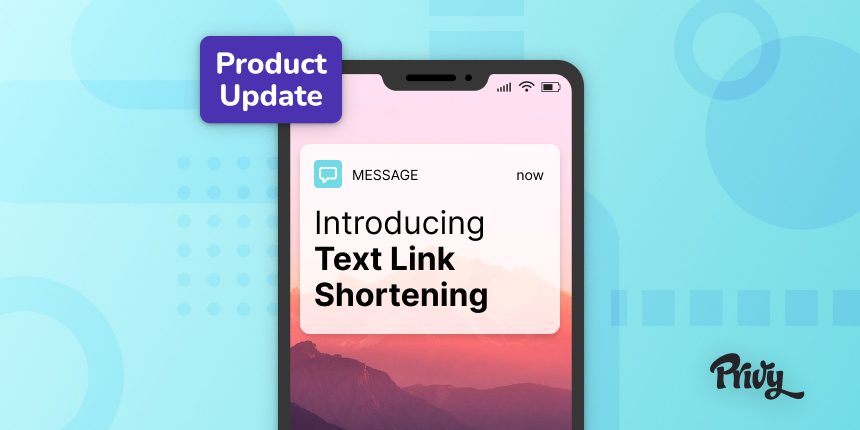 The great thing about SMS is that it gives you direct access to your high-intent contacts.
And text messages are meant to be focused and direct. 
So what you include in your texts should be optimized for engaging with your audience.
And URLs are often included in texts. 
Whether you're linking to a specific product, landing page, or a survey you want shoppers to take, the end goal is to encourage recipients to click the URL and take action.
But if you're not careful to include shortened links in your texts, the URLs you send may not be doing as much good as you want them to.
Privy's newly released URL shortening feature takes your lengthy URLs and automatically shortens them in the body of your text messages.
So you can stay focused on driving results with SMS marketing.
Get our best content on ecommerce marketing in your inbox 2 times a week
What exactly is link shortening?
Lengthy URLs with tons of characters are not only distracting in messages that are meant to be short and sweet, but they also can be confusing for recipients. 
Shoppers can be afraid to click links if they look suspicious, and, at the end of the day, URL length can either cause skepticism or inspire trust. 
URL shortening helps keep the focus on the message at hand and builds that sense of trust. 
By automatically shortening your links with Privy, you'll drive more traffic to your URL and enable things like click tracking and revenue attribution for your text messages.
Why you should shorten your SMS links
Shortening URLs isn't just about aesthetics (though clean-looking text messages certainly don't hurt). 
There are some key benefits to URL shortening that are tough to pass up when it comes to SMS marketing. 
Here's a closer look at what using shortened links can do for your business.
Measure revenue
There's a ton of hype around SMS marketing for ecommerce brands.
But how can you tell if this fast-growing sales channel is worth the hype?
Measuring revenue attribution is a great place to start.
Shortening URLs enables you to track how much revenue your texts are generating from your high-intent contacts.
So you can see firsthand the value that quick, one-off text messages can have when it comes to driving more sales for your business. 
One thing to note – if you're using Privy for SMS, it's absolutely critical to use the shorten URL feature if you want to track the revenue attributed to your text messages. 
Links that are simply included in the body of the text message will be viewed as plain text, not as a link to track. This means that any revenue generated by shoppers clicking that link won't be reported in your Privy dashboard.
Monitor engagement
SMS helps you meet your contacts where they're spending time, with a channel that's literally in the palm of their hands.
But it's one thing for a recipient to open a text message and another for them to engage with the message.
Shortened links take away the guesswork around which of your broadcast texts are driving the most engagement for your brand.
Like revenue tracking, shortened URLs also give you the ability to view how many contacts are clicking the links in your texts.
So you'll be able to see just how many contacts looked at the new product you shared with them. 
Or how many contacts are interested in that item you just restocked.
There are so many ways you can use broadcast texts to reach your contacts, and now you can track what's getting the most engagement, too.
Stay on brand
Part of being an online brand involves being consistent in how you look and feel to your audience. 
And, yes, that includes details like your URLs.
So rather than sending subscribers lengthy URLs that may or may not be recognizable to them, Privy automatically shortens your URLs to reflect your Shopify subdomain.
That means that your shortened link will include yourbrand.com and be instantly recognizable by recipients, making them much more likely to click.
Plus, shortened links reduce the character limits in your text messages.
Instead of giving up valuable space in your text to include a long link, you can focus more of your text content on the actual message that will encourage recipients to click.
Build credibility
Unfortunately, long links can come across as spammy and may look less legitimate in the eyes of recipients. 
With threats like phishing scams getting more and more advanced, it's totally normal that contacts may be cautious about clicking links that look suspicious.
But a shortened URL that's on brand signals that a text message is coming from a credible source and can be trusted.
If contacts signed up for your text messages, they consider you a credible source worth receiving content from.
But it's important that the content you send also meets their expectations.
And those expectations include the finer details like URLs that are recognizable and don't need to be second guessed.
Here's how it works
Adding a short link to your text messages really is as simple as clicking a button with Privy.
As you're creating your broadcast text, click the 'Add short link' button and a modal will appear.
Drop your original URL in the space provided and Privy will automatically shorten your link for you.
Click 'Add Shortened Link' and you'll see the variable appear in the body of your message. 
And that's all it takes to add a shortened link to your text. 
When you're ready to send your broadcast text, your text will look something like this when recipients open it.
And as recipients click your shortened link, you'll see your number of clicks and revenue grow directly within your Privy dashboard. 
But remember, you must use the shortened URL feature to enable this tracking for broadcast texts sent with Privy.
Turn SMS into your top revenue channel with Privy
URL shortening is included in Privy's broadcast texts and abandoned cart text messages. 
If you're already using Privy's Growth Plan, you can start sending texts with shortened links to your textable contact list today. 
And if you're wondering how to take your marketing to the next level in 2022, there's no better time than now to get started with SMS marketing for your brand.
Privy's Growth Plan has everything you need – from onsite conversion tools, email automations, and SMS – to supercharge your online sales in 2022. 
Plus, all Privy Growth Plan customers are eligible for a complimentary, 1:1 launch call to help you hit the ground running.
You can enable everything the Privy Growth Plan has to offer, and get access to your free onboarding, by signing up today.
Topics: News
Special thanks to our friends at
Privy
for their insights on this topic.