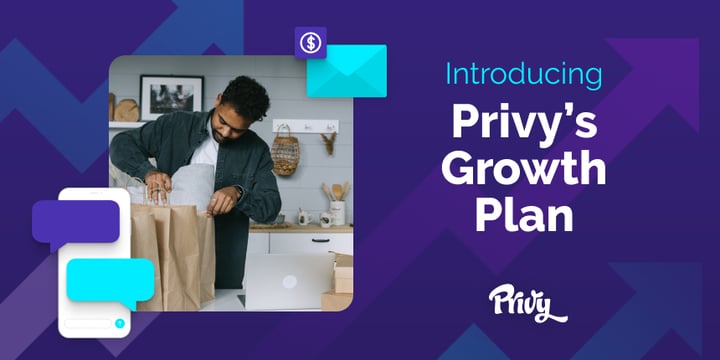 Starting a business online has never been easier.
But growing an ecommerce business is another story. 
The digital landscape is increasingly competitive, making it more difficult to get in front of new customers. 
And if we learned anything from October's Facebook outage, it's that reliance on channels like Facebook and Instagram can be risky if you're not putting effort into owned channels, too.
Channels like your website, your email list, and your SMS list.
So today, we're excited to introduce a new Privy offering that makes it easier than ever to grow your business across these channels:
Get our best content on ecommerce marketing in your inbox 2 times a week
The Privy Growth Plan
The Privy Growth Plan bundles Privy's three core products – Email, Conversion, and Text – in one monthly plan. 
So you can grow your list, send emails and text messages, and watch your revenue grow, all within one app.
No toggling back and forth. No managing contacts across apps. No trying to piece together how much revenue you're actually making. 
Just a powerful connection between Privy's email, conversion and SMS tools that lets you manage the entire customer experience all in one place.
Plus, all Privy Growth Plan customers are eligible for personalized, 1:1 onboarding support. From a real person.
Because Privy's mission isn't just about the software.
It's about providing the tools, education and support you need to grow your ecommerce business, fast.
So whether you're new to Privy's paid plans or you've used our email and conversion tools before, you won't be left to figure things out on your own.
Your all-in-one ecommerce marketing platform
With the new Privy Growth Plan, we're doubling down on our commitment to helping ecommerce brands grow. 
Just take a look at some of the new features we've added in the past year.
We added the Free Shipping Bar and cross-sell campaigns to help merchants increase their average order value. Along with more revenue reporting, to let merchants know exactly how much Privy is helping them earn.
We launched welcome emails to help you WOW your new subscribers and plant the seeds for their first purchase with your store. 
We've seen merchants earn millions of dollars in revenue through automated customer winback emails that drive repeat purchases. 
We even revamped our email editor to help merchants create well-edited, on-brand emails with a few simple clicks. 
And as a Growth Plan customer, you'll have unlimited access to all of these tools and more. 
Get started with SMS in time for BFCM
We've also spent time investing in our SMS capabilities with the launch of broadcast texts that let merchants get in front of their high-intent contacts, instantly. 
Because we know just how powerful SMS can be for growing ecommerce brands.
SMS is another owned channel, like your website and email list, that gives you control. 
Once you build your SMS audience, you can own it forever. You're free to reach out directly to that audience and personalize the experience however you like.  
And efforts with SMS marketing pay off. 96% of marketers using SMS say it helps them drive more revenue. 
And get this – using email and SMS together in your marketing campaigns can increase your engagement and purchase rates by up to 250%. Wild. 
So we're pumped to include Privy Text tools in the Growth Plan offering. 
With the help of our onboarding specialists, you'll be able to get started with SMS just in time for BFCM.
Better yet, we recently released our Ecommerce Marketing Recipes ebook which includes step-by-step walkthroughs of the key SMS plays you need to know for your most successful holiday season. 
Like how to build your SMS list from the ground up…
How to boost your abandoned cart recovery strategy with texts…
And how to use broadcast texts to build hype around your BFCM offer…
With the right coaching and educational resources, we're confident you'll have a killer BFCM with the Privy Growth Plan.
Sign up for the Privy Growth Plan today
The Privy Growth Plan starts at $45/month for up to 3,000 mailable contacts and 500 text contacts. You can learn more about Growth Plan pricing here. 
You'll have unlimited access to Privy's conversion tools like popups, flyouts and spin-to-win campaigns. Plus, unlimited email sends across all email types – newsletters, customer winbacks, purchase follow ups, and more. 
You'll also unlock access to all of Privy's SMS capabilities. From automated welcome text messages and abandoned cart reminders to one-off broadcast text messages to boost your offers and promotions. Compliance measures are built right in so you don't have to worry about spamming your contacts. 
You can enable everything the Privy Growth Plan has to offer, and get access to your free onboarding, by signing up today. 
Topics: News
Special thanks to our friends at
Privy
for their insights on this topic.