We've got some exciting news that's gonna make you and help you stay in close touch with your customers as they receive their orders. Introducing Wonderment Delivery Experiences! 
What's It All About?
Ever wonder how your customers feel when they get their package from you? The data is now within your reach. With Delivery Experiences, you can ask your customers for feedback right after they receive their orders. Knowing what they think will help you make their next shopping experience even better.
How to Get Started
Setting this up is a piece of cake! 🍰 If you're using Klaviyo, you can create Delivery Experience Surveys in no time. (See the full docs here)
Visit Wonderment: Go to Wonderment Experiences in the left-hand menu.
Copy-Paste Time: You'll see some HTML code on your screen. Just copy that code.
Into Klaviyo: Paste the HTML into a Text Block's Code Editor in Klaviyo.
And don't worry, you can edit the images and text labels if you want. Just make sure not to mess with the URL that's linked. That's how we know what your customers clicked on. Not using Klaviyo? You can still create a survey, but you'll need to change out the variables in the email code to match your platform's format. 
What Happens Next?
You'll start getting responses! You'll see them in the Experiences tab as they come in.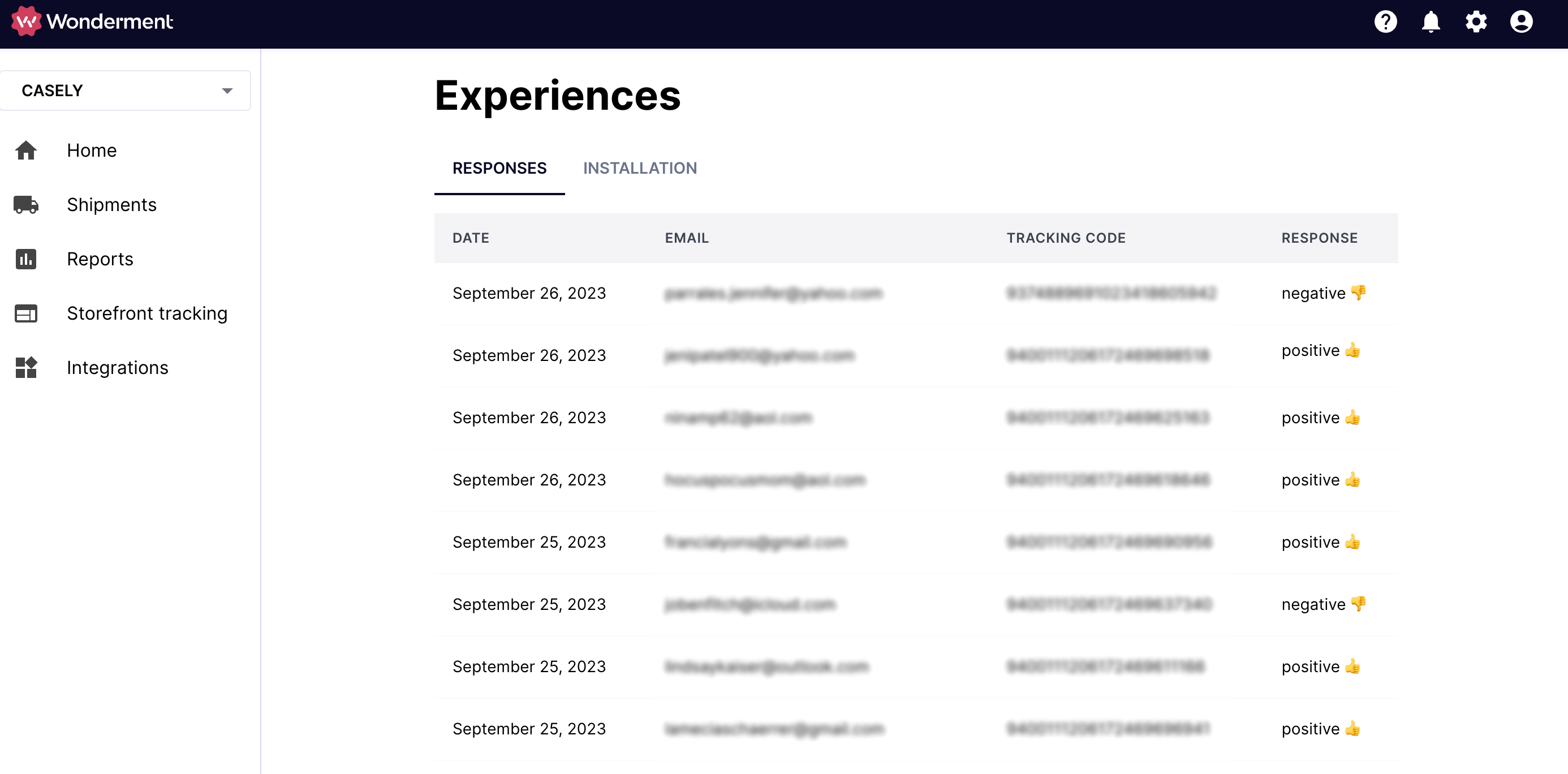 If you also have our new Klaviyo Integration set up, you'll also see new events there named "Wonderment – Survey – Delivery Feedback Response". This will tell you if a customer had a thumbs-up or thumbs-down experience. With this info, you can reach back to them and make things right or say thanks. 
For example, if someone didn't like their delivery, you could send them a follow-up email to find out why and make it better next time. Learn more about setting up follow-up sequences. 
Keep Track of Feedback
Want to see all the feedback in one place? No problem. Head to the Experiences page in Wonderment and click on the Responses tab.
So, what are you waiting for? Make your customers' delivery experiences something to talk about! Set up your Wonderment Delivery Experiences today and start collecting those valuable insights. 🌟
Soon, we'll give you more tools to review and filter this data, or incorporate it into other parts of your marketing. Have ideas? Let Wonderment Support know. 
This originally appeared on
Wonderment
and is available here for wider discovery.