To run a successful business these days, you don't need a brick-and-mortar store in a physical location. Many small businesses have set up online stores on platforms like Wix, Shopify, Instagram, Facebook, and others, to facilitate the sale of products and services to customers. Today, e-commerce is growing at an incredible pace, evolving in different directions and providing businesses with avenues to grow in various ways.
Among all these different versions of marketplaces, one thing remains the ultimate reality: putting customers' requirements before anything else. To prioritize the customer's needs, a business should evolve to make shopping easier for them. One way to accomplish this is to go from selling products on a website to turning them into a mobile app.
Why do you need a Mobile App for your Shopify Store?
Shopify is the most commonly-used website building tool for e-commerce websites. Since so many businesses rely on the service for their online presence, it only makes sense for its users to use its features to convert their businesses into a more portable and easy-to-use format. Mobile apps are comfortable to use and have interfaces designed to keep customers at the center of it. Converting an online store into a mobile app can draw in higher conversions.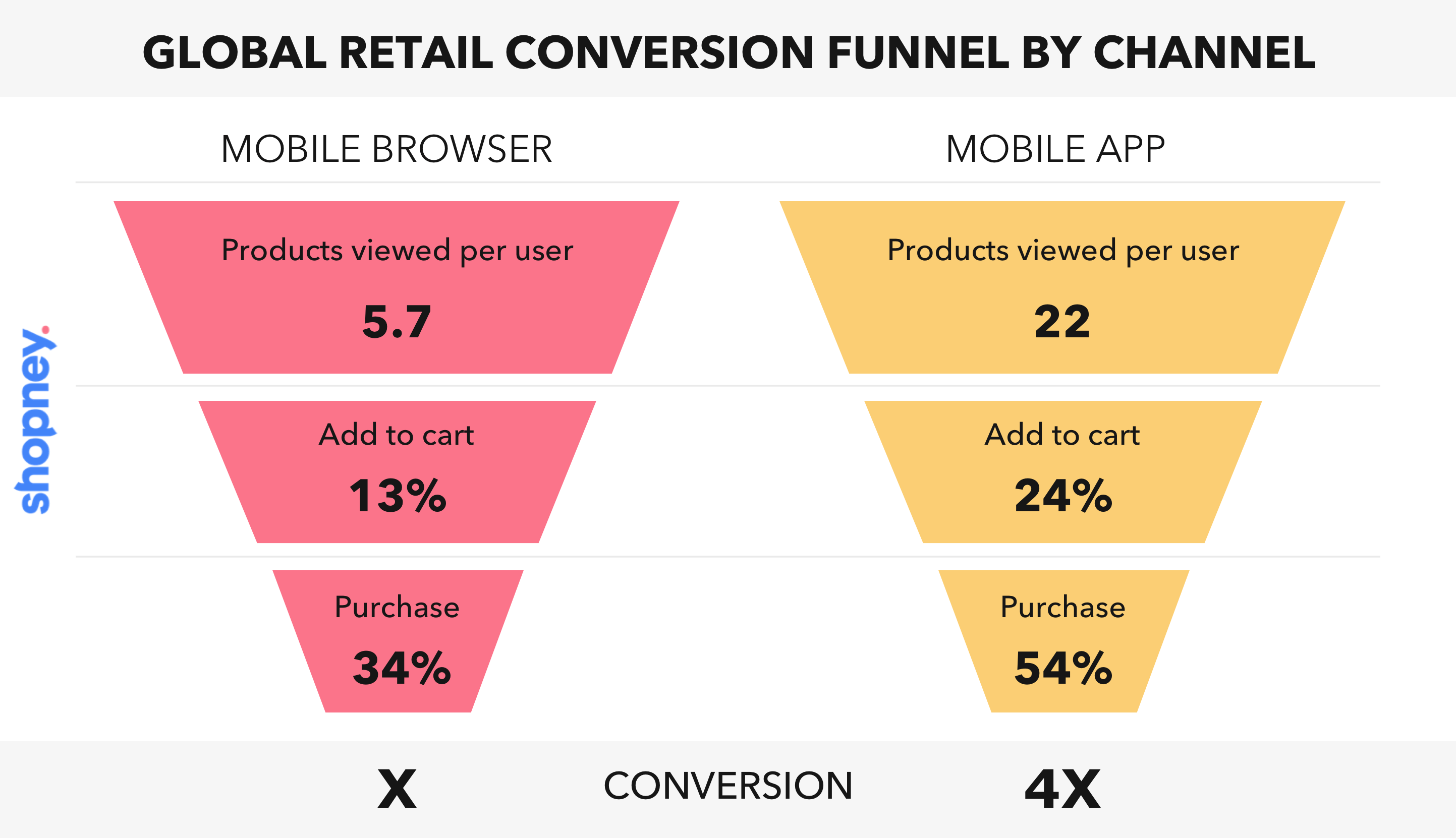 Numerous customers find shopping on a mobile app easier than on a website. There are many reasons for this, among which are:
Ease of conducting transactions as all your details are saved after you enter your information.

Smoother and more intuitive interface that allows for a better flow of shopping.

Smart recommendations and personalization due to a deeper understanding of customers' needs.

It takes up less space and even less mobile data to use, working faster than a webpage.

More responsive to your mobile device compared to a mobile website.

Easily notifies the user with less intrusive notifications such as email or SMS.
Due to all these reasons, using a mobile app for shopping just makes more sense than using a mobile website. This is why it is wise for a business to invest in a mobile app for its retail store.
5 Ways to turn your Shopify Store into a Mobile App
You may think creating a mobile app for your Shopify store is complicated. However, all you need to do is visit the Shopify app store and look at the variety of templates, tools, add-ons, and services available to implement on your retail app. There are two main ways to do this: 
One, convert your existing Shopify store into a mobile app by getting in touch with app builders and using the variety of features available. Two, develop an app for your Shopify store from scratch by hiring developers for both front-end and back-end design. The first option is more financially viable while giving you limited creative freedom for your online store app. On the other hand, the second option is pricey but can help you design the app the way you want from scratch.
Here are the steps you have to take to turn your Shopify store into a mobile app:
Find a Shopify app to convert your web store into a mobile app
It is getting easier and easier to get whatever you need on the internet. Whether you are a stress-ridden student who implores, "I want someone to write my dissertation for me." or a forward-thinking entrepreneur who thinks, "I want someone to design an app for my store.", the internet has it all.  You should simply research, and the needed aid will turn up.
Many options are available on the Shopify app store for those looking to convert their web store into a mobile app. As there are so many good choices, it can be challenging to narrow down the best options and choose the best among them. Take your time to go through the features and functionalities offered by each app template and arrive at a conclusion after considering a few diverse options. Many Shopify Certified Partners offer free trials for your app that you can try before you choose one.
Before finalizing a template, we urge you to go through the next section of this article which dives into the different factors you should consider before turning your Shopify store into a mobile app.
Install the app and create an account
Once you decide on a template for your mobile app, it is time to install it, connect it with your credentials, and create an account. The mobile app will take a couple of hours to sync up with the existing data on your Shopify store, after which you can modify it to make it as convenient as possible.
After letting the mobile app integrate with your website, you will see information such as pricing and inventory get updated in real-time that you can now access from the application.
Design the mobile app using custom features
The mobile app's initial syncing retains the website's original layout and design structure as much as possible. However, reviewing the whole app manually and examining all the features is always a good idea. Take a close look at small details such as buttons, fonts, effects, and more to ensure maximum efficiency and integration.
Your app's design must match your website and store's "personality". A good Shopify app builder will provide various customized alterations to design your brand-new mobile app. The intelligent interface is user-oriented and makes life easier for shoppers as it is built keeping in mind their requirements.
Your Shopify app developer will also free you to change your homepage to customize your app on special occasions such as festivals and holidays.
Publish the prepared app on iOS & Android app stores
To be able to publish your final app to stores across iOS and Android devices, you must first register on Google Play Store and Apple App Store and create a developer account. The steps may vary for each operating system, but in the end, you can publish your apps on both stores from where customers can install and use them.
Creating and using an Apple Developer account costs users $99 per year. On the other hand, creating and using a Google Developer account costs a one-time fee of $25. If you have the funds, opt to publish your app onto both marketplaces, as customers with iOS devices are just as valuable and plentiful as those with Android devices.
Market your mobile app
Lastly, promoting your brand-new mobile app to inform and influence people leads to more installs. This is because customers cannot know that their favorite retailer has now launched an app until you tell them. Promoting your mobile app isn't a one-time activity either. Use your online store's website, Instagram page, Facebook page, mail campaigns, and all the other different platforms you have to market your mobile app.
Make sure you are using promotional efforts to market both your iOS app and the Android app, as it shows customers that you have thought of everyone's needs. If your app has been launched in different languages, mention that too. Additionally, you might have a separate app for each region if you have an international business. Keep this in mind and specify the instructions for installation for each customer, irrespective of their location or type of device.
Factors to keep in mind before turning your Shopify Store into a Mobile App
Some of the crucial factors for you to keep in mind while turning your Shopify store into a mobile app are:
Effective customer service

Wide variety of features

Ease of installation and use

Seamless integration

Versatile theme options

Multi-language support

Customer reviews
These factors ensure you choose the right app that ticks all the essential boxes. Make sure not to compromise on any of these factors, and you are guaranteed to have a well-functioning app developed for your online store.
How much does a Shopify Mobile App Builder cost?
Each Shopify mobile app developing service or builder has its range. This varies depending on the services they offer and their technological capabilities. The starting price for a Shopify mobile app developer is $49/month which can go up to $99/month if you want to include basic functionalities.
A fuller range of features and integrations may cost around $200-$1000/month, ranging widely based on the functionalities and customizations. However, even this amount is less than the steep cost of building a shopping app from scratch on Shopify, which starts at $4000/month.
Determine your basic needs and decide what amount you want to invest in your online store's mobile app.
Is a Mobile App for your Shopify Store worth it?
With the thousands of app developers, templates, and designs at your disposal, it might be extremely confusing to pick one that fulfills all your needs. All you need to do is outline your requirements and cross-check them with the options available in the Shopify app store.
If your business is moving, you're guaranteed to experience more success upon creating a mobile app. If your business is going downward, it might be time to diversify in a different direction and see where it takes you. Either way, it is worth it to invest in a shopping app for your Shopify store.