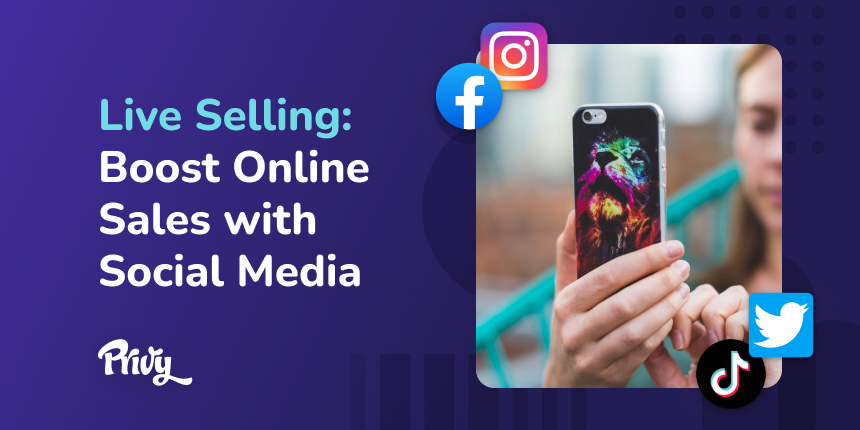 Jen Greenlees, the owner of Sydney So Sweet, was a high school chemistry teacher when she started her company as a side hustle.
About two years ago, she started live selling on Facebook and found that it doubled her revenue, increased trust in her brand, and completely changed her business. Her company expanded quickly, and she took it on full time.
She now goes live 3 times a week: Mondays and Fridays are for new product sales, and Wednesdays are for themed clearance sales. Typically, each sale gets around 2,000 visitors, and gross sales for Wednesdays can total around $10,000.
With the right playbook, live selling can give your business a major boost. Here's how it works.
Get our best content on ecommerce marketing in your inbox 2 times a week
What is live selling?
Live selling is a practice where online retailers showcase their products via a live stream on social media or streaming platforms, such as Facebook, Instagram, TikTok, YouTube, or Twitch.
During the real-time stream, retailers can highlight features of the product, interact with customers by answering their questions, and sell products on the spot.
Imagine an experience similar to HSN or QVC, but for small businesses on social media.
Many store owners found that live selling took off during the pandemic, such as Jeff Moriarty from Moriarty's Gem Art.
"In 2020, our family's small jewelry business started doing live streams through Facebook and YouTube to our local and online customers due to fewer people wanting to shop in person. It was a big issue during the pandemic that continues," Moriarty said.
How live selling benefits store owners
Store owners can see several benefits from live selling, besides the increase in sales. Greenlees said that her company didn't anticipate that their customers would be able to get to know them on such a personal level.
"Ecommerce can be very impersonal, and live selling has helped us put faces behind our brand. The increase in trust for our brand now cannot even be measured," she said.
Philip Pasma, president of Asterisk Marketing, Inc., says that live selling has a unique ability to connect brands to the right audience, where even small brands can earn huge numbers of views.
"In recent research, we found out that almost 80% of the audiences prefer live videos over an online blog. Indeed, live shopping always leads to an excellent return on investment," Pasma said.
Live selling can also help cut back on the pesky (and expensive) problem of returned merchandise.
"Ever since I started live selling, there has been a significant decrease in returned items. That's because live streams allow buyers to have a better idea of what to expect from a product – as a result, improving the overall customer experience," said Aviad Faruz, chief executive officer at Faruzo.
Best practices for successful live selling
Live selling can offer you many benefits, but you need to follow some recommended best practices to maximize your results. And jumping in without planning won't get you there. You need to approach it methodically, said Jessica Kats, an ecommerce and retail expert at Soxy.
"It may seem like a piece of cake, but it takes effort to make it work," Kats said. "Selling through a live stream isn't the same as selling in-person or through other avenues. Hence, you must do your due diligence before starting with it."
Find which social media platform works best for your audience
Using the right live selling platform for your business and your audience is key to success. If you're targeting a certain demographic, then you need to meet them where they tend to go.
For example, Greenlees sells her products to parents of young children, who are likely to be on Facebook Live or Instagram. If you're marketing to younger generations, then you might have better luck video streaming on platforms like TikTok or Twitch. Amazon also offers live shopping capabilities on its Amazon Live platform. And some stores create a VIP Facebook group where they can target their audience even more.
You might find success using multiple platforms, too. Moriarty said when they began live streaming in 2020 via Facebook and YouTube, they ended up discovering that they could successfully advertise their live shows on Facebook, Instagram, and Reddit.
"Now we are getting about 1,500+ watching our show each month," Moriarty said. "Not only has it helped to stay connected with our customers via social media and YouTube, it has generated a ton of sales – $30,000 from our last month's show – for our business."
Get organized and practice before you stream
Once you've chosen your platform, you should still make sure you're totally prepped before going live. Practice your sales pitch ahead of time, so you don't get flustered during the live stream.
Also, make sure you have the merchandise that you want to showcase organized ahead of time, so you aren't fumbling on camera trying to look for it. Test out purchase links and ensure they work properly. If you need a way to keep purchasing organized, consider using a selling tool while you're streaming like CommentSold, which will track purchases, send out invoices, offers checkout, a mobile app, and more.
Finally, test your internet connection, so you know it's reliable, set up your camera, turn off mobile device notifications, and remove any other distractions. Record yourself and play it back to rehearse so that you can check the quality of your sound and lighting.
It doesn't have to be completely perfect, either, said Nicolas Bailliache, co-founder of eStreamly. Glitches will happen during live sales events, but roll with it.
"People want to see genuine content, and your show can be polished but does not need perfection," Bailliache said. "Control is an illusion. Seize the moment, have fun, and the audience will follow."
Once you have your confidence built up, you should feel ready to tackle the first event.
Keep the stream fast paced and fun
There's a lot to keep in mind when you're streaming, but make sure you're always focused on keeping your audience engaged. While you don't want to talk too fast, you do want to try and make the session as fast paced as you can, said Michael Knight, co-founder and head of marketing at Incorporation Insight.
"The key is for sellers to be fast. A fast-paced live selling session will keep things eventful, therefore garnering the business increased customer engagement. This also makes way for the business to show off more products during the live sale which will keep customers buying more over a longer period," Knight said.
During your stream, you can also interact directly with your customers as they watch. It shows them you care about what they like and don't like, plus it boosts your brand image, said Faruz. He also advises that you encourage them to ask questions about your products and answer them in the live stream to keep them engaged.
After Greenlees expanded the audience for Sydney So Sweet's Facebook page, she found that returning customers would also help during the streams, becoming brand advocates during their Facebook live sales.
"We have a lot of internet 'friends' that interact with us weekly, and even act as experts to help out new customers," Greenlees said.
Offer limited-time deals and create a sense of urgency
Live selling should have some of the exciting, urgent feelings of an auction – you want to sell out fast, and you should focus on high-demand products during the show, Knight said.
"Live selling is a modern sales strategy that maximizes consumers' FOMO," Knight said. "The fear of missing out on the product being demoed at each moment and not having any idea what other products are in the lineup for that live sale session keeps customers from having a longer time to consider purchasing, pushing them to make a decision to buy constantly."
Capitalize on that FOMO by creating a sense of urgency. Along with high-demand products, focus on highlighting exclusive or limited-edition items that will sell out quickly.
Promote your stream both before and after
If your customers don't know that the stream is happening, then they won't show. So be sure to promote your stream to your audience ahead of time, but you can also share the link out after for anyone who wasn't able to come.
"The real money is on repurposing the event," Bailliache said. "As a matter of fact, 60–70% of the sales we see happen after the live."
When you do promote your event, try to make your messaging consistent so that your audience gets used to your schedule and knows when to be there. Greenlees keeps her shows on Mondays, Wednesdays, and Fridays.
"Our customers literally plan their week around our live sales," Greenlees said.
Be patient – success doesn't happen overnight
Live selling can be a great tool, but it does take time to build up your audience and get them used to a live streaming routine. So, if it doesn't happen immediately, be patient and stick with it.
Like anything worth doing, it takes time to see real results.
"Live selling started out a little slow, but the growth potential is exponential. During our first few months, we offered free shipping, gift cards, and more to customers who shared our live link. It really didn't take long to build our Facebook audience," Greenlees said.
Michael Baldicaña, a health enthusiast and dog trainer with Stayyy.com, does live selling with products for dogs. At first, live selling wasn't working for him, and he would only have a few viewers. Even though the audience was small, he didn't give up and used social media to boost his visibility.
"Just reach out to your audience, quality over quantity, post great content, integrity, and love what you are doing," Baldicaña said.
Also, take a look at your initial videos and measure engagement. If you need to, consider using an influencer to present your live streams, as they already have a presence on social media and the know-how to get an audience involved in live stream shopping. Or it could be that you need to switch platforms based on the products you're presenting. Don't be afraid to experiment to find what works best for you and your retail business.
"At the end of the day, live selling is here to stay and is a powerful tool for ecommerce businesses as it brings the store closer to the customer," Knight said.
We're going live in 3…2…1…
Live streaming is a great way to personalize your marketing and reach your customers in a different way.
As an ecommerce business, live selling gives you the ability to build real connections with your audience and has the potential to bring in massive sales.
So if you're looking for a brand new channel to test out, give live selling a shot. As we've seen over the last couple years, it's here to stay.
Special thanks to our friends at
Privy
for their insights on this topic.