Marsello is now fully integrated with Lightspeed Retail (R-Series). 
R-Series retailers can now run their loyalty program seamlessly in-store and online. Marsello helps R-Series users provide an enhanced customer experience, personalized rewards, and targeted marketing campaigns.
"Lightspeed is a leader in the retail industry and we're proud to integrate with their R-Series platform," said Brent Spicer, CEO of Marsello. "Our partnership will empower more retailers to grow their business and foster strong relationships with their customers through personalized loyalty marketing."
Why connect R-Series + Marsello?
R-Series retailers can glean valuable customer insights with Marsello. This empowers them to make data-driven decisions with ease.
🗣️ Attn: R-Series users! You can now…
Sync your POS and eCommerce sales data all into one customer marketing platform
Attach customers to a sale on the POS sale screen to attribute purchases to a unique customer profile in Marsello
View a customer's loyalty profile right from within your R-Series sales screen
See how your loyalty and marketing activities impact sales in-store and online
Get a 360-degree view of customer behavior and purchasing habits
Try Marsello for Lightspeed R-Series.
Run a seamless loyalty program in-store and online with Marsello and R-Series. Capture important customer insights, send targeted campaigns, and do smarter marketing.
Your fully integrated tech stack
With Marsello, R-Series sales tracking is seamless in-store and online. Marsello has direct integrations with all major eCommerce platforms including Shopify, BigCommerce, Ecwid, and WooCommerce (coming soon).
Getting set up
Marsello users can now add R-Series in their Integrations tab in the left navigation menu in Marsello. Staff can also access customers' loyalty and marketing profiles directly from the R-Series sales screen.
Lightspeed R-Series is a point-of-sale (POS) system developed by Lightspeed, a leading provider of cloud-based commerce solutions. R-Series is a Lightspeed Retail product, designed to help retailers manage their brick-and-mortar operations, including sales processing, inventory management, customer management, and reporting.).
Seamless loyalty for R-Series, in-store and online.
Do all your loyalty and marketing in one place, and track the results in a single dashboard. See what drives sales through both your POS and eCommerce channels, and do more of the marketing that counts.
---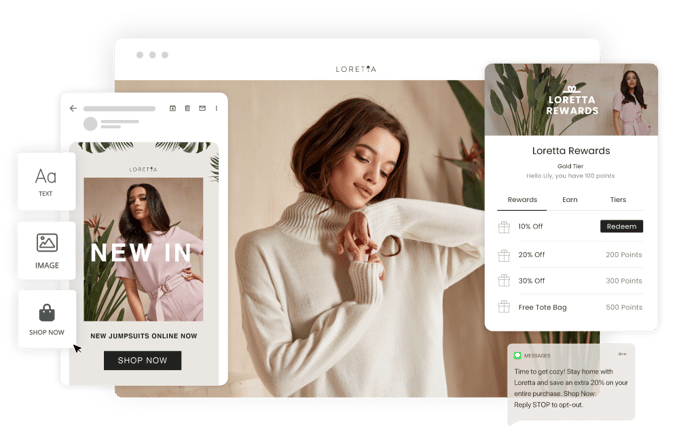 Marsello: All your marketing, in one place.
Drive repeat sales with a loyalty and rewards program
Send email and SMS campaigns to customers
Create set-and-forget marketing automations
Track the direct impact of all your marketing on revenue
Build a customer database
Published Mar 8, 2023 9:22:04 AM
Special thanks to our friends at
Marsello
for their insights on this topic.