It's 2021 and Omni-channel marketing is no longer a buzz world – it has entered our eCommerce reality. 
Retail merchants with an omnichannel strategy in place replaced 94% of point-of-sale (POS) purchases lost in the first month of the pandemic with online sales. Having an omnichannel strategy in place can pave the way for transforming customer experience – which has slowly become an imperative. 
But the thing is, only 38% of the largest companies are capable of competing on customer experience. 
According to Hana Abaza, Shopify Plus' Global Director of Marketing "During the pandemic, direct-to-consumer brands with thriving ecommerce experiences were able to very quickly and easily pivot their marketing and messaging, their energy," 
"They didn't have to fundamentally rethink their business model. They could focus on very different things because they were at a significant advantage." 
So where do we start with an omnichannel strategy? The opportunities lay at Messenger Marketing.
I. What Is Messenger Marketing exactly? 
To put it simply, Messenger Marketing done right is the process of welding messaging apps (Facebook apps, WeChat, Telegram, Instagram, Whatsapp, Viber, etc) strategically to reach your customers at the right time, in the right place, with the right message.  
Similar to other marketing strategies, Messenger Marketing should help companies to strengthen relationships with potential customers, generate quality leads and boost sales.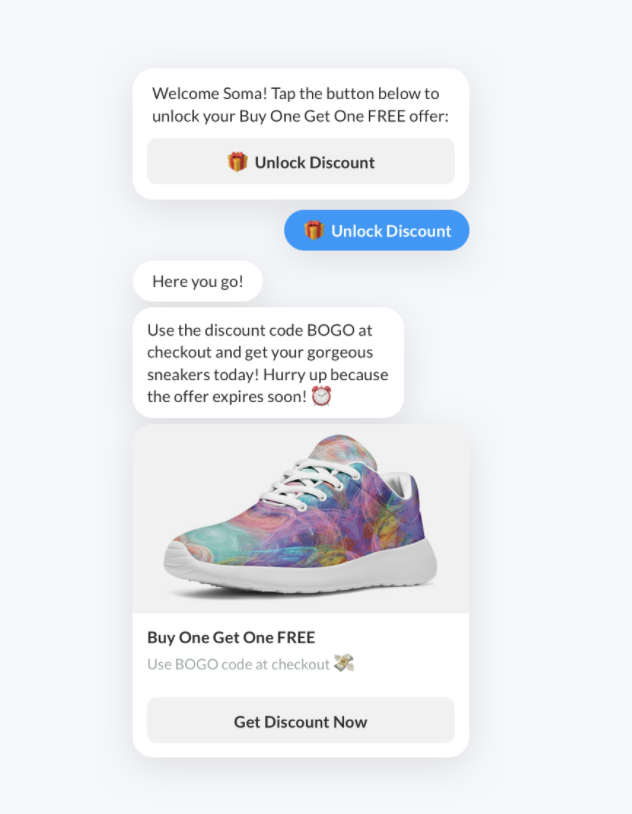 Let's pause here a bit, and back to our premise about Omni-channel marketing. 
The name itself is already self-explanatory – Omnichannel marketing is a strategy that aims to deliver a seamless shopping experience in every touchpoint, regardless of the channel your customer is using. 
In the old way of life, let's say you have a brick-n-mortar thrift shop, a customer would know about you via radio advertising, go to your shop, try on a few flannel shirts, then buy one. The journey is loud and clear. However, in the digital age, the customer journey does not look so linear now, in fact, it looks like a Pollock's painting. A customer leaves his footprint all over the places – he can visit your online store, google reviews, then hop on social media for a quick chat, browse news, and do a zillion other things before even thinking about paying your online store a revisit.
This is why we need omnichannel communication, the point is to continuously have a conversation with our customers – wherever they are, whatever they use. 
Most eCommerce folks will have an online store and use one or two PPC channels like Facebook Ads or Google Ads. Email marketing and Social Media are also the favorites. 
But they all sound like work. At the end of the day, your customers might just close the laptop, go home and the conversations end. 
This is where Messenger Marketing comes into handy: Messenger Marketing thrives on its capacity to converse at a more subtle and more intimate level. Let's alone the fact the virtually everyone use some sort of Messenger apps:
According to Satista, WhatsApp and Facebook Messenger were the most popular messaging apps globally, with 1.6 billion and 1.3 billion users respectively. 
According to Facebook, Over 56% of global messaging app users say they've messaged brands to get more information in all stages of the buyer's journey.  
CTR and open rates for Facebook Messenger are astonishing. According to Neil Patel, the open rate reaches 88% and CTR — 56%. Medium found open rates of up to 90% and an average CTR of 20%.
A quick Google Search revealed a far greater number of statistics – all pointing to the fact that Messenger App is a new way to reach your audience, an untapped territory waiting to be transformed!
II. Examples Of Messenger Marketing 
Now we have the basic ideas of Messenger Marketing definition. Let's take a closer look at how it works by examining various Messenger Marketing examples and how it is used in four major stages of buyers' journey: Awareness, Consideration, Acquisition, Nurturing. 
2.1. Welcome Message 
Stage: Awareness and Consideration 
Sending a warm welcome is the best way to start a relationship with your customers. 
They so often get bombarded by cold and repetitive Facebook Ads with monotonous words like Buy Now, Get It Now – a warm welcome message, with a right amount of authenticity, can be a game changer and leave the best second impression! 
You can say hi, let them know about your ongoing sales, give them a welcome discount right after they subscribed to your Messenger list.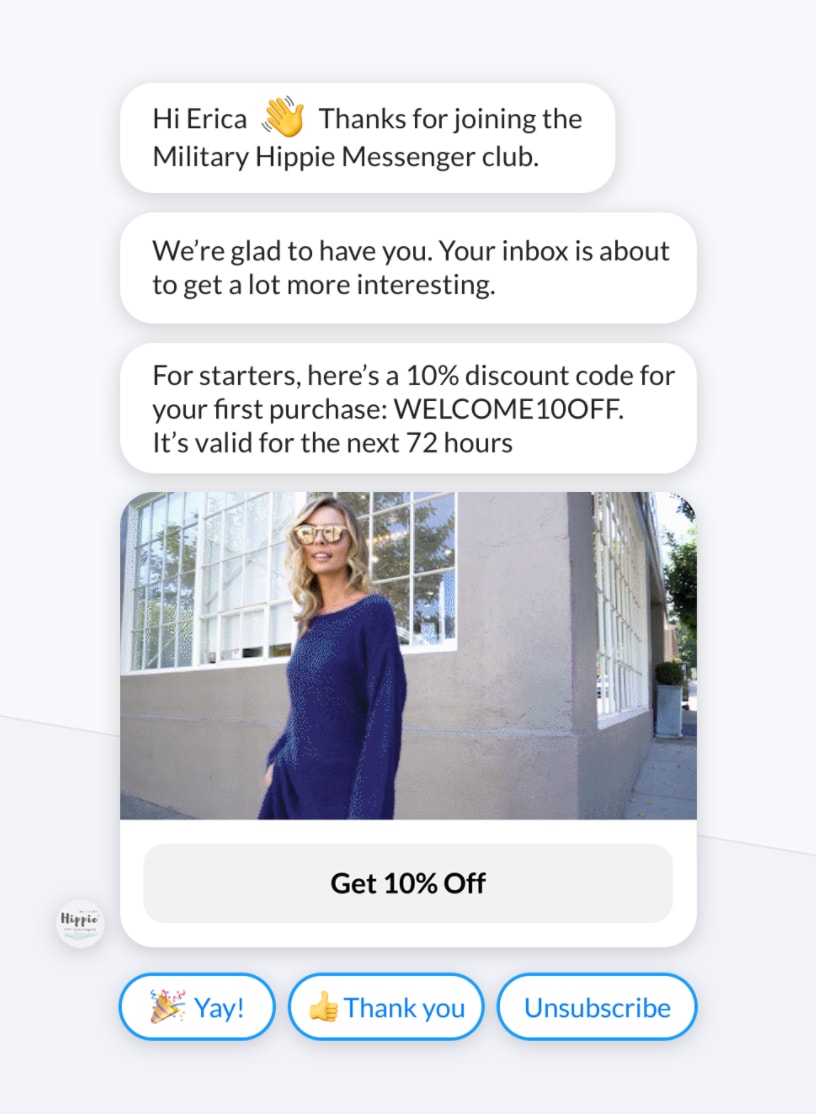 2.2. Broadcast and Promotion 
Stage: Consideration/ Nurturing 
You can also use Messenger Marketing to keep your prospective customers in the loop by feeding them valuable newsletter, sales alerts, and re-engagement campaigns. 
You can either use Promotion Messaging to win customers who are still on the fence, and turn one-time purchasers into repeat buyers.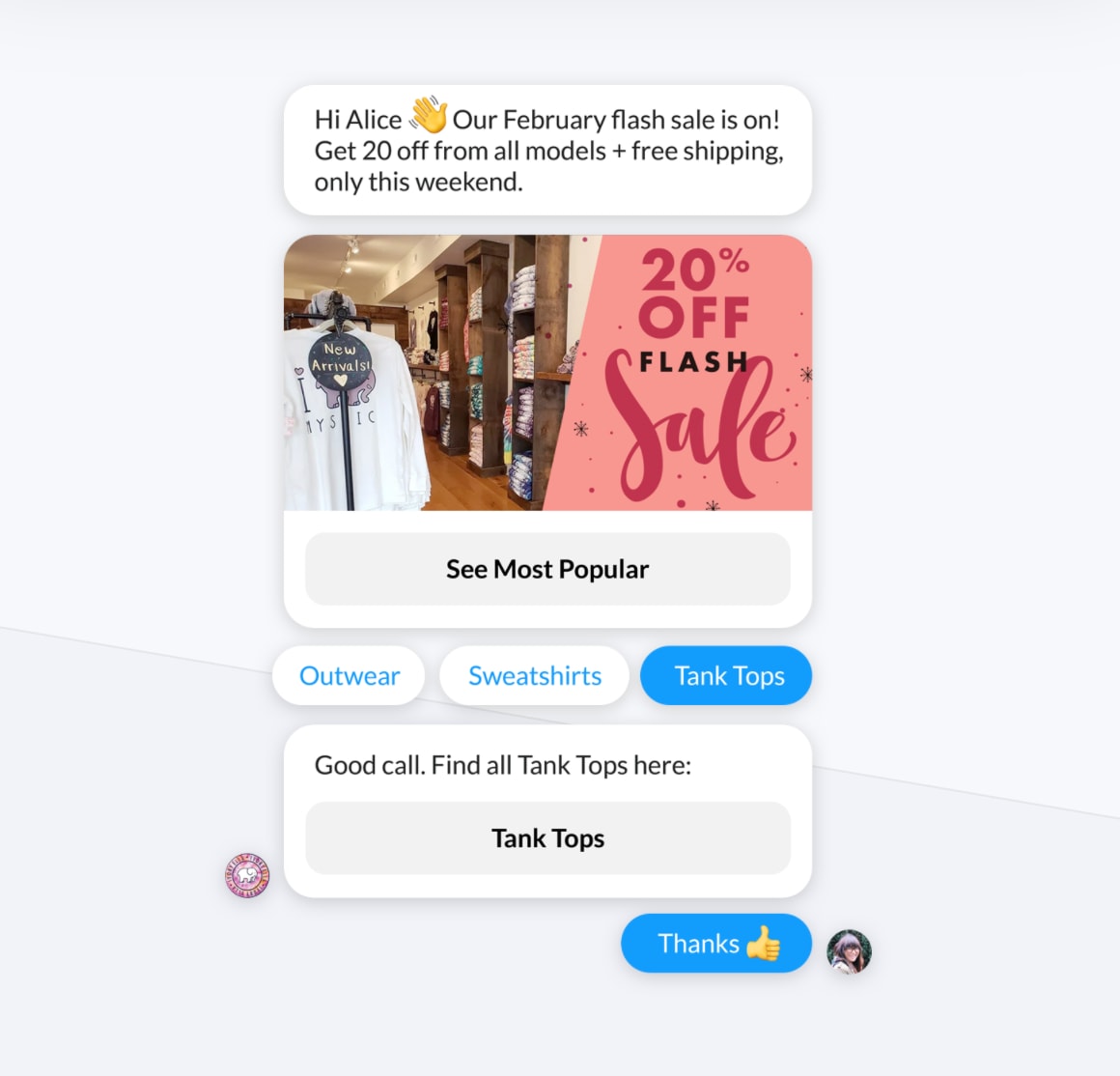 2.3. Product Review
Stage: Nurturing 
Product reviews build social proof and business credibility. Once people trust your brand, the buying process will be shortened. 
In this example, Messenger Marketing is used to nurture your existing customers, prompt better word-of-mouth marketing and build stronger branding.
2.4. Shipping & Delivery 
Keeping customers in the loop is important. Your job is not done until your customer is satisfied with the product. 
Providing customers with accurate shipping information and tracking updates let them know that their business is both dependable and trustworthy, both of which are crucial to customer retention. 
Notify your customers when their package has left your warehouse, let them know when they can expect their shipment and drop them a line once it has arrived. It's also an excellent opportunity to remind them about the discount codes, generate more repeat purchases and increase customer lifetime value.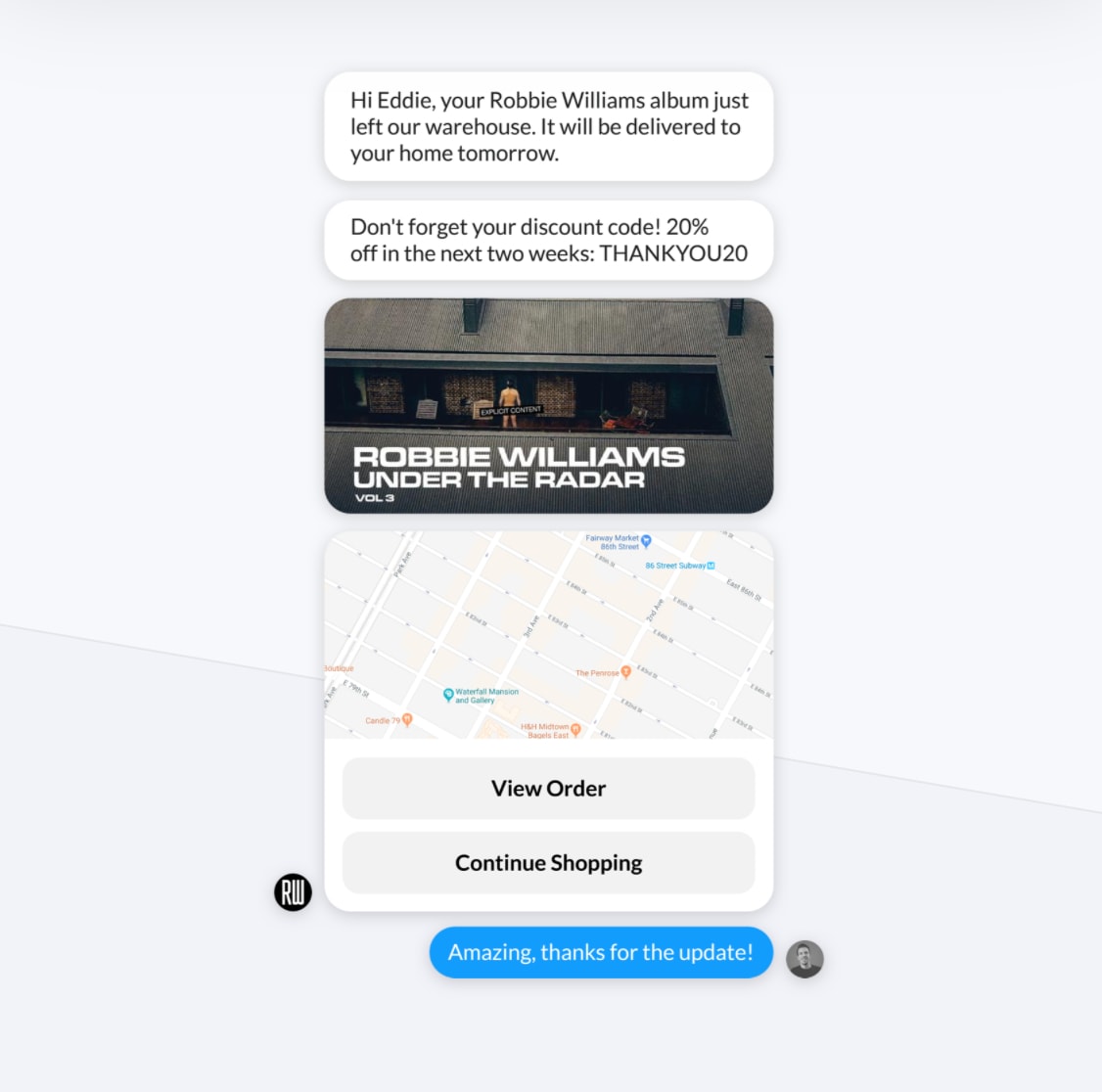 2.5. Abandoned Cart Recovery 
Stage: Acquisition 
The #1 headache of ecommerce is cart abandonment: 78% of all carts are never purchased! 
According to statistics from Sleeknote, E-Commerce brands lose $18 Billion in sales revenue each year because of Cart Abandonment. 
People abandon cart for different reason, with the #1 and #2 are Extra costs (shipping, tax, fees) is too high; and Being forced to create an account on the site. 
Changing your Product Pricing structure, or Updating your website are both demanding tasks – you need something easier to put to play so that you can recover abandoned carts quicker. Abandoned Cart Messenger reminders can drive back almost-buyers and convert them into recurring customers.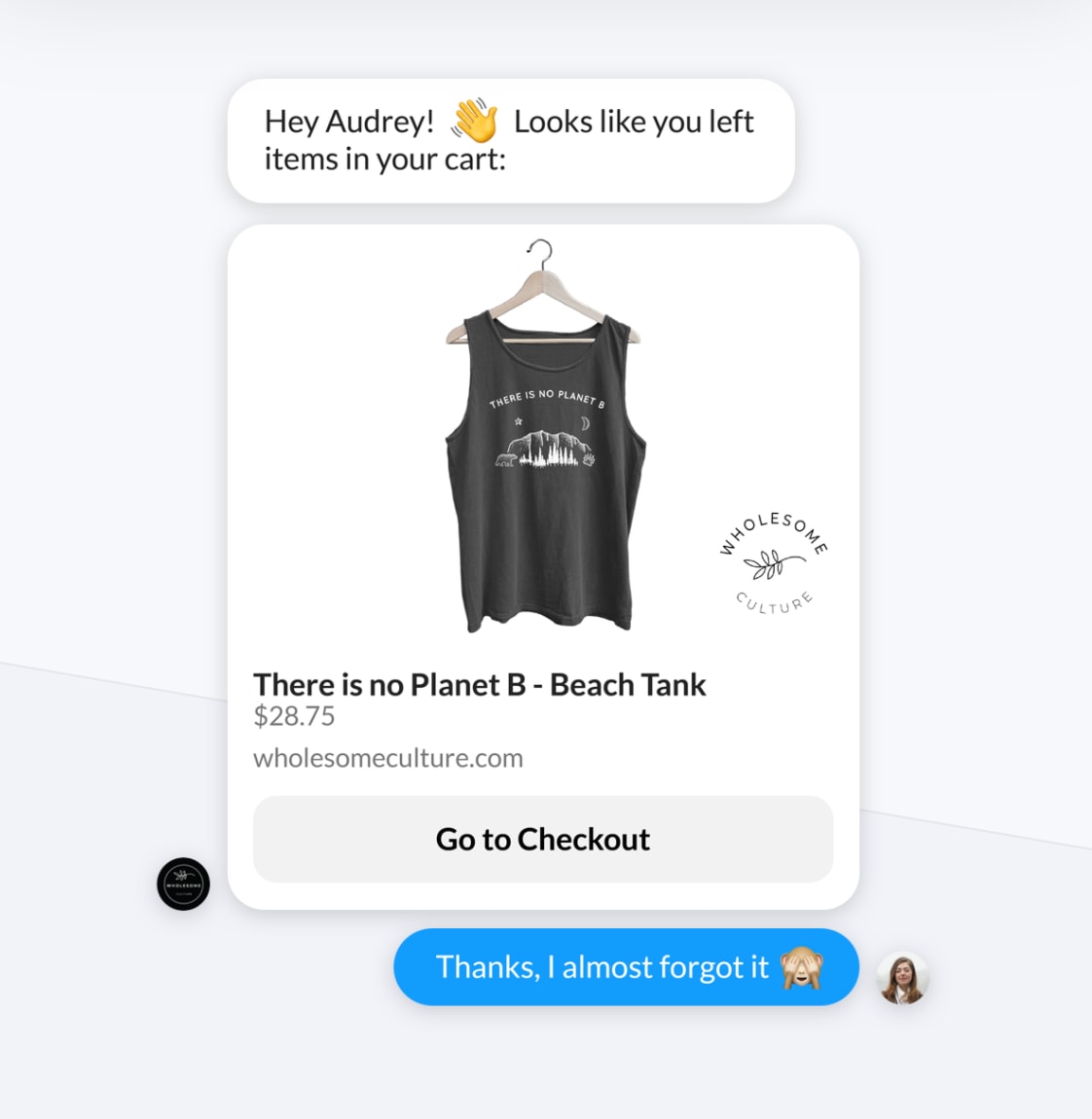 III. Messenger Marketing Best Practices 
So, you know what Messenger Marketing is and you can see why it works so well. Want to get in on the act now? Here are 5 of our best practices for Messenger Marketing and how your store can go from zero Messenger presence to the phones of thousands.
01. Make sure there's consent 
Messenger Marketing without consent is more annoying than a pop-up ad. So you must have permission from people before sending them text messages. 
If you don't have the needed consent, you're vulnerable to penalties or ban, and your marketing messages will look spammy thus causing a bad rap for your business. 
It's no different with Facebook Messenger – it may even be harder to navigate between various Facebook's privacy policies since Messenger is a relatively new channel so there's a lot of confusion over what the rules are. Let alone the fact that Facebook released amendments to existing rules or increased enforcement of established rules on monthly frequency. 
To know exactly what actions you need to take to make sure that you don't get banned from this lucrative medium, checkout this detailed guide: Ultimate Guide To Facebook Messenger Compliance.
02. Be Clear About What To Expect
To avoid a mismatch between expectation and reality, make sure that your audience knows exactly what they're signing up for when subscribing to your Messenger Marketing list. The copy needs to be clear enough so that it can set their expectations about what they will be receiving in the future. 
Making your messages relevant is also a no-brainer. It's a good idea to find a Messenger Marketing app that allows you to segment your customers into different categories depending on their demographic and where they are at your marketing funnels. Then, you can make your messages more convincing and persuading by speaking the languages that are relevant to them. 
03. Pay Attention To Frequency
Messenger Marketing is all about sending the right thing, to the right people, at the right time. 
Just like sending a group text to your friends at 3 in the morning, sending a promotion message at the wrong time could backfire and lead to terrible engagement rate. As a rule of thumb, you should not send more than 6 messages per month in most cases. Any more can make you look like a nuisance in the eyes of your subscribers. 
Only through trial and error will you know when to reach out to your audience via Messenger Marketing, however, if you have a good Messenger Marketing app, you can quickly check analytics to see which messages resonate with your audience and is effective at getting read based on basic metrics like Impressions, Open Rates, Click Rates, etc. 
04. Focus On Personalization 
Personalization is on the track to becoming a bigger deal for eCommerce businesses in 2021 – it's all over the news. A study shown by O2 that adding personalization to their eCommerce experience increased sales by 7.8% over a short period of time and. Online retailers also saw an increase in sales by an average of 19% across on board when they doubled down on personalization efforts. 
Making your messages personalized would be a great addition to your overall personalization strategy. It's possible to have automated messenger messages that address customers by name, however, you can take it up a notch by having your messages written by real people who understand customers' needs. 
Personalization is also much needed when dealing with abandoned carts, people have different reasons to abandon cart. By addressing each customer and their cart abandonment reason individually, you can find out exactly why customers did not go through with their purchases, and reel them in with the right incentives. 
05. Optimize Your Mobile Landing Page
After all, what is the purpose of Messenger Marketing if you don't have a great-looking mobile landing page on the other end of your link. 
What if you've done all the hard work and your customers are more than excited to click, only to be disappointed by an unpleasant experience on a slow-loading, bumpy landing page. 
Check out how you can optimize your mobile landing page here (plus every other thing you might not know) 👉 The Definitive Guide To Shopify Landing Page 
Capture with ReCart, convert with PageFly. Try PageFly for free by clicking on the links below 👇
Special thanks to our friends at
Recart
for their insights on this topic.