How you welcome someone into your store can determine if they'll become a lifelong member of your brand's community or just another window shopper.
Facebook Messenger is the ideal channel for creating a dynamic, engaging welcome series that hooks a visitor from the moment they interact with your brand, then helps to nurture them to a repeat purchaser.
Great Messenger welcome flows are similar to their email cousins but interactive (and statistically more effective). Here are the three rules for killer welcome messages on Messenger:
Be on-brand and have character. Use pictures that reinforce your brand image and — if it works for your brand's voice — use emojis and casual language. After all, this is Messenger, not your annual report, have some fun with it.
Drop in a dynamic discount code. Everyone loves a deal, and a little discount is one of the most effective ways to turn a browser into a buyer. But you don't want coupon codes ending up in the wilds of the internet! So, use ShopMessage dynamic discounts to automatically generate a one-time custom discount code just for the subscriber.
Pro-Tip: if a user clicks through to your site from the discount code sent in Messenger, mirror that code on-site with a website message bar built in Justuno! Learn more here.
Keep it short. You're welcoming a customer into your community, not interrogating them. Short and simple welcome messages with one to two opportunities for auto-responses are a perfect way to start. There will be plenty of time to continue the conversation later.
First impressions are important. So make sure this first touchpoint with your brand on Messenger is clear about the value it's providing to encourage them to convert. Much like an email campaign, these welcome Messenger series need to be personalized and relevant–if they disappoint right off the bat, you may not get another chance to engage with this customer this way.
Keep the three tips above in mind when you are creating content for these series and keep in mind who your target audience is. These are new subscribers who need to get excited about your brand and be convinced to make their first purchase. Let your brand personality shine and use specific triggers in your content that will appeal to this audience.
Need some inspiration? Here are three examples that deliver results and revenue!
The now iconic sunglasses brand, Blenders, continues to turn heads on the streets and Messenger. They use a combination of compelling imagery, fun emojis, and discounts to welcome their subscribers.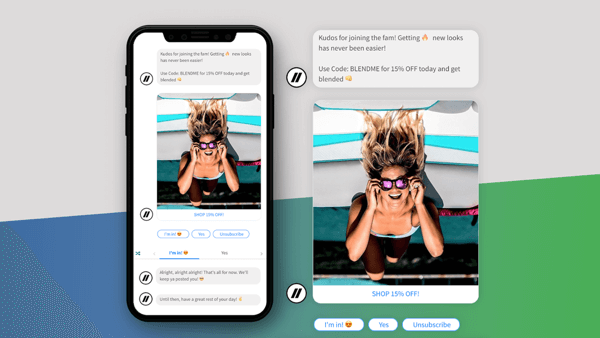 And it works. Blender's welcome series generates $105 in revenue for every $1 they spend on ShopMessage, far exceeding many other marketing channels ROI.
The All-American brand, Grunt Style, loves the Red, White, and Blue and employs hundreds of Veterans. Their welcome series uses an Americana gif to reinforce their brand image and drop in some humor.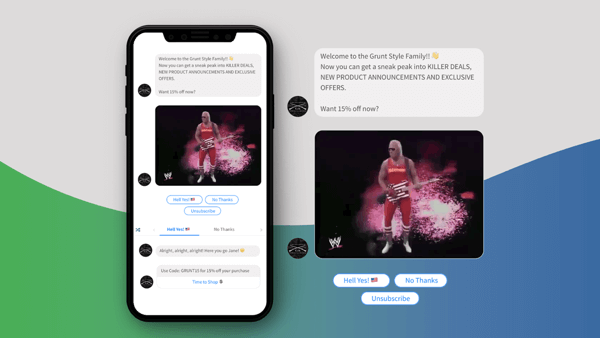 This welcome series alone drives $308 in sales for every $1 they invest in ShopMessage.
iHeartRaves welcomes thousands of party goers with a discount to use on dancewear, accessories and more as they gear up for music festival season. This strategy works well for iHeartRaves audience earning them $338 for every $1 invested in ShopMessage for this welcome message alone.
All three of these brands do an excellent job of knowing whom their target audience is, using their brand voice to amplify the content, and using no-frills copy to get the message across. Use the content style that makes the most sense for your brand whether that's gifs, lifestyle or product imagery, or using pop-culture references. The important thing here is keeping the customer experience at the core of any decision you make and making sure your marketing efforts provide them with value.
If you want to set up Facebook Messenger opt-ins on your site, you can do so today by setting up our integration right now inside your Justuno account. You can easily add ShopMessage Messenger opt-ins to your email pop-ups and start building 1:1 relationships with subscribers on a new channel with sky-high ROI and a proven track record for conversions.
Click here to check out the ShopMessage + Justuno integration.
This article was originally published by our friends at JustUno.