You've set up and optimized your Shopify store and have run countless ads on Facebook and Google, but you're not seeing the results you want.
So you did a bit of research and looked into influencer marketing. You know you want to use a nano or micro-influencer, but how do you choose which one?
At face value, the two seem very similar (even their monikers are different designations of 'small'). But other than follower count, there are other things to consider. You'll have to think about your brand and products to see which type of influencer will be best for your business.
In this article, we'll go over the differences as well as point out the main pros and cons when comparing nano vs micro-influencers so you can make the best decision for your brand.
SUBSCRIBE NOW
Every couple of weeks we send out new influencer prospects, marketing tips, and pro campaign tactics. It's free. No spam. Unsubscribe whenever you want.
What is a Nano Influencer?
A nano influencer is someone who has less than 10,000 followers on social media. Their feeds tend to be a little less polished, and they are often highly engaged with their audience. They might not have a singular focus for their social media account (theme-wise, that is) and instead, simply share their day-to-day lives.
For example, take a look at nano influencer Carla Jian. She's a mother of two, a yoga coach, and a health and wellness blogger. Through her social media, Jian shares her pregnancy journey, conversations about racism with her children, and even the process of moving her family across the country, creating a feed that feels intimate. Using her daily life as the backdrop, she's featured brands like Vital Proteins and Lesser Evil Snacks on her Instagram stories.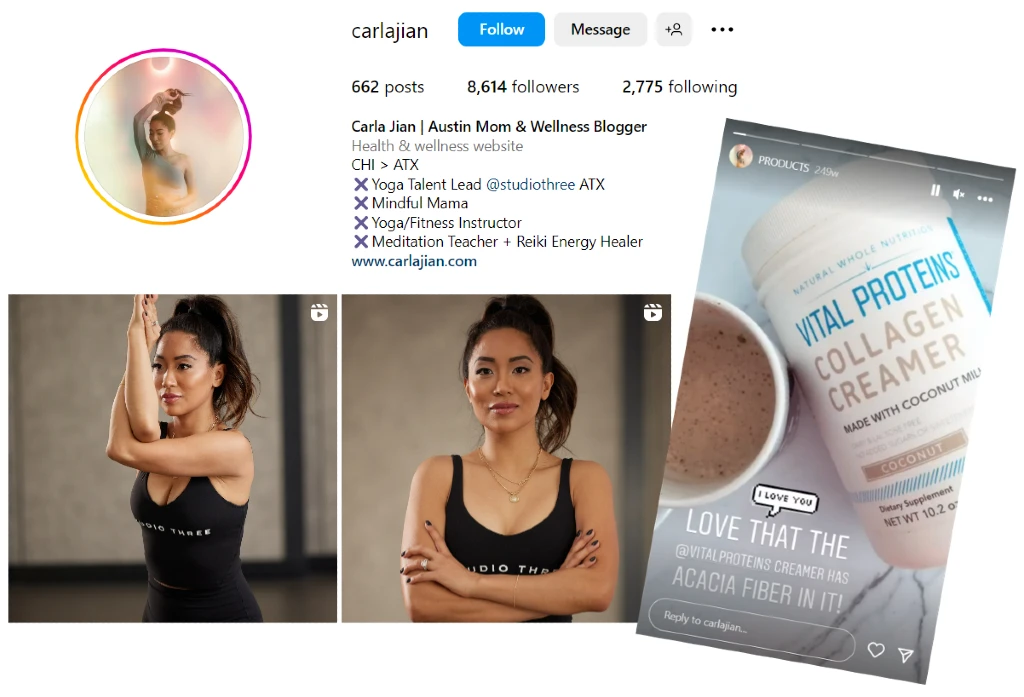 Pros and Cons of Nano Influencers
PRO: Nano influencers are highly authentic, with feeds that make followers feel like friends or family. This in turn gives their endorsements more sway. For brands, this is a major perk: A survey carried out by Ambassador showed 82% of Americans said they seek recommendations from friends and family when considering a purchase.
CON: Because a nano influencer doesn't have a large following, it may take your brand longer to see significant results from a nano influencer marketing campaign. To achieve scale, you may need to work with several nano influencers at one time.
What is a Micro-Influencer?
A micro-influencer has a slightly larger following on social media, usually somewhere in the range of 10,000 and 100,000 followers.
Micro-influencers also tend to have their own niche, and most of the content on their social media accounts will stick to a specific area of interest. This in turn will make them a sort of expert or authority on that interest for their followers.
Karla Cristina is a great example of a micro-influencer leaning into her niche to promote brands and products. Cristina is a TikTok influencer with a little over 50,000 followers. Her TikTok account is all about offering fashion advice, and on her feed she shares fashion hacks, tips on how to style pieces in your wardrobe, and outfit ideas. Cristina has used her TikTok account to pair with fashion brands like La Fiorentina and Aiori.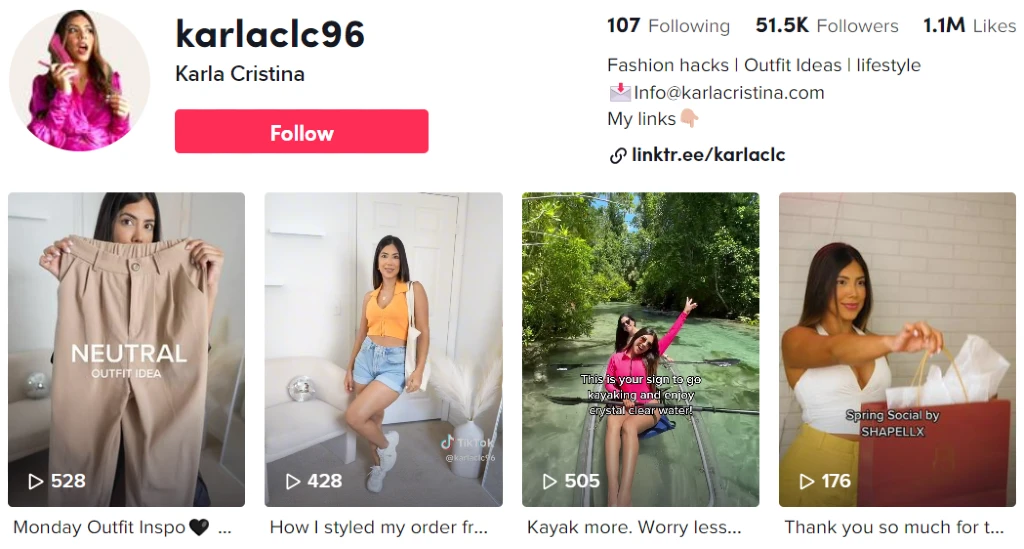 Pros and Cons of Micro-Influencers
PRO: Micro-influencers have a larger following than nano-influencers, and can offer more authentic engagement than mid-tier or macro influencers. Their audience is also often more niche, allowing you to reach a larger and more targeted audience.
CON: You'll need to vet micro-influencers thoroughly. Some have bots as a major portion of their followers, which can lead to campaigns that fall flat or have very shallow relationships with their followers making them an unwise investment for your brand.
Nano vs Micro-Influencers: How Do They Compare?
Other than follower count, nano and micro-influencers have other differences that you should consider when deciding which one is right for your business. Let's take a closer look to see how these two types of influencers can impact your ecommerce brand.
Micro vs Nano-Influencers: Content Creation
Nano Influencer Content
Nano influencers tend to have more unpolished and raw content. This brings more authenticity to their accounts and allows their followers to feel more invested in their content. This makes brand collaborations with nano influencers feel more like user-generated content and followers can trust that nano influencers actually use the products they promote.
For example, @plainpretzel is a fashion nano influencer. She regularly posts outfits featuring different brands like Puma, Charles & Keith, and Peripera. But her posts aren't polished or business oriented.
Just look at this post featuring her in a backless dress with the brand tagged. If you swipe to the next picture in the same post, it's a photo of a grumpy cat she found on the street, which makes the content feel less promotional and more genuine, like she's just posting for fun.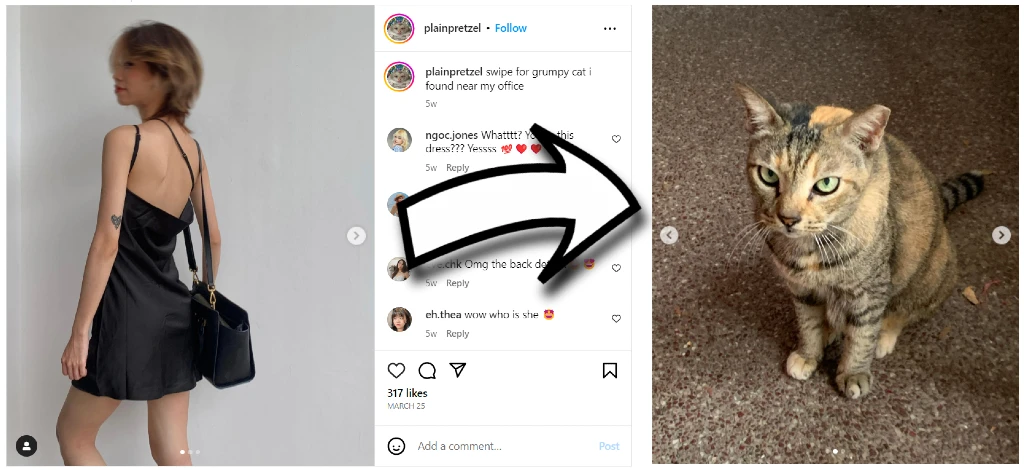 Her bio on Instagram is not very descriptive and full of tongue and cheek. Under occupation, she's put down 'Pet Cemetery'. It might seem bizarre, but this allows her followers to feel as though she won't try to sell anything to them. Instead, she's just sharing what she loves. And by doing so, she's amassed over 3,000 very engaged followers.
However, sometimes raw unpolished content can be a drawback. Nano influencers can be inexperienced and therefore still learning how to caption and compose posts, as well as how to work with the algorithms of social media platforms.
Micro-Influencer Content
On the flip side, micro-influencers tend to have more professional and polished posts. They are usually more experienced and therefore know the ins and outs of how to be an effective influencer.
Micro-influencers also tend to focus on one or two niches or fields of interest on their social media accounts. This turns them into a source of information for their followers. Many times they use their platforms to bring awareness or share their expertise.
Take 2Dadswithbaggage. Jon Bailey is a micro-influencer that focuses on travel and being a parent as a member of the LGBTQIA+ community. His profile is descriptive and professional looking, while still maintaining his personality and authenticity.

His posts are well composed, beautifully shot, and have fun and descriptive captions with all the necessary hashtags. He also always makes sure to mention the tourism board associated with the area he is posting about. Like in this one, he makes sure to mention @visitcarlsbad during his family's visit to Carlsbad, CA while also including a fun fact about the Flower Fields attraction.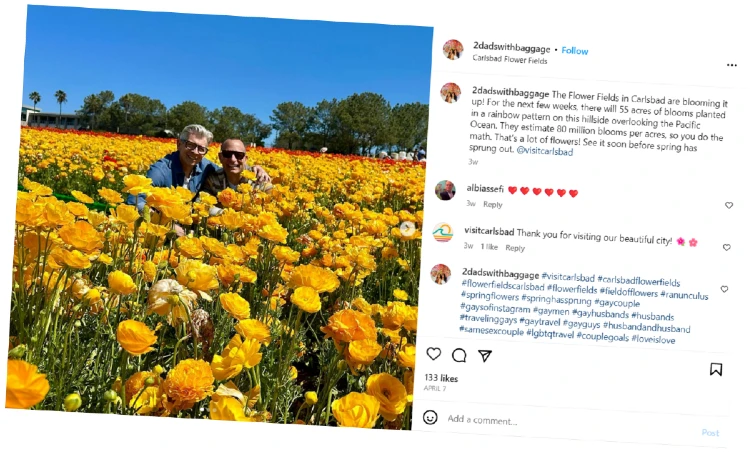 Bottom Line: Nano influencers will give you authenticity, but micro-influencers will give you more professionalism.
Nano vs Micro-influencers: Audience Engagement
Nano Influencers Engagement Rates
Because of their authenticity, nano influencers tend to have a more engaged following. Therefore their posts tend to have a greater impact on their audience. Though they may not reach as many people as a micro-influencer, the people they do reach are more likely to trust their recommendations.
According to a 2022 Influencer Marketing Hub study, nano influencers with 1,000-5,000 followers on Instagram had an active engagement rate of 4.84% (the highest rate of any influencer tier on Instagram.) However, on Youtube, nano influencers had the lowest engagement rate, hovering around 2.5%. The lesson: Not all platforms are the same!
Small brands looking to create loyal followings are more likely to find success by using nano influencers on Instagram. Just take a look at Sperry and its collaboration with Michaela Bushkin.
Most of Sperry's posts averaged around 200 likes or less, and even though Bushkin only has 1,300 followers, her collaboration with Sperry garnered almost 900 likes.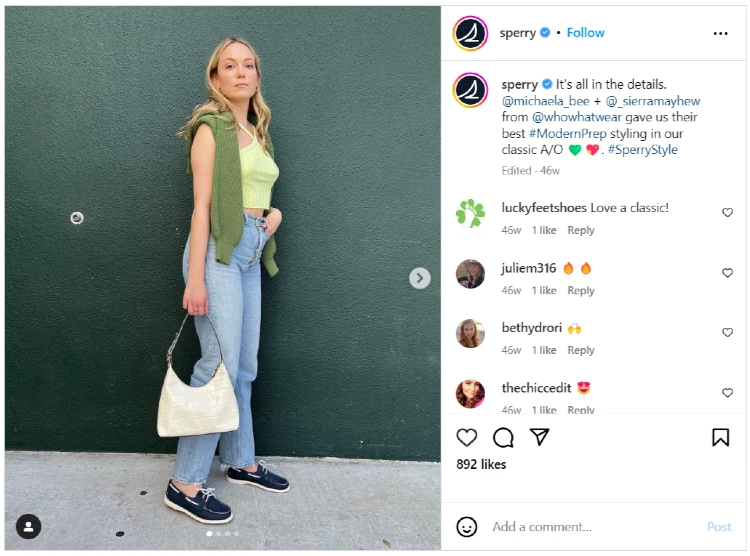 Micro-Influencers Engagement Rates
Looking at micro-influencers in the 2022 Influencer Marketing hub study, these influencers also have higher engagement rates than the larger mid-tier and macro influencers on Instagram. On Youtube, micro-influencers have the second lowest engagement rate (just above nano).
Since micro-influencers have a larger following, they are able to provide brand awareness and product exposure at a much higher rate vs nano-influencers. For that reason, many larger companies will regularly use micro-influencers to promote their products.
For example, Targetstyle uses a vast array of micro-influencers to promote different products available at Target. One example: Geena Hunt promoted a variety of Ulta Beauty products at Target products in preparation for spring.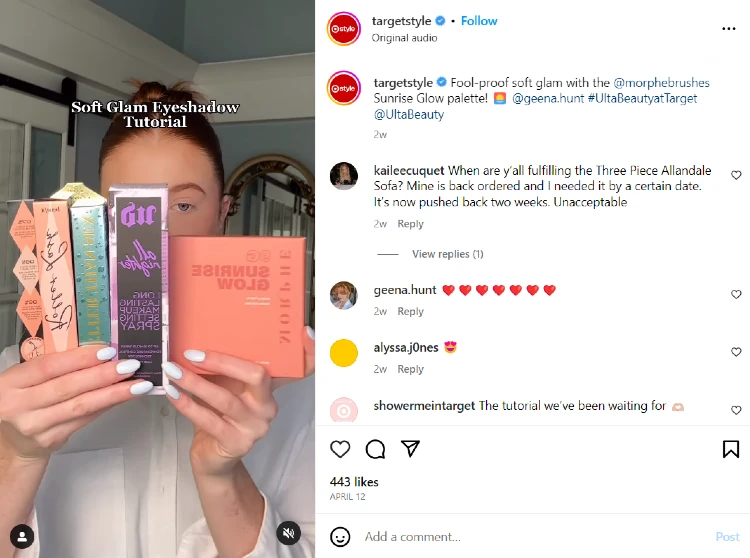 Nano vs Micro-Influencers: Costs
A big variable that will help you decide which tier influencer you want to use will be cost.
Hiring a nano-influencer will be cheaper than hiring a micro-influencer. Per post, they tend to cost about 10% of the price of a micro-influencer. Ultimately, it will depend on the platform or platforms on which you want to market. Below is a table with the average costs for nano and micro-influencers on each social media platform.
Cost Per Post
| | Nano-Influencer | Micro-Influencer |
| --- | --- | --- |
| Instagram | $10-100 | $100-500 |
| Youtube | $20-200 | $200-1000 |
| Twitter | $2-20 | $20-100 |
| TikTok | $5-25 | $25-125 |
| Facebook | $25-250 | $250-1250 |
An important thing to keep in mind is that cost is only one aspect of the equation. How much an influencer charges needs to be leveraged with their ROI. According to Neal Shaffer, for every $1 in marketing that you invest in nano or micro-influencers, you can expect at least $5 back in sales. If you're not finding this to be true, it may be time to re-evaluate your approach.
Nano vs Micro-Influencers: Scalability
With nano influencers, your brand has the opportunity to grow your marketing strategies with them. That means you're more likely to create long-term relationships with these marketing partners.
Nano influencers also tend to care more about their partnerships. They're usually not full-time influencers and have more time and energy to devote to a partnership. They are also more eager to experiment as well as to follow directions.
However, that also means your nano influencers may not have much experience working with brands. In other words, they may not know the legal aspects of what they can and cannot post, and they may not understand their contracts, the process of negotiations, or even simple administrative things like how and when they'll be paid. Translation: you may have to walk them through all of these steps.
Example:
A good example of a nano influencer relationship growing with a brand is Burpee Dad and Reebok. In October of 2022, Craig Peters attempted to break the record for most burpees done in 24 hours. He did it to raise awareness and earn money for families who have children experiencing twin-to-twin transfusion syndrome (TTTS), something his twin boys had.
When Reebok found out about this, they pledged to provide Peters with gear for his training and for the day of his record-breaking attempt. Since then, they've continued their relationship with Peters and have used his obsession with the Guinness World Record to promote their products.
They've invited Peters to compete in Guinness World Record attempts internationally, and used him to help launch a new shoe, the Reebok Nano 7. Craig is also now a part of Reebok's #bemorehuman campaign.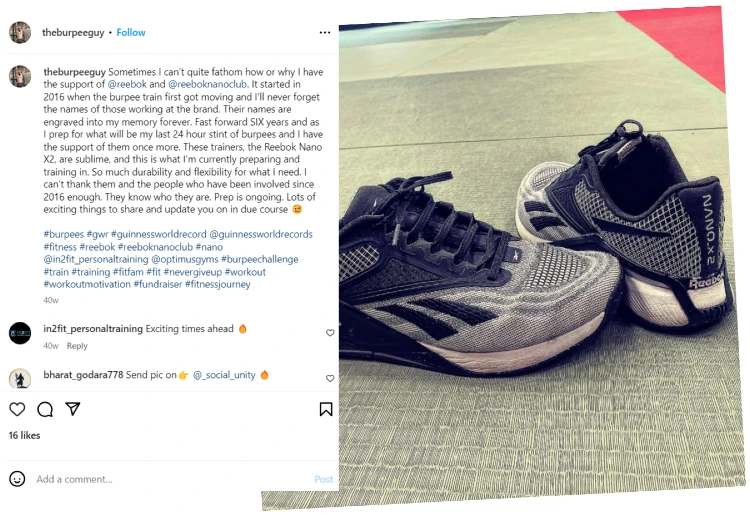 You can also have long-term marketing relationships with micro-influencers. Micro-influencers are partners who know exactly who their audiences are, what their brand is, and how best to communicate that to their audiences. This may make them a little less flexible, but with their help, brands can even find new niches and target audiences.
Bottom Line: Your brand can grow with nano influencers, but you may have to hold their hand during the process.
Where Can You Find Nano and Micro-Influencers?
Now that you know the differences when it comes to nano vs micro-influencers, it's time to find those influencers. Below are a couple of methods to get you started as you search.
Your Followers
The first place to look would be in the group of followers of your brand's social media pages. Your followers are already customers and fans, so why not take advantage of their love for your products? You can reshare UGC and even offer incentives like free shipping or coupons for the buyers' next purchases if they mention your brand in their posts.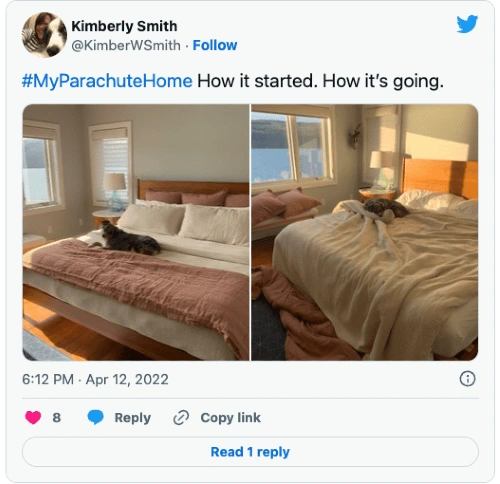 The only drawback of this method is you'll have to research these influencers on your own. You'll have to vet them and make sure they're right for your brand's image.
Influencer Database Tool
The next place you can find influencers is by using an influencer database tool like Afluencer. Afluencer has over 18,000 influencers across multiple channels in its database, all verified and ready to collaborate.
Afluencer includes all the information you'll need to choose the right influencer for you. Each influencer page has a bio, links to their social media pages, and data about any applications they've received. It also includes an influencer's engagement and response rate, as well as their location and topical focus.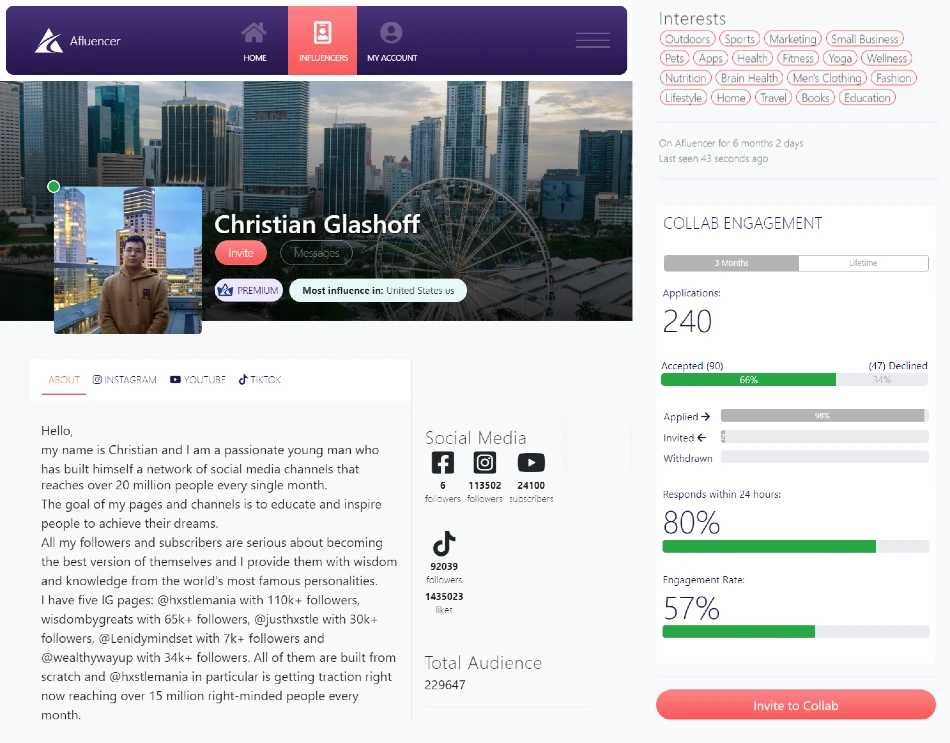 Examples of Nano and Micro-Influencers on Afluencer
Raya York is a nano influencer with a little over 3,000 followers on Instagram. Her focus is helping people afford and enjoy a vegan lifestyle.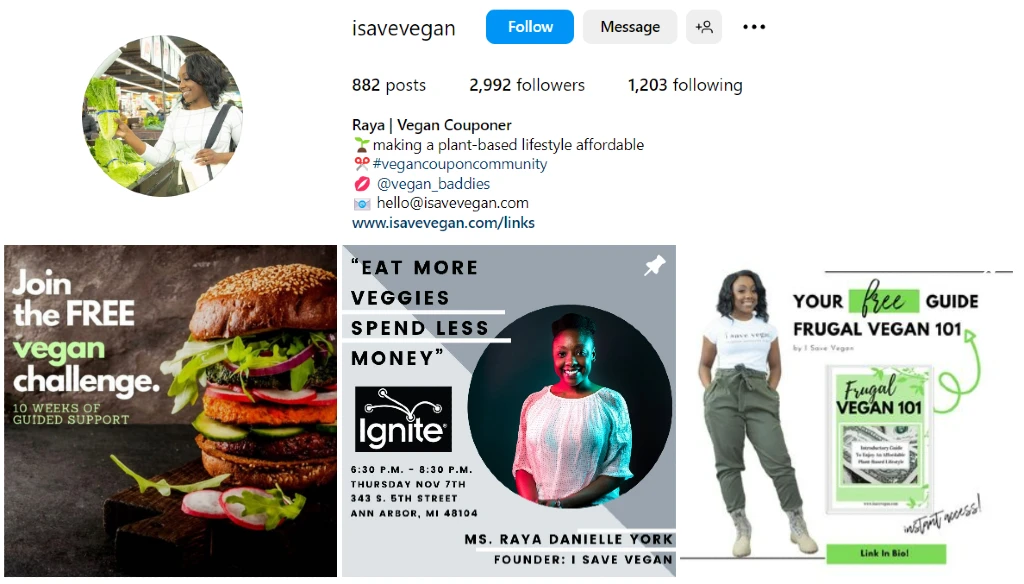 ---
Micro-influencer, Lina is a vegan fashion designer and advocate. She uses her TikTok platform to raise awareness about sustainable and cruelty-free fashion and beauty products and practices.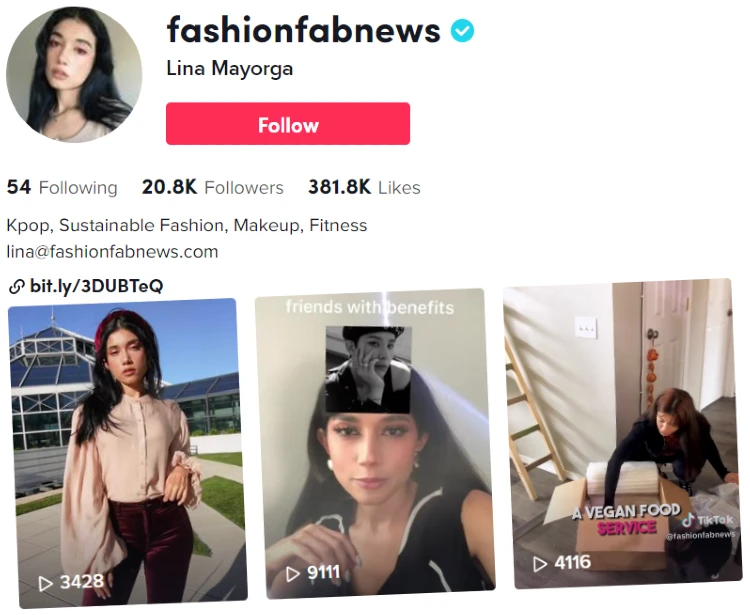 ---
Jorden is a health and wellness blogger. She also has a YouTube channel that focuses on helping others take care of their mental health and general well-being. Some titles of the videos are "Self Reflection: Being Honest with Yourself & Others" and "Ways to Self-Care".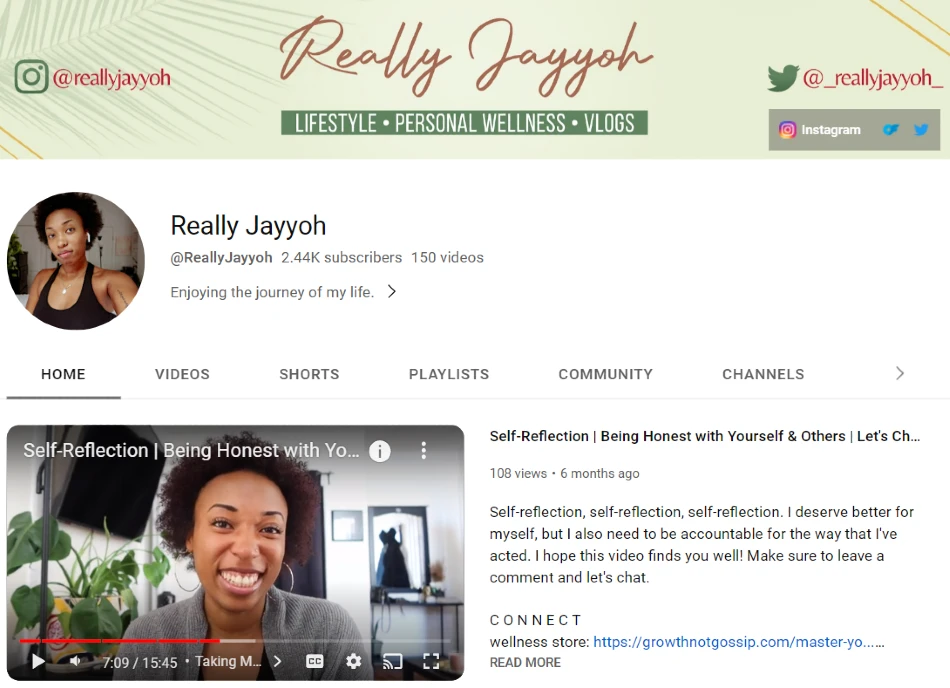 ---
Laci is a fitness buff and bodybuilder. She's also a two-time participant in Ironman and Ms. Mexico Physique 2022. With almost 70,000 followers, Aboud uses her Instagram platform to share her workouts and inspirations as well as cute pics of her pups.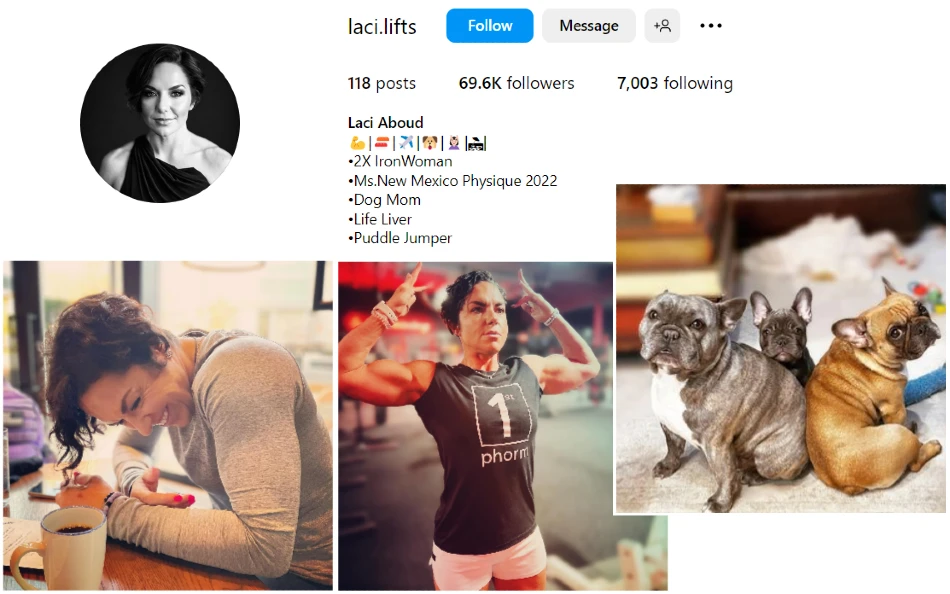 ---
Ruth is a nano influencer on Instagram with over 3,500 followers. She's based in Southern California and uses her social media presence to explore not just new places, but new cuisine in those places.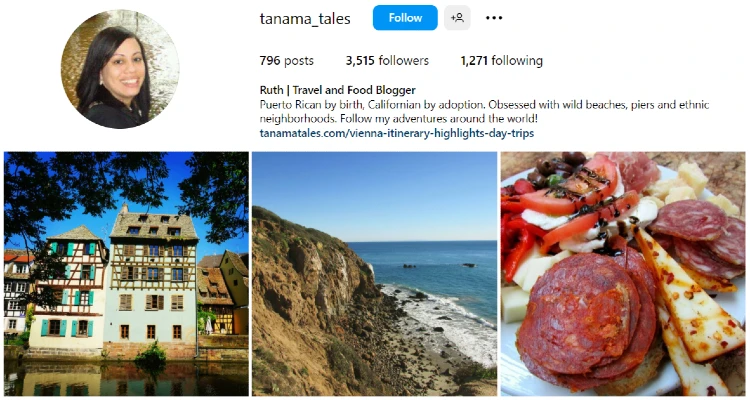 ---
Francislaine is a travel enthusiast who goes around the world with her husband, Bruno. Their travels take them to exotic and far-flung places, both in luxury and on a budget, taking her 15,400 Instagram followers with her.
---
Nano vs Micro-Influencers: Find the Right Partner for Your Brand
Before you can choose between nano or micro-influencers, you need to understand your brand, who your audience is, and how you want your company to grow. As we've detailed above, both nano and micro-influencers have their benefits and drawbacks for different kinds of companies.
Finding the right match for your brand can get complicated and take up a lot of your time. To help make finding the right match easier, install the Afluencer app for Shopify.
This originally appeared on
afluencer
and is available here for wider discovery.