For the past year, I've been helping our largest merchants' marketing teams to develop their Messenger marketing strategies and generate tens of millions of dollars in extra revenue. Messenger tools can perform in varied ways for different merchants but I noticed one specific part that delivered consistently strong results for almost all merchants: Sponsored Message.
An average Sponsored Message drives 20-80X ROAS (Return On Ad Spend), and usually becomes the single best performing ad of Shopify merchants. Considering the open and click rates of Messenger messages, the super-high ROAS isn't surprising at all. Once we realized that this campaign type is the highest-ROI ad of our merchants, we immediately started improving our Sponsored Message features.
Today, I'm thrilled to announce our new Sponsored Message integration that lets merchants use Recart Flows (including answers and follow-ups) as Sponsored Message and launch the campaign right from the Recart Dashboard.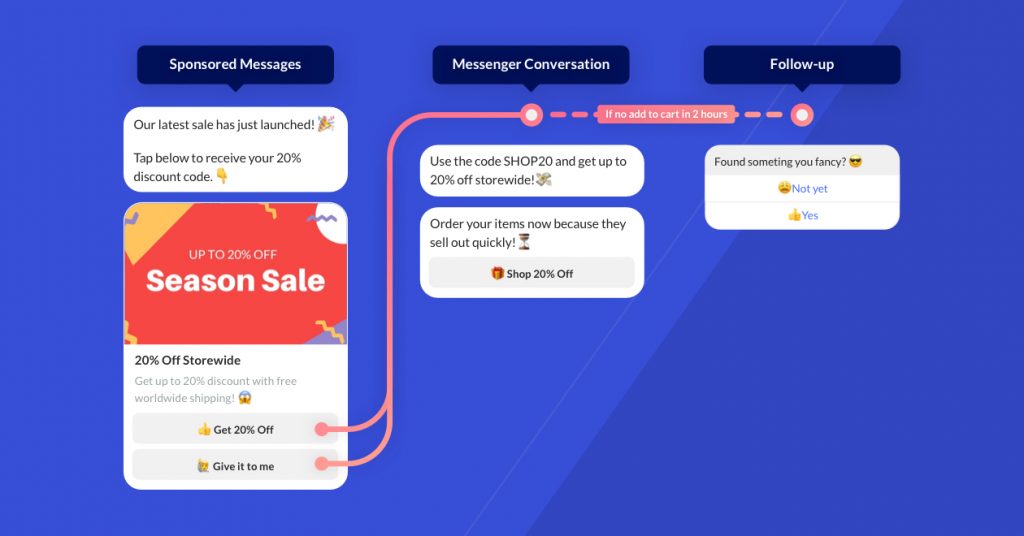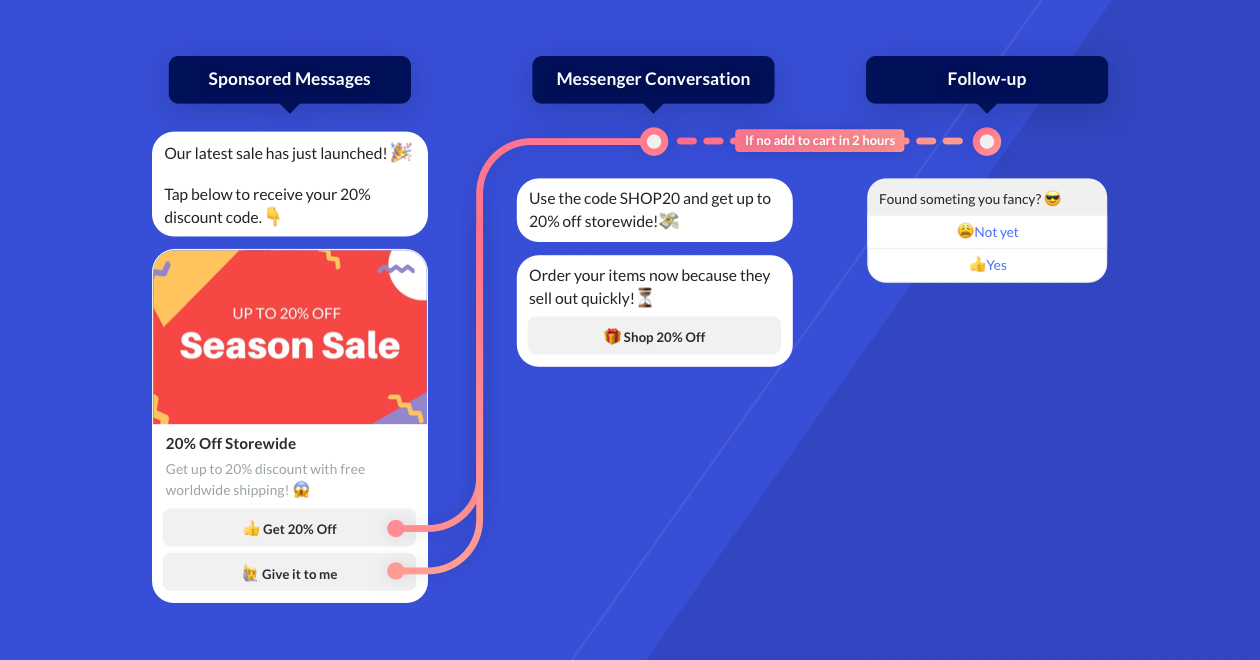 You might wonder what Sponsored Messages is, so I'm here to help. Sponsored Message is the easiest and most effective way to reach your Messenger subscribers with promotional content. It is an ad format, a paid feature that Facebook provides for businesses.
Sponsored Message is an ad format Facebook provides for businesses to initiate conversations with their customers on Facebook Messenger.
When they have something to promote to the audience of the brand, merchants usually launch an email campaign to put the information in front of prospective customers. The problem with that is only 12% of the people open those promotional emails and only 1.24% interact with them.
That's where Sponsored Messages comes in. Messenger provides 91% average open and 9.5% click rates. People actually read the message you send, making Messenger one of the most powerful marketing tool for ecommerce stores.


Another outstanding upside of Sponsored Messages is the ability to target your audience incredibly well using the targeting tools of Facebook Ad Manager. One of the most profitable use cases is targeting your previous customers or their lookalike audiences.
Get started with Sponsored Messages
Whenever you have a new sale or promotion going on, new arrivals coming in, a new story to tell, it's a great time to send a Sponsored Message and engage with your customers.
Recart offers pre-built Messenger Flow templates for Sponsored Messages, too. Choose your template and import it with one single click to your Recart account. Once you've done that, the Recart Wizard will guide you through the creation & activation.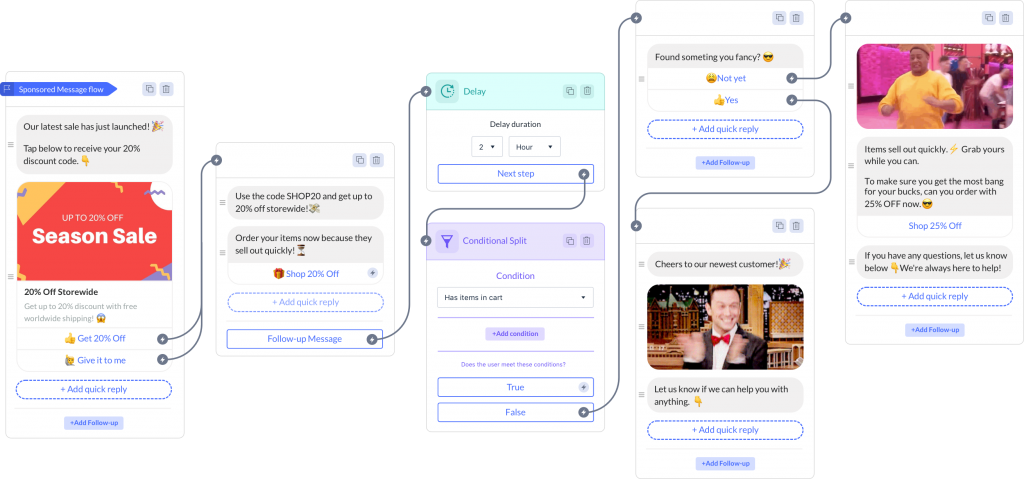 Please note that Sponsored Messages are being sent to anyone who your Facebook Page has open Messenger conversation with, including all Recart subscribers. Without a subscription or a previous conversation, you can't reach out to people on Messenger – that's why it's super important to have the proper subscription tools up and running. Interested in the bidding recommendations and other details? You can navigate to our Help Center to learn more.
Let's reach your audience on Messenger
Instead of fighting for the attention of your audience in the news feed, or getting lost in email spam folders, you can use Sponsored Messages to deliver your message to people and make it the highest-ROAS ad for your brand.
This article was originally published by our friends at Recart.