WooCommerce retailers now have access to seamless in-store and online loyalty. 
We are thrilled to announce our latest integration with WooCommerce, an open-source eCommerce platform built for WordPress.
"WooCommerce is one of the most requested integrations we've ever had," says CEO Brent Spicer. "Retailers want to be able to create a seamless experience for their consumers both in-store and on their WooCommerce online store through Marsello. This is game-changing for many of our current, and future, retailers."
Ready to get set up? Watch the video.
With Marsello for WooCommerce, you can connect your online sales data with a range of POS providers.
To really know your customer, you need all the data—no matter where they're shopping. But it's notoriously difficult to track customer behavior seamlessly across in-store and online channels. Until now.
The Marsello plugin for WooCommerce means you can…
Create a better shopping experience. It's easy for customers to earn and redeem points no matter how they shop.
Know your customers better than ever before. With all the data you need to send personalized, targeted campaigns.
Keep customers coming back. Loyalty, email, SMS and automation features are all designed to increase average order size and incentivize repeat sales.
Ready to integrate WooCommerce and Marsello?
Run a seamless loyalty program in-store and online with Marsello and WooCommerce. Capture important customer insights, send targeted campaigns, and do smarter marketing.
How it works
Marsello is an advanced loyalty and marketing platform that is powered by your eCommerce and point-of-sale integrations. Using offers, sign-up forms and a customizable loyalty program, WooCommerce merchants can now collect invaluable first-party customer data in-store and online. This data syncs to unique customer profiles so you can know your customer and their preferences better than ever before.
As well as loyalty and list-building, Marsello also gives you tools to keep growing those customer relationships (and sales). Emails, SMS campaigns, automations, reviews and more. It's all possible for WooCommerce and Marsello users.
"We've created a seamless redemption process with Marsello because we're committed to prioritizing the customer's experience," says Product Manager, Kat Williams. "But staff will love it too—there's much less confusion from customers about how and where they can redeem and earn points. It all just works, whether transactions are in-store or online."
Senior Software Engineer, Rukshan Dangalla, agrees. "I'm so excited to see this integration launched. The end result will provide a seamless experience for our merchants, and it's a significant milestone for our company. I'm proud to have contributed to its success!"
Your fully integrated tech stack
With Marsello, WooCommerce sales tracking is seamless in-store and online. Marsello has direct integrations with all major POS platforms including Lightspeed Retail, Cin7, Heartland and Shopify POS.
Getting set up
Setting up the integration is a breeze. You can connect Marsello with just a few clicks and start using the platform to create your marketing campaigns. The integration also ensures that your data is synced between your WooCommerce store and Marsello, so you can track your progress and make informed decisions about your marketing campaigns.
Ready to integrate WooCommerce and Marsello?
Do all your loyalty and marketing in one place, and track the results in a single dashboard. See what drives sales through both your POS and WooCommerce, and do more of the marketing that counts.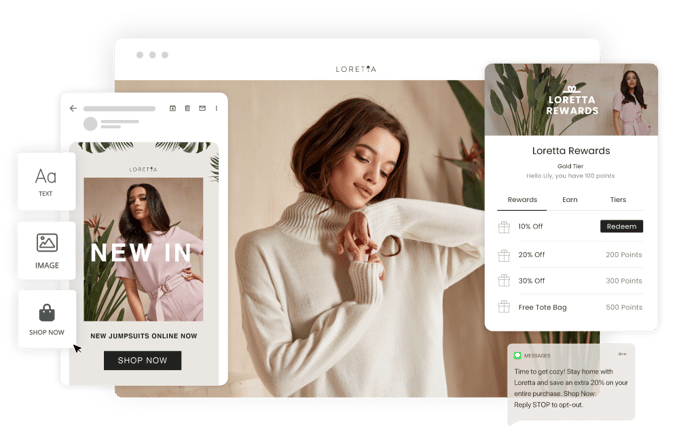 Marsello: Seamless in-store and online loyalty.
Drive repeat sales with a loyalty and rewards program

Send email and SMS campaigns to customers

Create set-and-forget marketing automations

Track the direct impact of all your marketing on revenue

Build a customer database
Published Apr 3, 2023 3:17:42 PM
Special thanks to our friends at
Marsello
for their insights on this topic.