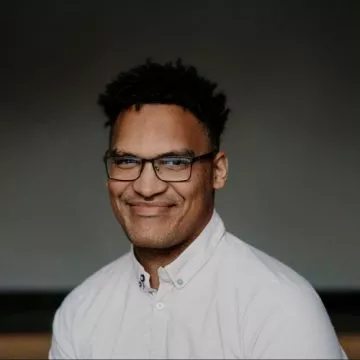 Bernard Meyer
Content Growth Marketer
Reading Time: 5 minutes
The world of ecommerce is getting more competitive, with online sales speeding up due to the pandemic. For that reason, it's important that you choose the right services that can help your ecommerce business grow.
Crucial to this growth is your marketing tool. This is mostly because your marketing tool will be the main means for you to communicate with your customers—the existing and future ones. When looking at specific tools, flexible marketing automation, an intuitive interface and always-helpful support are key.
Omnisend and Marsello are often discussed in the same breath, and it can be hard to determine which one will fit your business the best. Today, we'll help by looking at a feature-by-feature comparison of these leading marketing automation tools for ecommerce.
A Quick Feature Comparison
Here's a feature comparison table to help you quickly find and compare the main features necessary for every nimble marketing team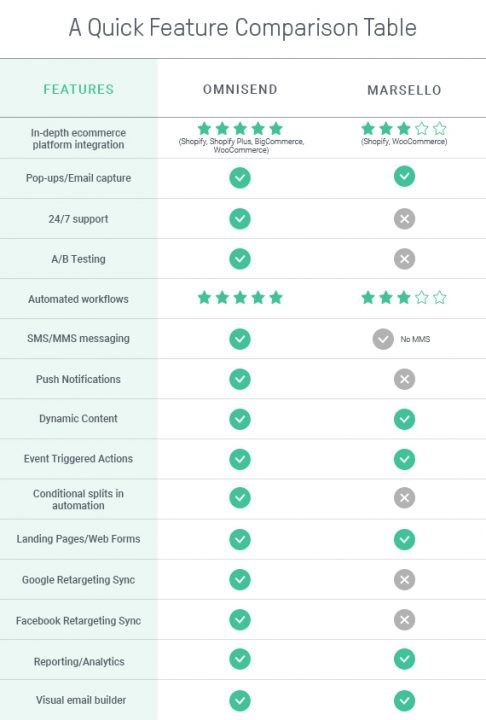 Omnisend vs Marsello: Who Is Each Tool Built For?
When you are looking for a new email service provider, you should carefully consider what the specific purpose of the tool is. For the most part, service providers determine the features of their products based on who the products are made for. 
Marsello is primarily aimed at retail businesses who are looking to target their marketing to get better results. It's best suited for businesses that are using a cloud-based Point of Sale ecommerce solution.
Omnisend, on the other hand, is best for ecommerce marketers who are looking for a better way to automate their marketing activities with an omnichannel approach at its core. This allows Omnisend to have a whole suite of features that are focused on unifying marketing messages across multiple channels, all automated.
Marketing Automation
One of the most powerful features you should be looking for is automation. Recent marketing automation research of email, SMS and web push messages showed that conversion rates increased significantly towards the end of 2020 compared to 2019. Automated message conversion rates performed particularly well, with a year-over-year lift of 95%.
Welcome messages, cart abandonment and lapsed-purchaser messages were the best-performing marketing automation messages used in the time period, showing that if ecommerce businesses aren't utilizing this tool, they're leaving money on the table.
Marsello offers an omnichannel approach between point of sale and ecommerce platforms to drive sales, along with loyalty programs and email and SMS marketing. It also has the functionality for surveys and reporting. However, it does not include A/B testing or MMS message sending abilities.
Omnisend is a true ecommerce omnichannel marketing automation tool that allows you to integrate channels, run your email marketing, fully automate custom workflows (or use templates), and list segmentation, forms and full personalization.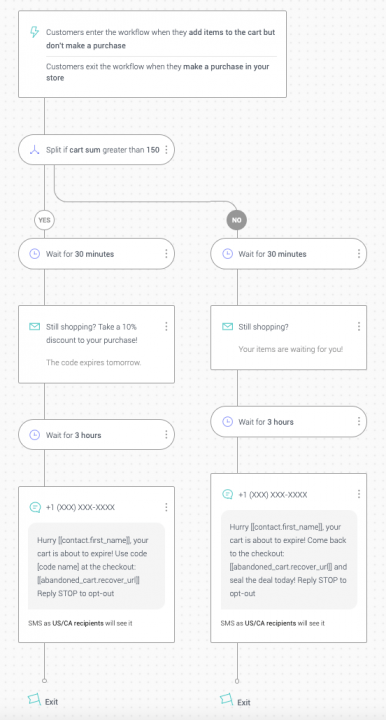 It also has strong reporting, data analysis and the necessary tools to drive your ecommerce, email and SMS game to the next level. For example, clothing brand Black Halo increased their revenue by $20k within their first month of using Omnisend's marketing automation. Puzzle brand JIGGY drives 69% of their revenue with Omnisend's marketing automation.
Email Campaigns
Both Marsello and Omnisend have features you'd expect from a modern marketing automation tool: visual (WYSIWYG) editors that are easily customizable and intuitive.
Marsello allows point of sale and ecommerce marketing list synchronization, email capture forms and segmentation. You can also synchronize email lists to Facebook and deliver email and SMS campaigns. 
With Omnisend, you can create beautiful, on-brand email campaigns either from our templates or by customizing your own. If you run multiple stores, then you can easily share templates across connected stores to save even more time. 
You can also build shoppable emails fast and create segmented lists and email marketing campaigns that go to the right targeted audience. Omnisend also uses intuitive optimization features to drive open rates up, as well as measuring and learning for future campaigns.
List Building
Marsello allows point of sale and ecommerce marketing list synchronization and email capture forms. This is useful if you need that integration between a physical and ecommerce store but if you don't, it can mean that you're paying for functionality that your store doesn't actually need which can add up over a year.
Omnisend has the ability to collect subscribers the way you want to as an ecommerce business. You can use pop-ups, sign-up forms, Wheel of Fortune and landing pages, plus you can see them in action in real time. They're super-easy to set up and integrate with your existing store.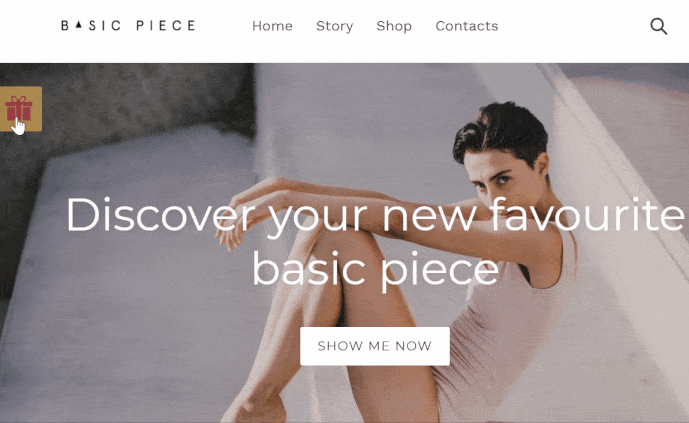 Customer Support
Both Marsello and Omnisend have a good list of online resources to help ecommerce businesses at various points. However, Marsello falls short of Omnisend in their support offerings.
Marsello offers customer support only through a help center, demo videos and live chat.
Omnisend offers award-winning customer support that has 24/7 live chat and email support. You can also browse through Omnisend's help center, blog, demo videos, in-app messaging feature and via email. The team is on hand to offer support, guidance and advice on using any of Omnisend's tools to best help your business.
Omnisend vs. Marsello: Price Comparison
Marsello pricing starts from $49 per month for one platform.
Omnisend's pricing is more scalable. They offer free trials up to 15,000 emails per month, with a standard plan starting from just $16 per month for a monthly membership, or $13 per month when you choose an annual plan. Custom pricing options are also available to meet the needs of more ecommerce businesses.
Overall, Omnisend's pricing allows you to get a full marketing automation tool for less than $150 per year on. With Marsello, however, it's likely that you'll be spending more than $550—almost four times as much for a tool that just isn't as focused on ecommerce brands. 
If you need the integration between a physical point of sale, then Marsello can help you with this. If not, it may not be the most suitable tool for you both in terms of pricing and functionality.
Omnisend vs. Marsello: Wrap Up
Overall, Omnisend has more of a focus on ecommerce businesses, providing an omnichannel solution that works across the ecommerce marketing journey. It's more scalable – in terms of pricing, features, platforms, tools and audience size – and gives the ability to fine tune your campaigns automatically more easily. 
Marsello is more expensive and probably more suited to a brand that has a combination of offline and online outlets as it offers that integration between the two. This isn't necessary for most ecommerce businesses that don't also have a physical retail presence, so with Marsello you could be paying extra for tools that you aren't going to use.Don't forget, Omnisend also offers a free 14 day trial with no obligation and no credit card required whatsoever. It's the perfect try-before-you-buy option to decide whether or not this tool is for you
Special thanks to our friends at
Omnisend
for their insights on this topic.