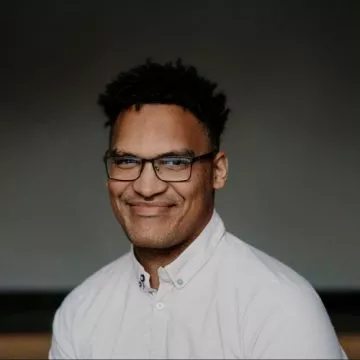 Bernard Meyer
Content Growth Marketer
Reading Time: 10 minutes
Driving people to your ecommerce site and convincing them to make a purchase is becoming much harder with the proliferation of brick-and-mortar store closings and growing number of online shopping options.
A solid understanding of the ecommerce customer journey and how to make it work in your favor is paramount to attracting  customers and developing brand advocates. 
Each stage of the ecommerce customer journey has its opportunities. As an ecommerce marketer, your role is to make each one as enjoyable as possible. It's the only way to move a first-time browser to a repeat buyer who sings your brand's praises.  
What Is an Ecommerce Journey?
The ecommerce journey refers to the path of interactions one travels with your brand, from discovery to purchase to (ideally) a cheerleader.
Simply put, the ecommerce customer journey is the actions that people take at each stage of the customer lifecycle. We'll talk about these stages shortly.
For example, a prospective customer is introduced to your brand via a Google search and navigates to different pages on your website.
He wants to know more, so follows your Facebook page and is quickly drawn into your daily discussions. He jumps over to Instagram and is riveted by the user-generated content. 
These touchpoints work as stepping stones for gathering inferences about your audience.
By analyzing the customer journey, you can understand:
What customers want to achieve
Why customers have chosen your brand over others
What channels drive customers to make important decisions about purchases
What problems or obstacles customers have been facing while using your products
These insights help you improve your products and customer service, with the potential benefit of spurring ideas for future products to better serve your audience.  
The 5 Stages of an Ecommerce Customer Journey
Ecommerce prospects move through five stages of the customer journey. Merchants need to be aware of these stages and recommended actions for guiding prospects toward a purchase.  

1. Awareness
A prospect experiences a problem—for our example, we'll say that a parent determines her toddler's mittens are insufficient in blocking snow from seeping into the wrists and inevitably up jacket sleeves. Fellow parents don't have a solution, so hours of internet research it is.
Said parent stumbles upon your extended-cuff mittens among similar options. This is where you need to captivate her.
In other words, your goal is to display as much value as possible so your solution is the clear winner over the competitors'.
Here are a couple of tactics to make a good first impression while spreading awareness about your brand:
a. Blog Posts and Videos
Content is viewed as a key ingredient for increasing brand awareness, as 84% of B2C marketers believe in its impact and leverage it.  It comes in many forms; blog posts and video content are among the most popular.
Always craft content according to the needs of your target customers. That way, you provide educational value about your product while solving pain points. Sites like Quora or Reddit, or even Google searches, are great for finding content ideas. Use them to gather your target audience's most commonly asked questions, then answer them through blog posts. 
Furniture maker MADE is a perfect example of spreading brand awareness education-focused blog posts: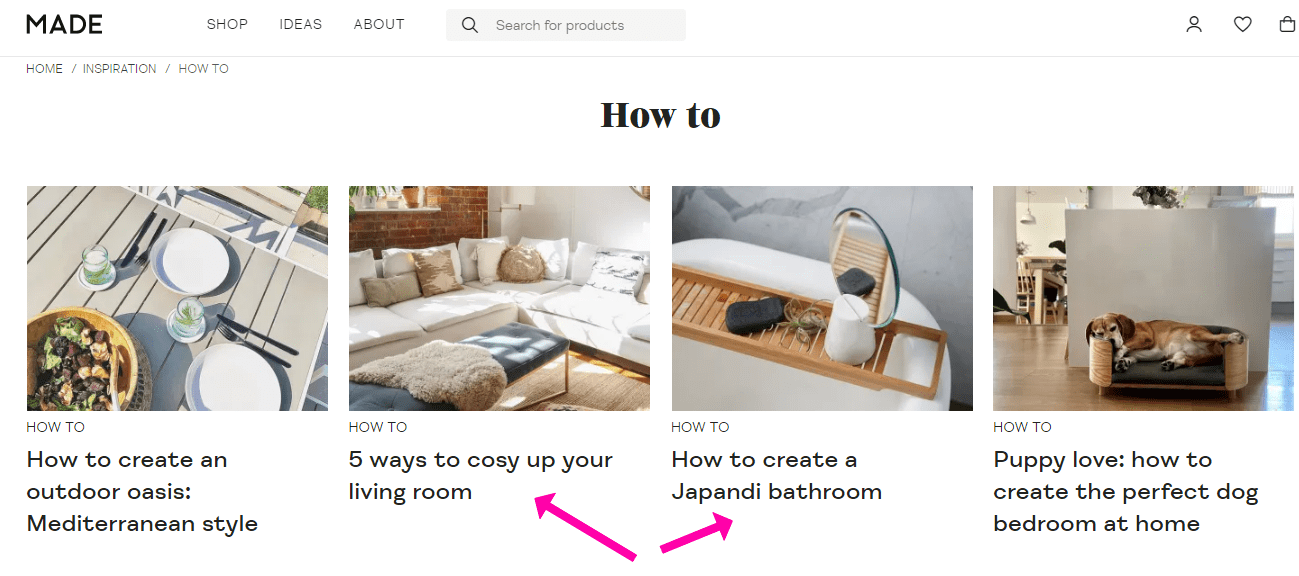 Videos can work extremely well in moving your content marketing strategy to the next level. Pump out some "how to" videos to assist customers with  complex problems. MADE has its own videos to increase awareness beyond these blog posts as well: 
b. Social Media Ads
With more than 4.2 billion monthly social media active users, social media ads are perfect for creating awareness around your products.
Just be sure to take advantage of the platforms that you know your target audience is most engaged with (based on the customer mapping data we discuss further below). Here is an example of a targeted ad campaign on Instagram:
Beauty ecommerce brand Just Fab promotes giveaways, instead of directing people to its products, in its first touch point with potential buyers. 
 2. Consideration
Potential customers enter serious research mode—about your solution specifically—during the consideration stage. 
They might visit your product page, compare you against other competitors, or spy on your social media groups to know everything about your solution—from product quality to success story.
Following are some ideas for removing any potential doubts and building trust among these customers. 
a. Insert Social Proof Wherever You Can
According to Stackla, as much as 86% of consumers decide to support a brand on its authenticity.
Social proof is among the best tools for extending the authenticity of your products across different channels. Collect product reviews and customer testimonials, and display the best ones through these outlets: 
Home page
Product pages
Email campaigns
Social media ads
Casper is a prime example of using social proof in an email marketing campaign:
Boost your social proof bank by asking customers to share their experience. Omnisend customers, for example, are encouraged to launch product review email campaigns to gather feedback. 
  b. Optimize Product Page Content
Whether it's product images or product description copy, everything on the product page has to be top-notch.
You might be tempted to show the features of your products. Instead, it's more important to highlight the benefits.
This simply means that your product descriptions should be directly related to the needs or problems of the customer. You must specify the solutions in the form of benefits.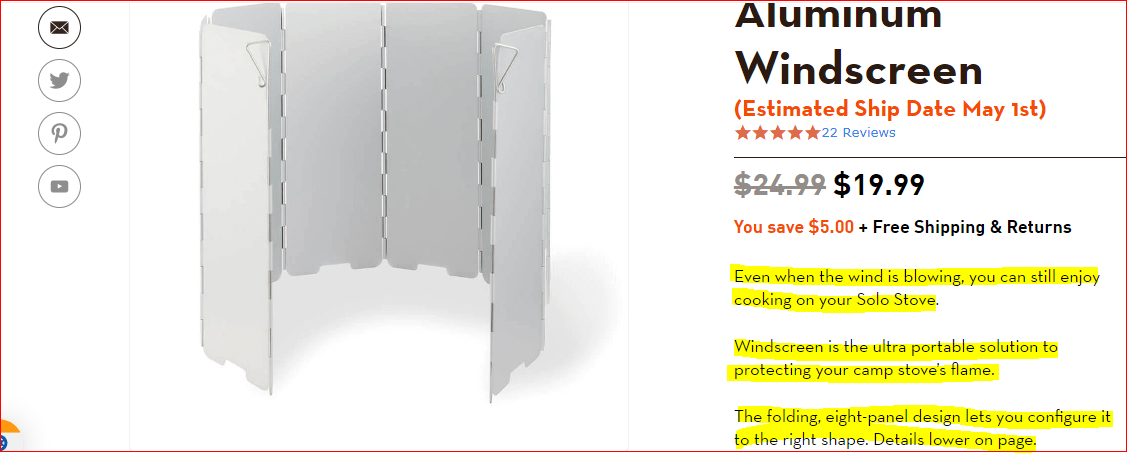 In the example above, Solo Stove shows all the benefits while describing one of its products.
3. Acquisition
You have attracted visitors to your store. They are interested in your products. But that might not be enough to entice them into a final transaction.
With the average conversion rate at 2.17% for website visits, you need strategies for procuring sales from first-time visitors.
For example, when they are about to leave your site without hitting the buy button, nudge them with a simple exit pop-up message that requests their email address. Entice them to sign up with a discount offer.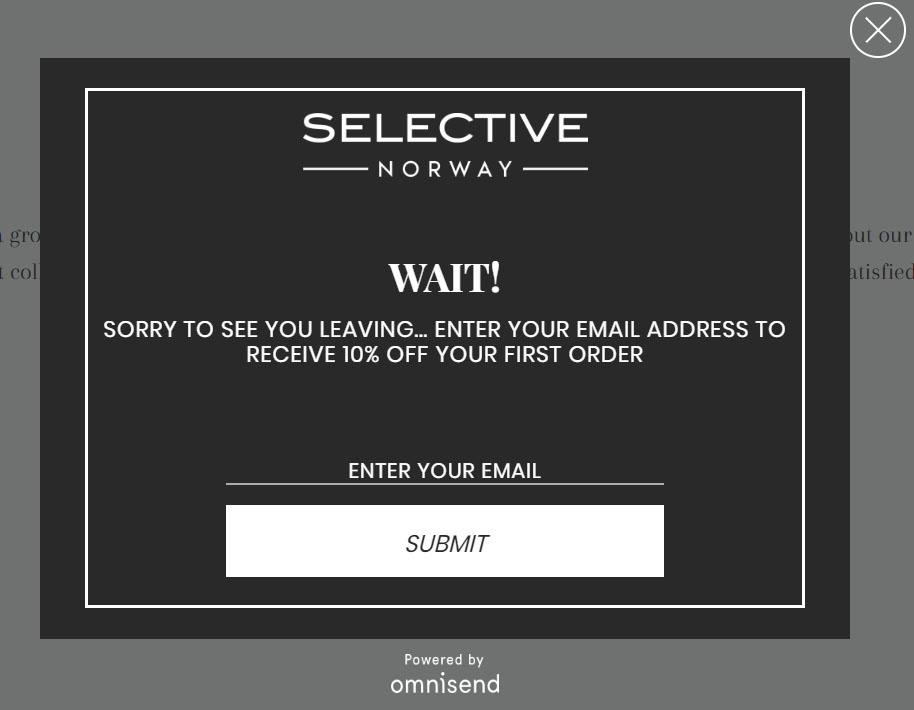 When they add themselves to your email list, you can now send them personalized messages, whether through a simple welcome email or weekly newsletter. You're building a relationship,  which can encourage a first-time sale and many more to come.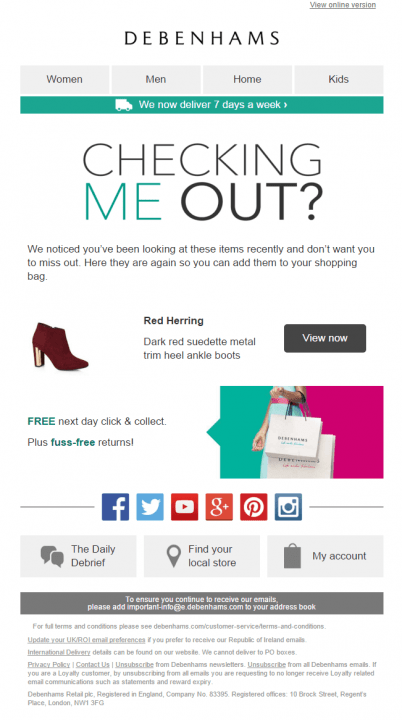 a. Use abandoned cart messages
One of the highest-converting ways to get your shoppers to actually buy from you is to use automated abandoned cart messages.
Abandoned cart messages are sent out when a shopper (or existing customer) adds an item to the cart and either abandons it completely or doesn't buy it within a certain period of time.
This type of message is normally sent as an email: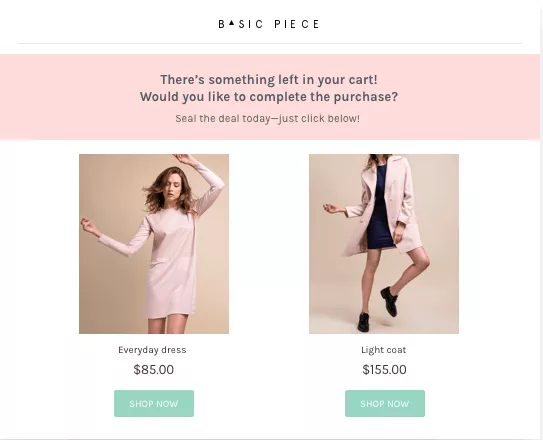 However, you can also use other channels, such as push notification or SMS, or a combination such as email and SMS: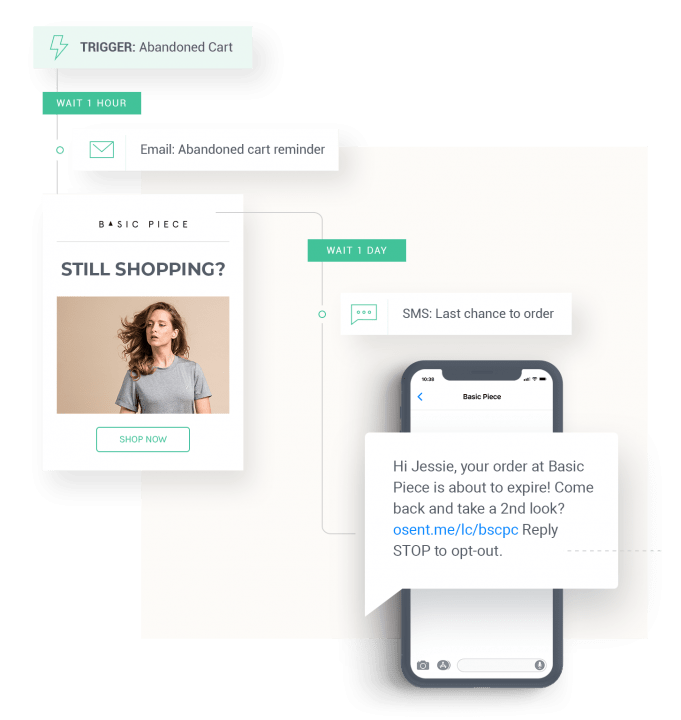 4. Retention
Acquiring new customers is important, but you need to think about your first-time buyers as well. After all, it's 9 times easier to sell to existing buyers than to new ones. 
Here are a couple of customer retention strategies you can immediately  implement after getting those first-time buyers.
a. Help First-Time Buyers Create an Account
People have already purchased something from you and now they are familiar with your products.  Employ a mechanism that allows for account creation without much hassle. This is especially beneficial for customers who purchase products that will need to be replenished later, like cosmetics or dog food. 
By creating an online profile, customers don't need to fill in any credit card, shipping or email address information during subsequent online shopping trips. These details are automatically added to the appropriate fields during checkout.
After the initial purchase, make sure to send them a notification to create an account, whether it's through a push notification, email or SMS (text).
b. Send a Post-Purchase Email
While an order confirmation email will be sent right after the initial checkout, a post-purchase email will be sent one or two weeks later. This type of email is not only good to keep your customer coming back to your store but extremely helpful to get a  90% higher revenue per recipient than your average email campaign.
You can also use post-purchase emails to collect feedback from those previous buyers. For example, you might send an email to know what their experience is:
Both (positive and critical reviews) are good since positive ones can be used as social proof. Critical reviews are valuable for further improvement of your products and help prevent future customers from having the same issue.
c. Reactive dormant customers with win back emails
Win back emails, or reactivation emails, are sent out to subscribers or customers that have not interacted with your brand for a certain period. 
It's important to work hard to reactivate dormant customers or subscribers. Primarily, that's because it can be quite expensive or time-consuming to acquire someone in the first place. 
Customers that have already bought from you are also more likely to buy again. The problem is that they may simply have forgotten or have gotten busy in the meantime. A well-timed reminder (and possibly enticing offer) can be all it takes to get them back.
Here's a good win back email from Sears: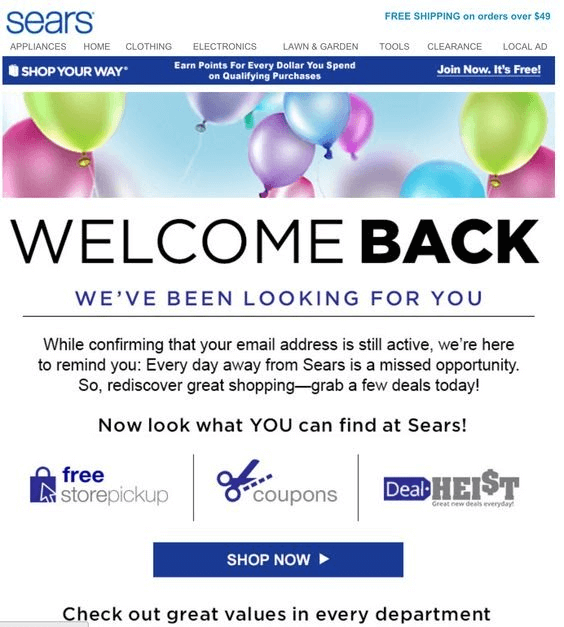 5. Advocacy
In this final stage of the entire customer journey, repeat purchases are the norm. Therefore, the customers are primed for becoming your raving fans.
In other words, now is the time to  transform customers into advocates who will refer your products to others. They are more likely to share their positive experiences on social media platforms, with their colleagues, friends, or even family members. 
Here are a couple of ways to lead them toward advocacy.  
a. Deliver Proactive Customer Support
Avoid customer frustrations by optimizing the virtual shopping experience. Embed tools, like a chatbot, to address customer issues in real time. A robust FAQ section can do wonders as well. 
Also, install a system for quickly resolving emails inquiring about complex issues, such as billing or delivery.
b. Create a Loyalty Program
Customer loyalty programs steer your customers toward purchasing more of your products in exchange for rewards. It's not only for nurturing existing customers, but can be used for gaining new ones. 
The following are common ways that ecommerce businesses provide loyalty to their customers:
Promo codes for discounts
Free merchandise
Access to unreleased product features
Free shipping
Incorporate omnichannel marketing into your loyalty program approach for greater impact. 
Improve the Experience with a Customer Journey Map
The best way to grasp how the ecommerce journey plays out for your particular brand is by devising a customer journey map. It's a visual representation of how your customers actually move from potential first-time buyer to loyal fan.
In other words, the customer journey map tells the story of your customers' overall experiences as they move through every stage of the sales funnel.
Start your customer journey map by creating an  outline in a spreadsheet. Templates are also available, or sticky notes work great, too. Categorize the customer's goals, actions, pain points, touchpoints, thoughts, motivations, etc. You are, in effect, building a complete customer profile.
The more data you collect and record about your customers, the better it serves you in identifying issues that will reduce friction across different touchpoints. With marketing automation platforms like Omnisend, for example, you can use Customer Intelligence to not only get the data about your customers and subscribers, but also to unify and utilize it to find high-potential opportunities. 
Ultimately you want to provide a seamless customer experience while establishing closer bonds with these customers, right? In fact, 80% of customers are more willing to buy when given a personalized customer experience.
Customer journey mapping is instrumental in producing subsequent benefits:
1. Align your team 
As your ecommerce business grows and the  team expands, everyone needs to work together to scale the empire. All employees have to be in tune with your business goals and have access to the right tools for executing their part.
For example, picture a marketing department that lacks the information required to optimally reach its target audience. Or, a support department doesn't receive communication about important queries posed by customers.
This is where the customer journey map helps, by providing various departments in your business with the necessary knowledge to provide for a smoother workflow. This alignment improves the ability to solve the customers' pain points.
2. Improve Customer Retention Rate
By mapping a killer customer journey, you can clearly see the actions that the customers take and know which channels they are more likely to interact with. 
These are the bits of knowledge that will assist you in providing a satisfactory experience since you will be able to improve upon the various stages. You improve your customers' expectations—and your customer retention rate, too.
It's worth the effort. A 5% boost in customer retention can increase profits by 25% to 95%.
3. Create a New Customer Base
Once you have visually mapped out everything in the buyer's journey and are clear about the demographics or the psychological behavior of those customers, it's time to use that data to target new customers.
This way, you can find a similar type of customers, who have not yet interacted with your brand, based on the data of your current customers. 
For example, you might use social media ads to attract a look-alike audience, or search or display ads to acquire customers from search engines like Google, Bing, Yahoo, etc.
Either way, you can now reach a new audience that has a keen interest in your products rather than trying to cater to a broader audience.
Wrap up
Whether your ecommerce business is in the startup phase or well established, all customers start at the Awareness stage before they can reach the final leg of the customer journey. Some move faster from one stage to another, while others stall and never move on to the next.
Your aim is to make sure they complete the journey.  
By shifting your focus to customers, with the help of an ecommerce customer map, you will create a seamless customer experience by delivering what they need at each stage. 
When you have a tool like Omnisend (providing unified omnichannel communication via email, SMS, and push notifications), it becomes much easier to convert browsers to loyal fans.
Special thanks to our friends at
Omnisend
for their insights on this topic.