The search function is, without a doubt, among the most vital of any given website. No matter how intuitive and easy-to-navigate your site interface may be, visitors to your site both want and need a more direct way to find exactly what they're looking for. Without the possibility to conduct an internal site search, customers are more likely to bounce out and go elsewhere to find what they need.
The downsides to this are twofold, as customers who already know what they want to purchase are much more likely to convert than those who are just browsing, and too much bouncing (or navigating away from your site after a short visit) can have a seriously negative affect on your site's search engine ranking. In turn, this makes it harder for users to find your site when conducting an external search, and creates a negative downward spiral that spells bad news for your business.
The good news is that setting up an internal search engine doesn't have to be complicated, and the ROI of a good site search engine is well worth the time and effort as it benefits both the user and the business owner. The insights offered by the search engine's analytics tool can also provide a powerful direction to your content marketing strategy, rendering a site search tool not just a nice-to-have, but a must-have for any online business.
That's why we've established this ultimate guide to internal search engines. We want to help you better understand just how internal search engines work, their advantages to customers and business owners alike, and how you can leverage site search data to improve your site's external search engine rankings and inform your business's marketing strategy.
Site Search: The Basics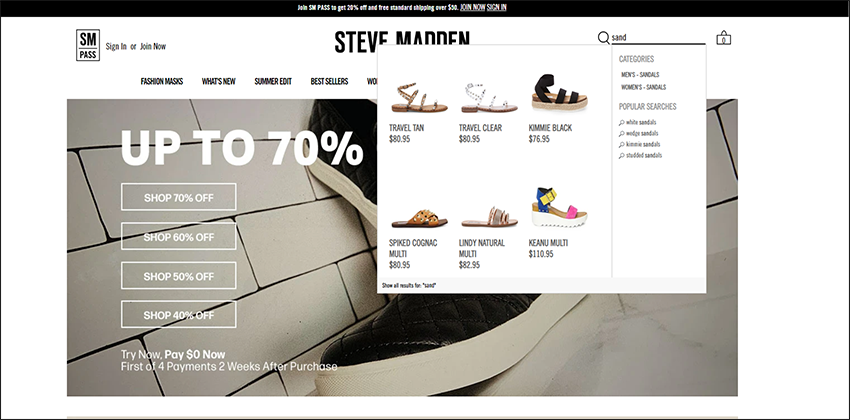 Understanding the basics of site search is relatively simple and straightforward. Essentially, there are two ways to search for information on the Internet: an external search or an internal search.
An external search is one that is conducted via a search engine like Google, Bing, or Yahoo. The user enters a keyword or a search term, and the search engine presents a ranked list of web pages that best correspond to that particular query. Results are ranked according to proprietary algorithms, and the art of building pages and content that rank highly for relevant keywords and search terms is called search engine optimization (SEO).
However, an internal search is one conducted within a single website. Rather than comb the entire web for a response to a given query, an internal search engine provides results that can only be found on that particular website. No matter how much information or content you have on your website, a robust site search function is essential to keep users on your website and help them navigate it efficiently. Without it, you risk having potential customers navigate away from your website, often back to an external search engine, to more easily and quickly find what they're seeking.
Here is a more in-depth list of reasons why it's vital to have an internal search engine on your site:
It increases the chance of conversion: Customers who conduct site searches are not "just browsing"; they know what they want. This means they're more likely to convert than those who do not – twice as likely, in fact. Therefore, site search has a direct connection to increased revenue.
It improves the user experience: One of your primary goals as an online business owner should be to give customers the best user experience possible. While organized category pages are great, a survey conducted by Baymard found that what customers really want is an easy-to-use, enhanced search function to find what they're looking for more quickly and efficiently. A good internal search engine can do exactly that.
It tells you exactly what your customers want: When it comes to knowing exactly what your customers are looking for, there is truly no better tool than site search. As the site owner, you have access to all of the search queries of every visitor to your site; it's essentially a curated, aggregated list of your customers' wants and needs. The benefits of this are obvious – for one, if there is something particular that people want, you can make certain that they'll find it in your store. Additionally, it allows you to stay ahead of emerging trends as they unfold.
It gives you a leg up over the competition: Despite the numerous benefits cited, many online business owners fail to invest a lot of time or energy into implementing and refining their internal search engines. Many report a lack of knowledge or experience as the biggest barrier to improving their on-site search functions, which poses big risks to the success of their eCommerce stores. The aforementioned study by Bayard found that 70% of desktop eCommerce search functions were unable to return relevant search results – that's a disaster by just about any measure. By taking the time to really work on your site search functionality, you'll gain a distinct advantage over your competitors.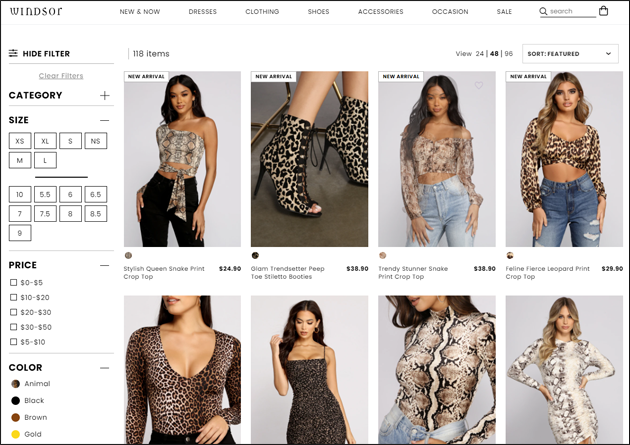 This guide is designed to help online business owners who have set out to improve their onsite search function, but have been held back by a lack of understanding of how site search works and what they should look for in an internal search engine.
General Characteristics of a Good Internal Search Engine
Despite all of the recent advancements in technology that have resulted in vastly improved search functionality, that doesn't necessarily mean that all internal search engines are created equal. There are a few things you should look for to really make sure that you're using an on-site search engine that's going to meet all of your needs, provide a streamlined and efficient journey for your customers, and result in a higher conversion rate and increased revenue for your business.
Here are the things you need to consider when it comes to your online shop's internal search function:
Visibility
It may seem like a given, but it bears repeating: your search function needs to be clearly visible to your customers. To ensure it's easy to find, ideally it should be placed near the top right or top middle when your site is viewed on a desktop device. On mobile, the search bar should take up its own line at the top of the screen, or in the very least the search icon should be at the very top and visible. Some stores choose to place the search icon near the cart icon.
Never bury the search engine at the footer of your website – no one is going to scroll down that far to find it, and customers will likely bounce after having spent mere seconds viewing your page.
Similarly, it should be clear to the customer that what they're looking at is a search tool. Usually, this means selecting an icon of a magnifying glass. Make sure the magnifying glass icon is large enough to send an unmistakable signal to the customer, even on a mobile screen. Finally, for the sake of a consistent user experience, keep the search bar in the same location on every page of your site.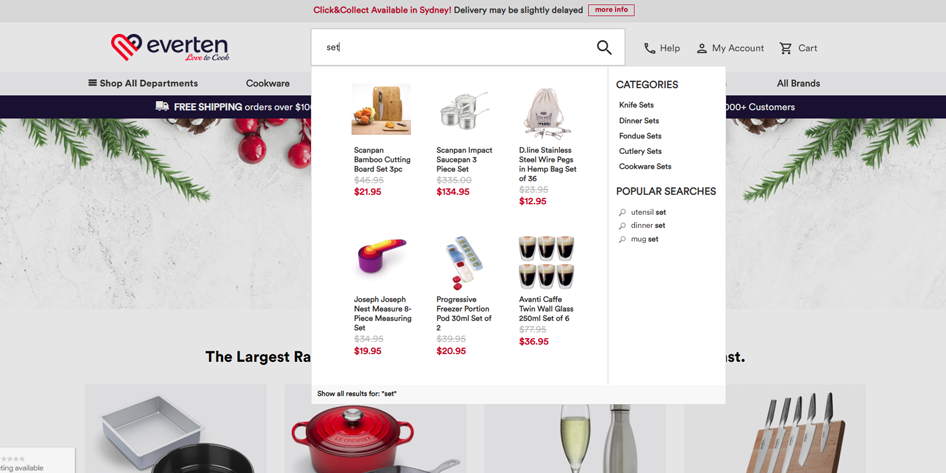 Optimized for mobile
Mobile responsiveness is absolutely crucial when it comes to developing a quality site search function. More than half of all eCommerce shopping is now conducted via mobile devices, with 79% of smartphone users reporting that they've purchased something online using their cell phone within the last six months. However, 84% of smartphone users have also reported difficulty navigating and searching eCommerce websites on their mobile devices – that's a huge portion! If your internal search engine works well on desktop but tends to glitch when used on a smartphone or a tablet, that could dramatically affect your user experience, conversion and bottom line.
Powered by AI
Though visibility and mobile responsiveness are both essential when it comes to having a good site search option, ultimately, the quality of the search functionality is the most important thing you can secure to ensure an optimal site search experience. This means that your internal search engine needs to be consistent with the advanced solutions used by your potential competitors.
Recent advances in technology have made it possible to have search engines powered by machine learning and artificial intelligence. These search engines can both anticipate the needs of your users and provide targeted results with speed and accuracy. Text autocomplete and related search suggestions help users more clearly identify what they're searching for and prevent the return of unwanted results based on poor or inaccurate keyword use by the user.
Some of the most advanced AI-powered internal search engines eliminate text-based searches altogether and allow users the opportunity to conduct visual searches based on their style preferences. AI-powered search engines also learn to become better over time by using past queries to further refine relevant results.
While working with an advanced, AI-based search engine may sound complex, there are plenty of solutions that are fully packaged and user-friendly, and that don't require any advanced coding knowledge to implement or maintain.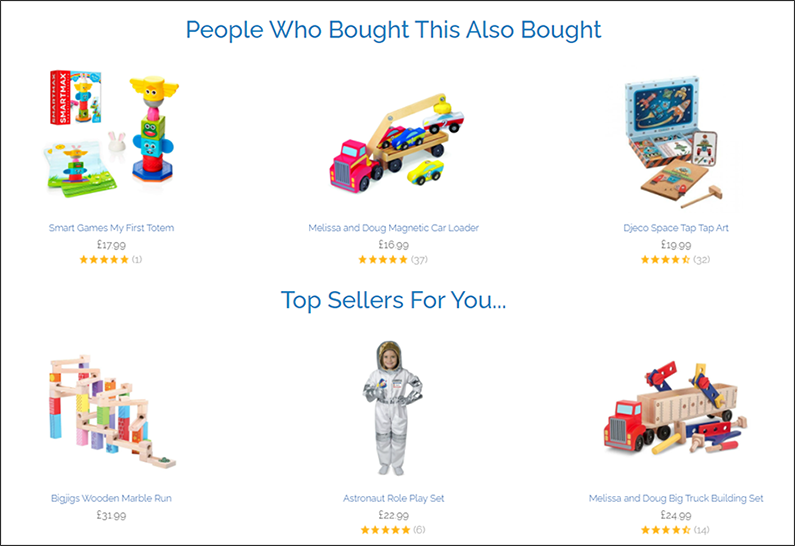 Able to predict a user's query
A good internal search engine should be able to know what a user is looking for even when the user has trouble articularly formulating the query themselves. This includes being able to differentiate between singular and plural nouns, identify synonyms, slang, or jargon, and interpret misspellings. But a truly high-quality site search function can go even further than all of that. It should be able to predict searches and suggest relevant or related searches based on just a few keystrokes from the customer. In the event of a vague search – perhaps when the customer isn't totally sure how to put words to what they want – a superior internal search engine will also include a "did you mean…?" prompt with suggestions for related themes and searches based on the query and on the content of your online shop. All of these elements combined will provide a smooth user experience and have the potential to keep customers on your site longer, which increases chances of conversion.
Is informative and customizable
An internal search engine is as much for your customers as it is for you, the business owner. Users conduct a site search to know if you have products in stock that will suit their needs, and the analytics from your internal search engine should show you exactly what your customers have searched for so that you can adjust your inventory or your marketing strategy accordingly.
Similarly, even a fully-packaged, AI-powered internal search engine should come equipped with the possibility to customize different features of your site search tool. Your specific business will have a unique set of needs and challenges, so the ability to customize your tools to suit the demands of your online shop is an important part of any site search tool.
Here are some of the customizable options you should consider when selecting an internal search engine:
Manual page rankings: This allows you to prioritize which pages rank first in the search results. While intelligent search engines can learn to prioritize certain pages over time, the ability to manually rank pages leaves you with some level of control over your highest-priority pages.
Direct links: A direct link to a particular product or page on your website based on your customer's query is a valuable tool that can save visitors to your site some time, as they won't have to review pages of search results to find what they need.
Content boosting and instant content updates: Your site search solution should allow you the ability to promote particular products that may be more relevant to your users' search queries. These products or product pages can be "boosted" so they appear higher in the search results. Similarly, as you update your content, your site search product should give you the opportunity to manually index and update content so that the correct pages will appear immediately in the search results, rather than having to wait for your search crawler to re-index the site at a later date.
Filters: It almost goes without saying, but customizable facets and filters should be an integral component of your site search product. Filters allow customers to narrow down and refine their searches so that the process is much more efficient and more clearly organized.
Provides an alternative to "no results"
Inevitably, there will be instances when users search for something that does not correspond to any product or content that you have in your site. Rather than encouraging customers to bounce by displaying a simple "No results" message – or worse, potential reasons why the customer is at fault, like asking them to check their spelling – your site search tool should include a built in option for you to provide an alternative to a blank page.
Even if you don't carry exactly what your site visitor is looking for, that doesn't necessarily mean that they have to leave your store empty handed. Instead of displaying only an apologetic "no results" message, show them products or pages that are more broadly related to their original query or some of your shop's best selling items. In other words, a failed site search doesn't have to mean lost business so long as you plan accordingly and use your internal search engine to get alternatives in front of your customers.
Providing something of value – if even it doesn't align with the customer's original precise intention – increases both the likelihood of conversion and of getting that customer to engage with your brand again in the future.
Even if you don't carry exactly what your site visitor is looking for, that doesn't necessarily mean that they have to leave your store empty handed. Instead of displaying only an apologetic "no results" message, show them products or pages that are more broadly related to their original query or some of your shop's best selling items. In other words, a failed site search doesn't have to mean lost business so long as you plan accordingly and use your internal search engine to get alternatives in front of your customers.
Providing something of value – if even it doesn't align with the customer's original precise intention – increases both the likelihood of conversion and of getting that customer to engage with your brand again in the future.
Best Practices in Site Search for Online Shops
While informational websites can and do benefit from a robust internal search engine – and they should certainly have one for ease of use, particularly if they have a lot of content for users to navigate – eCommerce is an entirely different playing field. For eCommerce businesses, a site search solution is absolutely vital when it comes to driving conversions and boosting sales. The more quickly a customer can find what he or she needs, the more likely they are to buy it – that's just a fact.
Moreover, competition is stiff when it comes to online shopping, no matter the niche. Customers nowadays are used to being able to find anything they want via a quick Internet search; if they can't search your online shop with the same ease and efficiency to which they're already accustomed, they will go elsewhere. This is part of what makes a robust site search function such a vital component of an eCommerce business.
While eCommerce shops should abide by the same guidelines given in the previous section when it comes to implementing a site search solution that will fully serve the needs of both your customers and your business, there are some additional "best practices" specific to eCommerce that business owners need to take into consideration.
In addition to being easy to locate and use, highly intuitive and able to predict users' searches, and customizable to your online shop's needs and client base, eCommerce business owners need to be certain that their site search product is able to do the following:
Show results ranked by relevance – This is perhaps the most basic of the site search best practices for eCommerce websites, but given how few online business owners devote their time to improving their site's internal search, it's worth emphasizing. Search results should always be ranked by relevance to the user's original query. If there are no results relevant to the user's query, then the site search engine should be manually set to display recommended products that are as closely related as possible to the original internal search.
Highlight search keywords – This is tied to the point above; search keywords should be highlighted on the results page. This helps customers more clearly and easily identify appropriate results, and trust that they are relevant to their needs. Highlighted words will jump out and catch the user's eye; data indicates most people are not spending a lot of time reading search results carefully – they scan to find whatever they're looking for. When the search terms are highlighted, you're facilitating a smooth user experience by showing the customer exactly where to find the information they need.
Display product images with results – It may seem like a no-brainer, but nobody wants to buy something based only on a text description. Text-only results are not particularly attention-getting for customers who want to see what kind of stock you have in your online shop. Every product on the results page should be accompanied by an attractive, responsive thumbnail image that accurately depicts the item in question.
Results filters – The importance of being able to filter an internal search has already been addressed more broadly, but filters take on additional importance when it comes to eCommerce. Particularly for larger online shops with hundreds of products or more, the customer's initial search might yield an overwhelming amount of results that feel impossible to wade through alone. The easier it is for customers to narrow down their search results, the happier they'll be, and the more likely it is they will convert.
If you have quite a lot of stock, it's important to have an equally robust variety of filtering options. In addition to the standard filter options for your industry – for example, a clothing shop would want to include filters like brand, size, color, or material – there are a number of other options you could include to truly set your site search apart and give your customers an exceptional on-site experience.
These include the ability to filter by:
Price, including items that are on sale
Product details or tags like "new", "best seller" or "limited stock"
Customer reviews
Category or function
Age range
Gender
Theme, season or occasion
A comprehensive and customizable set of filters can increase the efficiency and effectiveness of conducting a site search, and customers will likely reward you with less bouncing and more conversions.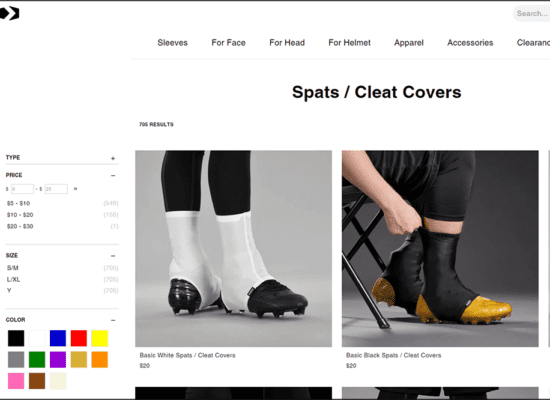 Autocomplete search queries and conduct semantic search
Autocomplete is a vital feature when it comes to facilitating site searches and decreasing the amount of "interaction cost" that can come with conducting an internal search. As we've described previously, it's important to have an internal search function that can predict a user's query with just a few preliminary keystrokes. In addition to improving the overall user experience, having an internal search engine with autocomplete can guide users toward the best results and reduce the amount of time they have to spend refining the results themselves. This includes the possibility of getting recommended products in front of your customers if you take the time to manually rank pages based on search query.
But autocomplete searches is not the only thing your site search solution needs to be able to do in order to provide the maximum number of relevant results to your customers. Intelligent autocorrect and semantic search both go a long way in reducing frustration due to misspellings, unfamiliarity with product jargon, or the use of keyword variations and synonyms that risk returning a "no results found" message.
Semantic search can navigate misspellings, filler words like "and" and "or", and differentiate between singular and plural. It also can identify synonyms so users who search using similar but not identical keywords can still receive the same relevant results; for example, Customer A who searches "denim skirt" while Customer B searches "jean skirts." With the right site search tool, those two queries will generate the same results.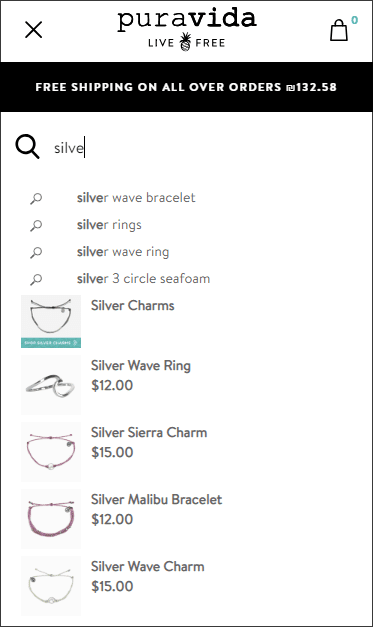 Allow for natural language processing
Natural language processing is most often associated with external search engines, but allowing your customers the possibility to conduct an internal search using natural language can have great benefits for eCommerce websites, too.
Natural language searches are context-based rather than keyword-based, so that customers can enter descriptions, questions, and even abbreviations, and still find what they are looking for. A customer who enters "red shoes under $100" can therefore arrive at their desired results without having to click on any additional filters or refine their search further.
Search engines that allow for natural language searches can also handle requests with a great deal more complexity than keyword-based searches. Thanks to this, even when a user is unfamiliar with industry jargon, they can enter a description and receive a list of relevant results or recommended products based on their query. All this, without requiring that users fit a certain 'mold' but rather adapting the tool to their natural language inclinations.
Conduct a visual search
Despite all of the advancements in natural language processing for site search, sometimes words just don't cut it. With a visual search, customers can snap a picture or upload a photo of exactly what they want to your internal search engine with their mobile device, rather than enter a text-based query. Visual searches are definitely a more advanced site search technique, but it's worth looking into if you've really invested in making site search a vital part of your business strategy. Many site search products don't even require any coding knowledge to enable visual search; just flip a switch and customers will see a small camera icon in the search bar that enables them to search by image.
How else does site search benefit eCommerce businesses?
Given that a reported 42% of eCommerce businesses don't dedicate any time or resources to improving their site search function, it stands to reason that it's because business owners don't understand just how beneficial a great internal search tool can be for their bottom line.
A functional and intuitive internal search solution is great for your customers, too, of course. But it's also great for business owners, because it gives you the opportunity to highlight additional products and services that the customer may not have necessarily searched for, but that could still be of benefit to them, like your shipping and returns policies. Manual display rankings also allows you to get product recommendations and merchandising decisions in front of your customers, and to highlight things like sales or promotions that can boost conversions and profits.
Furthermore, site search also provides business owners with analytics that can be leveraged into a more effective marketing strategy – read on to find out how you can use the information gleaned from your customers' internal searches to boost conversions.
Leveraging Site Search Analytics to Boost Conversions
The analytics platform of your site search solution provides extremely valuable insight into how customers interact with your website. It can also show you how these interactions vary from person to person, or location to location. You should absolutely be taking advantage of that data to make decisions that will better suit the diverse needs of your customers – after all, when a customer does a search of your website, they are literally telling you exactly what they want. There's no more valuable marketing tool than that!
Your site search tool's analytics platform should be able to provide you with the following data, which you can then use to inform your marketing strategy and business plan. Here are some hidden opportunities to leverage site search in support of site conversion:
When a query returns "no results"
If a customer cannot find what he or she is looking for on your site, they're obviously not going to convert. If a search returns no results, it's important to have a record of that so you can figure out why, and examine whether that's an avenue worth investing in (typically by search volume and relevance to your business plan). Is it because you don't have any merchandise that fits that particular query, or is it because of something faulty with your site search tool which failed to display suitable results? Both of these things are fixable, but you need to have some way of knowing when a "zero result" search occurs.
Trending or popular search keywords
Changes or developments in popular culture trends, products going viral, celebrity or influencer endorsements, or simply a change in the seasons — all of these can contribute to changes and fluctuations in the volume of certain search keywords. A site search analytics tool that identifies trending or popular keywords will show you what's in high demand amongst your current or potential pool of customers, so that you can adjust your inventory and your marketing efforts accordingly and boost conversions.
Ineffective searches
An ineffective search is one in which the user does not click on any of the results delivered to them following their query. When a search has a low-to-no click-through rate of the results, that can tell you whether or not your search engine is functioning properly or if you lack relevant content in that particular area. That way, you can adjust your search engine settings or optimize your content differently in order to closely meet your users' needs and maximize conversions.
Finally, a good site search solution will provide you with insight into your customers' activity and interactions with the search tool. A great one will support integration with other analytics tools so that you can really see everything in context. What do your users' searches really tell you when they're cross-referenced with other data about the way customers interact with your website? Site search can and should help you see the big picture. Without it, you'll have a hard time responding to the needs of your customers and your conversion rates will suffer.
Special thanks to our friends at
FastSimon
for their insights on this topic.